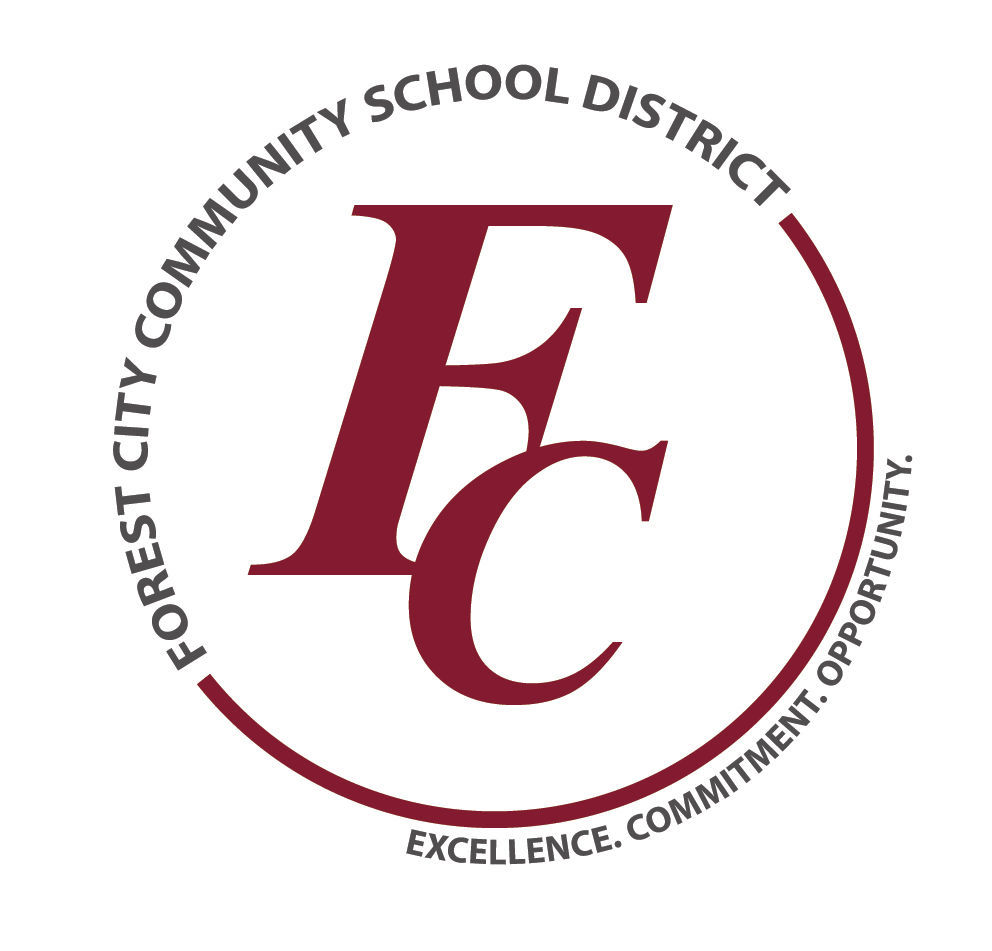 The third trimester honor roll at Forest City High School was recently announced.
Those being named to the honor roll included the following:
4.0 ROLL
FRESHMEN: Haley Droessler, Adisyn Erdman, Drew Greenwood, Daniel Hovinga, Joseph Hovinga, Keevan Jones, Tessa Kozitza, Natalie Larson, Raina Miller, Skyler Pedelty, Chiara Thompson, Ian Toft and Anna Wirtjes.
SOPHOMORES: Devin Alamsya, Elijah Alsop, Christana Archer, Kennedy Baker, Ellie Caylor, Olivia Gayther, Alec Hill, Xavier Holland, Ryan Korthals, Brandon Leber, Ivy Olson, Lillian Ruiter, Paige Schmidt, Blake Skjeie, Brock Sobek, Matthew Tweeten, Alyson Walker, Emalee Warren and Elijah Weaver.
JUNIORS: Calvin Aberg, Drake Bang, Amber Burgess, Erin Caylor, Tyler Clouse, Brandon Fields, Meggie Kleveland, Micaiah Krutsinger, Kallista Larson, Brettin Linder, Joshua Olson, Isabel Redinger, Jasmine Sanasinh, Olivia Sarasio Meyer, Lia Sardella, Taylor Tendall and Melissa Wilson.
SENIORS: Blaze Andersen, Caleb Barker, Treyton Blaser, Jacob Buffington, Josie Edel, Charles Hobson, Cora Holland, Sarah Hovinga, Makayla Kingland, Kelsey Koch, Micah Lambert, Jacob Olson, Emma Segerstrom, Gabriel Staudt, Cody Stricker, Randy Vaughan, Anna Weaver and Henriette Winum.
3.5-3.99 ROLL
FRESHMEN: Isabella Alphs, Elsa Anderson, Jessica Callow, Monique Carpenter, Kailyn Corey, Shae Dillavou, Austin Egebretson, Brooke Kingland, Alexandra Marmaras, Molly Miller, Reese Moore, Tyler Nolton, Rochelle Ocampo, Abigail Segerstrom, Ethan Sesker, Jorden Trunkhill, Zachary Welton and Shad Wooge.
SOPHOMORES: Brady Anderson, Jordan Anderson, Alexandria Brahm, Caleb Buffington, Michael Burns, Hannah Good, Cody Hall, Laura Harms, Caleb Johnson, Lanna Johnson, Heather Kite, Kaylee Miller, Morgan Nolton, Isaac Sand, Kaleb Umbaugh, Dylan West and Caleb Zrostlik.
JUNIORS: Joshua Coombs, Olivia Gibbs, Corah Hauser, Andrew Heidemann, Riley Helgeson, Hunter Hoeft, Emma Hovenga, Lyndee Jones, Kennedy Klein, Anna Lehmann, Jessa Loges, Benjamin Marmaras, Morgan Pardoe, Audrey Skjeie, Zoey Steffensen, Paige Swearingen, Conner Thompson, Jazmin Trunkhill, Jonathan Warren, Abigail Wirtjes and Elsa Yeager.
SENIORS: Ian Bennett, Astrid Bergman, Ryanna Boeshart, Hannah Bruns, Alyssa Buffington, Christopher Diekhuis, Christine Fuentes, Natalie Jefson, Madison Korthals, Ally Larson, Benjamin Mata, Christy Mettry, Isaiah Monson, Natalie Moore, Mary Rockwell and Dylan Solberg.
3.0-3.49 ROLL
FRESHMEN: Carter Bruckhoff, Carson Buffington, Sierra Cummings, Liberty Feldman, William Heidemann, Regan Helgeson, Emmanuel Henderson, Grace Kobriger, Gracie Lackore, Logan Lappe, Kimberly Lara, Vanessa Meyerhoff, McKenzie Miller, Andrew Snyder, Jayden Springer and Haley Wood.
SOPHOMORES: Anielys Albino, Zachary Evenson, Wyatt Gelhaus, Brice Golwitzer, Luke Haugland, Emma Holtan, Austin Jager, Felicia Kelly, Jaydon Kendall, Tara Lancaster, Leon Lopez, Noah Miller, Brock Moore, Idris Smith, Ethan Suby, Jade Troe and Rachel Vogt.
JUNIORS: Madison Abbott, Colby Droessler, Jaidyn Hagen, Carter Jenkins, Alexander Nolton, Robinson Ocampo, Greta Oulman, Destiny Rowen, Madlyn Wicker and Levi Wood.
SENIORS: Hanna Coppes, Christian Fuentes, Damion Meyerhoff, Hannah Niederkofler, Tanya Olsen, Paris Reimann, Christopher Rippentrop, Matthew Rossmiller, Samuel Smith and Chandler Stecker.
Get local news delivered to your inbox!
Subscribe to our Daily Headlines newsletter.