MASON CITY | Natasha Lewerke maintains she was unfairly fired from the Cerro Gordo County Treasurer's Office in 2016, but public documents show she was dismissed for job-related misconduct.
The documents, which were part of a March 2016 Iowa Workforce Development Unemployment Insurance Appeals Bureau administrative law judge decision, state Lewerke, who is now the Republican candidate for the office's top position, was terminated for nearly 1,500 emails containing disparaging content about her coworkers.
In the emails, which were exchanged with women in and out of the treasurer's office, she referred to her female coworkers as "lazy," "fat," "dirty," "annoying," "nasty," "disgusting," or an "idiot."
"The sheer number of emails is indicative of substantial misconduct and a deliberate disregard of the employer's interest in expecting decency and civility from its employees," the documents state. "(Lewerke's) conduct is considered disqualifying misconduct, even without prior warning."
Lewerke, who announced her candidacy for county treasurer in April, worked as deputy treasurer in the Cerro Gordo County Treasurer's Office from December 2005 to January 2016 and is running against her former supervisor incumbent Pat Wright, a Democrat.
"I understand that these emails exist and I owned them, I've apologized for them and all I can do is move forward," she said in a phone interview with the Globe Gazette Tuesday. "I still feel that I'm the better candidate for the position. Everybody's got a skeleton in the closet."
Lewerke admitted she sent emails about individuals in the treasurer's office that were "gossipy in nature."
"If any of us girls could take them back, I'm pretty sure all of us would," she told the Globe Gazette. 
The 156 emails, or 38 email threads, spanning from January to July 2015 were entered as an exhibit by the county in Lewerke's appeal for unemployment benefits, which was denied because of disqualifying job-related misconduct.
JoAnn Hardy, who is the Cerro Gordo County Democratic chair, requested the documents through an open records request. Messages sent from county email addresses are considered public documents and therefore can be requested by the public. 
Hardy requested information from the county related to Lewerke's termination in August and received the documents, including the appeal decision, exhibits and emails, on Sept. 25. She shared those documents with the Globe Gazette on Oct. 2.
Lewerke was placed on paid administrative leave on July 22, 2015, and was fired on Jan. 4, 2016, after an investigation into "vehicle title irregularities." She supervised five office staff, processed motor vehicle transactions and oversaw the work of staff in processing transactions.
Her termination came after a state audit showed a shortfall of nearly $284,000 in taxes that should have been collected. The shortfall was not a result of treasurer's office funds being misappropriated. 
As part of the audit, about 11,200 of Lewerke's county emails from a six-month period – Jan. 1, 2015, to July 23, 2015 – were collected by the county. Of those, 7,400 were of personal nature, and about 1,500 contained "negative comments" and "disrespectful comments" about her coworkers, the Appeals Bureau's decision stated. 
Lewerke, in email exchanges with others, used nicknames and acronyms like "BC," "V," "FiFi," "PW," "J," "Mini," and "Princess," to identify her coworkers.
In an email from Lewerke to a female coworker on Jan. 14, 2015, she wrote, "I see that BC is supposed to bring sour cream tomorrow...think she will just lift up one of her belly folds – scrape it out – and put it in a container? BARF!"
In another email to the same coworker on Feb. 23, 2015, she wrote, "PW was worried that V would catch on to the fact that I was venting about her. Really?! Do you think I am worried?! V is an IDIOT! And it gets worse every day!"
Lewerke sent an email in response to a woman outside of the office on July 8, 2015, that said, "Hitler is just as lovely as ever! Would find much joy in painting a mustache on her!! LMAO And the wicked witch? Need to find a house to drop on her...PRONTO! :)"
Other emails included in the appeal:
• "I think she realizes that she is big. Probably not as BIG as she really is though. She will end up having to have bypass surgery at some point because she has no will power to change!"
• "Exactly! STFU nasty shoe wearing buffalo A--!"
• "Is this what you see when you look around your computer?" with an image of a cartoon elephant's backside.
• "Exactly! My feet would hurt too!!! ELEPHANT"
• "I could walk up and slap her on the back of the head – afraid my hand would get stuck in the snarls!!! LMAO"
The majority of the emails in the exhibit were sent between Lewerke and the same coworker, a treasurer's office clerk, during the 8 a.m. to 4:30 p.m. work day.
Two of the women referenced in the emails declined to comment. People who work in the treasurer's office were made aware of the emails and their content, according to Tom Meyer, Cerro Gordo County's director of administrative services.
"(Lewerke) was in a supervisory position and was expected to lead by example," the administrative law judge wrote in the decision to deny unemployment benefits. "(Lewerke) did not exercise authority to discipline employees engaging in unprofessional email and in fact she initiated some of the emails."
According to her Jan. 4, 2015, revocation of appointment letter from Wright, Lewerke was dismissed for violating the county's information technology policy and other provisions of the employee handbook, including bullying and insubordination. 
"If known, the insulting, disparaging, derisive, and ridiculing comments you made about your subordinates would humiliate them," Wright wrote in the letter. "The investigation concluded that the communication could be considered a form of bullying due to its frequency.
"You demonstrated extraordinarily poor judgment by engaging in these types of emails. I consider the sending emails of the nature investigated about subordinate employees to other subordinates as being extremely inappropriate and conduct becoming of an appointed deputy."
The county's IT policy prohibits emails that "contain offensive, abusive, threatening, harassing or other language inappropriate for the county." 
Lewerke signed the county's IT policy on Sept. 21, 2009, acknowledging she understood its provisions.
Lewerke, who's been employed with the Iowa DOT driver's license station in Mason City for the past three years, said she remains confused as to why she was the only treasurer's office employee terminated for sending emails.
Meyer, the county's director of administrative services, said with the exception of Lewerke, the treasurer's office employees have remained unchanged since 2015; everyone is still employed.
The employee handbook states certain offenses can be corrected using progressive discipline: a verbal reprimand, written reprimand, suspension and discharge.
It's unclear whether the treasurer's office staff who engaged in email exchanges with Lewerke were disciplined in such a way because the county considers employee discipline to be a confidential personnel matter. 
In September 2016, Lewerke filed a lawsuit against Wright and Cerro Gordo County, claiming Wright retaliated against her for "reporting potential fraudulent practices to the Cerro Gordo County Treasurer violated the public policy of the State of Iowa."
The lawsuit was dismissed with prejudice last September, meaning the lawsuit cannot be refiled. 
Lewerke said she dropped the lawsuit so she could focus on her candidacy for county treasurer.
Natasha Lewerke emails
Natasha Lewerke 1.jpg

Natasha Lewerke 2.jpg
Natasha Lewerke 3.jpg
Natasha Lewerke 4.jpg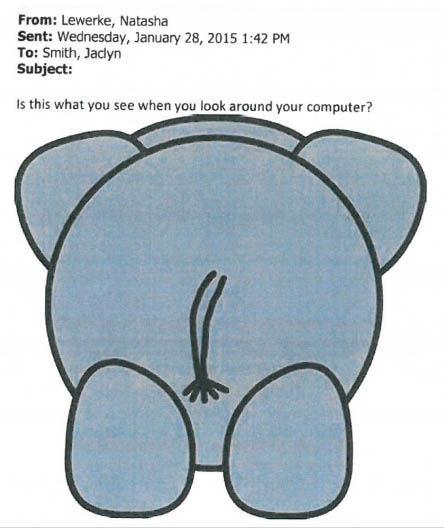 Natasha Lewerke 5.jpg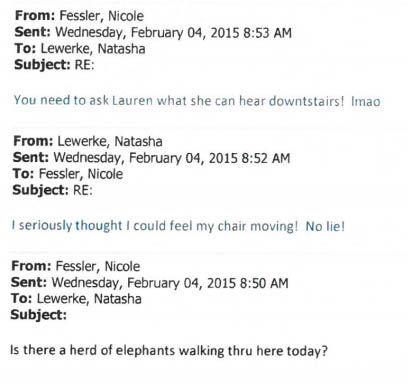 Natasha Lewerke 6.jpg

Natasha Lewerke 7.jpg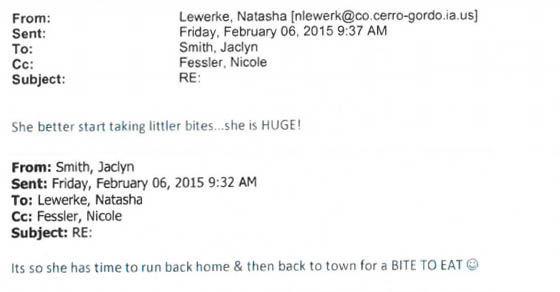 Natasha Lewerke 8.jpg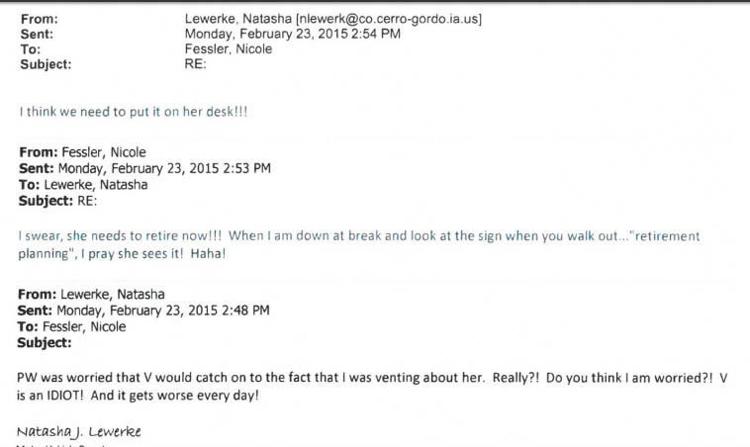 Natasha Lewerke 9.jpg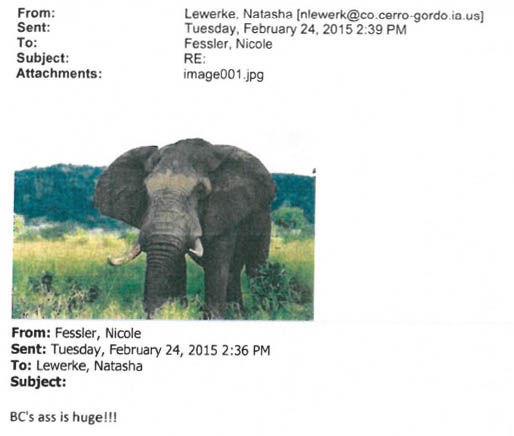 Natasha Lewerke 10.jpg

Natasha Lewerke 11.jpg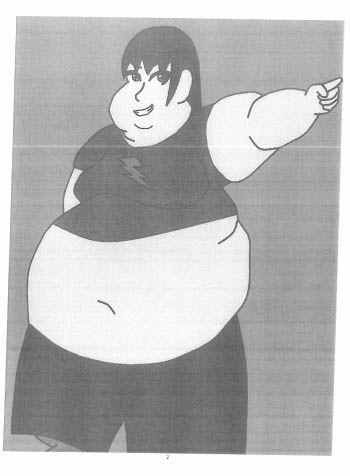 Natasha Lewerke 12.jpg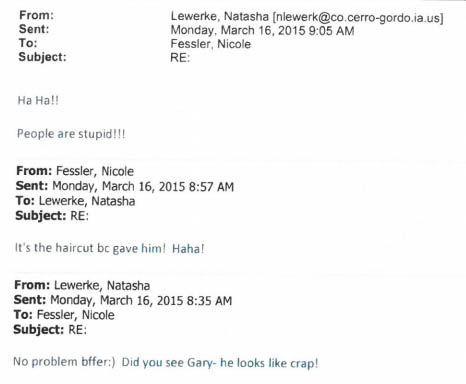 Natasha Lewerke 13.jpg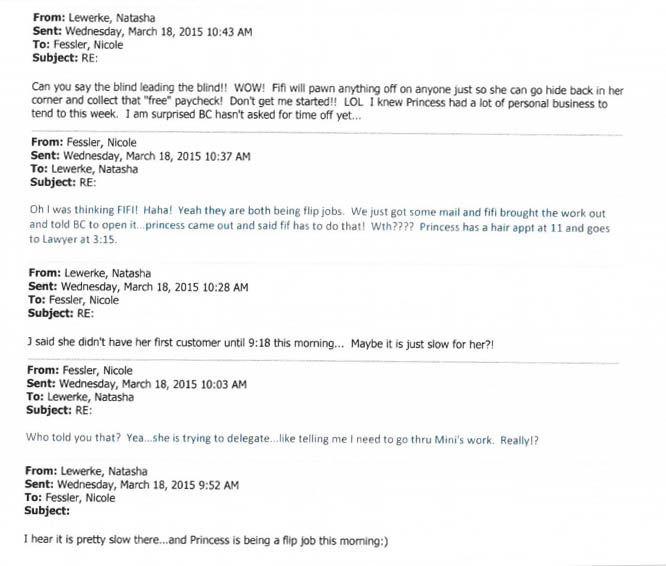 Natasha Lewerke 14.jpg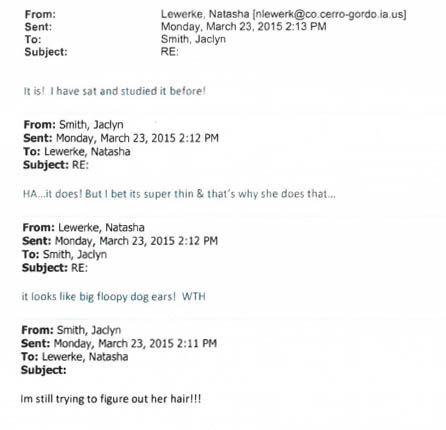 Natasha Lewerke 15.jpg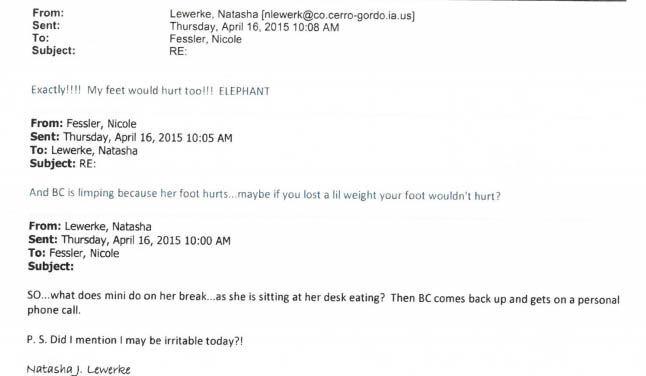 Natasha Lewerke 16.jpg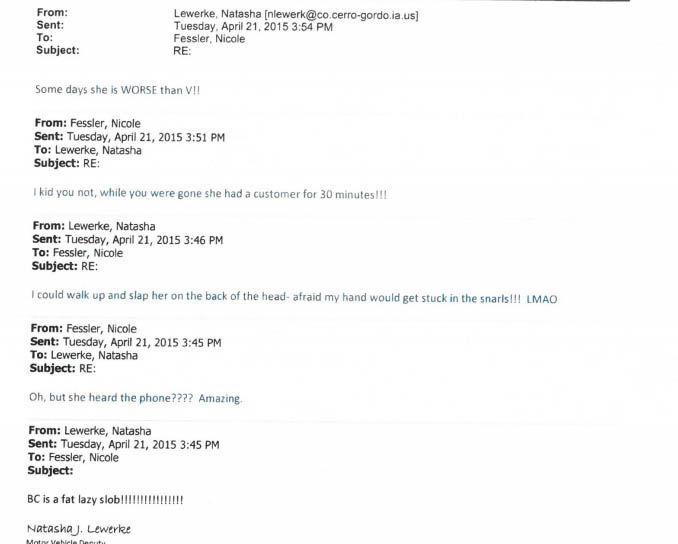 Natasha Lewerke 17.jpg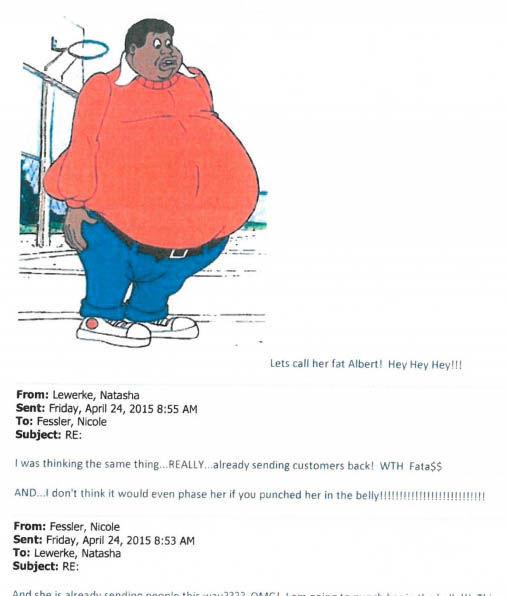 Natasha Lewerke 18.jpg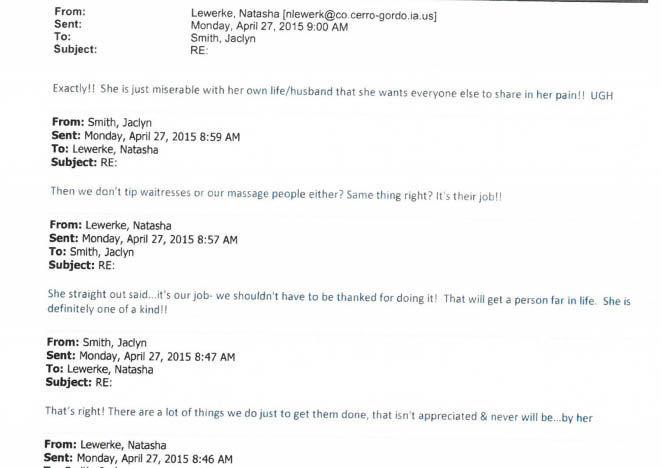 Natasha Lewerke 19.jpg

Natasha Lewerke 20.jpg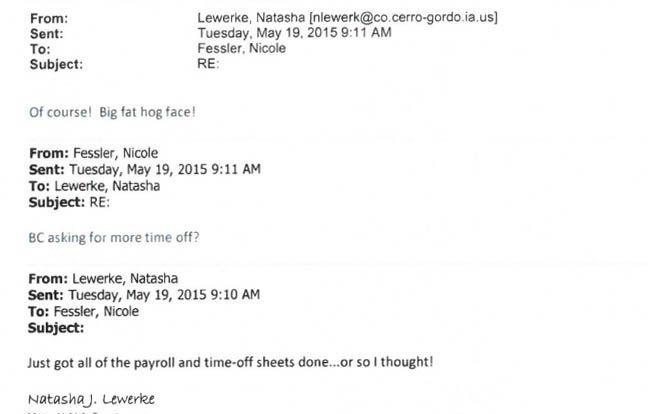 Natasha Lewerke 21.jpg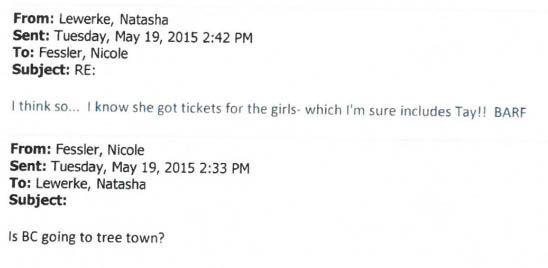 Natasha Lewerke 22.jpg
Natasha Lewerke 23.jpg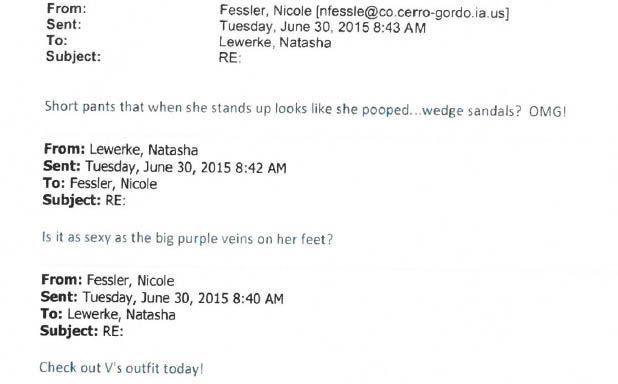 Natasha Lewerke 24.jpg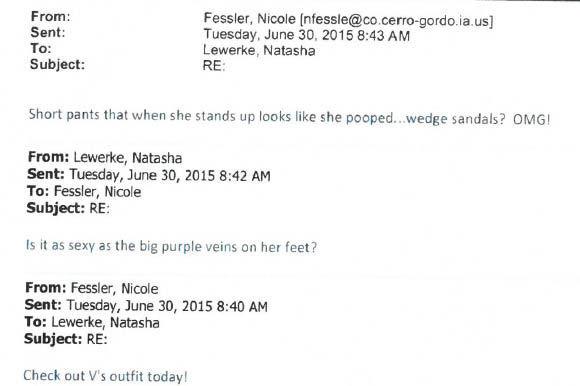 Natasha Lewerke 25.jpg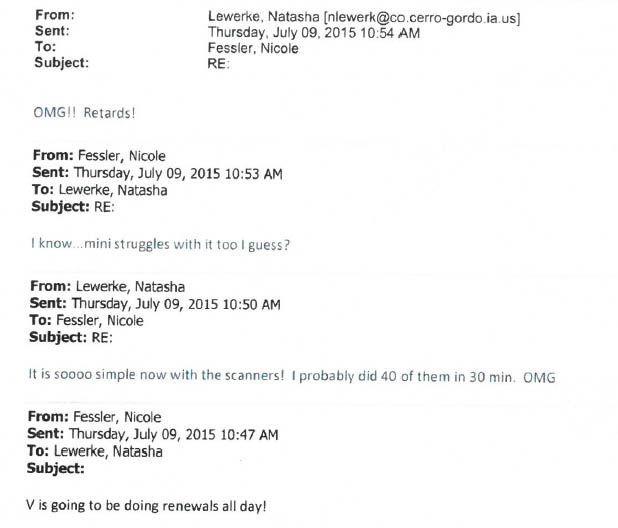 Natasha Lewerke 26.jpg