THOMPSON | A 21-gun salute honored a Thompson soldier killed in action during World War II before the bugler began taps, with the cool fall wind gently blowing through neighboring rolling corn fields.
Six Iowa Army National Guard pallbearers lifted the American flag off of a casket and carefully folded it into a tight triangle.  
It's a sight that brings closure to the family of a Thompson soldier killed in action during World War II who finally came home after more than 70 years being buried as an unknown at an American military cemetery in France.
Army Pvt. Donald E. Brown, 24, was buried with full military honors provided by the Iowa Army National Guard Saturday at the Thompson Cemetery.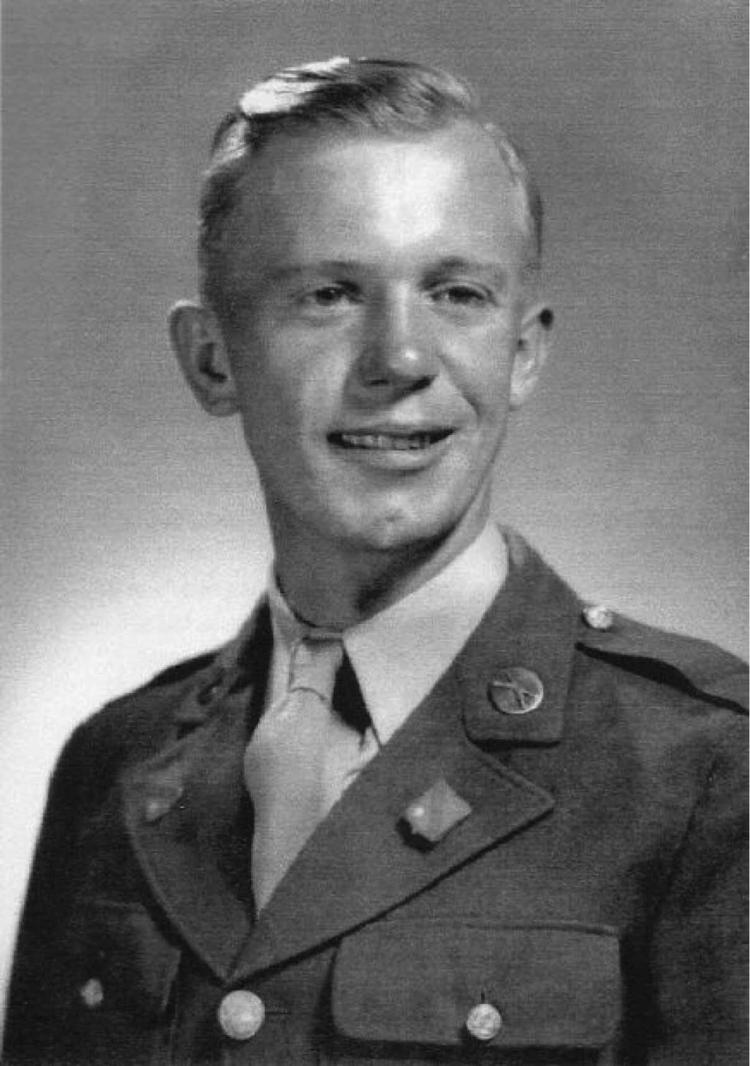 For his family, the setting was near perfect.
"I think, had he lived, he would have come back to Iowa to farm,"  said Alison Conrad, Brown's niece. Brown died several years before Conrad was born.
He was buried on a corner lot, in the shade of a tall, old tree with cornfields on two sides.
Conrad's father, Percy, used to tell her stories about their shenanigans growing up.
"He shared many stories of growing up on the farm together," she said, smiling.
Brown was an avid hunter, enjoyed horses and got along well with others.  He entered the Army on April 4, 1942, and trained at Camp Roberts, California, and in Texas before returning to Iowa for a furlough in 1943.
In July 1944, Brown was a member of Company A, 745th Tank Battalion, fighting in support of the 1st Infantry Division in the European Theater, in World War II.
He was killed in action on July 28, 1944, when his M-4 Sherman tank was destroyed by enemy fire near Cambernon, France.
Following the close of hostilities, the American Graves Registration Command searched for and disinterred the remains of U.S. service members who were killed in battle.
In July 1947, an investigation located remains in a tank from Brown's battalion. The remains, unable to be identified, were designated Unknown X-452 Blosville and were interred in Normandy American Cemetery, Colleville-sur-Mer, France.
Brown's military awards and honors include the Purple Heart, Army Good Conduct Medal, American Campaign Medal, European-African-Middle Eastern Campaign Medal and World War II Victory Medal.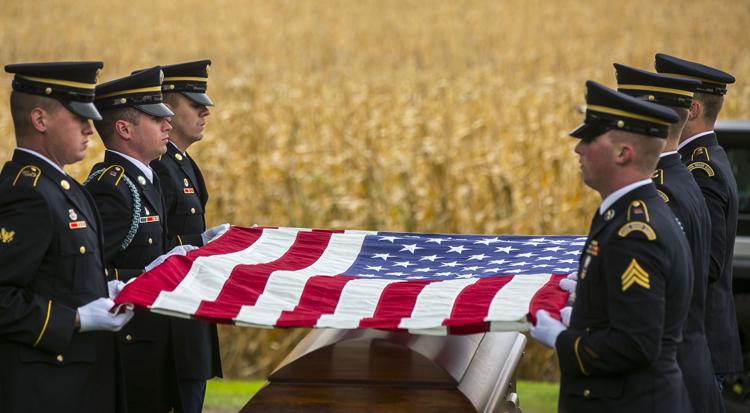 Conrad said bringing him home is just short of a miracle.
"I regret that no one from his generation could see this," she said.
Brown's name is recorded on the Tablets of the Missing at the Brittany American Cemetery, an American Battle Monuments Commission site in Saint James, France, along with the others missing from World War II. 
Although interred as an Unknown in Normandy American Cemetery, Brown's grave was meticulously cared for over the past 70 years by the ABMC.
A rosette will be placed next to his name to indicate he has been accounted for.
Lillian Thiemann, Brown's late sister wrote wrote a book about her brother. Her daughter, Joyce Sorensen, of Clear Lake, brought copies of her mother's book to give to family members.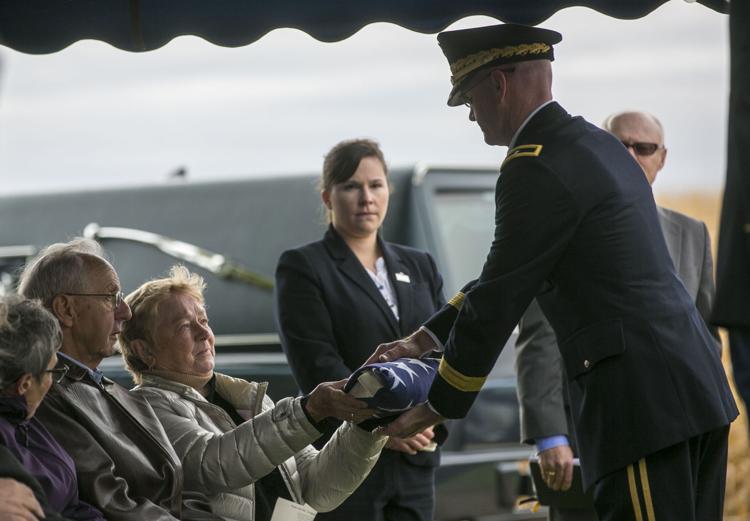 Conrad, who now lives in Colorado, traveled back to Iowa for the event and was pleased to see her extended family. Sorensen hugged Conrad, her cousin.
"It's great to see them," Sorensen said.
Sorensen said the process of identifying Brown began in 2012.
The remains were disinterred in August 2017 following research and analysis of soldiers missing from combat, as well as family requests. Family members submitted DNA and testing identified the remains as that of Brown.
A few months ago, Sorensen got the call saying Brown had been identified. He was accounted for on June 20. 
"It was a surprise," she said.
Carsyn Ten Haken, Joyce Sorensen's granddaughter, said it felt like the entire town turned out for the service. Ten Haken sang "Amazing Grace" during the service.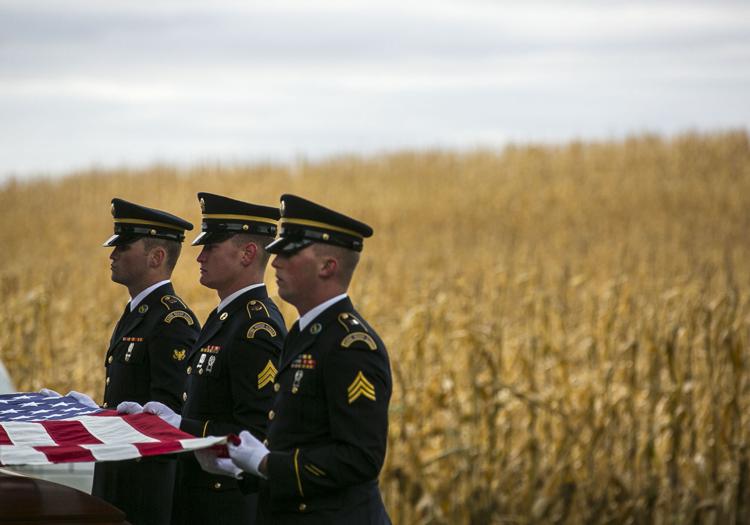 More than 80 people watched the ceremony at the cemetery, some holding flags. The driveway into the cemetery was lined with American flags. The Winnebago County Sheriff's Department lead the procession of vehicles into the cemetery, followed by about a dozen motorcycles.  
"What was emotional for me was seeing the honor, the show of patriotism," Sorensen said.
Of the 16 million Americans who served in World War II, more than 400,000 died during the war. Currently there are 72,813 service members still unaccounted for from World War II, and approximately 26,000 are considered possibly recoverable.
"It's an amazing an important event for our family to experience," Conrad said. "What a country we live in that wants to never let a soldier get left behind. We're very grateful."
Photos: Army Pvt. Donald Brown's funeral service in Thompson