A new student organization has formed at Mason City High School whose roots can be found in the alt-right and with reported ties to extremism.
Mason City High School TPUSA appears to have been founded in July this year, according to its Instagram account.
The group is a local chapter of Turning Point USA, which was founded in Illinois in 2012 by Charlie Kirk, on the advice of Bill Montgomery, who'd heard Kirk speak at a local university when he was 18. Montgomery died in July 2020 of COVID-19.
The group touts that it has a presence on 2,500 college and high school campuses, including at North Iowa Area Community College, according to its website, TPUSA.com.
The nonprofit organization is best known for its "Professor Watchlist," which it says seeks to "expose and document college professors who discriminate against conservative students and advance leftist propaganda in the classroom."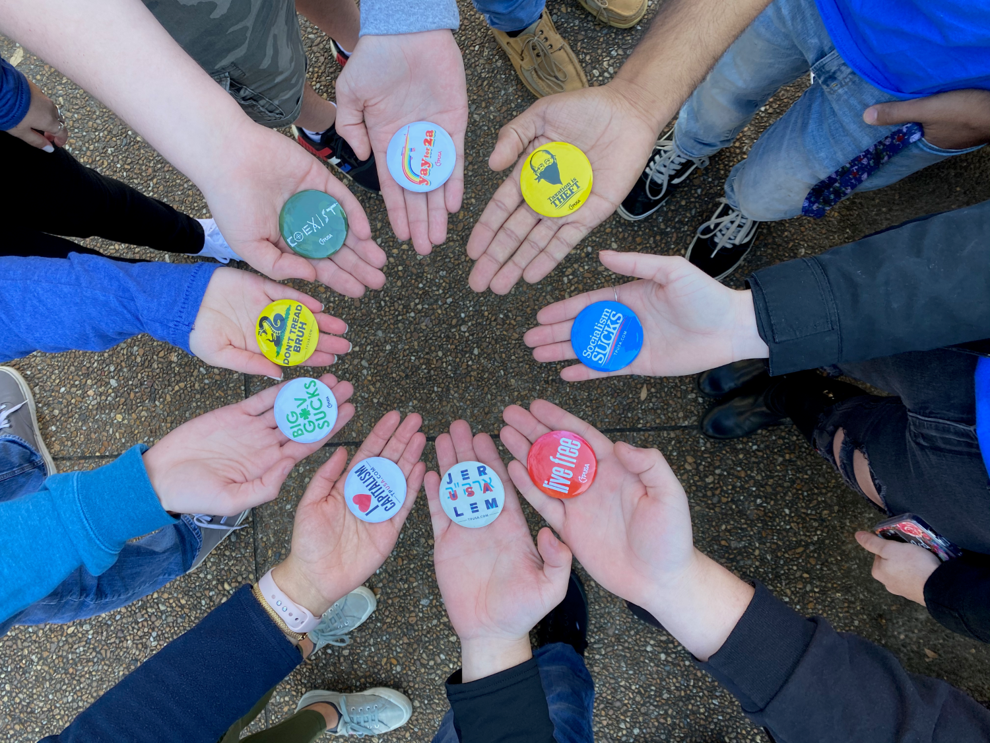 It also has a "School Board Watchlist," which it claims is "America's only national grassroots initiative dedicated to protecting our children by exposing radical and false ideologies endorsed by school boards and pushed in the classroom.
"SBWL finds and exposes school board leadership that supports anti-American, radical, hateful, immoral, and racist teachings in their districts, such as Critical Race Theory, the 1619 Project, sexual/gender ideology, and more. SBWL also provides information on how parents and students can get involved in their local school board and put an end to the racialization of the classroom."
Most recently, TPUSA has been rallying youth to combat vaccine mandates. Facebook ads have appeared from the organization urging people not to be "forced" to inject themselves with "an experimental vaccine," according to a story in the Washington Post.
Founder Kirk's website features articles touting the effectiveness of Ivermectin as a treatment for COVID. Kirk and his TPUSA staff are no strangers to controversy. Some have been seen at national rallies with white supremacists and some of its leaders have faced accusations of discrimination from former employees. At one TPUSA-sponsored event in Boulder, Colorado, alt-right speaker Milo Yiannopoulis told the audience that he hated "faggots," lesbians and feminists who "(expletive) hate men," according to a feature in The New Yorker magazine.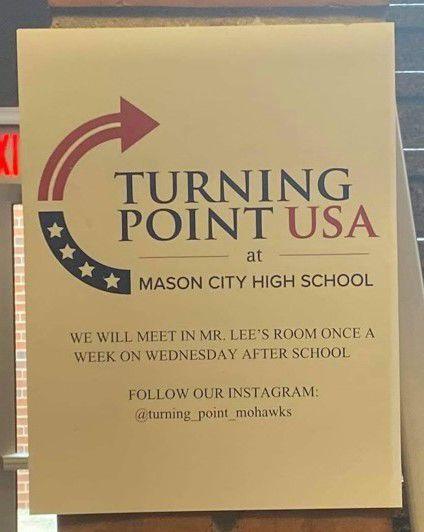 Mason City Community Schools' policy 504.2 governs student-initiated, non-curriculum based groups. Any organization that wants to use district facilities must get permission from the building's administrator, in this case high school principal Dan Long.
Long found the group was complying with district policy that it be student-initiated, use school facilities outside instructional time, not interfere with orderly school conduct, have only student members and have an employee monitor the meetings, but not participate or assist, according to an email district communications liaison Sue Deike sent the Globe in response to questions about the group and the district's policy. Deike wrote that Long also consulted with Superintendent Dave Versteeg on the decision. 
According to fliers sent to the Globe, Mason City High School TPUSA has been holding weekly meetings at the high school under the supervision of teacher, coach and sitting city councilor John Lee.
Lee has a TikTok account, @viewfromteachersrow where he has recorded videos recommending good books about history and touting the art and architecture of Mason City. Some of the educator's viewpoints made in his videos seem to align with those of TPUSA, including one in which he suggests that modern day Democrats "are just today's slaver owners," in that they believe in the "paternal" role of government to take care of those incapable of caring for themselves. In another video made with his wife, Lee says "you might be brainwashed if you think it's necessary for kids to stay at home and learn online."
Since the district "does not take a position on student-initiated non curriculum groups ... Mr. Long and Mr. Lee would not have any comment," wrote Deike in an email response to a request to interview them both about the group.
Deike did not respond to requests for interviews with the student organizer. In response to an email sent to the address on the group's Instagram page, an email from Hunter Seidel referred questions about the group on to its national organization.
The latest Instagram post showed what appears to be students staffing a booth in Clear Lake as part of the city's Thursdays on Main events in July. Another post shows what the caption says is the chapter's unidentified president and vice president walking with GOP candidates in the Clear Lake 4th of July parade.
Other local TPUSA chapters have not had as easy a go starting up as MCHS's did. Drake University and Cornell and Wartburg colleges' student senates have all rejected requests for TPUSA charters in recent years, claiming the organization is racist. 
Both the Anti-Defamation League and the Southern Poverty Law Center agree, noting the national organization promotes sexist and racist ideals.