Helping turtles and protecting Iowa's wildlife was all in a day's work for one Mason City educator.
Mason City High School science teacher Emily Nannenga participated this past summer in the Iowa STEM Teacher Externship program, working with the Iowa Department of Natural Resources (DNR).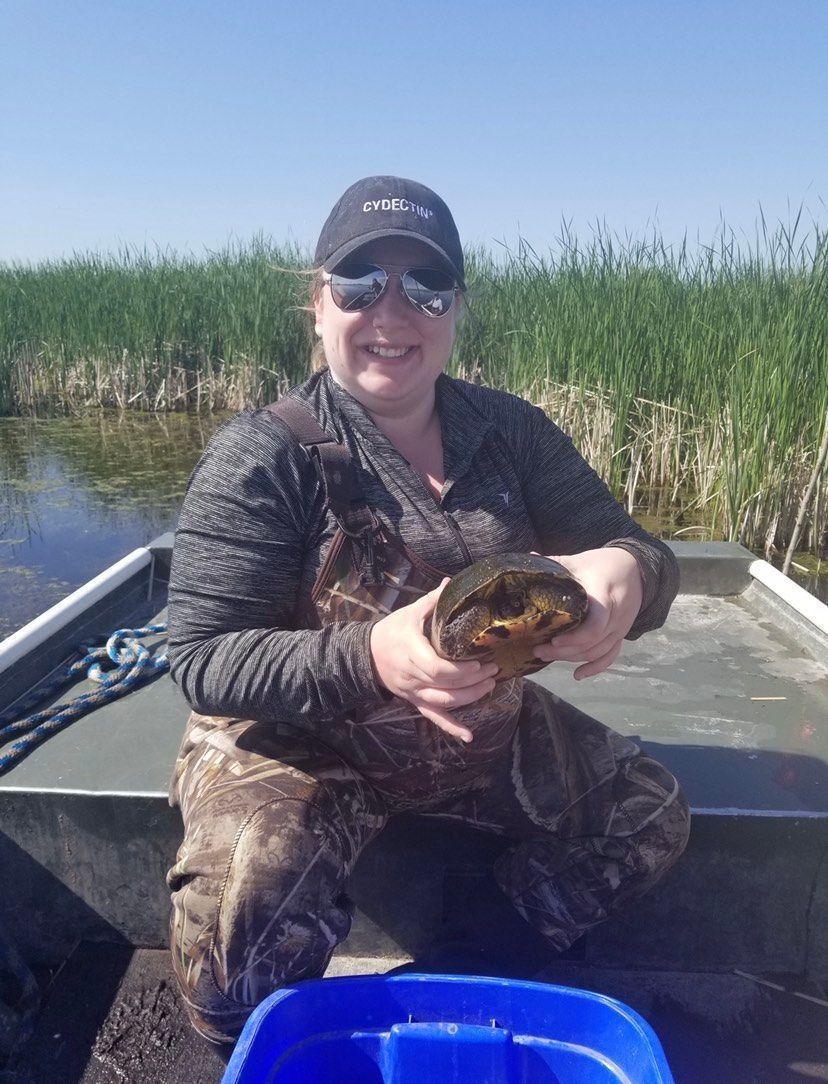 For 13 years, the Iowa Governor's STEM Advisory Council has matched teachers from across the state with local STEM workplaces through the externship program. This year, 66 Iowa teachers were matched to workplaces.
Nannenga received an email about the program requesting applications from teachers. She put in an application that specifically asked to be partnered with the Iowa DNR since she teaches courses involving environmental sciences.
"One of our former teachers had participated in the program and she really recommended taking part of it," said Nannega.
The program aims to help Iowa educators bring additional experience to their classrooms by providing the opportunity to work side by side with industry professionals. Teachers can take the experiences they have learned and apply them to their curriculum.
"By matching teachers' skills and abilities to the goals of extern hosts, we've found a tremendous return on the investment of time and effort put into the externship for both the teachers and hosts," said Jason Lang, Program Manager of the STEM Teacher Externships Program.
The externships were for six weeks starting in June with participants in a variety of STEM fields. While teachers learn how to show students the link between state academic standards and available jobs and needed skills, extern hosts find the help they need to complete significant projects that bring value to the organization.
The externship placed Nannenga with the Iowa DNR to work on projects that helped Iowa wildlife. She mainly worked on two big projects during her externship, along with helping with occasional maintenance.
For one project, Nannenga captured, tagged, and tracked Blanding's turtles. The benefit of this project is to provide information that will be used to guide future wildlife habitat management. Tagging and tracking the turtles was meant to help with preventing the species from going extinct, according to Nannenga.
One of the best moments came from tagging the Blanding's turtles early in the externship according to Nannenga. She said the Iowa DNR was lucky to find a turtle a day, but when she went out with them they found two. The excitement that the Iowa DNR had that day inspired Nannenga.
"(Best part) was honestly all the excitement from the DNR and how invested they were in the project," said Nannenga.
Nannenga's second project was a wildlife habitat management project for waterfowl that targets marsh and wetland areas using grazing of various livestock to manage unfavorable plant life in hopes of encouraging growth of desired plant life. This project aimed to help control local species using natural management and promote positive interactions between private farmers and the DNR.
Nannenga says she is very grateful to the Iowa DNR for taking time out of their schedule and teaching her for six weeks.
"There has been great success in communicating the critical role of STEM in the workplace to our future workforce by creating these partnerships between teachers and businesses," said Externship Program Coordinator Meghan Lang.
Nannenga said the externship has helped her bring real-world experience to the classroom and add a personal side to lessons.
"My biggest takeaway is the way I will approach the material. It will be less textbook and looking more of a natural way, then bring in the textbook," said Nannenga.
The program has been partly funded by grants from the National Science Foundation, the Iowa Economic Development Authority, the Iowa Department of Natural Resources REAP-CEP, and Google, along with cost-share investments by Iowa business and industry partners. This year's contributions from workplace hosts totals approximately $90,000 in addition to the STEM Council's investment.
Abby covers education and public safety for the Globe Gazette. Follow her on Twitter at @MkayAbby. Email her at Abby.Koch@GlobeGazette.com