CLEAR LAKE | A few years ago, author Dorothy Garlock was speaking at a Writers Workshop, giving tips to young writers on how to write a good novel.
She talked about description, dialogue, setting and character development but warned them, "Sooner or later you have to burn down the barn or have a tornado."
Garlock, who "burned down barns" for 40 years with 60 books to her credit, died Friday, April 6, at Oakwood Care Center in Clear Lake. She was 98.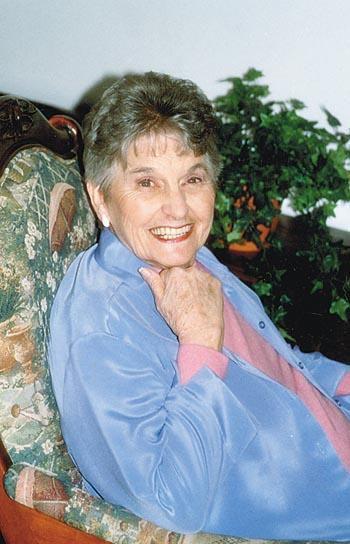 Arrangements are pending at the Ward-Van Slyke Colonial Chapel in Clear Lake.
More than 20 million copies of her books are in print, in 18 languages. Her books, most in the historical fiction and romance novel genre, have been on the New York Times best seller list seven times. She was named one of the 10 most popular writers of women's fiction four years in a row, from 1985-1988.
Garlock has had an editor, agent and publicist for most of her writing career and was asked many times why she didn't move to New York, the haven of book publishing.
Her answer was simple -- she could write just as easily in Clear Lake as in New York, and she preferred Clear Lake.
She described herself as "a native of Texas who grew up in Oklahoma, married a Yankee and moved to Clear Lake."
She worked for 14 years as a writer and bookkeeper for the Clear Lake Mirror Reporter. In the summer of 1976, she and her husband, Herb, went on a trip south for the winter and, though she didn't know it at the time, it was the start of her writing career.
In retelling the story later, Garlock said she was bored to death because "there was nothing to do but play shuffleboard and go to potlucks."
So she went to a second-hand store, bought a manual typewriter for $50 and wrote an entire book that winter. She came home and, on a lark, entered it into a contest, and won. One of the contest judges, an agent, sold the book to a publisher, thus beginning her long career as an author.
Though all of her books were fiction, she was a stickler for detail. She once placed a call from her home in Clear Lake to the Louisiana State Police in Baton Rouge to ask what color uniforms they wore. It was a small detail in one of her books but she wanted to get it right.
Garlock maintained a wry sense of humor all of her life but was protective about some things. Asked by an interviewer several years ago about her earnings, she said smugly, "I do all right."
She said one of the advantages of being a writer is "you always have something to do when you get up in the morning."
Her advice to young writers: "Start. You'll never get anything done unless you start -- and don't rely on family and friends to tell you whether your work is good. You know what they'll say."
An interviewer once asked her to describe the satisfaction she gets from her work. She said she knows, "Somewhere in the world, there is someone sitting on a toilet reading one of my books."