FLOYD -- From 2006 to 2010, there were 16 accidents at the U.S. 18-U.S. 218-IA 27 intersection in Floyd County, including one fatal crash, according to Iowa Department of Transportation stats.
From 2011 through 2016, that number ticked up to 24 total accidents and rose each year from 2014 to 2016. 
On July 16, IDOT officials will meet with the public to discuss a proposal that could potentially mitigate the issue.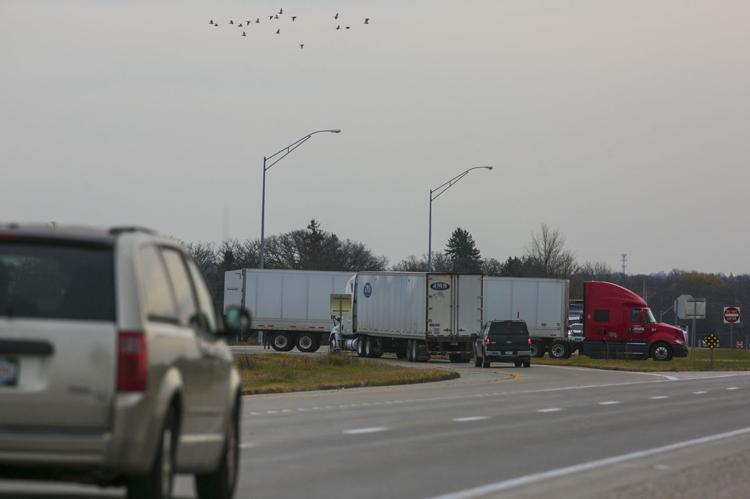 The project would construct an interchange at the U.S. 18-U.S. 218-IA 27 intersection by fall 2023.
The new exchange would run four lanes (two eastbound and two westbound) with extended on and off ramps on either side.
According to an announcement from IDOT Assistant District Engineer Nick Humpal, there will be displays of what the interchange would look like and details of the plan would be discussed at the meeting.
Humpal said that the project would begin construction in July 2021 and would run about $20.6 million.
In a past presentation for the state in 2016, Floyd County officials suggested that a "controlled intersection that includes an overpass over Iowa Highway 27" would help minimize the decisions motorists need to make while improving the safety of the intersection.
At that time, Floyd County supervisor Mark Kuhn had a petition with more than 3,000 signatures of people wanting intersection changes.
Kuhn explained that the intersection is close to the nearby Valero ethanol plant as well as a Love's Truck Stop, which both increase traffic activity. It was noted that an average of 190 corn trucks pass through on a given day as well as 25 dried distiller grain and wet cake trucks, 12 tractors pulling grain wagons and at least 10 delivery trucks.
Floyd Mayor Trevis O'Connell said he lives a block from the intersection and often watches the congestion.
"Almost daily you see near-misses out there," O'Connell said.
You have free articles remaining.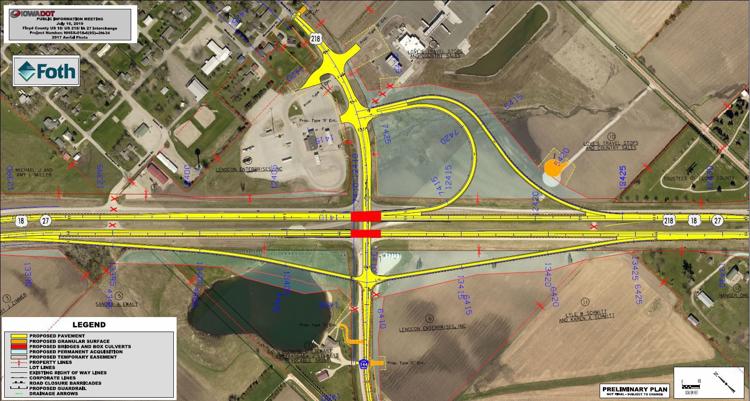 But local restaurant owner Ron Dugan, who runs Dugan's in Floyd, doesn't necessarily buy the safety concerns.
He's owned his eatery, a homestyle place with a green metal exterior and green floral trim on the inside, for almost 20 years, just in sight of the highway, and said that he's never felt that unsafe.
He does point out that fairly recent inside turn lanes have made things easier so the need for a major overhaul is lessened even more.
His larger concern is what the change will do to business for Dugan's.
"A majority of my customers come off of that four-lane highway and it would be a closed intersection by the restaurant with no frontage road," Dugan said.
Dugan has had a dog-eared copy of an earlier road plan for years now. He calls it a "God-awful intersection." He knows it well and also fears just how bad a clover-leaf close by could be.
"Not very much in favor of building the clover-leaf and closing my restaurant," Dugan said. 
He plans on attending the informational meeting on the 16th but doesn't know how much good a discussion will do.
"It looks like minds are made up," he said.
The meeting will start at the Floyd Community Center at 5 p.m. on July 16 and run for approximately two hours. The meeting space is disability accessible but special accommodations can be made ahead of time. 
What a Globe Gazette News+ membership can do for you:
A deeper examination of local issues than you'll find anywhere else.
Two products in one – not everything that's in the print edition of the Globe Gazette is on our website, and not everything on our website is in the print edition.
Access to newspapers.com archives dating back two years.
The ability to carry your local news with you and receive alerts instantly as news unfolds.
Advertising that frequently gets you deals you won't find anywhere else.