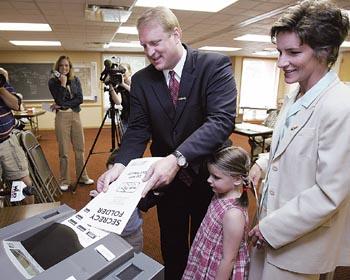 DES MOINES — Iowa Secretary of State Chet Culver captured the Democratic nomination for governor Tuesday as a slim majority chose to pass their party's torch to the son of a former U.S. senator.
Democrats waited into the night as Culver slowly built an insurmountable lead over his leading rivals — former state economic development director Mike Blouin and state Rep. Ed Fallon.
But there was no suspense for the state's Republicans. U.S. Rep. Jim Nussle celebrated his victory in the GOP primary, where he faced no opposition.
With 99 percent of precincts reporting statewide, Culver led with 39 percent of the vote compared to 34 percent for Blouin and 26 percent for Fallon. Blouin conceded the race just after 11 p.m. and Culver declared victory 30 minutes later.
"It's time for a Democratic governor with energy, ideas and vision," Culver told supporters. "And with your help, I can be that governor."
Blouin pledged to support Culver.
"I think with a little help he'll be our next governor," Blouin said.
Fallon told supporters at a block party outside his inner city Des Moines home that his low-budget, insurgent campaign exceeded expectations. He also said he would support Culver.
"They never thought we would do this good," Fallon said..
A fourth Democratic candidate, Sioux City engineer Sal Mohamed, received roughly 1 percent of the vote.
Tuesday's voting came at the end of a Democratic race thrown wide open when Gov. Tom Vilsack declined to run for re-election. Culver, Blouin and Fallon spent the last month crisscrossing the state and filling the airwaves with TV ads with hopes of swaying undecided voters.
More than 146,000 Democrats voted in the gubernatorial primary.
Nussle's path to the nomination was cleared back in February when his lone rival, Sioux City businessman Bob Vander Plaats, dropped out of the GOP race to become his running mate.
Nussle wasted no time going on the offensive Tuesday night.
"Iowans know it's time for a change," Nussle said in a speech to about 400 supporters at a downtown hotel.
"Iowans don't want to continue down the same path that has seen our state fall in the quality education we provide our children; mismanaged a $500 million failed economic development program; advocated a culture of secrecy where cover-ups and greed are acceptable, and empowers government at the expense of the people," Nussle said.
Democrats fired back while they watched returns crawl in.
"Jim Nussle would be a disaster for this state," said Senate Democratic Leader Mike Gronstal of Council Bluffs.
Culver, the son of a former U.S. senator, was widely considered the favorite in a Democratic race. His well-known name and his family's strong party connections helped him build an early base of support among Iowa Democrats.
Blouin was seen as the candidate tied most closely to Vilsack's political legacy. Together they reinvented the Department of Economic Development and created the massive Iowa Values Fund, a pool of dollars intended to fuel job creation.
"One of the messages out of this is the next Democratic nominee better be a little different than Tom Vilsack," said former congressman Dave Nagle, a Culver supporter.
Blouin and Culver traded shots throughout the final weeks of the campaign.
Culver repeatedly argued that Blouin's pro-life stance on abortion rights and stem cell research are out of step with party voters. Blouin vowed that he would not sign further abortion restrictions, but Culver dubbed his pledge an "election year conversion."
Blouin ran TV ads accusing Culver of having lobbied for former meatpacking giant IBP in the 1980s.
Fallon toured Iowa for more than two years hoping that shoe leather, worn tires and handshakes would help him overcome better-known and better-financed rivals.
He refused to take campaign donations from political action committees and registered lobbyists while also capping individual gifts at $2,400. Fallon advocated for a "clean elections" law that would lead to public campaign financing.
"Iowans are tired of government that's bought and paid for," Fallon said Tuesday night. "This voice has to be included."
Nussle spent much of the primary season raising resources for a general election battle, including an event in April featuring President Bush that raised $1 million. He'll start the fall campaign with $1.4 million in the bank, a sum that easily eclipses his would-be Democratic rivals.
— Charlotte Eby and Dan Gearino contributed to this story.
Get local news delivered to your inbox!
Subscribe to our Daily Headlines newsletter.