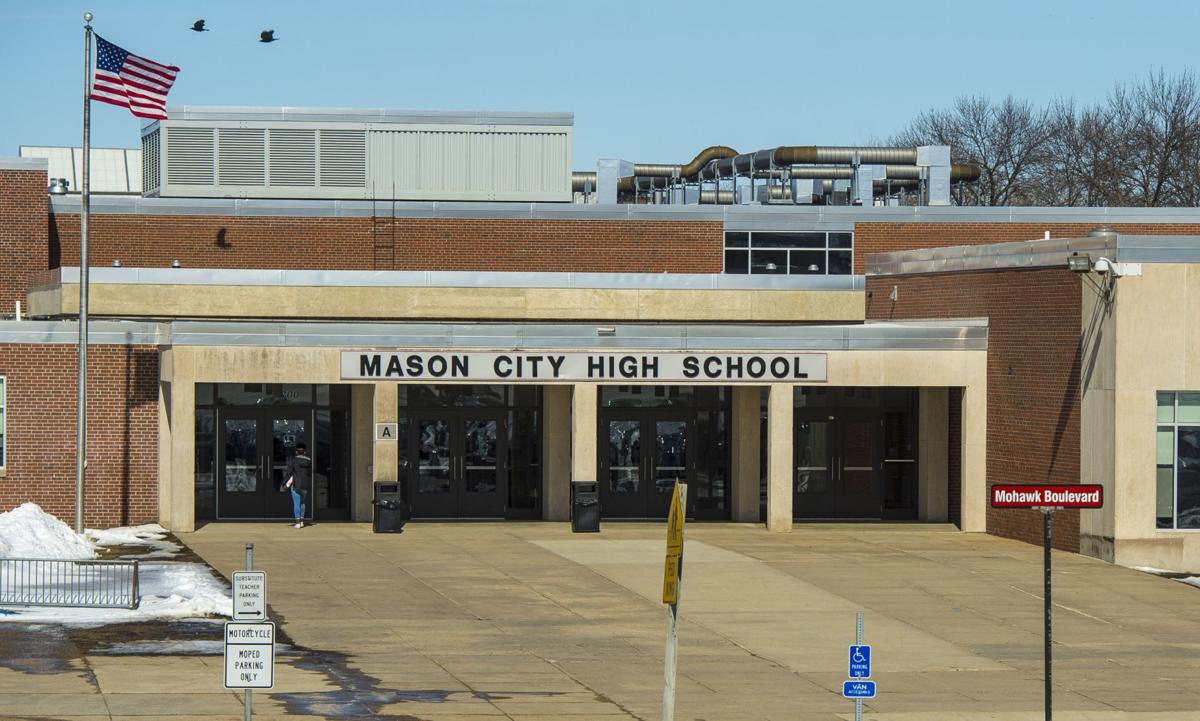 Meanwhile, Mason City police defended their limited release of details about the case, even as other Iowa law enforcement agencies outlined in more detail similar threats in their communities.
The student, who has dark brown hair and was wearing a sweatshirt and jeans, didn't speak during his appearance. He appeared calm throughout the hearing.
During the hearing, Assistant Cerro Gordo County Attorney Nichole Benes and public defender Parker Thirnbeck discussed when a juvenile evaluation should be performed.
The judge ordered the student would remain in juvenile detention until an evaluation is performed, which would be "as timely as possible." Then, another detention hearing would occur.
Thirnbeck argued during the hearing that any considerable delay in such evaluation would be "burdensome" to him and the student involved, along with his family. He declined comment after the hearing.
Benes said she had no objection to Juvenile Court Services looking at completing the evaluation as soon as possible. 
According to Iowa law, court records relating to people under the age of 18 are confidential, unless a teen is charged in adult court or charged with a forcible felony, such as murder.
Police haven't said how old the teen is or what he has been charged with. Neither was mentioned during the court hearing. 
Mason City Police Chief Jeff Brinkley said his department is bound by state law regarding the confidentiality of juvenile court records.
Iowa law enforcement agencies are interpreting the juvenile law differently — some release information that doesn't identify a juvenile, while others will release nothing. The law went into effect in 2016.
While Mason City police said they cannot share details such as the student's age, the nature of the threat, the type of weapon specified and whether the weapon was shown to other students, various agencies throughout Iowa have shared similar information in other school threats in February.
Police also noted a search warrant conducted in relation to the case did not yield a gun.
Citing state law, Mason City police said they could not say whether they executed a search warrant or what was found.
You have free articles remaining.
Still, Riceville Schools and Howard County Sheriff's Department released a narrative detailing the threat after the FBI became involved.
Several other school districts and law enforcement agencies have released the nature of a threat:
Feb. 19 -- Southeast Warren Community School District responded to a shooting threat it received via social media.
Feb. 16 -- Anamosa High School staff received information on a possible bomb in the school. Students were evacuated. No bomb was found.
Feb. 14 -- Martensdale-St. Marys Community School District received a bomb threat and students were evacuated. No bomb was found.
Feb. 14 – A student was charged with felony threat of terrorism after writing a note that threatened Le Mars High School. Le Mars Police Chief Kevin Vande Vegte told a TV station a student had threatened a shooting at the school. 
Brinkley said that threats and incidents like these happening all over the country right now.  
"We (MCPD) work from a mindset that prepares us for when something like this happens in our community, not if it will happen," Brinkley said. "I hope that most people in our community recognize that and are taking their own proactive steps to keep themselves and their loved ones safe."
Brinkley said the department has to react to what is in front of them when something like this happens.  
"I think that our approach has been reasonable and well thought-out in each of these cases," Brinley said.  "I also understand that no matter what decisions we make, there will be people who agree and people who disagree."
Brinkley attended the pep rally, as well as several uniformed and plainclothes police officers who patrolled the gym and surrounding area.
Police released a redacted screenshot of the threat on Tuesday.  
"We also hope that this helps to provide some context for students, parents, and the community about these kinds of incidents," Brinkley said in a news release.
Mason City Superintendent Dave Versteeg addressed parent, student and community fears in the wake of two recent school threats.
"There is no special thing we can tell parents about the possibility of threats in their school by an outsider or a student of the school, Versteeg said via email Thursday. "We encourage parents and students to talk with their building principal about the specifics of why they may feel unsafe and what that building can do to assure them they are safe."
Versteeg said the district believed the threat on Friday was serious enough to warrant "calling the police," though it is unclear exactly how police were contacted.
"As to how real the threat was, I would have to defer to MCPD to answer that as they investigated the details," Versteeg said.
"There are multiple people in different organizations and agencies involved in assessing a threat and reacting to a threat," Versteeg said. "I think this approach acts as a system of checks and balances in reacting appropriately to a threat and should give parents and the community confidence all organizations and agencies are not over or under reacting."
Police became involved in the matter when administrators informed the school resource officer about 4 p.m. Friday. Information was released about 24 hours later. 
The police investigation remains active.
"We believed the threat in this case was real enough to refer the matter to Juvenile Court Services," Brinkley said.