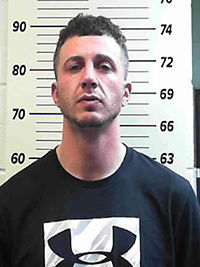 The St. Paul man who led authorities on a high-speed chase from Albert Lea to Worth County that ended in an officer firing his weapon was sentenced Monday to five years of probation.
Ten years of prison time and a $1,000 fine were suspended.
Ryan Amabile, 30, had pleaded guilty on Oct. 28 to one count of first-degree theft as part of a plea deal to have his two other charges of eluding and second-degree robbery be dismissed at sentencing.
You have free articles remaining.
During the course of the chase, which exceeded 100 mph, he reportedly struck at least two cars, displayed a handgun and attempted to carjack a 2016 Chevrolet Malibu in Worth County driven by a Northwood woman.
Freeborn County Sheriff's Office Deputy David Gilmore fired three rounds through his patrol car windshield to stop the carjacking, and at that time Amabile went down to the ground and was taken into custody.
Amabile was found to have several felony warrants out of Minnesota and was driving a vehicle with fraudulent license plates that was stolen from St. Louis Park.
Iowa DCI Special Agent Chris Callaway said there were no concerns about Gilmore's use of force, and the case remains under investigation regarding Amabile's actions in Minnesota.
Freeborn County Attorney David Walker said charges in Minnesota are under review through the county attorney's office.
Grace Zaplatynsky can be reached at 641-421-0534.