The photo appears to show a Snapchat-style photo with two lines of text reading "Don't go to the assembly they found they found two of the planned shooters guns" and what appears to be a blacked-out word or two in the third line. Police said the post was widely circulated among students and parents Monday. 
Mason City Police Chief Jeff Brinkley said in a news release the image had been "edited slightly, in order to remove the identity of the account holder and to remove profanity.
"We also hope that this helps to provide some context for students, parents, and the community about these kinds of incidents," Brinkley said.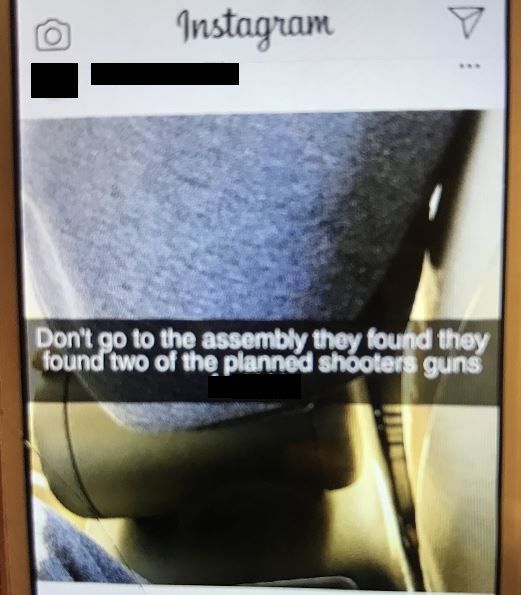 Brinkley said police worked with school officials to investigate the threat and make a determination about the remainder of the school day. 
"Based on the information known to us at the time, we supported the decision to finish the school day, as planned," he said. 
Officers were dispatched to the high school about 12:30 p.m. and were on the campus the remainder of the school day. Brinkley attended the pep rally, as well as several uniformed and plainclothes police officers who patrolled the gym and surrounding area.
"There is no guidebook for school or law enforcement officials in making decisions about what to do when these situations arise," Brinkley said. "We must balance the interests of school safety, public safety, and an appropriate law enforcement response against panic and fear that is generated by these kinds of messages."
Brinkley warned that when the public allows panic and fear to guide decision-making, then the message writer accomplishes their goal.
"I also want to share this message with students and parents," Brinkley said. "It is not ok to REPOST these kinds of messages. It is appropriate to REPORT them – to school officials and/or law enforcement. When we blindly forward or share these kinds of messages, we are not part of the solution. Nor do we give school or law enforcement officials time and information that will help them to respond appropriately to these scenarios."
Brinkley said the department encouraged students, parents, and community members to think proactively about their safety at all times.
"When you see something suspicious, do your part by reporting it to your local law enforcement agency," he said.
Police are continuing to investigate this incident and ask anyone with information about it to contact Lt. Rich Jensen at 641-421-3636.
School officials said that threat was not connected to what occurred Monday.