GARNER | Rex Ollenburg had just gotten some new surveillance cameras in order to enhance security at Ollenburg Motors off of Highway 18 in Garner.
The reason? Mason City Motor Co. had reported wheels and rims had been stolen off GMC trucks in their lot around June 12. 
Before Ollenburg could have the cameras professionally installed, however, about $30,000 of wheels and tires were stolen off six trucks in their lot last Tuesday night or Wednesday morning.
Ollenburg said Thursday he got a call from police telling him about the stolen wheels. He was surprised, however, that no one saw the thieves, considering they're along a busy highway.
"I guess we gotta have those security cameras," Ollenburg said. "But from what we've heard, it hasn't deterred them."
Mason City Motor Co. has cameras installed. But according to Business Development Manager Ian Anderson, recent wind storms blew them "off-kilter," rendering any possible footage useless.
Ollenburg and Anderson agree it's probable the same people are stealing similar wheels and tires from around the region. Ollenburg noted 12 sets of tires had been stolen from trucks at Mangold Ford in Eureka, Illinois.
In February, Tom Kadlec Honda in Rochester reported wheels were taken from several of their Cadillac and GMC vehicles.
Motor Inn Co. in Albert Lea also reported in March they had multiple wheels and tires stolen from vehicles on their lot.
"They must be professionals," Anderson said. "They were able to boost the trucks up and put the brakes underneath … we're thinking, they know what they're doing … we're speculating these are the same people who are doing it throughout the area."
Ollenburg said the style of cars, along with the same blocks being used to hold the trucks up, means it could be the same people.
"They don't even use jacks, and that seems to be consistent," he said.
Insurance will cover about $20,000 of the stolen wheels and tires, Ollenburg added.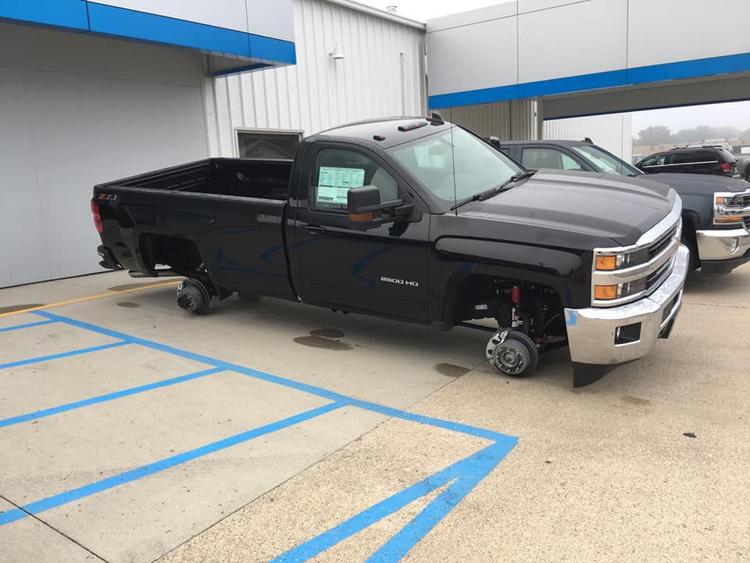 Garner Police Chief Tim Dodge said the blocks being used, the lack of working cameras in both Garner and Mason City and other factors suggest the same thieves are stealing the tires and wheels.
You have free articles remaining.
Dodge emphasized, however, that his department hasn't confirmed this theory.
"Do you have a copycat, or is it the same group?" Dodge said.
He added his department is working with Mason City police and other departments, but that leads have been scarce. Garner police have issued subpoenas for video from nearby stores, but there's a lack of cameras near Ollenburg, he said.
No suspects or vehicles of interest have been identified yet, according to Dodge.
The community has been helpful, even if most of the information coming in is speculation, Dodge added.
"Even if rumors get started, a lot of eyes and ears have been open, and there's a lot of community policing," Dodge said.
"I wish I could give you something," he added with a sigh, concerning the police investigation. "All I'd be doing is throwing out guesses, which could lead people in the wrong direction."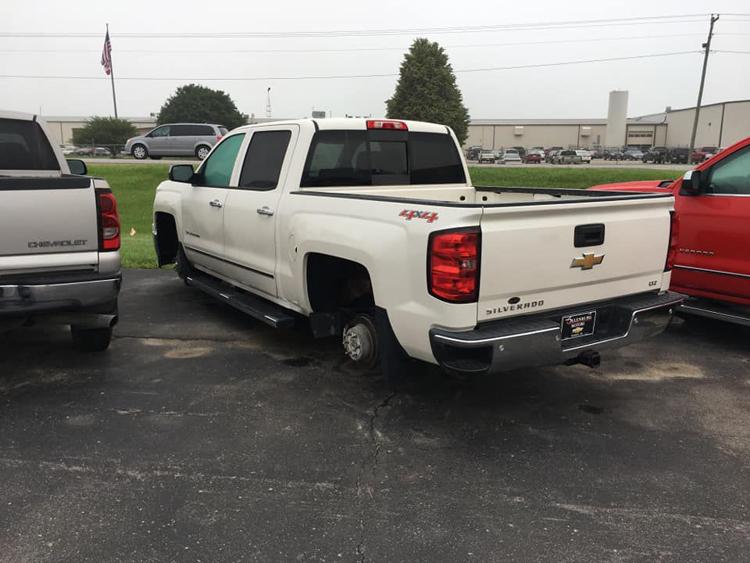 Mason City Police Lt. Rich Jensen also said he didn't have any leads. He added he doesn't believe the suspects are local residents, given the thefts have happened in multiple states throughout the region.
He added these cases are probably connected, given the nature of each theft.
"Usually the break in this case would be someone getting caught in the act or being arrested for selling these stolen tires," Jensen said about finding the suspects. "Maybe we could find a wheel and tire to have traced back to us."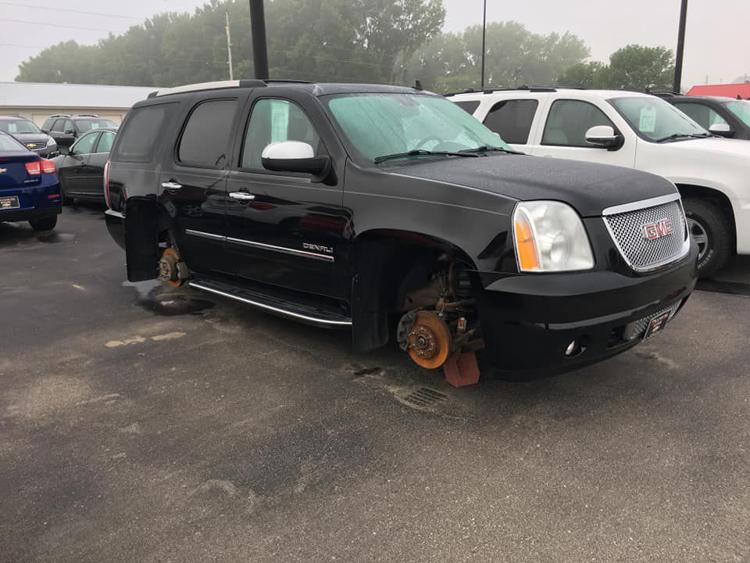 Ollenburg said he's going to replace his light bulbs in the lot with LED bulbs over the next couple of weeks, and he's also put locking nuts on the wheels of the trucks impacted. 
"Even if you're really good, it's gonna really slow you down," Ollenburg said of the nuts.
People with information about the thefts can call North Central Iowa Crime Stoppers of North Central Iowa at 800-383-0088 or Jensen at 641-494-3564.