A man accused of leading officers on a high-speed chase on Interstate 35 in Worth County while brandishing a handgun didn't surrender until a gas canister was launched into his car. 
Moses Francisco Cruz, 52, who is now in custody on felony charges, never fired his weapon during a chase and standoff that shut down the southbound lanes of I-35 near Northwood for several hours Tuesday afternoon, according to Iowa State Patrol Sgt. Keith Duenow. 
"He had it directed at his head most of the time," he said.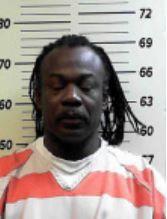 Iowa law enforcement officers heard via radio traffic about Minnesota officers pursuing a vehicle driven by Cruz, who was allegedly pointing his gun at other motorists, according to court documents. 
Cruz's vehicle was spotted at the state line, and Iowa officers began their pursuit. 
Cruz's vehicle was traveling 95 mph during the chase, according to court documents. 
Law enforcement officers instructed him "many, many times" to put down his weapon, but he didn't comply, even when stopped by an armored vehicle, documents state. 
You have free articles remaining.
Officers launched a canister of gas into Cruz's vehicle, according to Duenhow. 
He then began to follow instructions and was taken into custody, court documents state. 
Cruz's fingerprints were checked for matches in the FBI database. 
"The fingerprints came back to multiple names and dates of birth that hold closely to the defendant's name and date of birth," court documents state. "It appears that he commonly has given false information to law enforcement throughout his life."
Cruz is being held in the Worth County Jail on $10,000 cash bond on felony charges of interference with officials acts while armed and possession of a firearm by a felon. 
He also faces a misdemeanor charge of eluding law enforcement while driving 25 miles or more above the speed limit.
Cruz has a preliminary hearing scheduled for June 20.