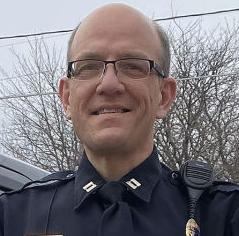 Iowa's new law that allows people to more easily buy handguns and carry them in public without training or a permit went into effect July 1 as gun deaths have been increasing in the state.
With the new law, people purchasing pistols or revolvers no longer need to obtain permits to acquire or openly carry handguns, a process that could take days for a background check to complete.
Iowa's new law also eliminates background checks to purchase handguns. Removing this requirement breaks with more than 20 other states that have similar policies.
People will still have to pass an instant federal background check to buy handguns at retailers. There will be no enforced requirement of background checks if people buy from private sellers.
Mason City Police Captain Mike McKelvey said he wants people to understand that this law does not translate into neighboring states and to understand this before crossing borders with handguns.
Clear Lake Police Captain Mike Colby said he does not think that the new law will cause an increase in gun violence and that it won't have much of an impact on day-to-day life. The only area where Colby says will have an impact will be with the purchasing of firearms.
"If people are lawful and complying, you have nothing to worry about," McKelvey said about the new law.
McKelvey said that he was concerned with how people are going to react to this new law and hopes people still remain responsible with firearms.
"If you screw up, it is possibly a felony if you sell without a permit," said McKelvey. "I'm worried that people might cut corners with handguns."
The passing of this law has caused researchers to be concerned about the effect it will have over gun violence in Iowa, especially with the rise in gun deaths.
A record 353 Iowa residents died from gunshot wounds in 2020, including 263 suicides and 85 homicides, an Iowa Department of Public Health spokeswoman said. The shooting deaths represent a 23% increase from Iowa's previous high of 287 in 2019, including an 80% jump in homicides, according to state data.
It is the most dramatic one-year increase in an upward trend, which has accelerated since 2016. From 1999 to 2001, Iowa averaged 194 annual gun deaths, including just 25 homicides, according to federal data.
According to McKelvey, he believes that the number of gun-related incidents have gone up this year in Mason City. McKelvey also added that there have been more reports of guns that turned out to be airsoft or replica guns in public.
Colby said this year there have been several gun related incidents in Clear Lake. Majority of those gun incidents were by the gun owners themselves in accidental discharges.
"Whatever law in the book, it won't stop criminals from receiving guns," Colby said.
A leading gun violence researcher said Iowa's surge was part of a national increase that experts are trying to understand. Daniel Webster, director of the Johns Hopkins Center for Gun Violence Prevention and Policy, said he expects Iowa's sweeping handgun deregulation will make things worse, pointing to studies that have associated such changes elsewhere with a 25% or higher increase in homicides.
Eliminating Iowa's permit to acquire a handgun will facilitate impulsive purchases that can be associated with suicide and homicide and remove a deterrent against illegal gun trafficking, Webster said.
The number of legally bought guns in Missouri that were used in crimes increased after the state eliminated its permit to acquire in 2007, according to Webster. Webster also said that research shows allowing people to carry loaded guns in public leads to more violent crime and gun thefts from vehicles.
"We've had more reports of guns that are misplaced or stolen from people," McKelvey said about Mason City's gun situation.
Supporters of the Iowa law will allow law-abiding citizens to better exercise their gun rights and obtain handguns for self-defense due to not having to apply to the government and pay a $50 carry permit.
"The relationship between your state government and the citizen is going to be flipped 180 degrees," State GOP Senator Jason Schultz said. "You can bear that firearm without permission from the state in the form of a concealed weapon permit or in violation of any open carry laws."
Schultz said that the push to loosen Iowa's firearm rules has taken decades and that it is a "blessing on the citizenry and a problem for criminals because there's more good guys armed out there."
The group Iowa Gun Owners called the law "a monumental advancement in Second Amendment freedom for law abiding Iowans who are sick of being tracked, traced, and registered like criminals, just to carry a gun."
Abby covers education and public safety for the Globe Gazette. Follow her on Twitter at @MkayAbby. Email her at Abby.Koch@GlobeGazette.com