MASON CITY | A Mason City man who is accused of killing his grandparents last November has been deemed competent to stand trial.
Codie Matz, 25, has been charged with two counts of first-degree murder for allegedly fatally stabbing his grandparents, Kenneth Hackbart, 61, and Kathleen Hackbart, 64, at their home in southwestern Mason City Nov. 7.  
The Cerro Gordo County Sheriff's Office transported Matz to the Iowa Medical and Classification Center in Coralville Feb. 8, where court documents say he underwent a "psychiatric competency evaluation" at the center's Forensic Psychiatric Hospital.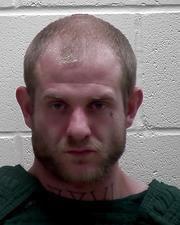 It was determined that Matz understood the charges against him and can assist in his own defense, according to the latest filing in the case.
You have free articles remaining.
The Globe Gazette previously reported in early December court-appointed defense attorneys Parker Thirnbeck and Steven Kloberdanz, said Matz might be suffering from "visual hallucinations" and "paranoid delusions."
Friends and family said they had noticed Matz experience signs of mental illness in the past. Rindy Johnson, a former student adviser for Kenneth Hackbart when he attended Kaplan University in Mason City, said the couple was trying to get Matz help.
"Ken even took a few psychology electives to try to understand better where Codie struggles," Johnson told the Globe Gazette in November. "Man, it's just devastating. They did everything for their grandson. Really, anything for anyone."
Because of the evaluation, the trial has been delayed to 1:30 p.m. March 27at the Cerro Gordo County Courthouse.