MASON CITY | A man caught with a stolen bicycle in Mason City is accused of skipping out on a court hearing the following day for another case, police say. 
Nicholas Joseph Lamb, 26, is charged with misdemeanor third-degree theft. No permanent address is listed for him, according to court documents.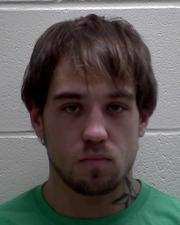 Lamb was allegedly caught about 9:45 a.m. Monday in the 300 block of N. Pennsylvania Avenue with a stolen Raleigh bicycle valued between $500 and $1,000.
The bicycle was reported stolen in Nora Springs on Nov. 22, 2017, court documents said. 
A warrant for Lamb's arrest was issued Wednesday. He was arrested and booked into the Cerro Gordo County Jail that afternoon. 
You have free articles remaining.
Lamb recently filed a written plea of guilty to misdemeanor possession of methamphetamine - first offense and carrying weapons in Floyd County. 
He was arrested in February 2017 after a traffic stop yielded a baggie of meth weighing 1.9 grams and a loaded .22 revolver, court documents said. 
Lamb failed to appear for a plea change hearing in that case Tuesday, and a warrant was issued for his arrest. 
He is being held on a $3,500 bond for the two charges. Lamb can post bond or 10 percent cash to be released.