MASON CITY | Shortly before the verdict was read — revealing Larry Whaley was guilty of second-degree murder in last year's shooting of Samantha Teeter — snow was slowly starting to fall outside the Cerro Gordo County Courthouse.
It was then that Samantha's father, David Teeter, felt confident he and his family would have some closure to a tragedy that occurred in the early hours of Dec. 2, 2016.
"When I saw it started to flurry outside and we got the knock on the door, the jury was in, I knew we had a good verdict," Teeter said Thursday. "I felt like Sammie was right here with us."
The support of those individuals in the courtroom was invaluable, David Teeter said.
"That was awesome," he said. "That was a lot easier to get through with all these people here."
During the past year, support for the family has been great, he added. Earlier this month, family and friends held a vigil at 116 17th Street S.E. — the location of the shooting — in remembrance of Samantha.
"We've had a lot of support — friends, family, people we don't even know," David Teeter said.
One of the things that has helped him and family get through the past year is Andre, Samantha's 3-year-old son.
"It really helps having her little boy at home," he said. "It's kind of hard to be sad with him around."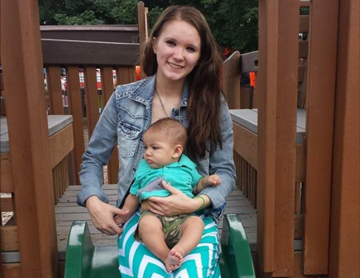 Ultimately, David wants the public to know Samantha was a selfless person.
"Just how much she loved everybody in life, and she loved the holidays and she loved her friends," he said. "She would do anything for anybody."