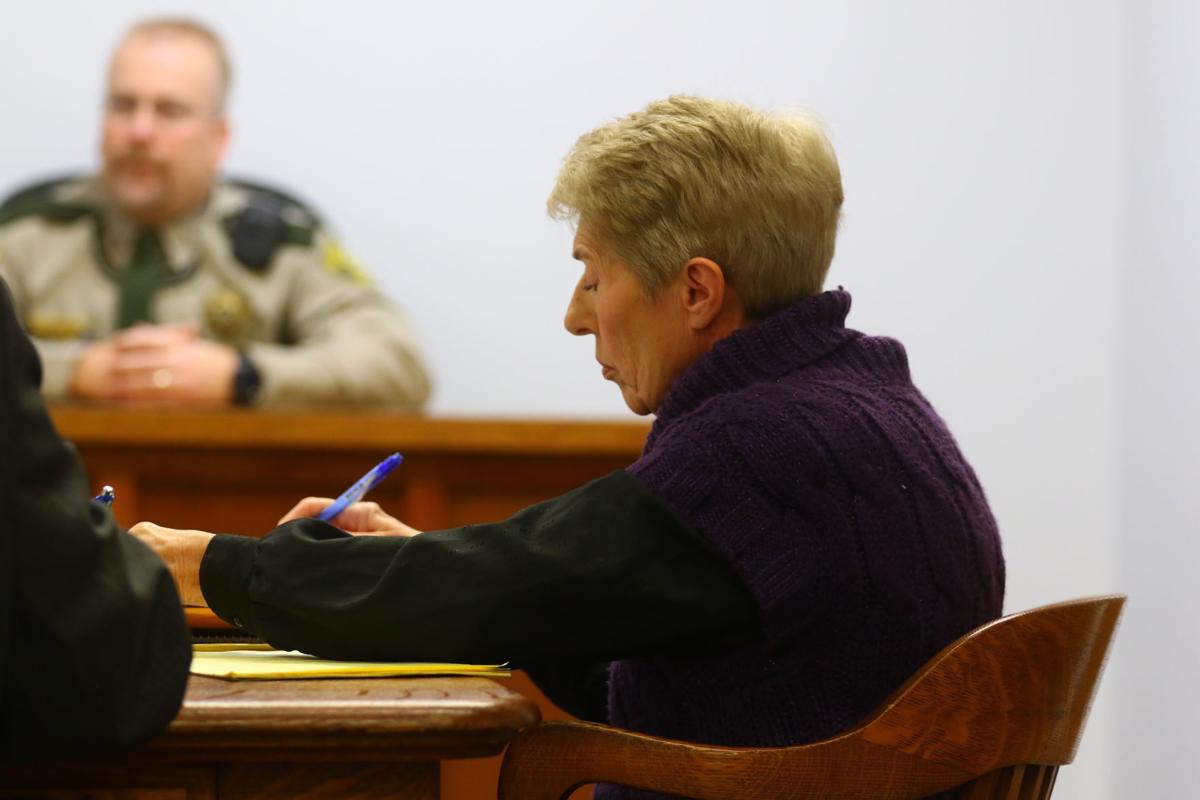 NORTHWOOD | An attorney representing Worth County said a North Iowa woman accused of running a puppy mill should not be allowed to keep nine dogs and four cats seized by the county, documents said.
Barbara Kavars, 65, Manly, is asking the Worth County Magistrate Court to allow her to keep nine Samoyeds and four cats seized by the Worth County Sheriff's Office and American Society for the Prevention of Cruelty to Animals last month.
A total of 154 dogs were seized during an animal neglect-related search warrant Nov. 12. Kavars signed a document surrendering all but the 13 animals she wishes to keep.
Kavars, who claims she did not neglect the animals, has not been charged with a crime. ASPCA says charges are pending.
Winnebago County Attorney Kelsey Beenken, who is also an assistant Worth County, filed a brief arguing that the 13 animals should be declared "threatened animals" and should not be returned to Kavars.
In the court document, Beenken summarizes details brought before the court in a hearing Dec. 3 and 4.
"Although one could certainly sympathize with Respondent (Kavars) for the loss of her husband and business partner, there is no legal or moral justification for the neglect endured by the Rescued Animals at issue in this case," Beenken said.
Kavars said she began to struggle with the size and upkeep of White Fire Kennels, her breeding operation, after her husband was diagnosed with a brain tumor in 2014. He died in June 2017.
After his death, Kavars began releasing dogs to the Humane Society of North Iowa while still selling puppies.
Worth County Deputy Andy Grunhovd visited her property near Manly when the Humane Society and the Animal Rescue League of Iowa raised concerns about the number of dogs on the property and possible neglect.
"The evidence of neglect is overwhelming," Beenken said. "Respondent knew for nearly four years that her operation was too much for her to handle, yet she took little to no legitimate steps to resolve the issues of continued breeding, which led to an impossible number of animals for one person to properly manage."
Beenken said the court could base a ruling of neglect due to lack of sufficient water based on testimony Grunhovd "that on his numerous random visits at various times during spring, summer and fall he discovered little to no water for the Samoyed dogs and puppies on the property, coupled with evidence that four dogs and four cats shared one bowl of water inside the home, and that water contained debris."
She said a similar finding of neglect could be found regarding the sufficiency and availability of food, especially since many dogs had a low body condition scores and a few were considered emaciated.
You have free articles remaining.
"Her testimony shows that she may either be testifying untruthfully or, alternatively, that she truly is not capable of properly caring for animals," Beenken said. "That is evidenced by the fact she is apparently unable to identify emaciated dogs and testified that she believes, despite all the evidence to the contrary, that her animals were in good health."
One of the dogs Kavars is seeking custody of is pregnant. The pregnant dog is considered "thin" on the Purina Body Condition Score. According to ASPCA Forensic Veterinarian Dr. Elizabeth Pearlman, the dog is breaking down its own muscle to feed the growing puppies as she does not have enough fat stores.
Both Grunhovd and ASPCA Investigator Kyle Held said there was not enough water provided for the dogs.
"The Court should further consider Mr. Held's testimony regarding the lick marks and holes in the frozen water buckets showing that the animals were trying to access water but were unable to because frozen water is, quite obviously, not accessible water," Beenken said.
Beenken noted "deplorable conditions both inside and outside the residence," stating that those unsanitary conditions likely lead to health issues for the dogs.
"The stench of ammonia and feces on the ground and floor, even without considering anything else, render the shelter for these dogs and cats – whether they lived outside or in the home – not adequate," Beenken said.
Kavars admitted to Grunhovd that she cannot transport some of her dogs to the veterinarian because she was unable to catch them and other reasons.
"Several have suffered and do suffer from ailments and injuries, some resulting in death," Beenken said. "Indicators of lack of routine veterinary care are rampant, from their overgrown nails to flea dirt to matted coats. This lack of necessary sustenance, in dog after dog and cat after cat, has indeed resulted in unjustified pain, distress and suffering."
Kavars testified in court Dec. 4 that she has cleaned part of her home and three of her 32 kennels since her dogs were seized.
Beenken said Iowa Code surrounding "threatened animals" and neglect does not order the court to consider future behavior of the "responsible party" when determining whether an animal is threatened.
Beenken said remedial actions, such as cleaning the house and kennels, taken by Kavars following the seizure of the animals is not relevant and it's likely that "such actions are a reaction to the exercise of authority during a time of court-imposed scrutiny."
ASPCA staff are caring for the dogs at an undisclosed location in Worth County.
Kavars' attorney, Michael Byrne, will file a response within the week.
Magistrate Douglas Krull is expected to rule on Kavars' ownership claim of the 13 animals by the end of the month.
Photos: Inside the kennels, home of a North Iowa woman accused of running a puppy mill
Contact Courtney at 641-421-0534 or on Twitter @CourtneyFiorini.