NORTHWOOD | A Mason City man law enforcement named as a "person of interest" in a stabbing late Saturday in Northwood has turned himself in and has been charged with attempted murder, burglary and a criminal mischief hate crime.
Trapp Leroy Trotter Jr., 31, is charged with felony attempted murder, first-degree burglary and misdemeanor fourth-degree criminal mischief--hate crime, the Worth County Sheriff's Office said in a news release.
Iowa law defines a hate crime as an offense committed against a person or their property because of the person's race or other protected characteristics, such as religion, political affiliation, sexual orientation or disability.
About 10:48 p.m. Saturday, the sheriff's office received multiple 911 calls for a stabbing at at Schoolside Apartments, an income-based complex in the 600 block of Seventh Street North.
While first responders were en route, court documents indicate the address was changed to a house in the 500 block of Eighth Street North.
Deputies said they found Andrew Nodtvedt, 25, of Manly, with multiple stab and slash wounds on his torso, the sheriff's office said. It is unclear where Nodtvedt resides as his residence is also listed as the Schoolside Apartments in the court documents. 
"Andrew was sweaty and asked multiple times how deep his wounds were and if he was going to die," a Worth County deputy wrote in the criminal complaint.  
Nodtvedt claimed he was hanging out with Andre Hill when "some guy came and started fighting with him because he didn't like that he was white," according to court documents. Nodtvedt then told the deputy that he didn't know the name of the man but Hill would know.
"Andrew stated the male pushed him into his car and chased him into Andre's apartment," court documents said. Nodtvedt claimed that he did not know the man chased him into the apartment.
"And then he started stabbing the 's---' out of him," charging documents said.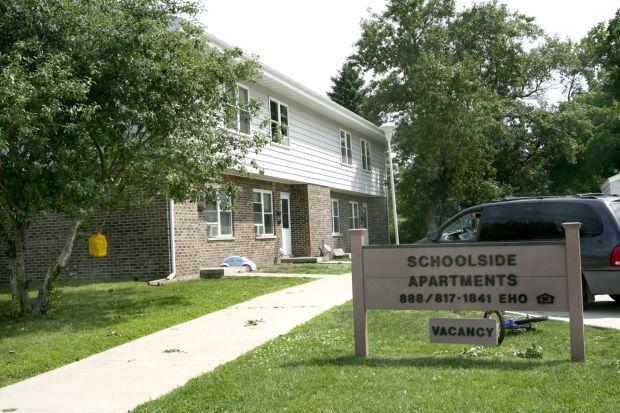 A woman who arrived at the scene to check on Nodtvedt said Trotter did it, and Hill agreed, court documents said. 
You have free articles remaining.
Nodtvedt told law enforcement Trotter chased him out of the apartment and down the street yelling "You're going to die tonight, white boy," according to court documents.
"Both Andrew and Andre stated they weren't sure what Andrew was stabbed with but it was a sharp object," the criminal complaint said.
Nodtvedt's car was parked in front of Hill's apartment, where the stabbing allegedly occurred.
"The windshield to the car was completely shattered and looked as if there was knife puncture wounds where it was shattered," the criminal complaint said. "There was blood on the vehicle, on the ground and in Andre's apartment."
Broken jewelry was also found near and on Nodtvedt's car.
"On Trapp's Facebook page, he has multiple pictures wearing identical jewelry to what was found at the crime scene," court documents said.
Nodtvedt was transported to Mercy Medical Center-North Iowa with non-life threatening injuries and has since been treated and released.
A nationwide warrant for Trotter's arrest was issued Monday. He turned himself in the same day.
Trotter is being held in the Worth County Jail on a $50,000 bond. He is scheduled to appear June 15 in Worth County District Court.
A no-contact order was issued Tuesday.
The sheriff's office said the incident remains under investigation.
Iowa State Patrol, Northwood Fire and Rescue, Mason City Fire medics and Mercy Air Med assisted at the scene.