On Monday morning, area farmers from Winnebago County joined forces to help life-long community members and farm family La Vurne and Sharon Josten, of Forest City, harvest their crops by holding a "Combining Bee," an age-old traditional way to help other farmers within the farming community.
The Jostens, who have farmed for several generations in Winnebago County and who have been involved in agriculture and 4-H throughout the years, lost their son, Thad, on Aug. 30, when he died from a brain aneurysm at the young age of 52.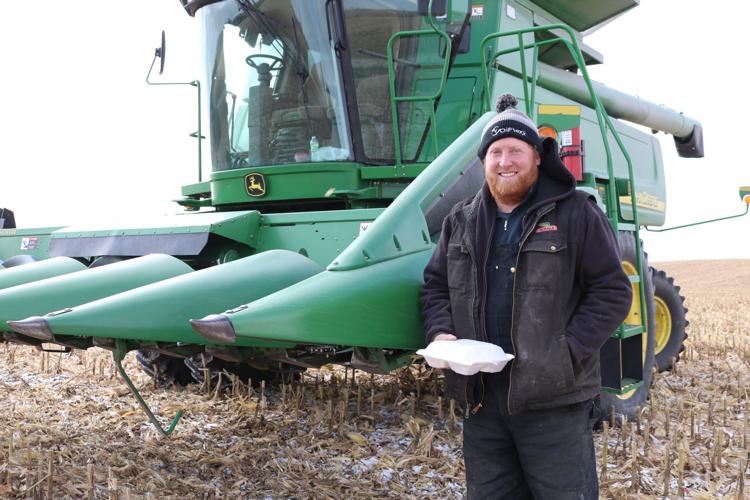 Thad was instrumental in the operation of the family farm.
"I miss his being around every day," Sharon said. "He had a great love for people and was good at interacting with them. He also had a love for raising beef cattle."
"I will miss his input to running the farm operation," La Vurne said. "Not that I always agreed with him, but I was always appreciative of his view on the topic. Now, his son, Landon, gets the honor of straightening up Grandpa."
Thad's unexpected death left behind a void, not just in farm labor, but in his friends' and families' hearts, as they grieved and faced the upcoming harvest season.
"Thad was a very close friend of mine and one of those guys who was always there when you needed him," Lukas Wooge said.
Wooge set the wheels in motion to provide community support. He began by reaching out to MBT Vice-President Darin Theel for help with coordinating the activities around the "Combining Bee."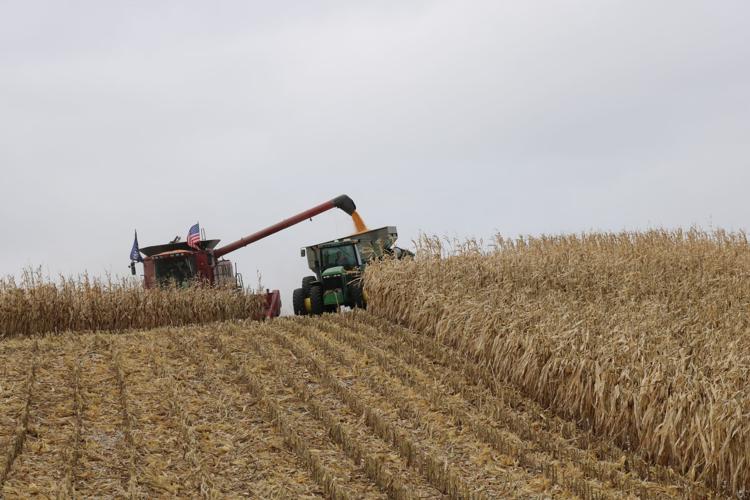 "A 'Harvest Bee' typically brings the community together and is an opportunity to show how much people care when someone passes away," Theel said. "It helps the family to complete a difficult task."Especially this fall, as it's been a difficult harvest, because of the lateness of the crops, the rainy weather and the propane shortages that farmers have had to face. We want to help lessen their stress load of this difficult situation."
Through their efforts, five combines, six to eight grain carts and 15-20 semis and wagons helped bring in the remaining 330 acres of corn to harvest, out of their 915 acres.
"It is just overwhelming," said Connie, Thad's wife. "I cant even find the words to describe my feelings about the support that we've gotten from not just the community, but everyone. Its not just here from this area but from all over, he touched so many lives in so many ways. He loved talking to people and he didn't care who it was.
"Thad was well known and liked throughout the community having farmed and worked at Winnebago. This farming community has rallied to gather to get these crops out and support us."
You have free articles remaining.
"He always put people first, before himself," Wooge said. "He was a very generous individual. I thought it was a little something that I could do to help the family."
"I just want to say how it fills my heart to see all these farmers come together and help one of  their family," said Cindy Wooge. "It is just a joy to see how they are there for each other and love each other." 
Community participation for the "Combine B" also came from the Forest City Co-op Association, which showed its support by helping provide fuel for the semi-drivers and by assuring the process of using FCC services were done in a timely manner.
"Being a local business, we like to support our customers in all situations," said General Manager Randy Broeder, "and when tragic things happen we want to help out in any way possible.
"Thad was a well-liked, active person in the community and made an appearance in the co-op often. We enjoyed having Thad as one of our customers and we are happy we can help out."
Both La Vurne and Sharon voiced their gratitude.
"It's humbling," Sharon said. "I'm overwhelmed and very thankful."
La Vurne added, "Without the help of friends and family, we would have had to hire someone to help out Cole Seglem and our grandson, Landon, who help with the beef cattle and all the everyday work entailed with farming."
"There was a lot interest from several people who wanted to help," Wooge said. "There were 30 some people who stepped up to offer their assistance and many others in various ways. It's a part of the grieving process."
Wooge said coffee and rolls were provided by Wesley–Corwith Red Power in the morning. Following the combining, a luncheon meal, coordinated by MBT Vice-President Darin Theel and catered by Hy-Vee, was provided, along with bars and cookies provided by friends and family.
"I feel honored to be able to do something for the Josten family in their time of need," Wooge said.
"We are really thankful for all the people who came out and showed their respect for what Thad has created for himself and his family," Becca Martin said. "I see Thad wanted Landon to carry on the family legacy for future generations."