A candidate for Mason City City Council appeared at a recent landlord/tenants meeting and made an Islamaphobic statement, multiple sources have told the Globe Gazette.
Huntley declined to name the member. 
Huntley could not remember Weaver's exact words, but confirmed that they were "something along those lines," he said.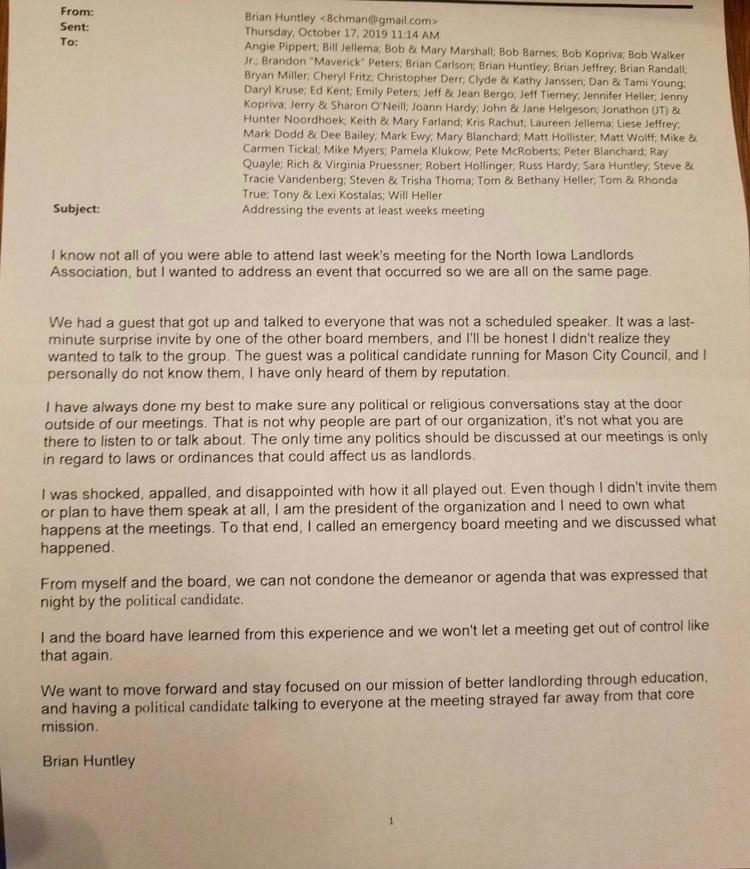 Weaver, who has previously served on city council and is known for speaking during the public forum of every meeting, didn't dispute that he commented about Sandahl but did take issue with no one telling him that what he said was wrong while he was speaking.
"I didn't know anybody was offended at that meeting," Weaver said.
In fact, Weaver said that he received nodding approval at some of the complaints he made about Sandahl during the 40 minutes that he spoke.
"I believe I asked them to raise their hands if they had problems with Tricia Sandahl and I believe hands went up. Hands went up and people nodded. It's an issue," Weaver said. 
He characterized no one reaching out to him as "typical" and that he's "always the last to hear."
You have free articles remaining.
"I'm shocked and appalled that people would do this with how much they've talked about Tricia Sandahl and the job she's done. And now they're all running scared," Weaver said.
But he did try to offer an explanation for some of what he said.
"I have great passion for Mason City's past and Mason City's future. And sometimes that gets me in trouble. So what? So few people do what I do. It's less than four or five people that come to that democratic microphone and speak their mind. And there's nothing wrong with having one Max Weaver in your community," he said. 
According to Weaver, Sandahl had previously gone after him after he brought up her religion during an aside at a city council discussion years ago about strip clubs. 
Huntley was quick to condemn the comments and said that the group was unaware that Weaver was going to speak. The association routinely has guests attend its meetings, but its mission is to be a resource for landlords and tenants and nothing else, he said.
Huntley sent a letter to members after the meeting, which the Globe Gazette has obtained.
"I have always done my best to make sure any political or religious conversations stay at the door outside of our meetings. That's not why people are part of our meetings," Huntley wrote in his letter. "I was shocked, appalled and disappointed how it all played out." 
Jeff Bergo, a member of the association but who was not at the meeting said he has worked with Sandahl for 15 years and found her "very professional."
Sandahl did not respond to requests for comment.
What a Globe Gazette News+ membership can do for you:
A deeper examination of local issues than you'll find anywhere else.
Two products in one – not everything that's in the print edition of the Globe Gazette is on our website, and not everything on our website is in the print edition.
Access to newspapers.com archives dating back two years.
The ability to carry your local news with you and receive alerts instantly as news unfolds.
Advertising that frequently gets you deals you won't find anywhere else.