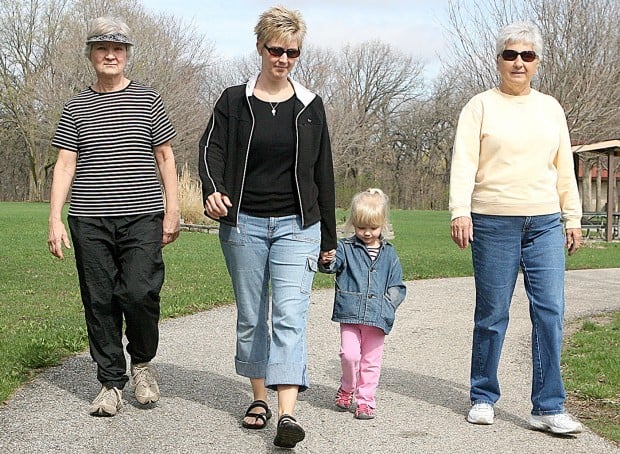 MASON CITY — So far this Lenten season, members of Trinity Lutheran Church in Mason City have traveled nearly halfway around the globe.
The goal is to go all the way around the world before Lent is over.
As part of the Amazing Grace Race, church members are tracking how many miles they walk, run or bike.
Those who participate in other forms of exercise that don't require traveling physical distance, such as weightlifting, are able to convert the minutes they exercise into miles.
So far, the participants have collectively traveled 8,440 miles. The goal is 17,500 miles — the distance around the globe from Mason City.
The Lenten challenge has a second component in which participants track how many minutes they are involved in spiritual activities such as prayer, attending church services, reading the Bible and attending Bible study.
The collective goal is 57,600 minutes — the total number of minutes during Lent.
"We have already made our spiritual goal," said Becky Elsbernd, parish nurse. "We've blown that out of the water."
So far the total number of spiritual activity minutes is 102,742, with two weeks of Lent left to go.
You have free articles remaining.
Participants track their physical miles and spiritual minutes each day. Totals are reported each week.
"I do think having something like this propels you to do it every day," said parishioner Roz Calhoun of Mason City.
Church members are participating in the challenge in groups and as individuals.
More than 175 people are participating, including 32 individuals and 22 teams ranging from two to 20 people.
The youngest participant is 2 years old and the oldest is 91.
The purpose of the challenge is to motivate people of all ages not to give something up during Lent, but to add more physical and spiritual activity to their lives.
"It has been a positive experience for Trinity," Elsbernd said.
One church member has begun reading the Bible out loud to her husband each night, which has helped decrease his stress level, according to Elsbernd.
Another church member is walking the halls of her apartment building each day because the carpeting is easier on her arthritic feet.
At the end of the challenge, the team with the highest average of spiritual minutes and the highest average of physical miles, as well as the top overall team, will be recognized.
Teams will be honored at a celebration brunch on April 15.