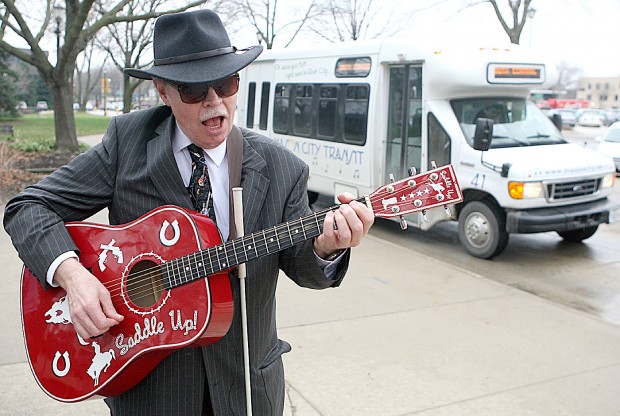 MASON CITY — Frank Strong of Des Moines is a man with a mission — and he's hoping to take as many people as he can along for the ride.
Strong is legally blind. He has depended upon public transit systems all his life and is determined to educate the public on their importance.
His goal is to ride buses in all 18 public transit systems in Iowa. He took a ride on the West Central in Mason City Thursday afternoon, talking with patrons and playing his guitar for them.
"It went pretty well," he said with a smile. "One lady was reading a book and she looked a little annoyed but otherwise it was fine."
Strong sings popular songs as he strums his guitar and customizes the lyrics for the community he's in.
Mason City customers heard him sing, "Goin' to Mason City, Mason City here I come..." and "On the Bus Again..."
"Buses are so important," he said. "They help people get to their jobs and to education and to shopping. And it costs them 50 cents in Mason City. Gasoline costs more than that," said Strong.
You have free articles remaining.
He has ridden and sung on buses in 15 Iowa cities so far and Mason City has the cheapest rates. Des Moines has the highest at $1.75.
The most modern transit system is in Iowa City-Coralville. "You can get on your iPhone there and find out where your bus is and when it will arrive at your bus stop or your destination," he said.
Strong works for the Central Iowa Center for Independent Living, a Des Moines organization that helps people with disabilities.
He was accompanied by Steve Weeks, who is retired after driving a city bus in Des Moines for 37 years. "I'm Frank's chauffeur now," he said.
Their next stops are in Fort Dodge, Ames and Des Moines, they said.
But there were two places they wanted to visit while in Mason City — The Historic Park Inn Hotel and Mills Fleet Farm.
They said they had heard a lot about the hotel.
As for Fleet Farm — "We're tool junkies," said Weeks.