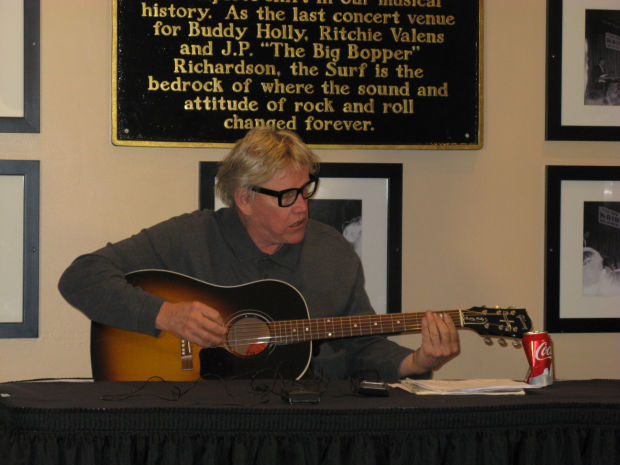 CLEAR LAKE — Gary Busey was in ninth grade in Tulsa, Okla., when he heard the news that Buddy Holly, J.P. "Big Bopper" Richardson and Ritchie Valens had died in a plane crash on Feb. 3, 1959, after playing at the Surf Ballroom.
"I had no idea then that I would be chosen to play Buddy Holly," said Busey during a press conference at the Surf Friday as part of this year's Winter Dance Party celebration.
Busey, who was nominated for an Academy Award for playing the title role in the 1978 movie "The Buddy Holly Story," did his own singing and guitar-playing in the film.
He said a few years later he realized "I was channeling Buddy Holly when I sang."
Busey donned a pair of Holly-style horn-rimmed glasses and played and sang a few of his songs during the press conference as a sneak preview of his performance at the Surf tonight, when he will play a set with Tommy Allsup, who was part of Holly's band at the Surf during the first Winter Dance Party.
"What a gift it is to have him (Allsup) with us," Busey said.
Busey said the Surf is "a magical place" for musicians of all kinds.
"I'm so happy to be here," he said.
He said he decided to come to the Surf after a young woman named Chelsea asked him if he would like to do so when he was playing a concert last year in Minneapolis.
If he hadn't died so young, Holly would have been able to do "anything he wanted," Busey said, noting he could picture him writing scores for movies.
Busey was first introduced to Holly's music when he was in sixth grade and heard "That'll Be the Day."
He said his wife made him a mix CD of Holly's songs, which he plays in his car. He loves the sweetness and simplicity of Holly's music.
"He's still alive in my heart," Busey said.
Get local news delivered to your inbox!
Subscribe to our Daily Headlines newsletter.