Some schools in North Iowa could be facing thousands of dollars in additional expenses due to a proposed state requirement that all new buses they purchase have seat belts. 
Area school superintendents and transportation officials say they are in favor of the change despite the extra cost. 
"Our number one priority is the safety of our kids," said Doug Gee, Clear Lake superintendent. 
Still, it could be nice if the state would give school districts extra funds to help pay for buses with seat belts, according to Gee. 
The Clear Lake district usually buys one new bus per year to keep its fleet in good condition, he said.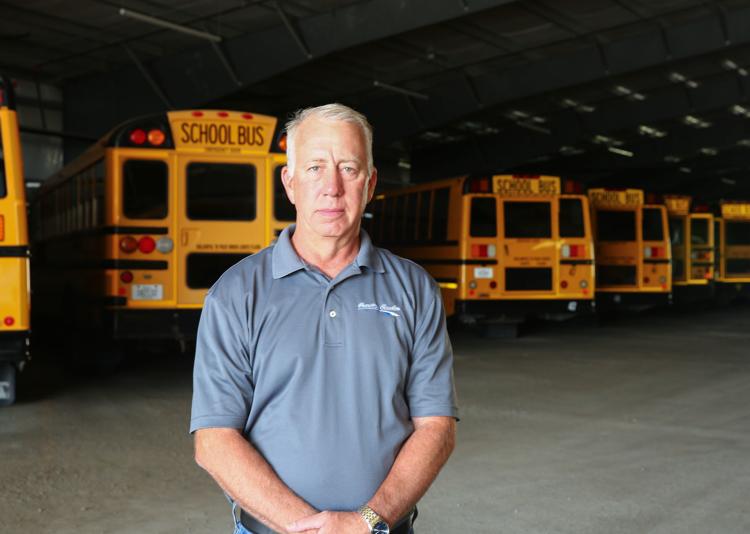 The seat belt requirement would mean an extra expense of thousands of dollars annually, according to Gee. 
"How many computers would that buy for our kids?" he said. 
The Iowa State Board of Education recently adopted new rules that would require lap-shoulder seats belts bought by school districts and state-accredited nonpublic schools. 
The administrative rules are still subject to legislative review. 
Other safety equipment required would include one additional stop arm per bus, hand rails, exterior boarding lights and fire-resistant crash barriers between the front bus seats and the drivers. 
Districts wouldn't have to retrofit their current fleets. The rules would apply to new buses manufactured on or after Oct. 2, the date the new rules are scheduled to take effect. 
Iowa Education Department spokeswoman Staci Hupp says the new rules would apply equally to contracted service providers. 
The Mason City School District contracts with the North Iowa Bus Company for its transportation needs. 
You have free articles remaining.
The company owns the buses and the district leases the vehicles. 
Mason City is the only school district in the area that contracts with the North Iowa Bus Company, according to owner/operator John Regan. 
He said the company tries to replace three or four of the buses leased to the district each year to keep the vehicles at an average age of six years each. 
Estimates on exactly how much more it would cost to get a bus with seat belts vary. Some school officials say it would take $8,000 to $10,000 extra per bus, depending on its seating capacity. 
However, Regan said the largest school buses, which seat 77 passengers, would cost $13,000 more than they do now if they come with seat belts -- and most of the buses his company buys for the Mason City district are that size. 
Regan said the extra annual cost could be as high as $50,000, so he might have to pass some of that expense on to the district. 
Randy Meyer, transportation supervisor for Mason City schools, said he would not be surprised if the seat belt requirement would increase the annual cost of the district's contract with the North Iowa Bus Company. 
However, he still thinks the seat belt requirement is a good idea.
Meyer said he would rather "side on the side of safety rather than not." 
"We are not the the first state to do this and we will not be the last," he said. 
A 2017 National Highway Traffic Safety Administration report showed the average number of school bus related fatalities was 30 deaths per year and that 0.4 percent of national traffic fatalities were school-transportation related.
The following year the National Transportation Safety Board announced its recommendation for lap-shoulder seat belts on all new school buses. 
California, Florida, Arkansas, Nevada, Louisiana, New Jersey, New York and Texas are the state that currently require seat belts on school buses, according to the National Conference of State Legislators. 
Tony Adams, K-12 administrator at Newman Catholic Schools in Mason City, said a seat belt requirement would not have much impact on its budget because the school recently purchased two new buses and won't have to buy more for a number of years. 
He said Newman only has five buses, which are mostly used for extra-curricular activities. 
Barb Schwamman, shared superintendent for the Osage and Riceville school districts, said Osage usually buys a new bus every other year. 
Riceville recently purchased four new buses, so that district won't need any further upgrades to its fleet for quite a while, she said. 
In addition to the extra cost to purchase buses with seat belts, school districts also would see increased maintenance expenses because "those things will break," Schwamman said. 
Fortunately, rural districts with high transportation costs resulting from their large geographic area are receiving additional financial help from the state thanks to action taken by the Iowa Legislature earlier this year, according to Schwamman. 
She said Osage is receiving an additional $35,000 in transportation equity funds this year, while Riceville is getting $44,000 more. 
Schwamman does have questions as to how to enforce the use of seat belts. 
"Who is going to make sure the kids are buckled in?" she said.
However, if the requirement helps save a few lives, "it's definitively going to be worth it," Schwamman said.