Editor's note: This story originally appeared in the June 29, 2013, issue of the Iowa Falls Times Citizen. 
The 23-year-old New Providence man defied the odds in June 2013 when he was removed from a grain bin about four hours after he broke through an air pocket and was sucked into the abyss of tens of thousands of bushels of corn.
Baker and his dad, Rick Baker, were working on a farm east of Owasa, on County Highway D-35, the morning of Wednesday, June 26. They were on their fourth day of emptying an 80,000 bushel bin of moldy corn. Arick was inside, standing in the middle of the bin and using an eight-foot PVC pipe to break up the crusty corn. What he didn't realize was a large air pocket had formed under him.
"I was ankle keep in corn when it broke," Baker said from his Waterloo hospital room Thursday, June 27. "Within two seconds I was chest-deep and in less than 10 seconds my head was 1 1/2 feet under the corn."
It's safe to say that almost no one has lived to relay the feeling of being submerged in corn. Grain bin entrapments are relatively rare — a study by Purdue University reports that nationally, there were only 19 in 2012. But death is common — 42 percent of 2012's entrapments resulted in death. There is no data available to qualify whether the survivors were buried over their heads, like Baker.
"Statistically speaking, the outcome is usually not this positive," said Hardin County Sheriff Dave McDaniel. "I've been on more than enough, and this is the first successful one I've been on."
But Arick had something that most entrapment victims do not — a helmet with battery-powered ventilation.
The apparatus, purchased earlier this year for $350, was bought by the Baker family for Arick, who suffered from asthma as a child. The helmet covered his entire head and provided a constant stream of cool, clean air. The get-up was heavy and awkward, but he always wore it in bins.
"I liked wearing it," he said. "It pushed cool air on my face."
When the corn gave out and Arick was sucked under the surface, it happened so suddenly and so quickly, he spent the first few moments realizing what had happened.
"I was thinking 'holy sh--, I'm gonna die.' I've always been told, when people go in grain bins, they don't come out," he said. "But after a little while I realized I was still breathing."
But the breathing was difficult. Arick was suspended vertically in the corn, with his left arm above his head, fingertips sticking out of the corn. He could barely move, but even small adjustments pushed more corn against him, so he remained still. His chest was under extreme pressure, but he could manage small, shallow breaths.
"I thought if I can just keep breathing, I might be OK," he said. "All I focused on was breathing in and out. It was a full time job."
He knew another semi was coming. It took another hour for the truck to arrive.
When it did, the driver, who noticed Arick's truck was still parked outside, got out and went to the top of the bin, looking for him. He saw the rope, still tied to Arick's arm, was submerged in the corn. He gave it a tug.
Under the corn, Arick felt it. He knew help was on the way.
A short while later Arick felt another tug on the rope and his panic was reignited by the sound of beeping.
The helmet — his life preserver — was losing power.
"I knew if the batteries were dead, I was dead," he said. He closed his eyes, focusing on his breathing.
Above him, he could hear the firefighters. They were in the bin. Their movement had disturbed the corn enough to bury his hand. He heard a voice on one of their radios, "Well if that kid's in there, he's dead."
Outside the bin, Rick and Annette Baker were waiting for news. They watched as emergency workers dug furiously, moving corn away from holes that had been cut in the side of the bin, trying to get to their son. They saw firefighters being treated for heat exhaustion. They saw medical personnel forcing men into the shade for treatment of heat exhaustion.
As they stared at the bin, they were comforted by the fact that they knew Arick had his helmet with him.
"I stood out there knowing simultaneously that he was dead and knowing that he was alive," said Annette.
Iowa Falls firefighter Tyler Prochaska had responded to the call for help shortly after noon Wednesday, June 26. He and fellow firefighter Jason Barrick made it inside the grain bin and began their search without having confirmation that there was even anyone in there.
"When we got in the bin, we heard a noise," Prochaska said. "We stopped and heard another noise and it was him. He heard we were in the bin. So, we started reaching down in the grain and I and Jason grabbed his hand.
"We were working like we knew he was in there and alive," Prochaska said. "But to actually find him conscious and responding in the depth of grain he was buried, we did not expect to hear a voice."
From the time that he felt the first tug on the rope to his head being unburied, about an hour had lapsed. Arick said the firefighters wiped off the visor on his helmet — which was still beeping — so they could see him. But Arick wouldn't let them take his helmet.
"I was delusional," he said. "I refused to take off the helmet. I was scared that the corn would collapse in again and I wouldn't have a way to breathe."
But a drink of water eventually coaxed the helmet off of him and Arick was hooked up to a flow of oxygen.
Using a tube-shaped grain bin rescue instrument, which was purchased last year, the firefighters made a barrier around Arick. From there, they could begin removing the corn and work on freeing him. But as the men got closer to Arick, the tube started to buckle under the pressure. Prochaska took a position inside the tube, using his body as a brace to protect Arick.
"We got enough corn out that we could start the grain vac around him," Prochaska said. "But the problem was that the grain was higher than all of us. Any movement in the bin created an avalanche effect. He was not in a position where he could be buried again because his mask went dead.
"It was like two hours we had to endure that before they got to the grain and we could move," Prochaska said.
Slowly, work continued. Emergency responders and volunteers, first using their hands, then shovels, then construction equipment, moved the corn away from the bin to keep it flowing.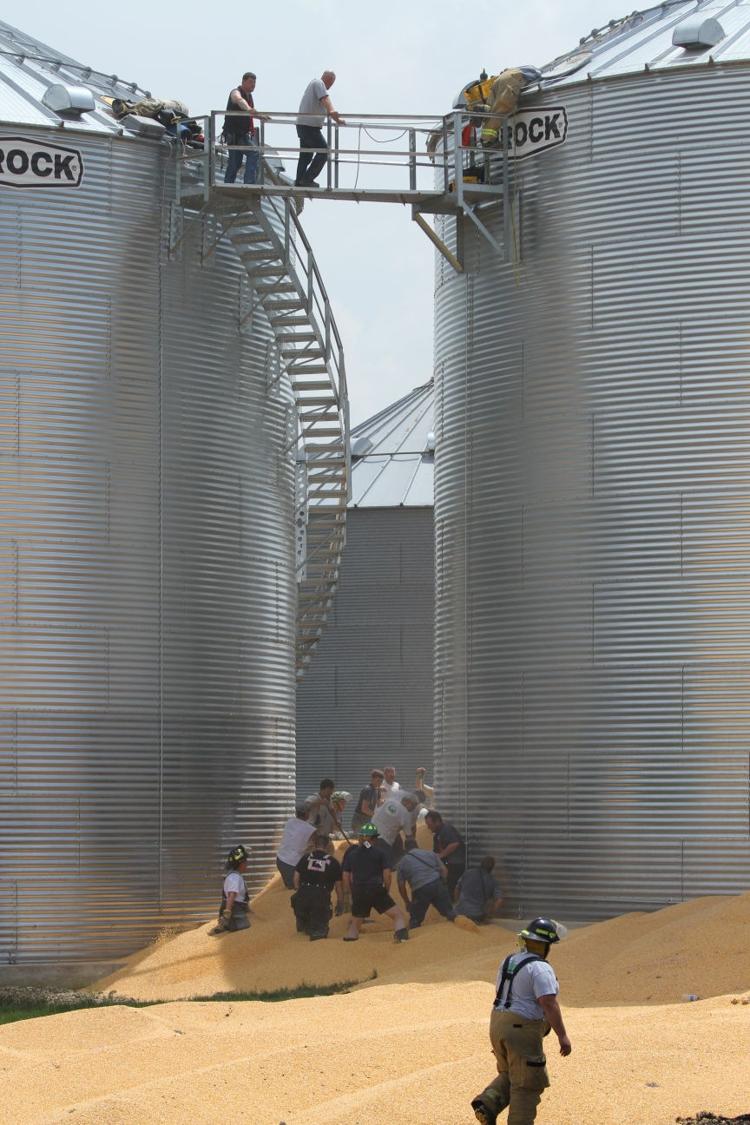 Men ran across the farm, carrying shovels, water and other equipment. Pickup trucks arrived loaded with water, and ambulances were paged to treat firefighters suffering from heat exhaustion. Three hours after arriving on scene, firefighters pulled Arick from the corn.
It was a moment of joy and relief.
"I sat there and hugged Tyler (Prochaska) and cried," Arick said.
Weak and tired and feeling like he'd been beaten, Arick was carried to a table, then to a waiting helicopter, which took him to Covenant Medical Center in Waterloo. There, he was listed in stable condition Thursday. Aside from rope burn on his arm (from the rope that was attached to him) and abrasions on his shoulder (from the tube, which was shoved into the corn and landed on him), Arick was "relatively unharmed," his mother said.
Even a day later, the incident seems like a dream to those who were there.
"I believe that it happened because I know that it happened. It just seems unreal," Baker said. "I told my mom, it seems that I just saw a really good movie last night."
Prochaska said he, too, was still in shock and reliving the afternoon.
"The adrenaline and the panic, you just turn into a different person and start digging," Prochaska said. "It's hard to explain. It's about saving him and nothing else. When the panels started crushing me, it didn't matter. As far as myself getting hurt, I didn't care."
Prochaska said his work was inspired by Baker, who managed to help firefighters. After Baker's hand was uncovered, but while his head was still under the corn, he was answering questions about the location of his body.
"Even though he couldn't see us, he helped," Prochaska said. "It was unbelievable."
Once Baker was out, Prochaska said he was able to catch his breath and let the emotions wash over him.
"I didn't have anything left in me," Prochaska said. "I basically broke down when he left and I knew he was OK. It took me quite a while to get out of that bin.
"I can't imagine the fear in him with the fear we had," Prochaska added. "He made it that far so we weren't going to quit. There was nobody there that was going to let him get buried again. His will to live basically inspired us to make sure he lived. It didn't matter how we felt, it was worth it just to see him get out of that hole."