A dog that swam in a popular Rochester, Minnesota, pond dies within hours of his visit in July.
A woman in North Carolina reports her three terriers died within hours of swimming in a pond near Wilmington last weekend.
The number of advisories posted for lakes, ponds and swimming holes all over the United States, including Iowa, explode in July and August.
It's once again blue-green algae season, and so far, there have been more news stories about algae outbreaks in 2019 than in any other year since 2010, the year the Environmental Working Group found the epidemic began appearing in the news.
EWG tracks all algae bloom media coverage nationwide on a map that's updated every week during the summer.
The group released a report late last week that found the toxins common in the algae blooms are present in hundreds of bodies of water nationwide, including in North Iowa.
For its report, EWG reviewed data from the Environmental Protection Agency's National Lakes Assessment and from the 14 states, including Iowa, that both regularly monitor lakes for microcystin and have made 2018 test results public.
Microcystin is a part of a family of poisonous chemicals called cyanotoxins produced from the bacteria found in blue-green algae blooms.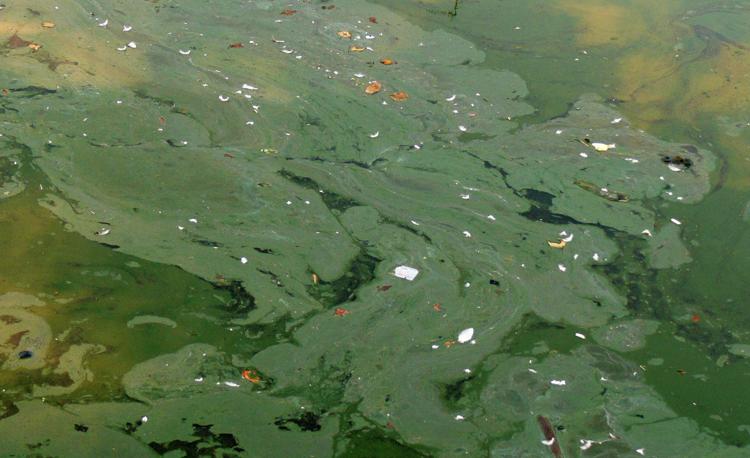 Exposure to cyanotoxins like microcystins can cause health problems – from skin rashes to death – for people and animals who drink or come into contact with the water. 
In 2016, the same year the Environmental Protection Agency set safety standards for microcystins in bodies of water, the Iowa DNR undertook a year-long study of the toxin in state waters. The results of the study were published last summer.
It found no microcystins in drinking water, but detected varying levels of it in untreated – or raw – water all over the state on 27 weeks out of the 51 in the study.
You have free articles remaining.
More recently, according to the EWG's study, the DNR in 2018 found microcystins in Lake Hendricks, Clear Lake, Smith Lake and Crystal Lake in North Iowa, while the EPA, which samples waters every five years, has discovered it in Morse Lake.
The largest average amount by far – 8.27 micrograms per liter – was found in Crystal Lake. Clear Lake was measured at three sites – McIntosh and Clear Lake state parks, and at the public access – and averaged 4.63, 2.54 and 3.57 micrograms/liter, respectively.
The state has been ahead of the blue-green algal blooms game, measuring microcystins in waterbodies since 2006, according to Roger Bruner, a supervisor in the Water Quality Bureau at the Iowa DNR.
Those measurements represent a double-edged sword, Bruner says.
While it seems like the number of instances of blue-green algae is growing, there is also more testing for it than ever before. The Iowa DNR tests more than 130 water bodies three times each summer; it tests state beaches weekly.
Any time more than 20 micrograms per liter of microcystins are found, followup tests are made and an advisory is issued. Though the number of advisories have increased over the years, Bruner said, overall, they represent between 2 and 7 percent of all the advisories issued by the DNR. So far this year, there have been seven advisories, according to Bruner, up a couple from the year before and two years ago.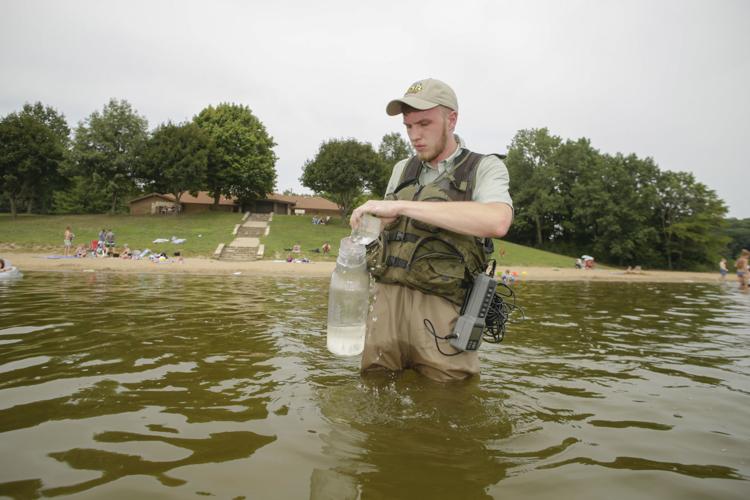 "The advisory is out of an overabundance of caution," Bruner said. "Higher concentrations can cause skin irritations. Really high, we've never had in Iowa."
Iowa's advisory level of 20 micrograms per liter stands in stark contrast to the EPA's 8 micrograms. That's because Iowa has adopted World Health Organization standards while the EPA has undertaken more of a lower drinking water standard, Bruner said.
The EPA standard assumes people are going to be consuming quantities of the water over a period of time, thus ingesting more of the toxins. Iowa's DNR believes people are more likely recreating – not drinking – and therefore likely consuming far less, Bruner said.
Animals, dogs in particular, are affected not because they drink more water, but because they swim in the water and then lick themselves clean, he said.
That's not to say microcystins aren't something to be concerned about.
It's an active area of research right now, including at Iowa State University, which is trying to determine what the factors are that cause the blooms to create toxins, Bruner said. The DNR is also studying whether it needs to lower its advisory standard below 20 micrograms as well.
But common sense, as always, should rule.
"If you swim in water where the toxins are found – and most water has them – you just have to be smart about it," Bruner said. "And take a shower when you get out."