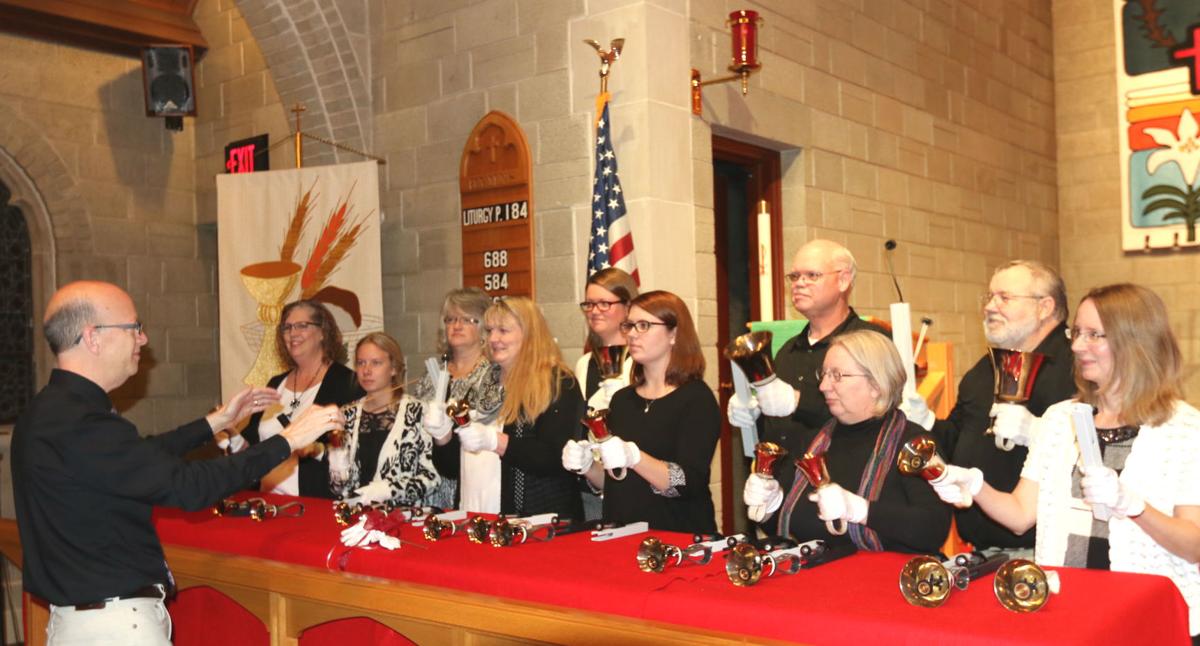 MASON CITY — The hand bell choir at Bethlehem Lutheran Church got a big lift recently, thanks to the family of the church's late choir director Dan Djuren.
Djuren's wife, Diane, and their children donated the money for chimes that can be played along with the bells, as well as new music stands and extensions to lift the tables for the bell choir, which was brought back earlier this year after a 10-year absence.
Pews were moved to create a loft area for the bell choir.
"It has been a big process to make this happen," said Ernie Reineke, the current choir director who has also become a member of the church.
Djuren, who died in September 2015, was the choir director at Bethlehem Lutheran for nearly 20 years. He also was an elder in the church.
Between the church, directing the Clear Lake High School Band for many years and then directing the Clear Lake Municipal Band after his retirement from teaching in 2003, Djuren touched many lives, according to Reineke, who plays in the Clear Lake Municipal Band.
The bell choir at Bethlehem Lutheran "fell by the wayside" around 2005 or 2006 because there weren't enough people to play the bells on Sundays, said the Rev. Mark Lavrenz, pastor at the church.
Reineke wanted to bring the bell choir back, so the donation from the Djuren family came "at an opportune time," Reineke said.
The renewed bell choir, which plays twice a month except during the summer, made its debut in February. Reineke said the congregation is "without a doubt" happy to have it back.
The new chimes will be dedicated during both the 8 a.m. and 10:15 a.m. services on Oct. 30, which is Reformation Sunday.
Reineke said the chimes are a great addition because they have "a mellower sound" than the bells.
He said the acoustics in the church and the sanctuary lend themselves well to both the bell choir and the vocal choir.
Many of the 11 bell choir members are also in the vocal choir, Reineke said.
Bell choir member Kay Mortimer, who also was a consecrated deaconess, died in May.
Reineke said he decided to include the song "How Can I Keep from Singing?" in the Oct. 30 dedication service for the chimes because it reminded him of her.
He said Mortimer's husband, George, keeps her gloves — which bell choir members wear to keep from tarnishing the bells — and a rose on his music stand to remember her while he is playing.
"She loved music and she loved the bell choir," Reineke said.