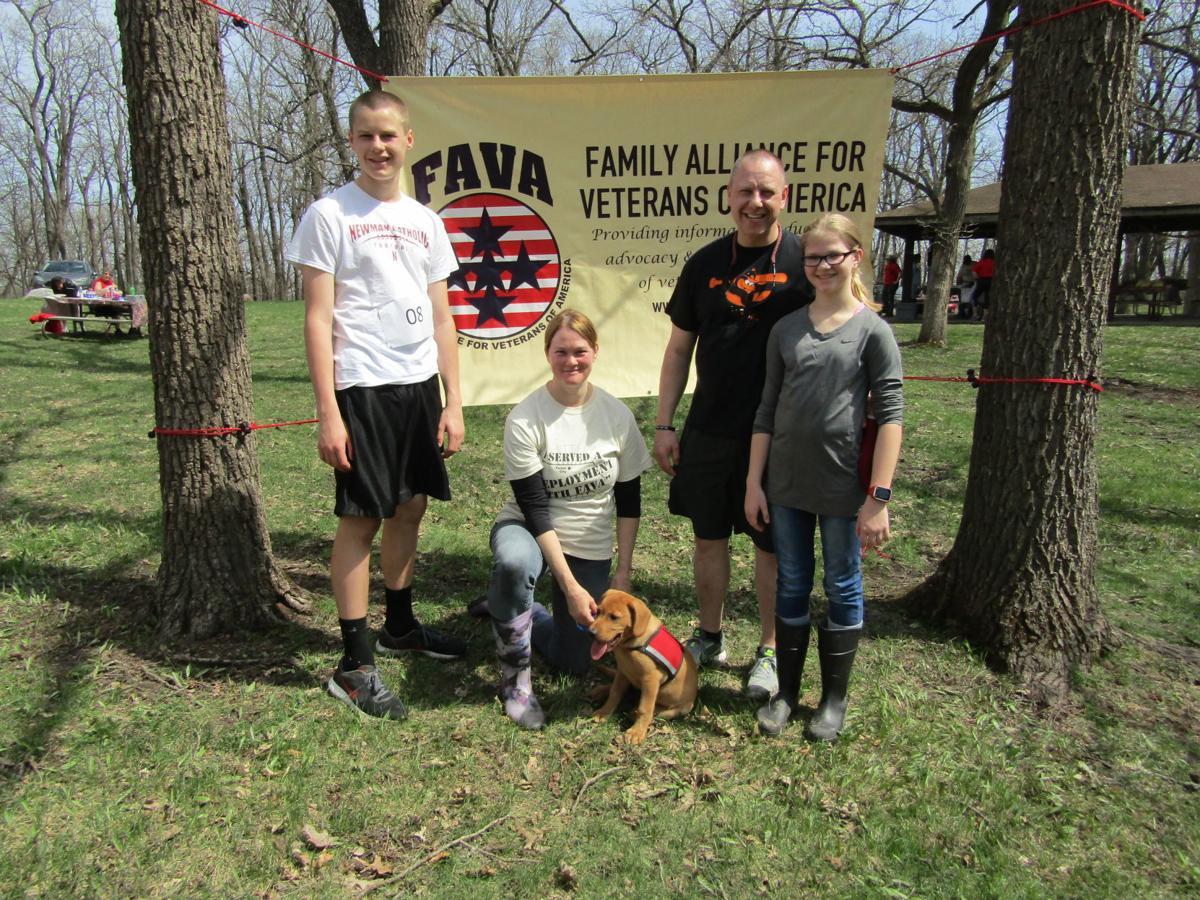 FOREST CITY | On Saturday, May 5, Forest City residents got to meet the second wave of Battle Buddies, Bravo and Zulu, 12-week-old Labrador puppies, who are in training as service dogs for wounded military veterans.
The puppies were at the Deployment with FAVA 4K Walk, Run, Salute! held at Pilot Knob State Park. The event raised funds for a matching grant program.
The pups, named after the military alphabet, have been placed with host families and have begun their 1 1/2- to 2-year training program. The third puppy, Oscar, and the fourth, Jackson, named after a military base like his predecessors, three years ago, were sent to a partner training facility in the state of Washington, since finding training families can be difficult. 
"It is a huge commitment," said Amanda Eldridge, Battle Buddies coordinator at Family Alliance for Veterans of America (FAVA) in Forest City. "Consistency is super important. Sometimes, people are harder to train than their dogs."
Eldridge, who led obedience classes for dogs at Petco and then served a 1 1/2 year internship with Support Dogs, Inc. in Illinois, is the proud caretaker and trainer of Zulu, while the second host family was found purely by accident.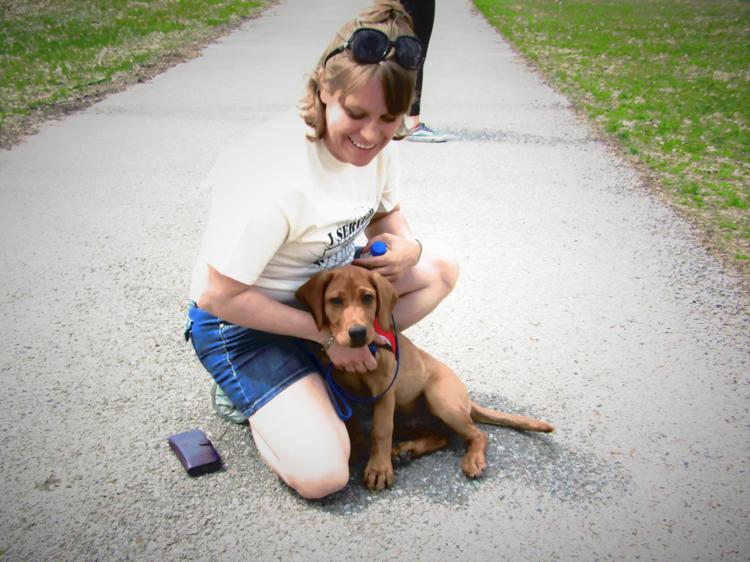 Mason City Police Chief Jeff Brinkley was putting together a community services guide after the police station received a mental health planning grant. Brinkley said they partner with local services and he reached out to FAVA to make sure veterans are not underserved.
"That's how I met Amanda and found out about the program," Brinkley said. "We wanted a dog and I flew it by my family. It was by sure chance."
With a husband working and children in school, the bulk of training a puppy falls on Brinkley's wife, Lisa. "This is the first time training a dog. We meet in class once a week," Lisa said. "Part of our job is also socialization. We expose him to all different voices, colors, genders, all ages, all sizes. I try to take him as many places as I can."
Service dogs, who are sometimes the eyes and ears for their disabled veteran, have to be confident and have controlled behavior at all times. "That's why they are exposed to all kinds of stimuli. You never know what they will come across in the future," Eldridge said.
Things people take for granted such as elevators, ringing bells at a courthouse, even a plastic bag floating in the wind, "could be scary to a dog," she said. And if that dog reacts in a negative way, "that could make a big difference to someone with a disability."
Not only are host families trained in how to train the dogs, veterans receiving the dogs are also trained on what cues and commands to give. However, not all dogs in the program become service dogs. "It's tricky," Eldridge said. "It's like taking a baby and saying, 'you're going to be a doctor'. Temperaments are so different.'"
Out of the first wave of Battle Buddies trained three years ago, Lejeune became a service dog, Benning was adopted by a veteran as a companion and Campbell and Pendleton are receiving advanced training in Washington.
Money for FAVA's Battle Buddy program, which is used to purchase the puppies and buy food and veterinary care, has been supplied through a grant from the Department of Defense Wounded Warrior Service Program.
Get local news delivered to your inbox!
Subscribe to our Daily Headlines newsletter.