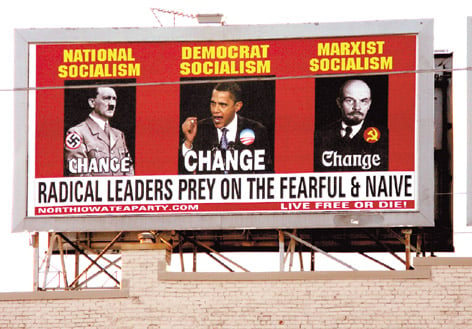 MASON CITY — Members of the Iowa Tea Party believe a billboard erected by its North Iowa counterpart comparing President Barack Obama to Adolph Hitler crosses a dangerous line.
"At our last rally we saw some people with these kinds of signs and asked people to put them down," said John White, coordinator of the Iowa Tea Party movement. "It's borderline hate crime."
The sign, located in the 600 block of South Federal Avenue, was ordered and paid for by the North Iowa Tea Party organization, according to the billboard company.
Members of the group either declined to speak to the Globe Gazette or did not return calls on Monday.
It is the second controversial sign placed in the same spot with Tea Party ties.
On the current sign  Obama is featured in one of three photographs. On the left is a photograph of German dictator Adolph Hitler. On the right is Russian revolutionary and Communist leader Vladimir Lenin.
Over Hitler's photograph is the phrase "National Socialism" and over Lenin's picture, "Marxist Socialism." Over Obama's photo is "Democratic Socialism."
Under each photograph is the word "Change" and the phrase "Radical leaders prey on the fearful and naive," and "Live free or die." The billboard also carries the notation  "northiowateaparty.com."
In November, another sign erected at the same spot followed the same socialist theme, saying  "Socialism — A system of social organization that advocates the ownership and control of industry, capital, land, etc. Obama-Nation. Live Free or Die."
The billboard space then was rented and paid for by a group called Concerned Citizens.
Globe Gazette letter writer Leah Fistler on Monday called the current sign "offensive."
"To compare Obama to these murderous dictators is not only ridiculous but offends me as part of the majority of America that voted for him," she wrote.
Bob Johnson, founder of the North Iowa Tea Party group, declined to comment.
Another active member, Mark Tlusty, did not return a call from the Globe Gazette.
White said he understood the path a Tea Party sympathizer might take in comparing Obama to Hitler.
He alleged that an incident last fall found the Obama administration encouraging people to contact government officials when friends or neighbors did not agree with Obama. He said as soon as the news hit the media, the administration apparently ended the practice.
"It may not have even been Obama's idea," he said. But that kind of action could be considered "Hitleresque" by some, although he himself finds the images on the signs as "non-productive and slanderous."