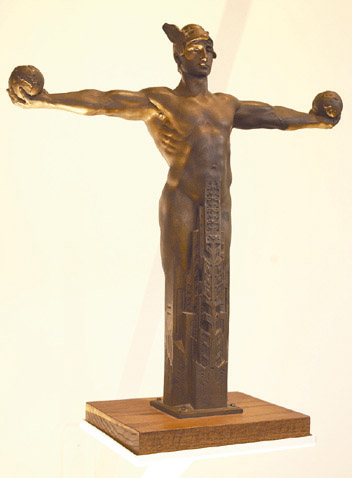 MASON CITY — A full-sized reproduction of the "Spirit of Mercury" statue designed by Richard Bock will be auctioned as part of the fundraising efforts for the restoration and ongoing maintenance of The Historic Park Inn Hotel.
The reproduction will be available for bidding at The Wright Affair gala hosted by Wright on the Park Inc. at 6 p.m. Sept. 11 at the Mason City Country Club.
Bock was an American sculptor and associate of Frank Lloyd Wright, who designed the Park Inn as well as the City National Bank building in Mason City.
Wright's original design for the bank incorporated four of the Spirit of Mercury statues over teller cages in the building.
When the City National Bank failed in the mid-1920s the four statues disappeared. In 1955, Hugh Gilmore, superintendent of Mason City Schools, donated one to the Mason City Public Library. One statue is in a Wright-designed home in Johnston. The whereabouts of the other two are unknown.
The Mason City Public Library gave permission to Wright on the Park to have a casting made for reproduction of the statues.
Four reproduced statues will be incorporated into the design of the lobby of the former bank building, which is being included as part of the Park Inn restoration project. It will be used as a community room and banquet hall.
Another reproduction of the statue will be auctioned during The Wright Affair gala.
Steve Maxon of Max-Cast in Kalona reproduced the statues in bronze.
The statue being reproduced for the auction stands approximately 28 inches tall and has an armspread 27½ inches wide. It will be made out of a base of gypsum cement with fiberglass and acrylic reinforcing and then covered with a bronze powder, giving it the appearance of bronze.
Be the first to know
Get local news delivered to your inbox!