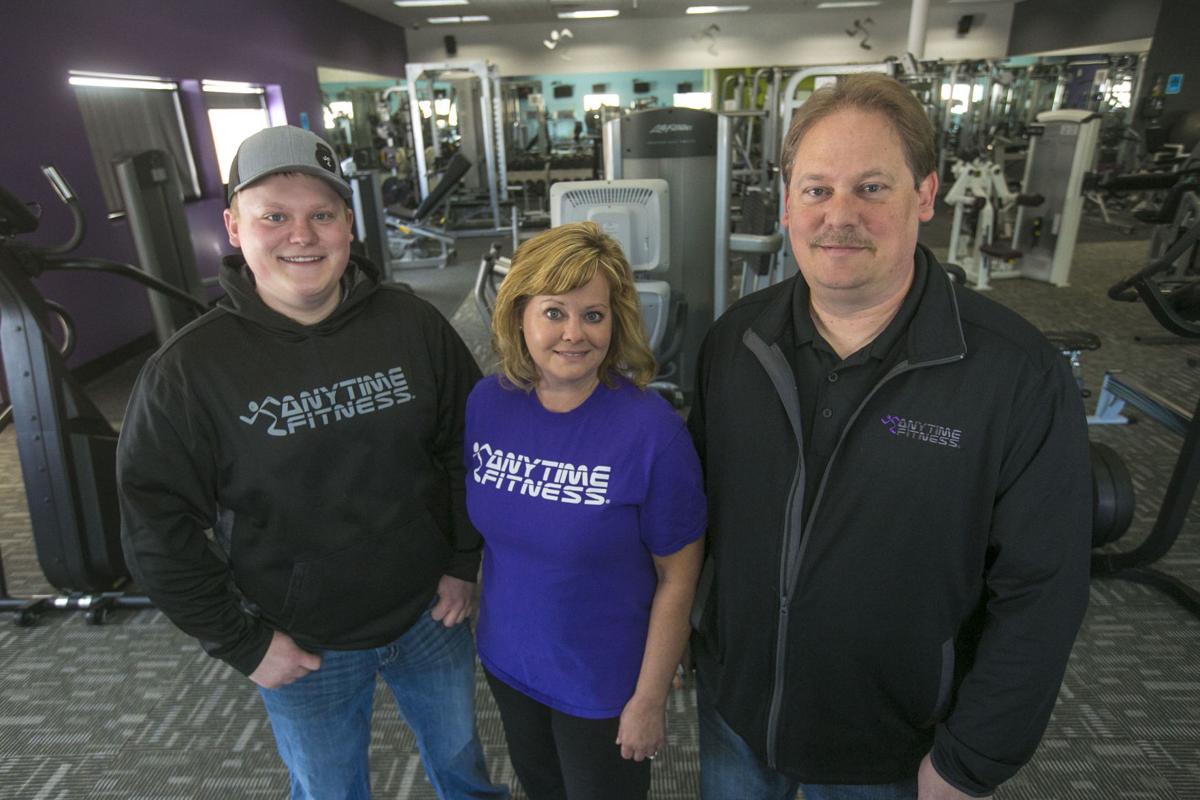 MASON CITY | A 24-hour gym in Mason City has received a facelift.
That's thanks to new owners Jeri and Ryan Severson, and their son, Blake, 21, of Northwood.
"We looked at other gyms prior to buying this ... and this one just seemed to fit better," Ryan said.
The Seversons took ownership of the gym at 687 S. Taft Ave. on Dec. 1, and over a three-day period later that month, they remodeled it.
Fresh paint, new flooring and an 800-square-foot group fitness room are among the improvements.
"We wanted to make it a little brighter and more inviting," Blake said, noting the gym hadn't been updated in years.
The Seversons, who have a habit of purchasing businesses in North Iowa, started looking for a gym more than a year and a half ago in large part because Blake, a 2015 Northwood-Kensett High School graduate, got into weightlifting.
Blake, who is a Gold Cross emergency medical technician and a Southeastern Minnesota Emergency Medical Services instructor, has been a member of Anytime Fitness since 2015.
"At the time, I got hired with Mayo and I wasn't sure if I'd be in Rochester, Owatonna or Austin, so this was nice because one membership rate gets you access to all 3,000 Anytime Fitness gyms around the world," he said.
Blake's at the gym about four days a week to oversee its operations.
"My whole thought was maybe if I'm here more, I can lift more, and it's kind of went the other way," he said.
The gym is one of more than six businesses the Seversons have owned in Iowa.
"We like to own businesses," Ryan said. "We're always looking for different things."
The Seversons purchased Strike Zone, a bowling alley and sports bar in Northwood, three years ago, and Jeri oversees its operations, while Ryan teaches and coaches within the school district.
They've also owned a pizza place, baseball card shop, craft barn, food wagon and drive-in restaurant in Northwood, as well as a small resort in Okoboji.
"We like the challenge," Jeri said.
Jeri and Ryan are also the parents of high school freshman, Carter, who is involved in athletics.
Since taking ownership of Anytime Fitness in December, the Seversons said things have been going well, especially with the addition of the group fitness classes, facility updates and the New Year's rush.
The gym offers a variety of cardio machines, like treadmills, elliptical, spin bikes, and a stair-climber, as well as strength and free weights.
There's also a water-massage bed, tanning and private showers.
Blake said fitness classes and equipment will be offered outside this summer, so people looking to "work out and get sun" can do so simultaneously.
An open house will also be scheduled by the Mason City Chamber of Commerce once the weather warms up, he said, adding people interested in learning more about the gym can stop in or visit the Facebook page.
Reach Reporter Ashley Stewart at 641-421-0533. Follow her on Twitter at GGastewart.
Get local news delivered to your inbox!
Subscribe to our Daily Headlines newsletter.