Thousands of fans headed to sleepy Forest City on Friday, the first full day of the Tree Town Music Festival.
Featuring newer stars such as Jake Owen and Dierks Bentley, as well as "old country" favorites Trace Adkins and Toby Keith, young and old were slowly gathering at the Winnebago Rally Campgrounds and Heritage Park off Hwy. 69 for the seventh year of the annual event.
Contending with the weather
It was wet and muddy, no doubt about it. Water gathered in low spots all over the site, but particularly in the festival bowl where the main stage is located. Flip flops or fancy boots, you had to be OK with a little mud on your shoes, and maybe a few other places as well.
In the campgrounds, which on Friday afternoon were about 2/3 full, there was ample evidence of camping-for-the-weather fails. Crumpled tents and shelter frames were strewn here and there around the grounds.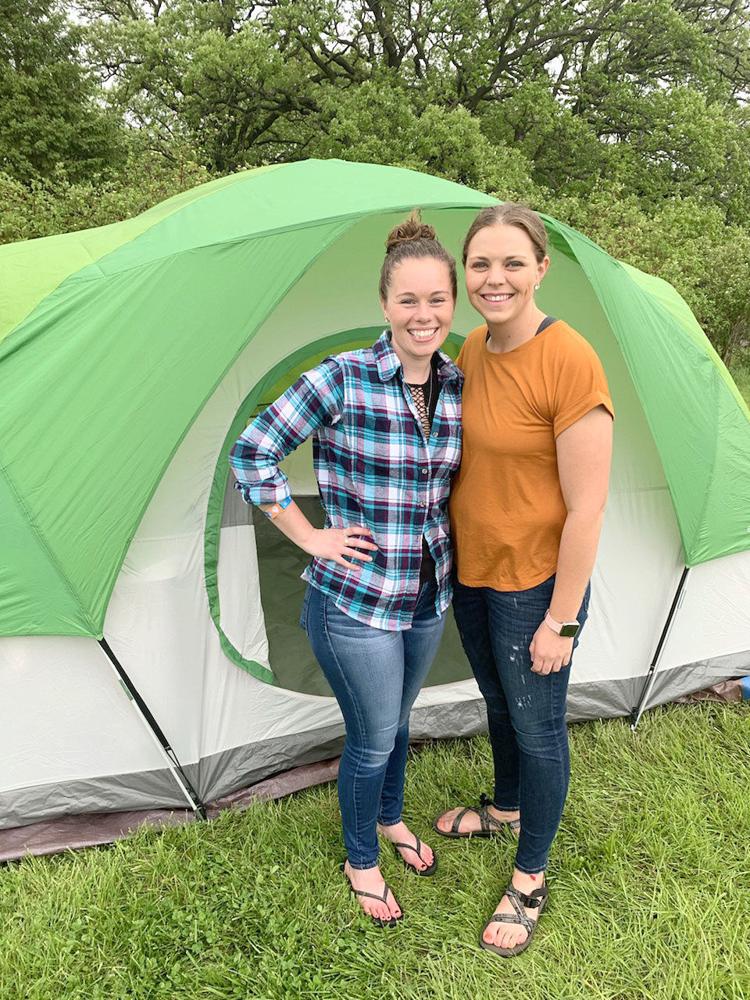 Kiley Gardner, of Hudson, and her friend, Kara Nunemaker, of Waterloo, were at the very edge of the campground assembling their brand new tent, purchased that morning at Target.
Gardner, who was attending her third Treetown, brought her dad's tent, the same one he used "back in the day," and that she had used two times before.
Things were fine until about 2 a.m. when water gathering in the tent's overhang became too heavy and collapsed the whole rig.
"That's when we went and slept in my truck," Gardner said. Two hours of sleep and several without sleep later, the two collected as much of their wet belongings as they could and headed off to find new housing.
Families of the Fallen
If you bought a day pass for Friday and got a little muddy, well, it's a rain or shine event so you had to grin and bear it. But campers had options ranging from a private bathroom experience for platinum or VIP credential holders to a standard shower available to any camper for $5.
The $5 brought a little grumbling, but not too much since the money paid in exchange for that nice clean feeling was going to Families of the Fallen, as was the money collected for the $8 bags of ice and $10 of every ticket sold to attend the four-day event.
Families of the Fallen honors families of those who've lost a loved one who served America, including military, law enforcement, fire and EMS.
There are still opportunities to show your support by purchasing a single-day ticket for Saturday or Sunday, said Kaitlin Madewell, public relations representative for the festival.
Madewell said this is the first full year of the festival under new management and ticket sales so far have exceeded last year, when 20,000 attended.
No pets allowed
You have free articles remaining.
Terry and Cindy Vait, of Owatonna, Minnesota, get that people love their pets, but think maybe sometimes people tend to take things a bit overboard – like bringing their pets everywhere they go.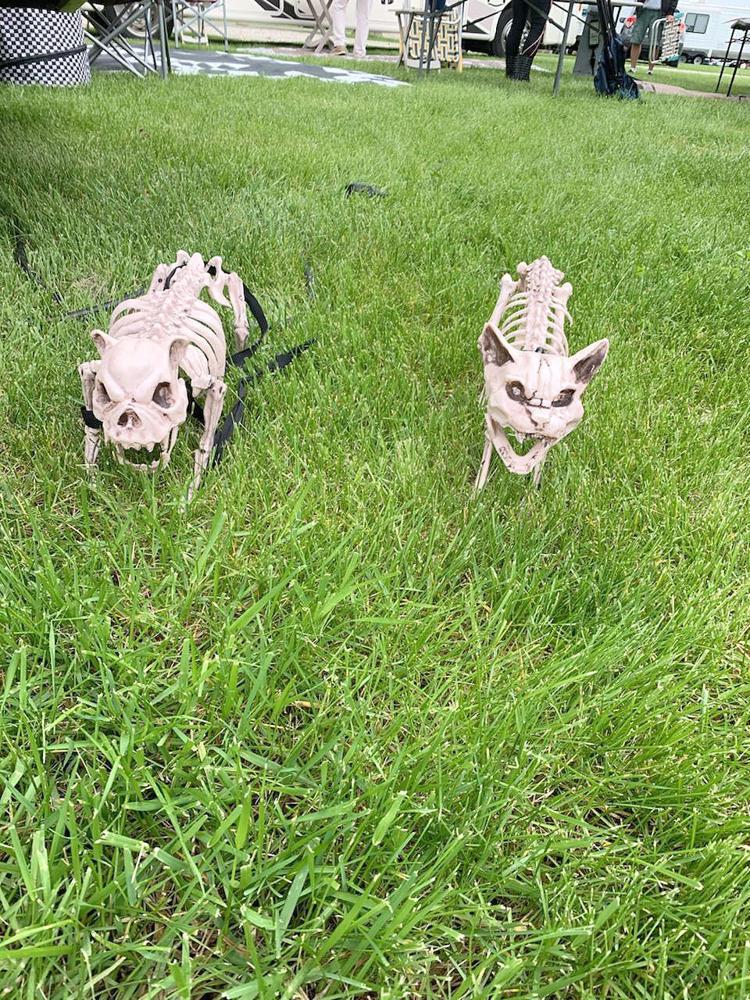 "Leave your pets at home," Cindy Vait said.
Their homage to such people showed up at the entrance to their campsite in the form of two dog skeletons, collared and leashed to their spot.
"But they don't have names yet," one of Vaits' friends pointed out. "Maybe you should have a contest in your paper for their names."
"Or we could just call them Buster and Maurice," said Terry Vait.
Hammer time
Alex Bixby, a four-time Tree town attendee, was down by the vendors at a prior year's festival when he saw people trying to hammer long nails into a round disk of tree trunk.
"It's hammerschlag," Bixby said.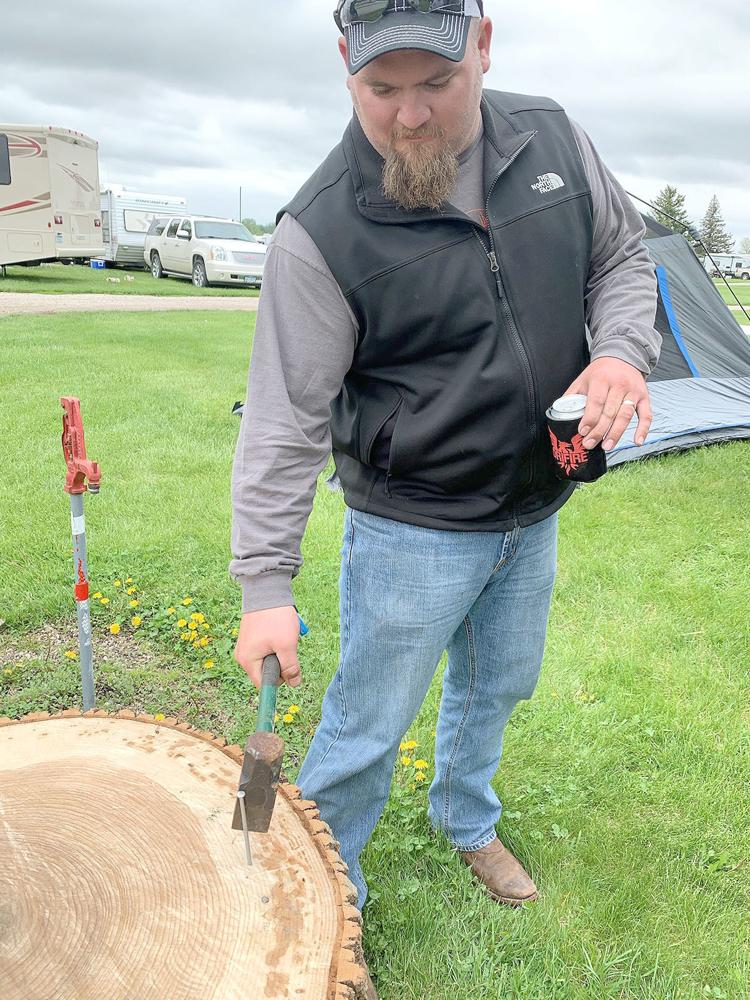 The actual name of the drinking game is Hammerschlagen, and it's relatively simple: Four people sit around a cross-section of a tree trunk and attempt to pound a long nail into it with the narrow end of a cross pein hammer. The first to be successful doesn't have to drink.
Bixby's buddy, Tom Demro, of Hampton, who runs a stump removal business on the side, fixed the two of them and their wives up with their own version of the game, and demonstrated on Friday how it works. In several attempts, he hit the nail maybe two times.
"I haven't had enough to drink yet," Demro said.
Big news coming
The festival's spokesperson Madewell said organizers were slated to make a "big announcement" at 7 p.m. Friday, but would not give any indication of what it would be. Each year, festival organizers have made major announcements during its run and usually it includes who the headliners for the next year will be.
Madewell said it's bigger than that. The announcement will come too late for the Globe Gazette's print deadline so be sure to check globegazette.com for the latest news on the festival.