MASON CITY | If there was a summation for American entrepreneur Andrew Yang's presidential campaign stop in Mason City at the Hy-Vee East meeting room on Monday morning it would be: "human-centered."
That's how the former Presidential Ambassador for Global Entrepreneurship under Barack Obama characterized his bevy of policy prescriptions which includes: universal basic income, using "geoengineering" to stem the tide of global climate change and Medicare for all.
And as expansive as some of the particular agenda items were, the 44-year-old Yang took care to talk about them in the simplest terms possible. 
Yang's universal basic income plan, referred to as "The Freedom Dividend," would deliver $1000 each month to every American adult between ages 18 and 64.
Revenue for the plan would be generated by a 10-percent "value-added tax" which would be levied on the goods and services a business produces.
Individuals on welfare programs, food stamps and disability would have the choice between their current benefits or the Freedom Dividend.
"No strings attached" is how Yang and his campaign characterize the plan which is based on the existing Alaska Permanent Fund.
That oil-revenue-funded government venture paid out about $1600 per individual in 2018 and has existed since 1976.
With the recurring cash infusion, Yang surmised American citizens would feel safer looking for more fulfilling work, getting additional education or possibly starting businesses of their own.
Yang also estimates that the Freedom Dividend would save between $100–200 billion "as people would take better care of themselves and avoid the emergency room, jail, and the street."
He even went so far as to suggest that the plan would help in the fight against global climate change.
"If we get a thousand bucks a month into people's hands they get their heads up," Yang said to the group of three dozen audience members. "Then if you come back and say: 'Hey, we need to worry about climate change,' they'll look at their children and say 'Yes we do.'"
Right now, Yang argued, many discussions around climate change drift back to more immediate concerns of scarcity. 
"If you go and say: 'Hey, we need to worry about climate change,' a lot of (Americans) will say: 'I can't pay my bills. The penguins can wait in line.'"
You have free articles remaining.
In tandem with that, Yang tossed out the idea of a carbon fee and dividend which would set an initial tax of $40 per ton of carbon emitted and use part of the revenue to fund his proposed universal basic income plan. 
"We have left young people a total mess," Yang assessed. "I'm going to clean it up."
One other prong of the cleanup project is Yang's proposed Medicare for all plan.
Similar to plans laid out by other Democratic hopefuls, Yang's policy would transition the $3.5 trillion healthcare economy toward a single-payer, cost-controlled system.
Yang's line of thinking is that the move would not only bring down costs over time but would allow doctors the chance to be more human-centered by spending more time on individual patients.
Yang was also clear about the viability of it everything he expounded upon.
He said that such massive budget items could pass through Congress because he's found his ideas have currency with Democrats, independents and Trump supporters. 
"I have many Republican and independent and conservative friends and they find me to be a non-ideological, practical person they can work with."
Yang, a child of Taiwanese immigrants, admitted that President Trump "got a lot of the problems right" in the 2016 campaign but failed to properly diagnose them.
So he joked that what was needed was the exact opposite.
"The opposite of Donald Trump is an Asian man who likes math."
Light by Phil Hands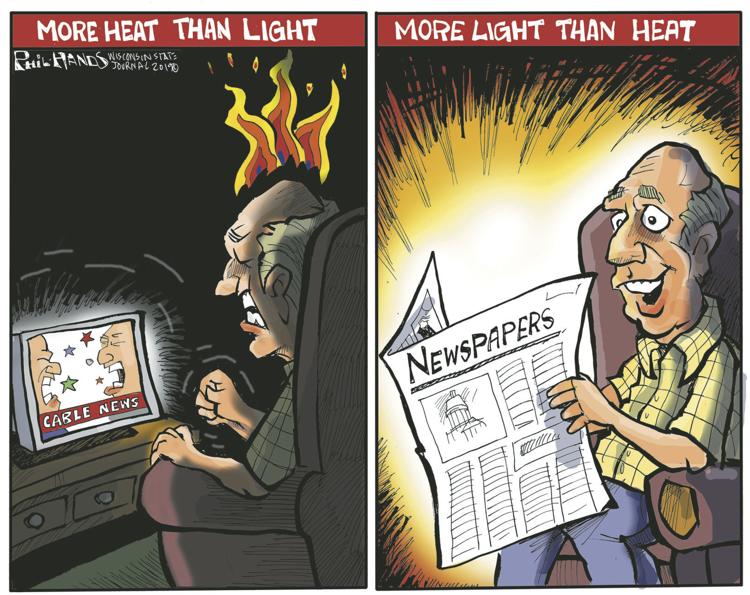 Democrats Wrapped up in Ilhan Omar by Daryl Cagle, CagleCartoons.com
Trump on McCain by Monte Wolverton, Battle Ground, Washington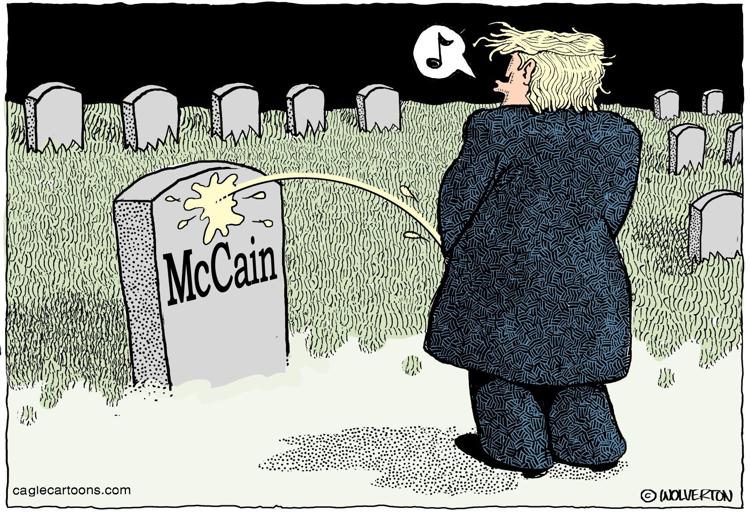 Flood Responders by Jeff Koterba, Omaha World Herald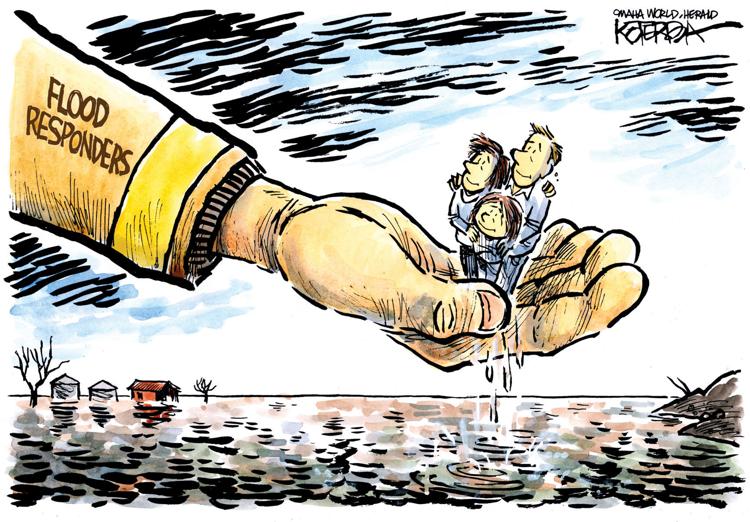 Pollen Rescue Dog by Rick McKee, The Augusta Chronicle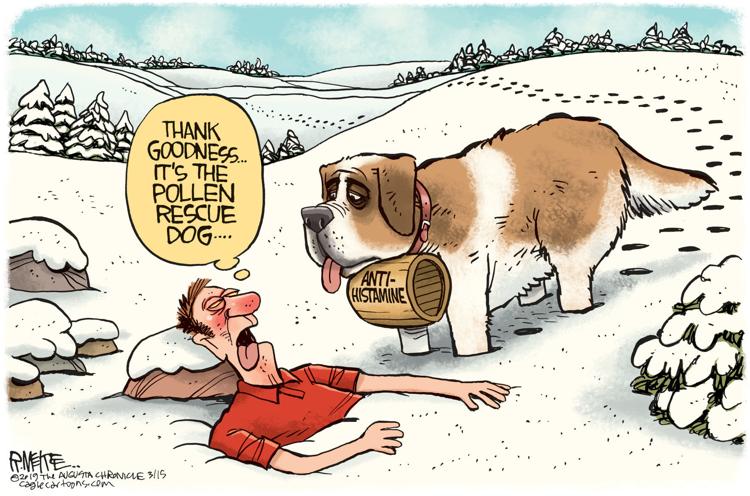 Not A White Supremacist by Ed Wexler, PoliticalCartoons.com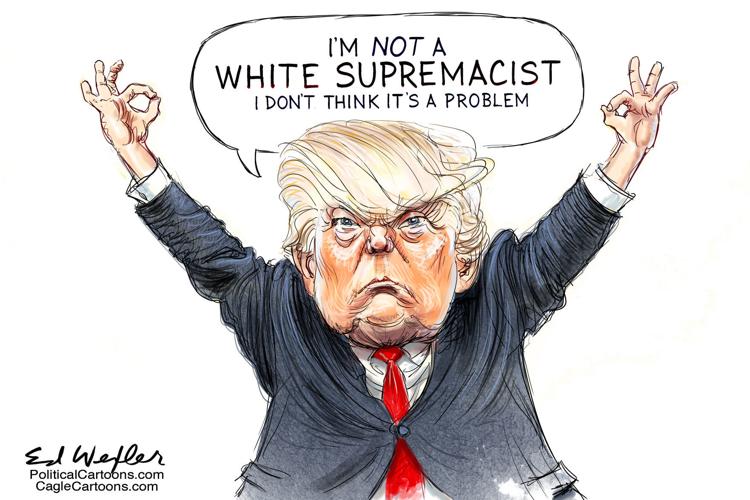 Lowering Voting Age to 16 by Sean Delonas, Easton, Pennsylvania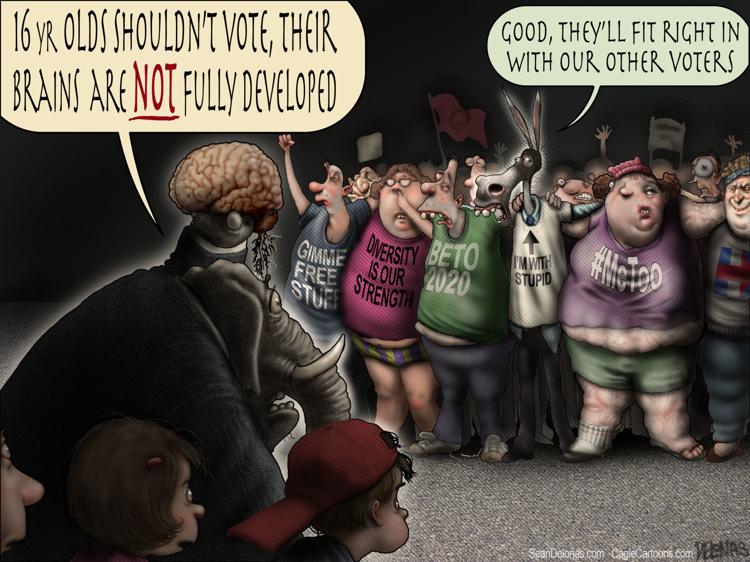 Boeing 737 Max8 grounded by Dave Granlund, PoliticalCartoons.com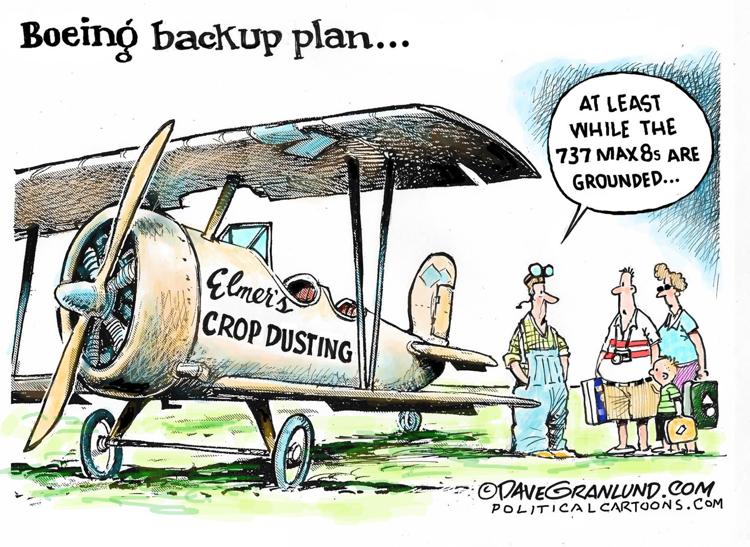 Pelosi and Impeachment by Nate Beeler, The Columbus Dispatch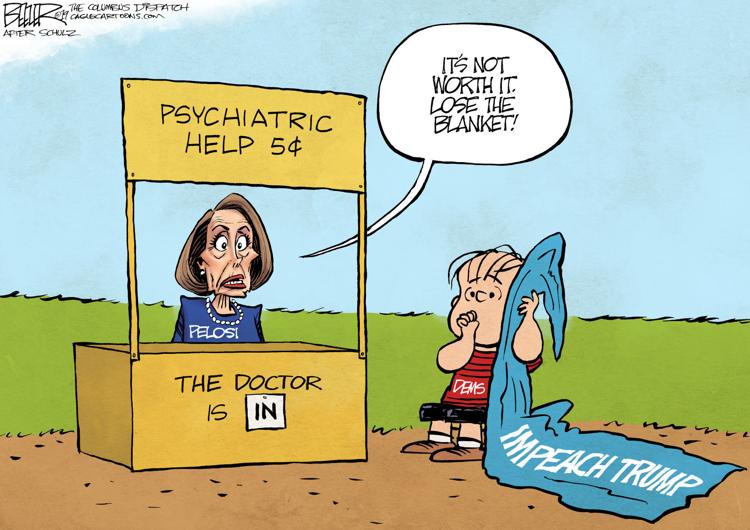 St. Pats Green by Joe Heller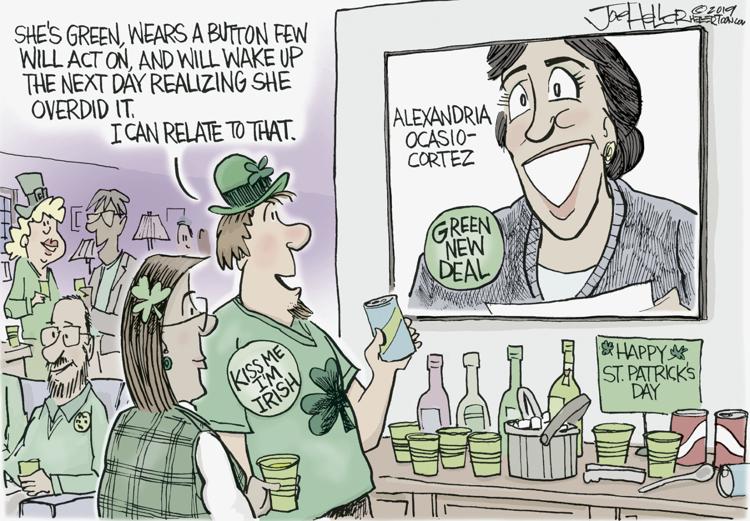 Government in the Sunshine by Bill Day, Tallahassee, Florida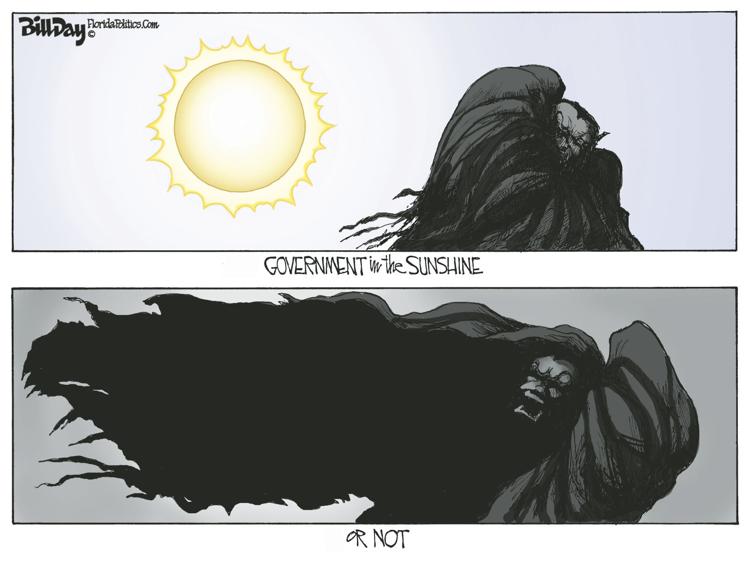 Snow Again by Steve Sack, The Minneapolis Star-Tribune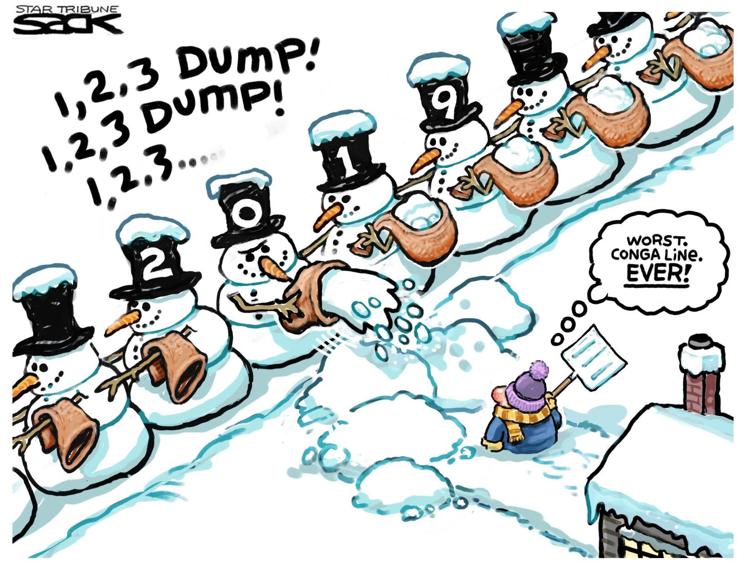 Omar Anti Semitism by Rick McKee, The Augusta Chronicle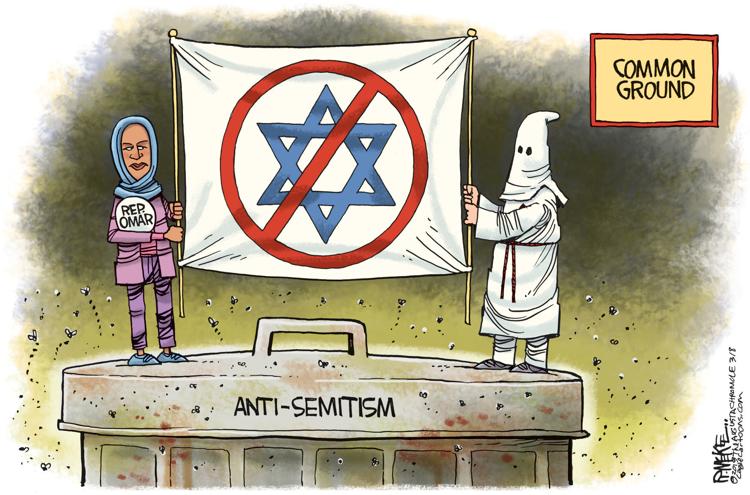 Embracing freedom by Adam Zyglis, The Buffalo News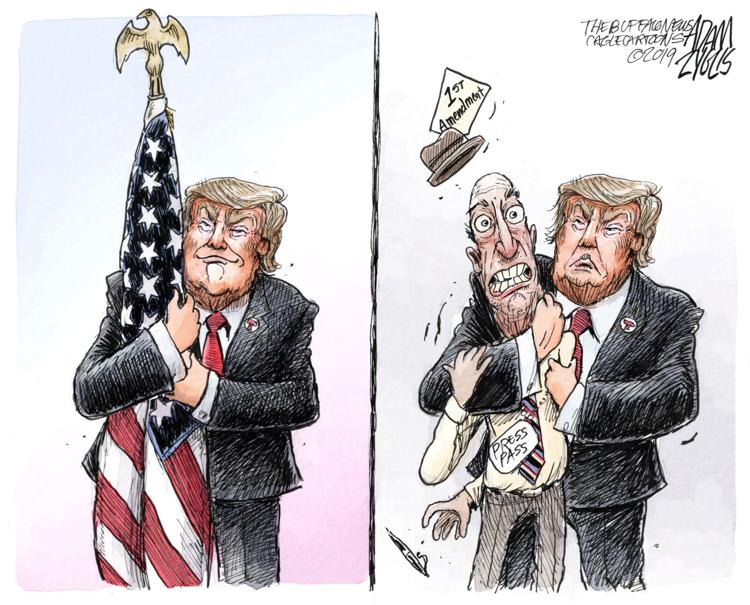 Trade deficit by Adam Zyglis, The Buffalo News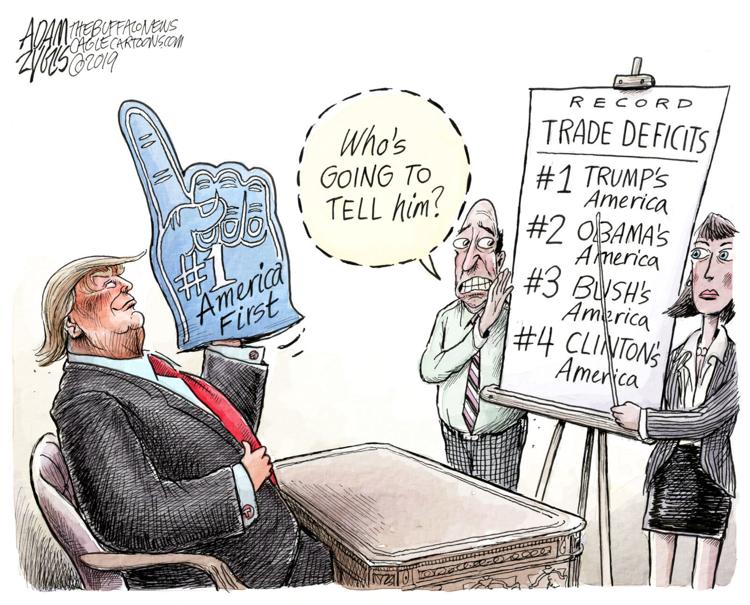 Democrat Pollution by Nate Beeler, The Columbus Dispatch
Sunshine Week by Joe Heller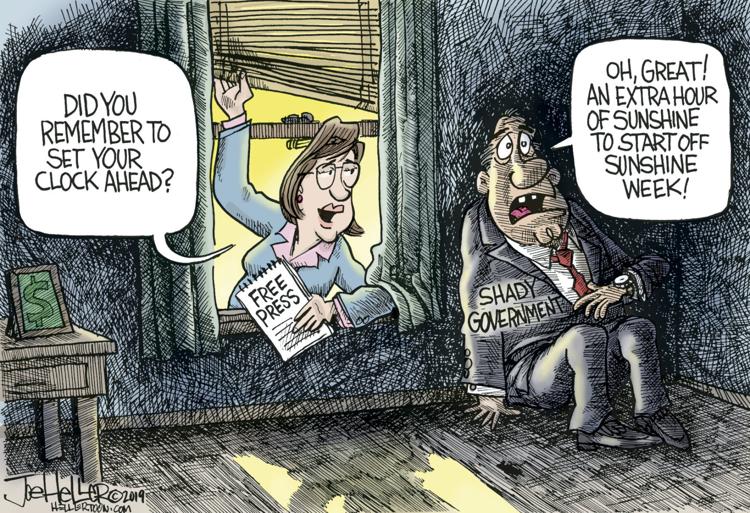 Trump and Otto Warmbier by Nate Beeler, The Columbus Dispatch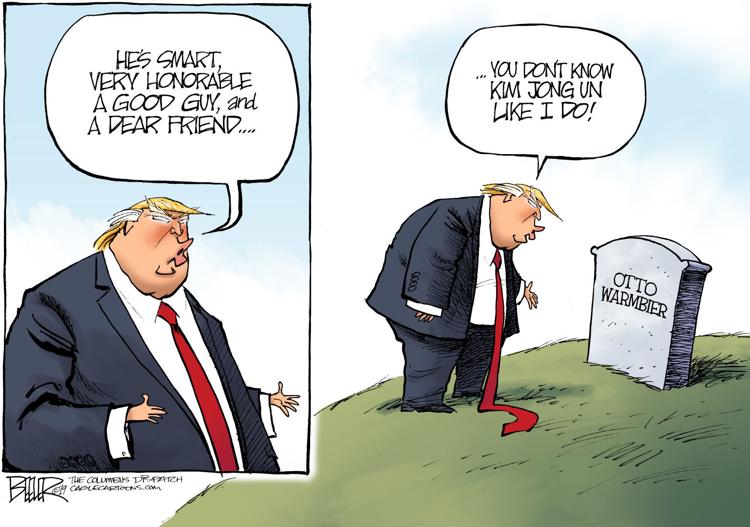 Lent by Joe Heller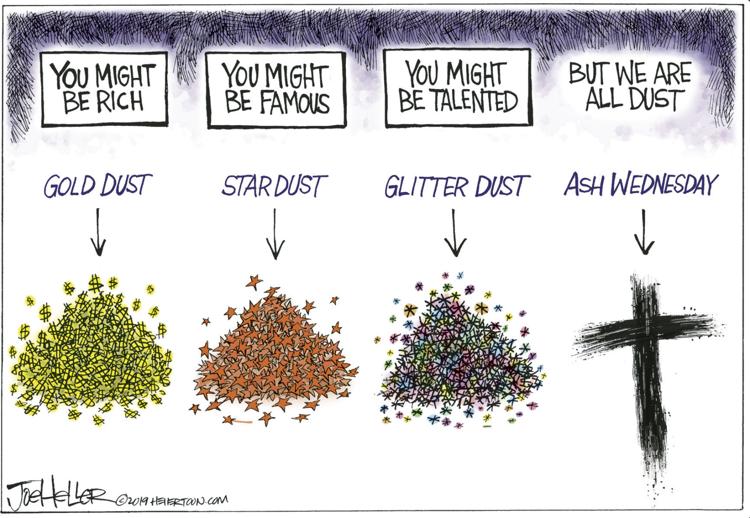 AOC Cow Farts by Sean Delonas, Easton, Pennsylvania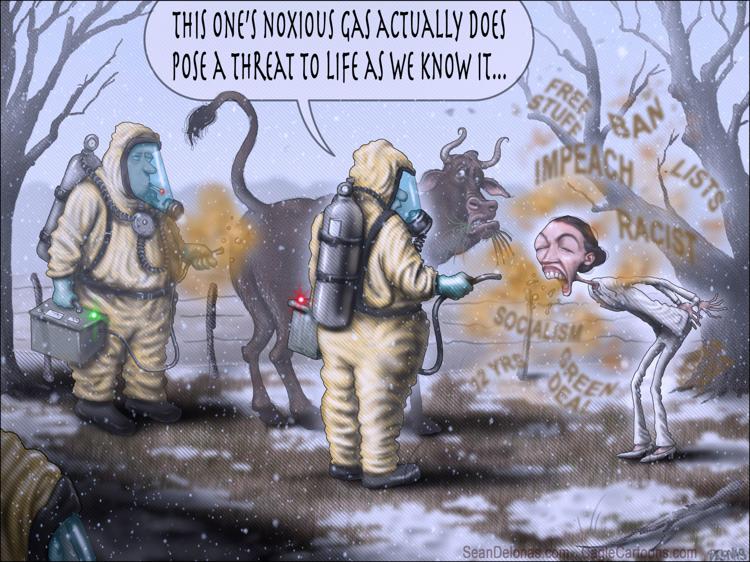 Republican Security Detail Protects President by RJ Matson, Portland, Maine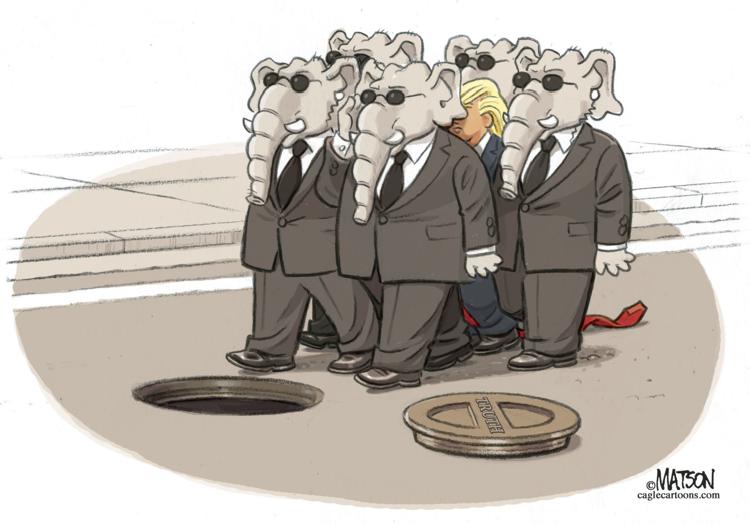 Michael Cohen Swears To Tell The Truth by RJ Matson, CQ Roll Call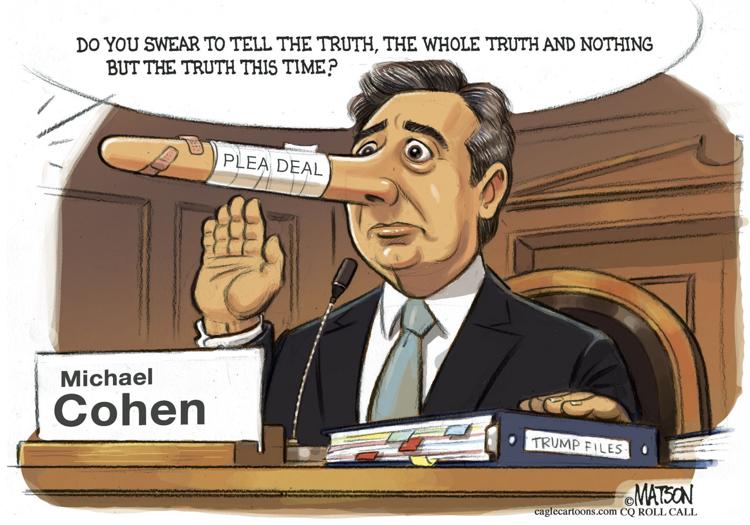 Rhyming Posts by Joe Heller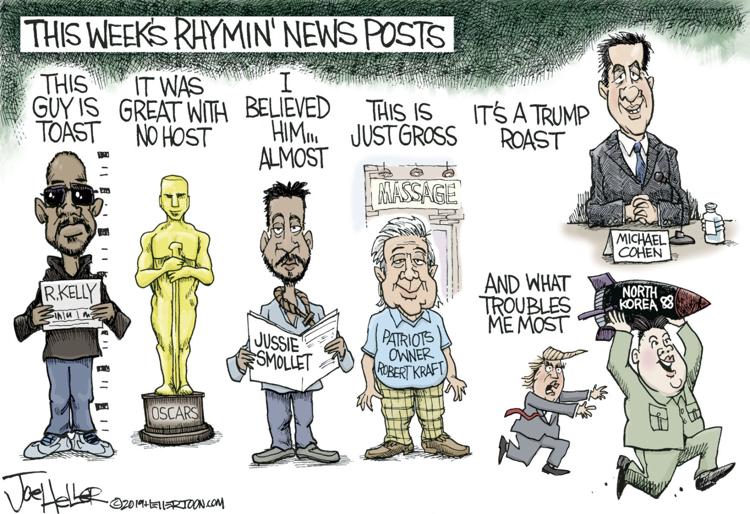 Potholes by Joe Heller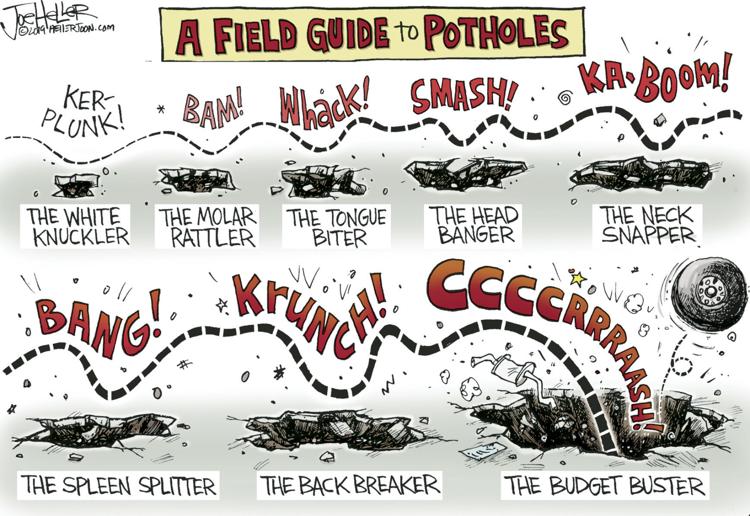 Mueller Report Release by Daryl Cagle, CagleCartoons.com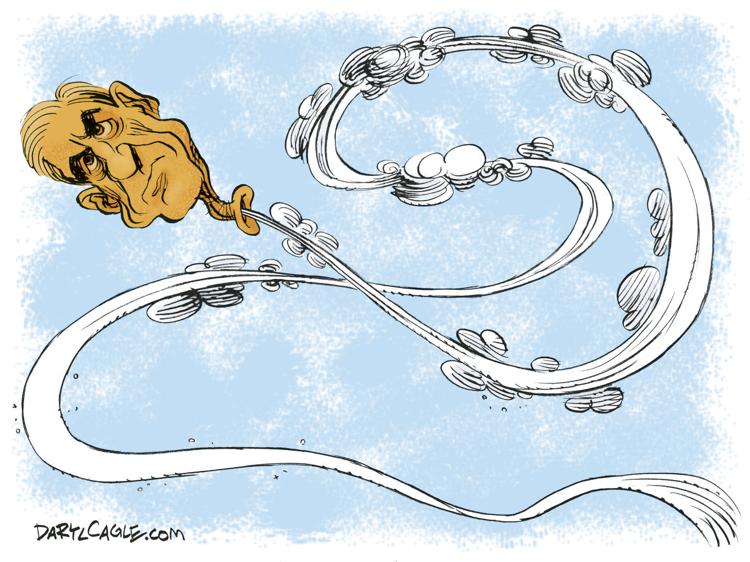 Trump and College Free Speech by Kevin Siers, The Charlotte Observer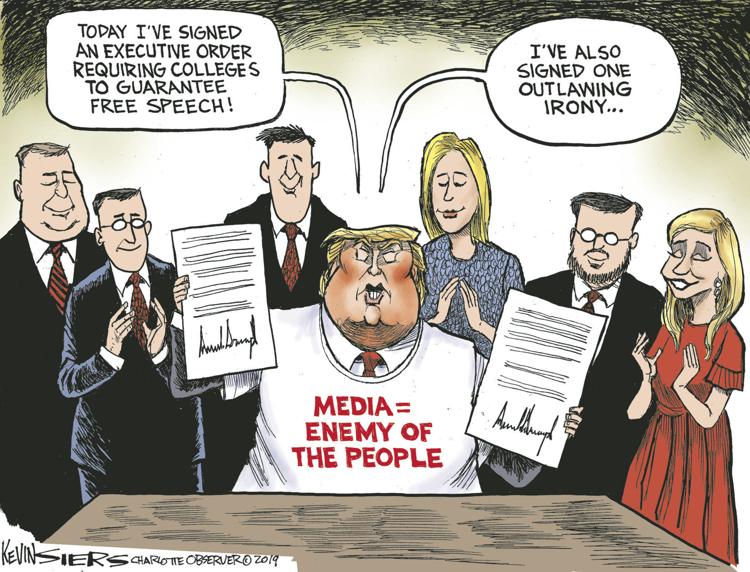 Mueller and the Media by Nate Beeler, The Columbus Dispatch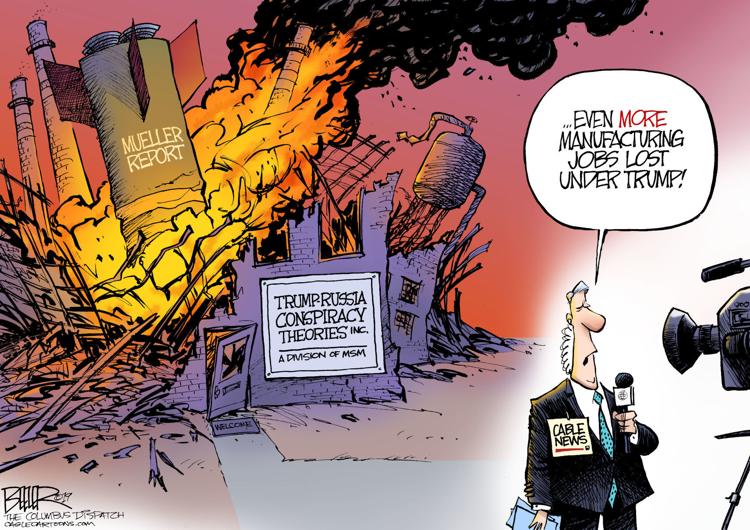 A Betsy DeVos special by Bruce Plante, Tulsa World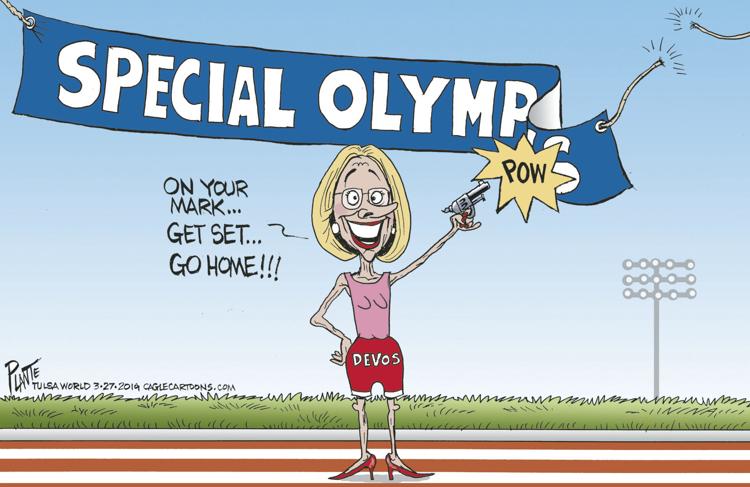 Measles by Joe Heller