MASON CITY | Shopko has announced that it's closing all of its remaining store locations by summer 2019.
The Green Bay, Wisconsin-based discount retailer announced plans to file for bankruptcy in December 2018 and sold off its Shopko pharmacies to Hy-Vee about the same time. 
However, those restructuring moves appear to have failed as the company expects to close all stores in the next 10 to 12 weeks.
"This is not the outcome that we had hoped for when we started our restructuring efforts," said Russ Steinhorst, chief executive officer. "We want to thank all of our teammates for their hard work and dedication during their time at Shopko."
Shopko officially filed for Chapter 11 bankruptcy in January and announced two rounds of store closings at the time. Shopko announced in February that its Forest City branch would close on May 12.
According to those bankruptcy documents, the companies affected by the move include: Shopko Stores Operating Co., Shopko Properties, Shopko Gift Card, Shopko Finance, Shopko Holding Company, Shopko Optical Manufacturing, Penn-Daniels, SVS Trucking and Pamida Transportation.
In the bankruptcy filing, Shopko estimated its assets to be between $500 million and $1 billion, while putting its liabilities north of $1 billion but less than $10 billion.
As of 2017, the company had approximately 18,000 total employees.
The Mason City Shopko opened in 1985 at 615 S. Monroe Ave. and employed 260 people at that time.
Then Mayor Ken Kew cut the ribbon at the grand opening along with Shopko officials Joe Meurer and Dale Strain who all called the Sunday morning event a "huge success."
About $7 million of Shopko's money was invested in the 90,800-square-foot storefront, and Mason City issued at least $585,000 in general obligation bonds to pay for the land, buildings and on-site preparation.
Both Mason City Shopko's on-call manager and corporate offices were contacted Monday afternoon.
The former declined to comment on when specifically the store would close or how many people it currently employs. The latter did not return the call.
But according to employer database numbers maintained by Iowa Workforce Development, the Mason City Shopko has between 100 and 249 total employees.
Pharmacist James Ruben founded Shopko in Green Bay in 1962 and was purchased by Sun Capital Partners, a private equity group in 2005.
Before the slew of closures, Shopko operated as many as 360 stores in 24 states.
The La Crosse Tribune contributed to this report. 
Shopko's beginnings in Mason City
Shopko's beginnings in Mason City
Globe_Gazette_Fri__Jun_1__1984_.jpg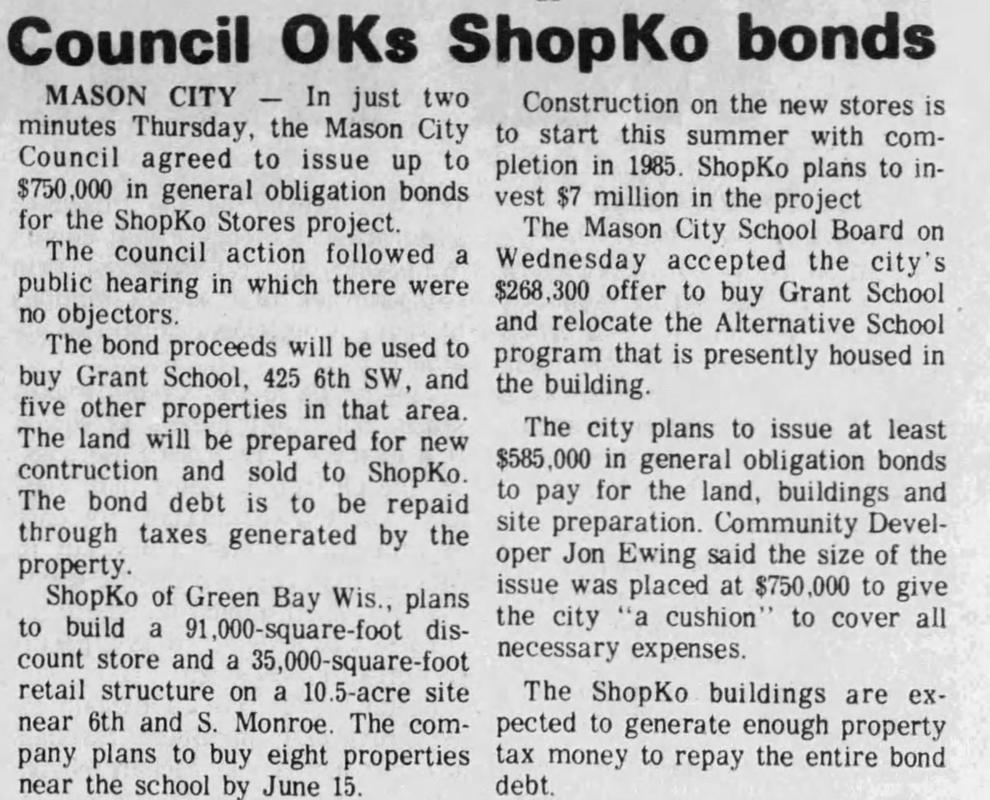 Globe_Gazette_Fri__Mar_9__1984_.jpg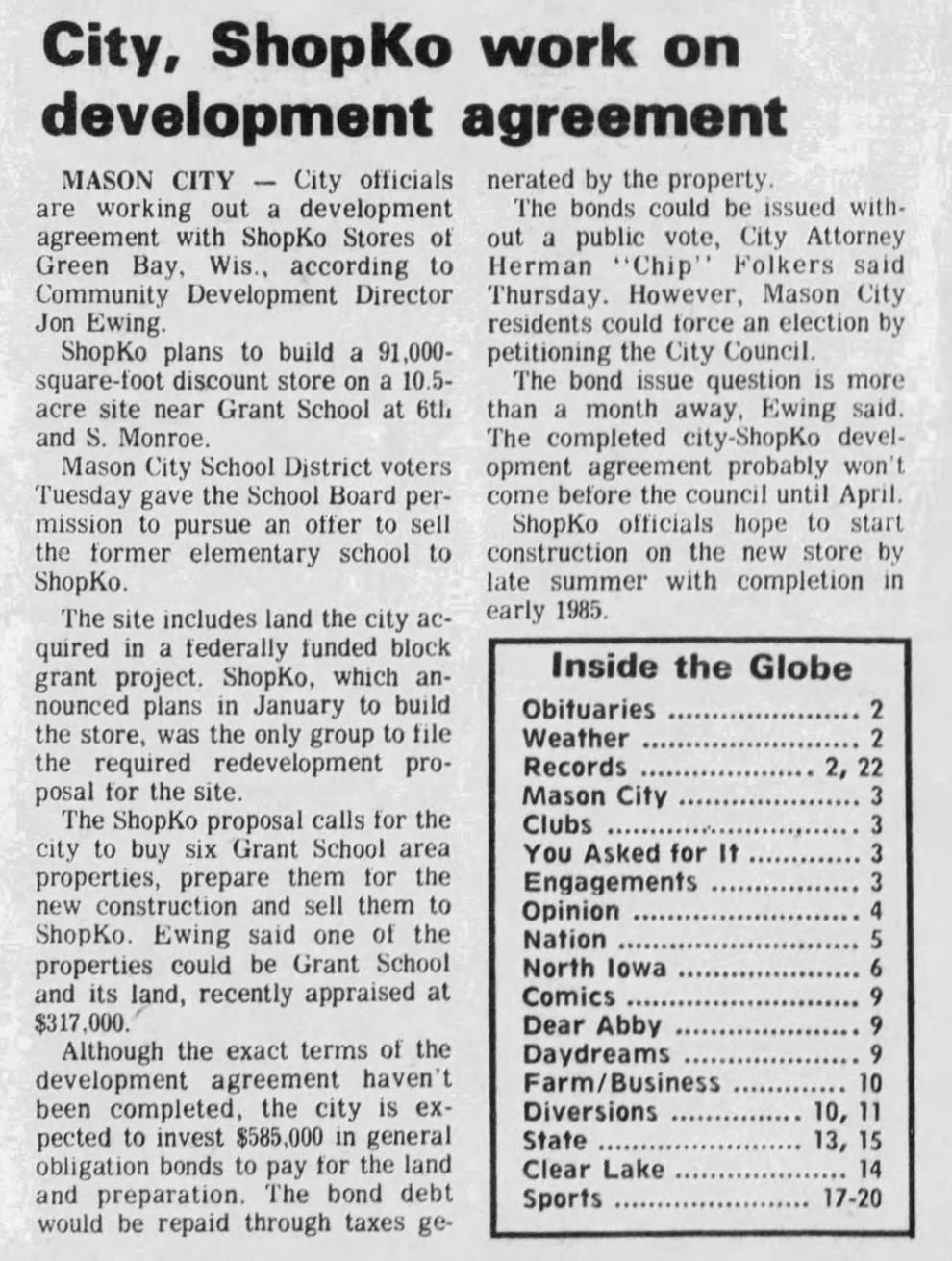 Globe_Gazette_Mon__Aug_6__1984_.jpg

Globe_Gazette_Mon__Aug_27__1984_.jpg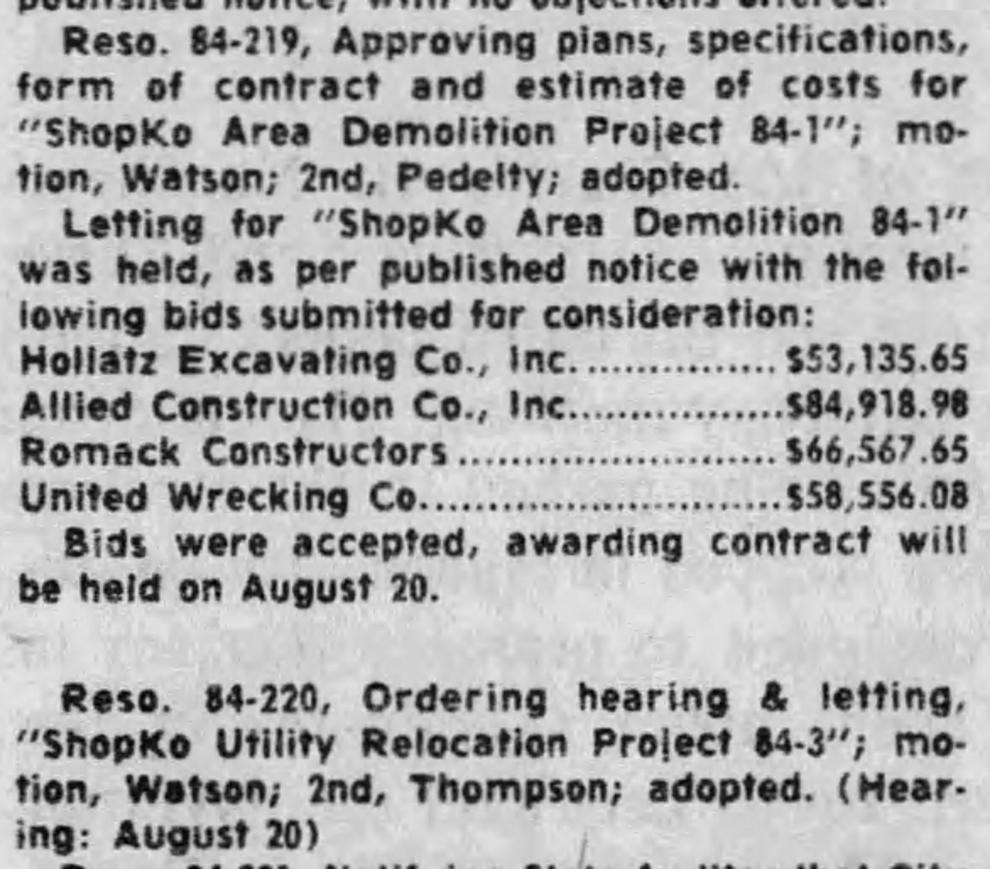 Globe_Gazette_Mon__Jul_15__1985_ (1).jpg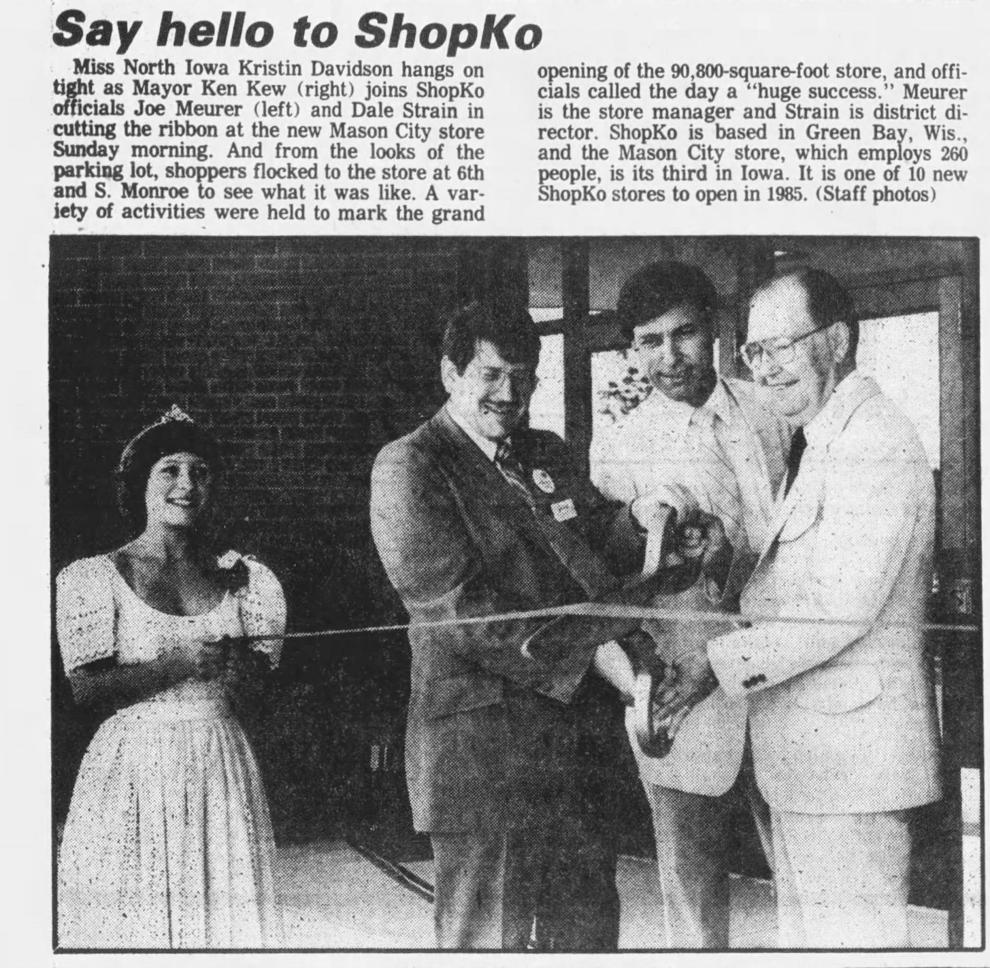 Globe_Gazette_Mon__Jul_15__1985_.jpg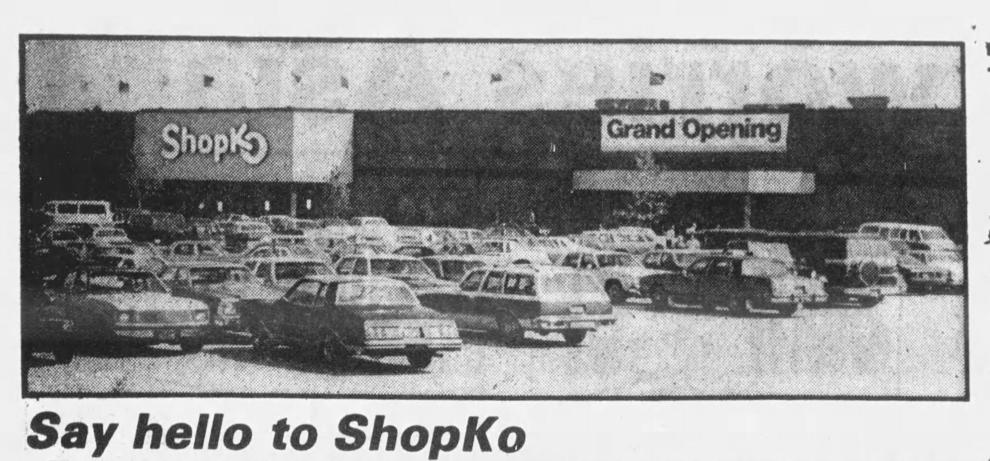 Globe_Gazette_Mon__Jun_17__1985_.jpg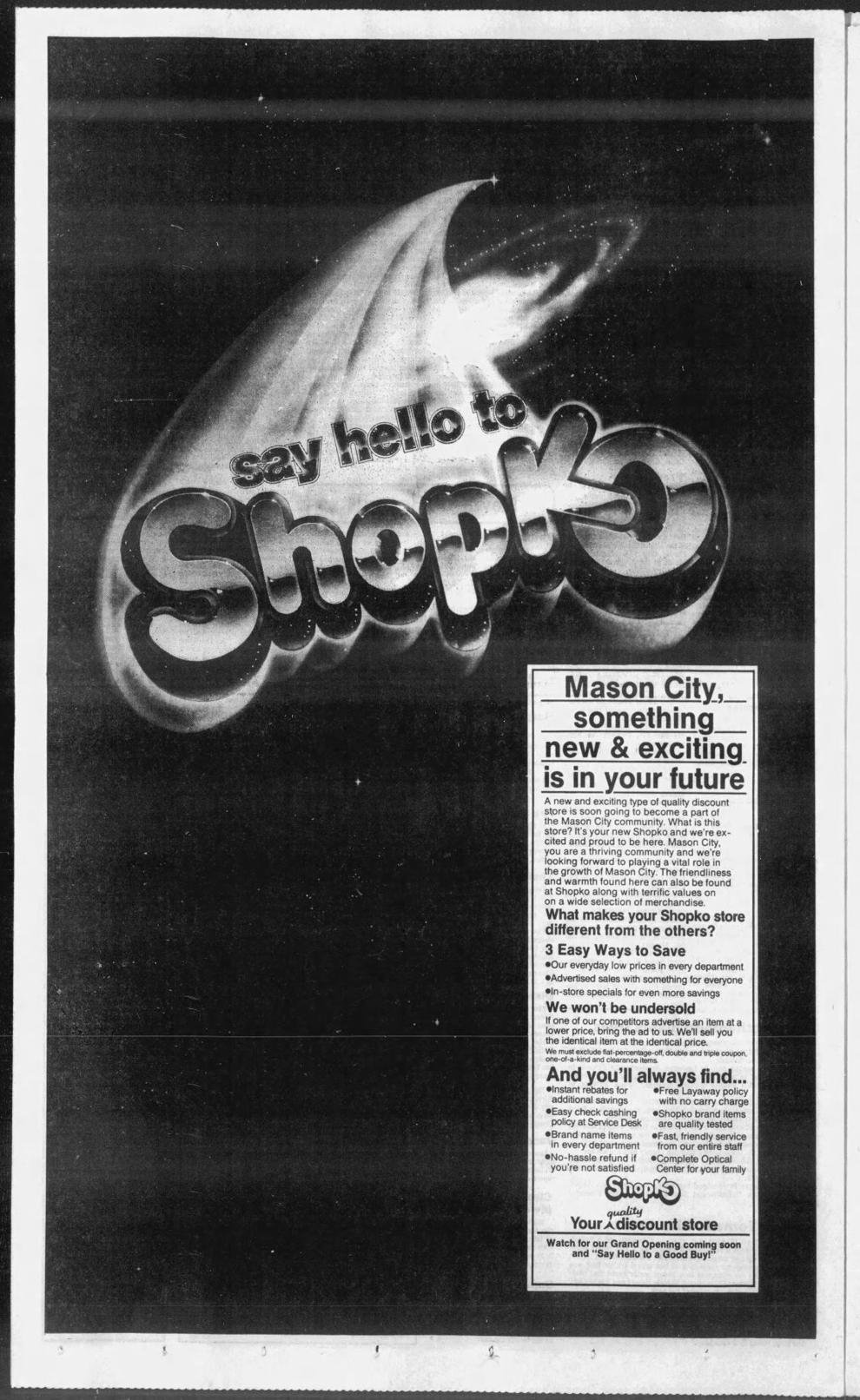 Globe_Gazette_Mon__Sep_3__1984_.jpg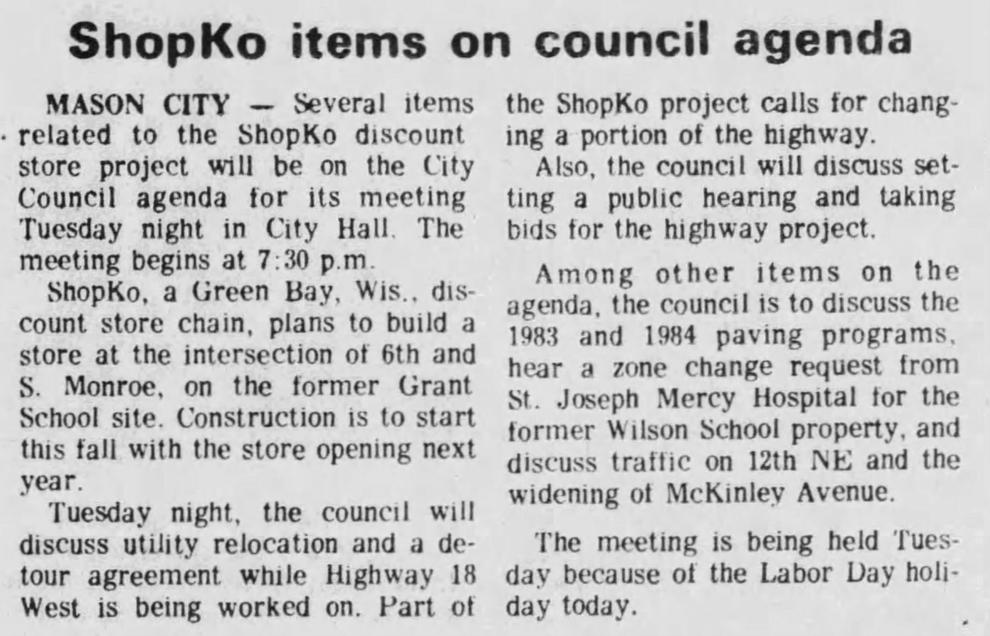 Globe_Gazette_Sat__Aug_18__1984_.jpg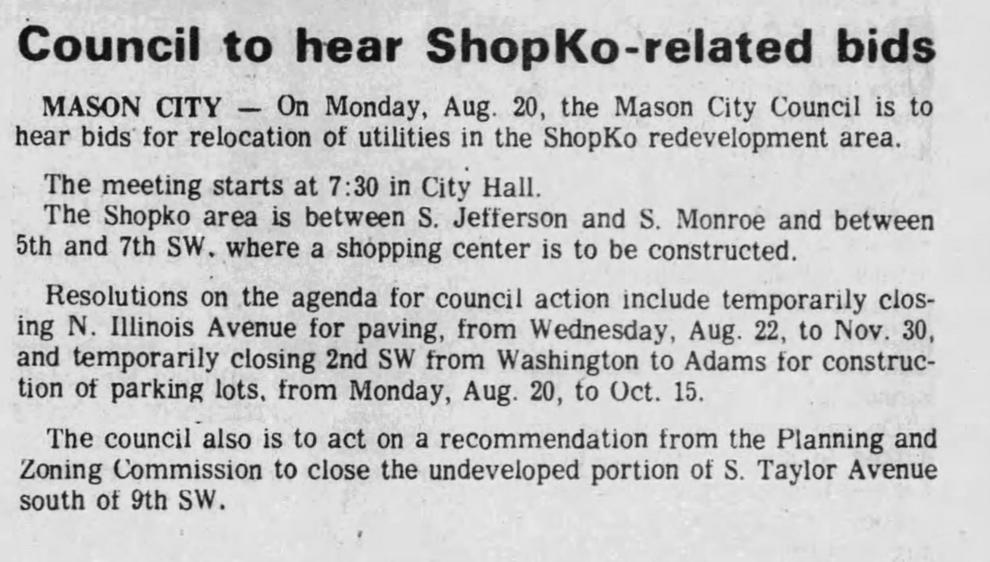 Globe_Gazette_Sat__Feb_25__1984_.jpg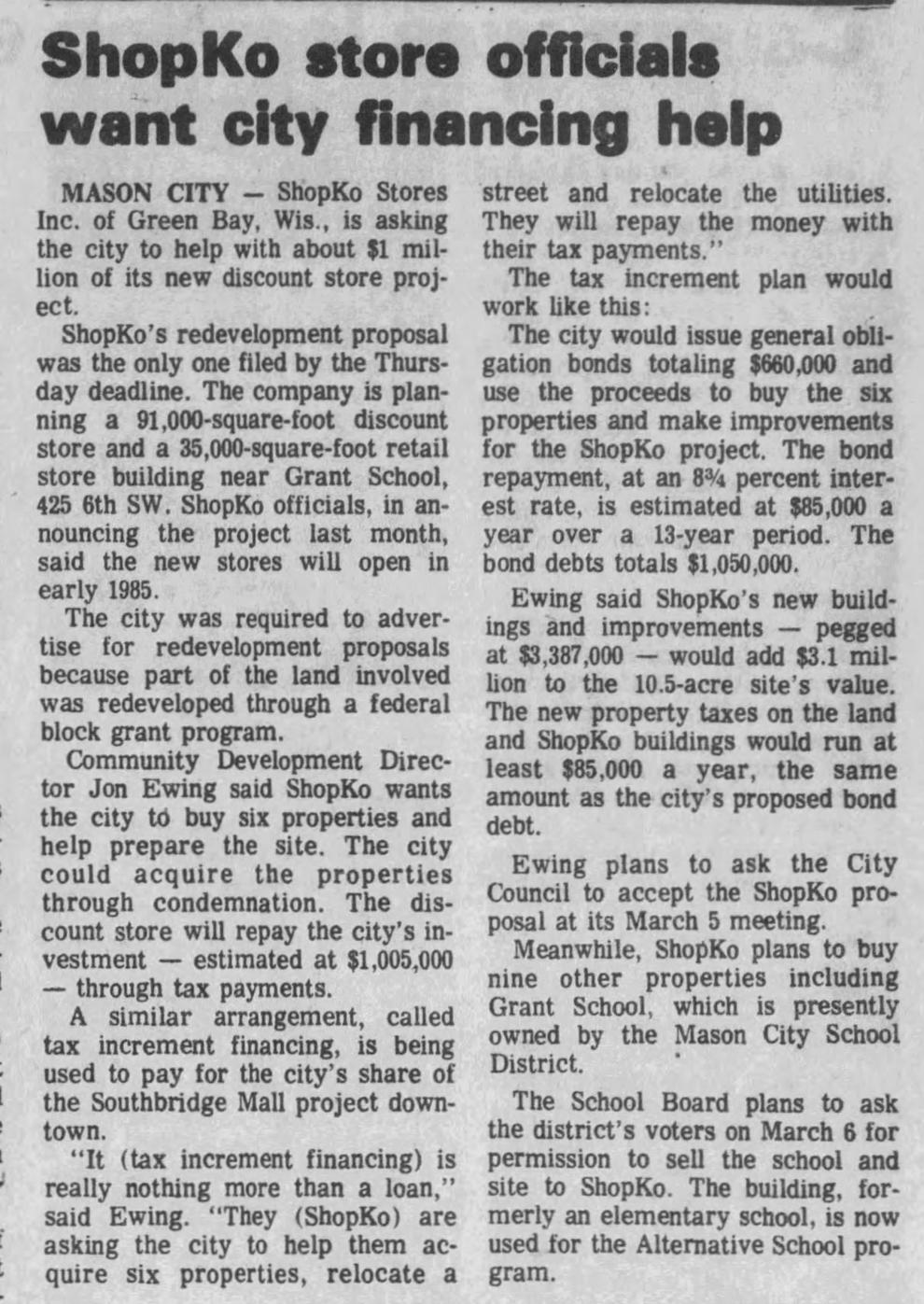 Globe_Gazette_Sat__Jun_2__1984_.jpg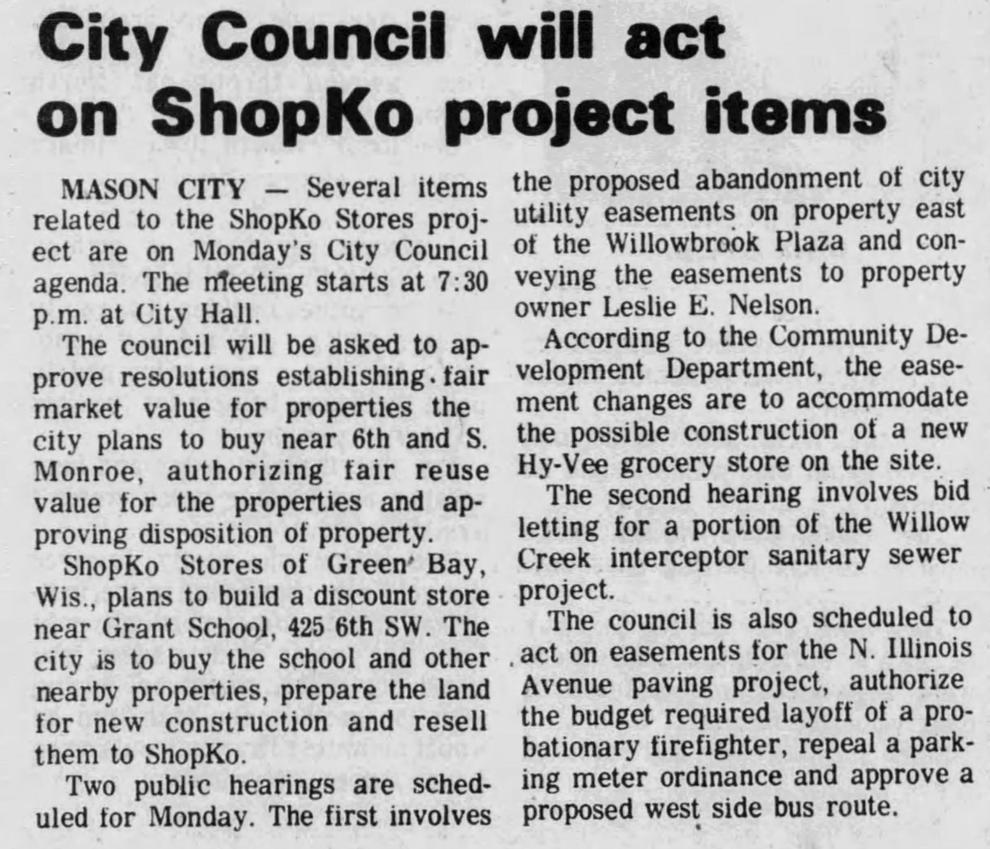 Globe_Gazette_Sat__May_19__1984_.jpg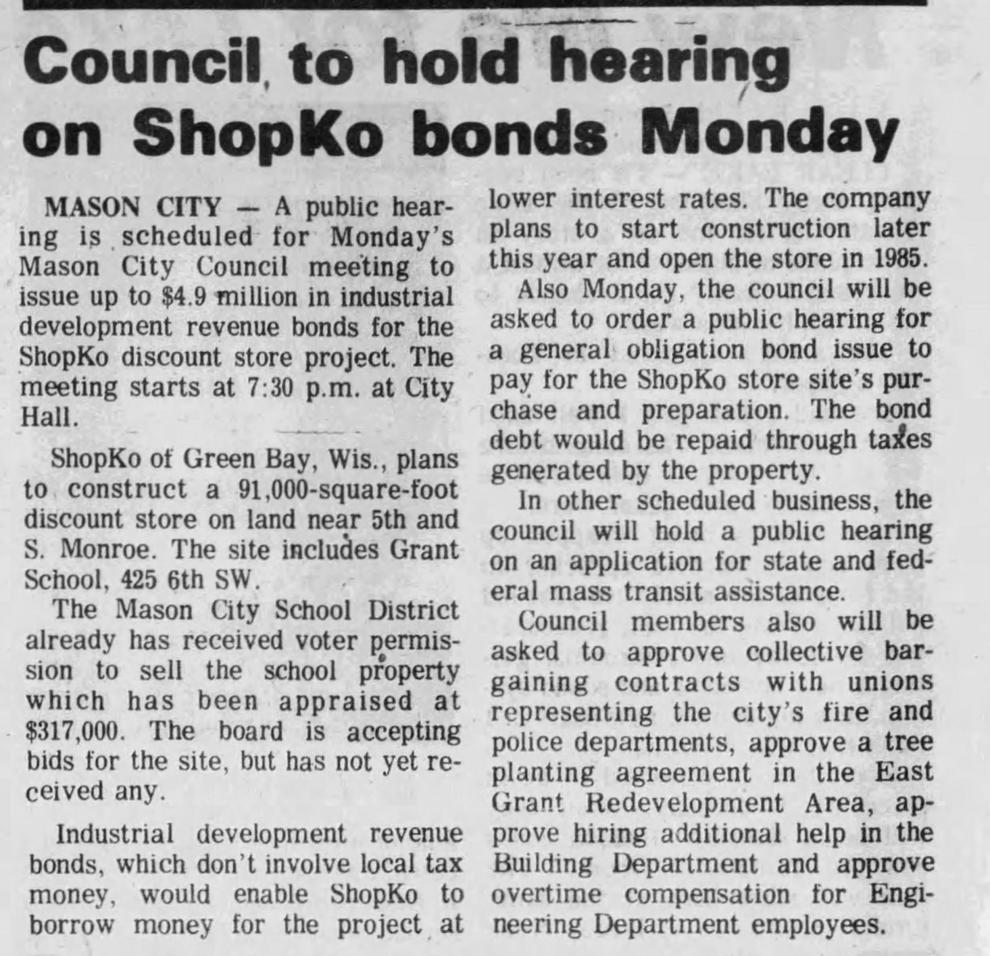 Globe_Gazette_Sat__Sep_22__1984_.jpg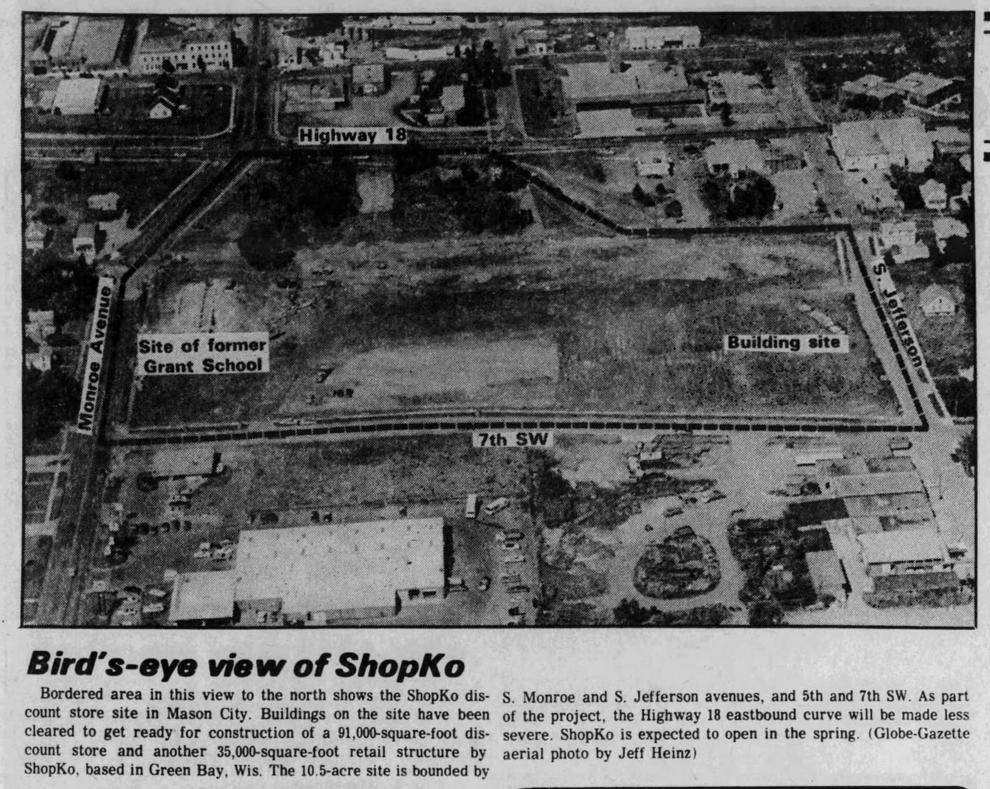 Globe_Gazette_Thu__Apr_4__1985_.jpg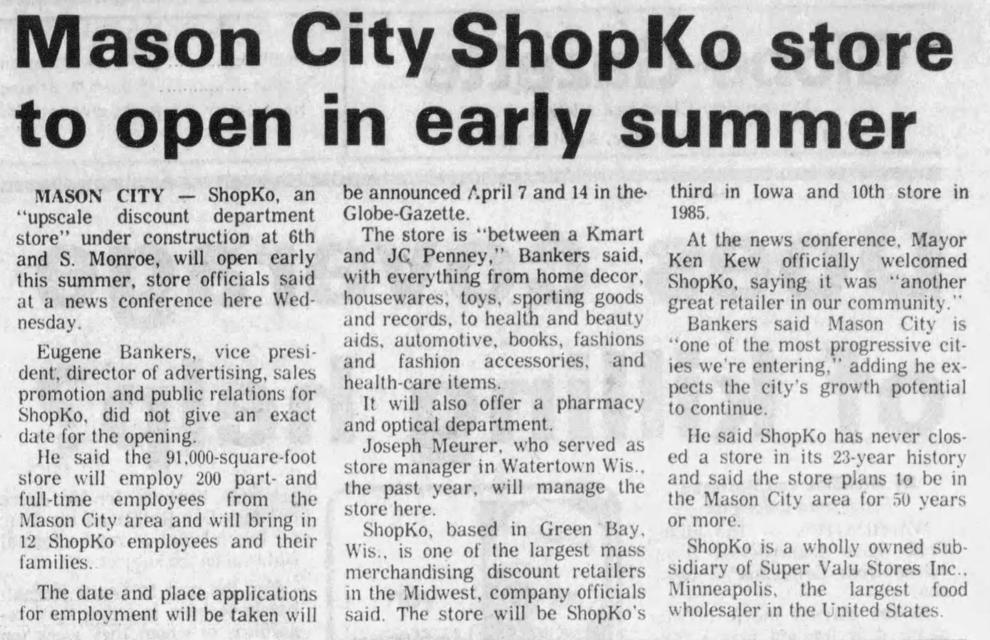 Globe_Gazette_Thu__Jan_12__1984_ (1).jpg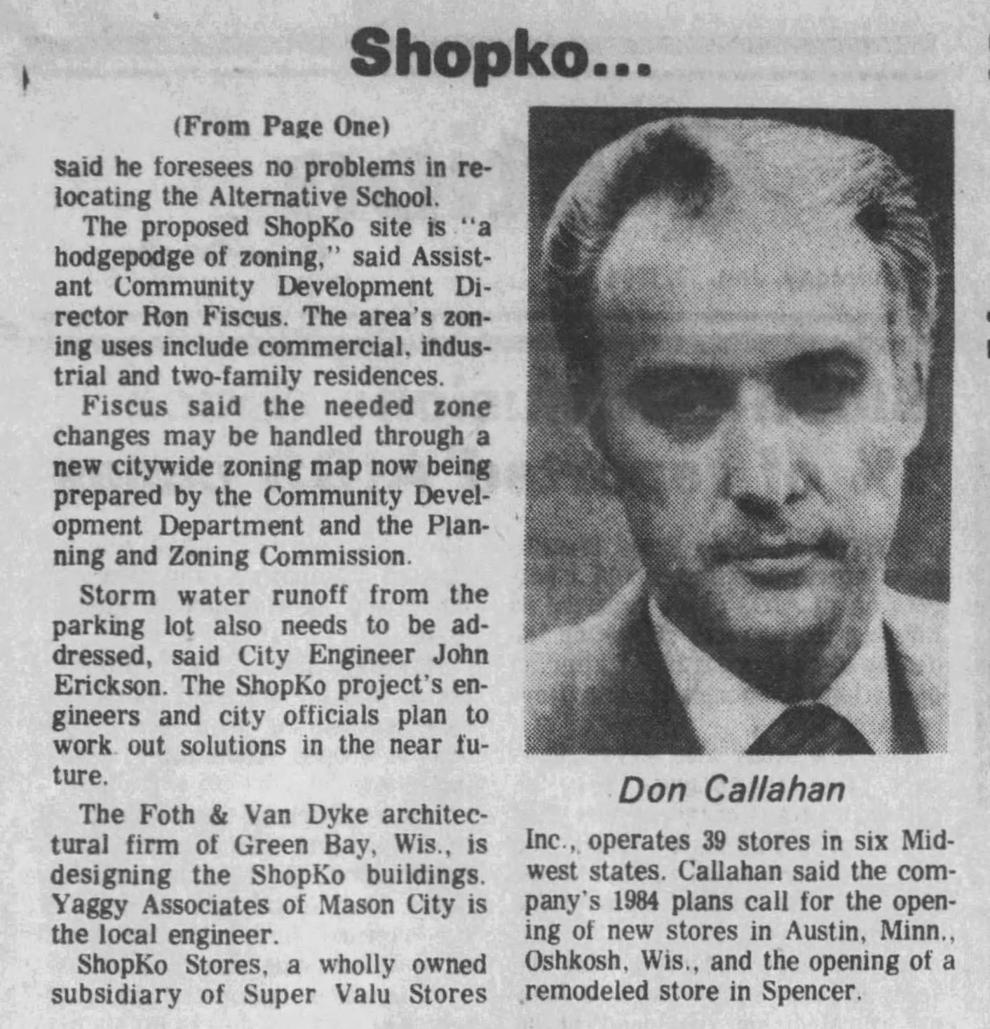 Globe_Gazette_Thu__Jan_12__1984_.jpg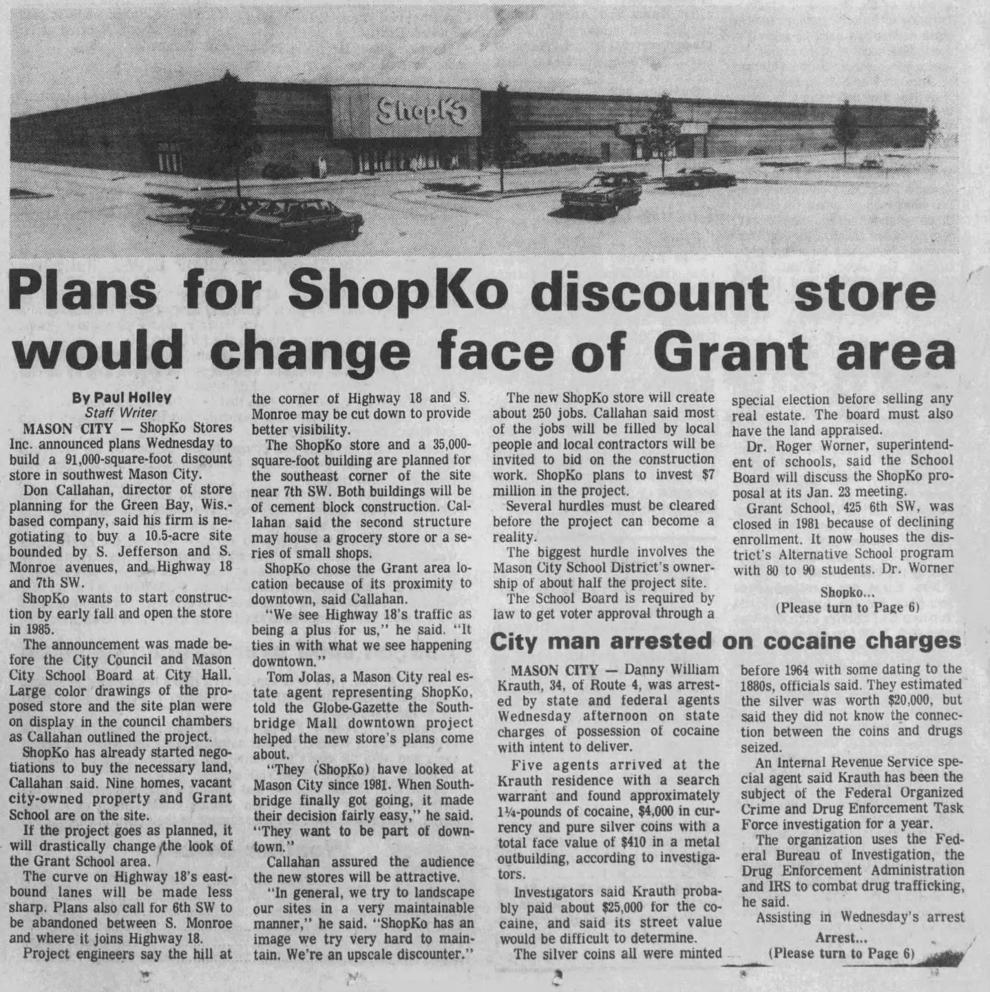 Globe_Gazette_Thu__Jun_28__1984_.jpg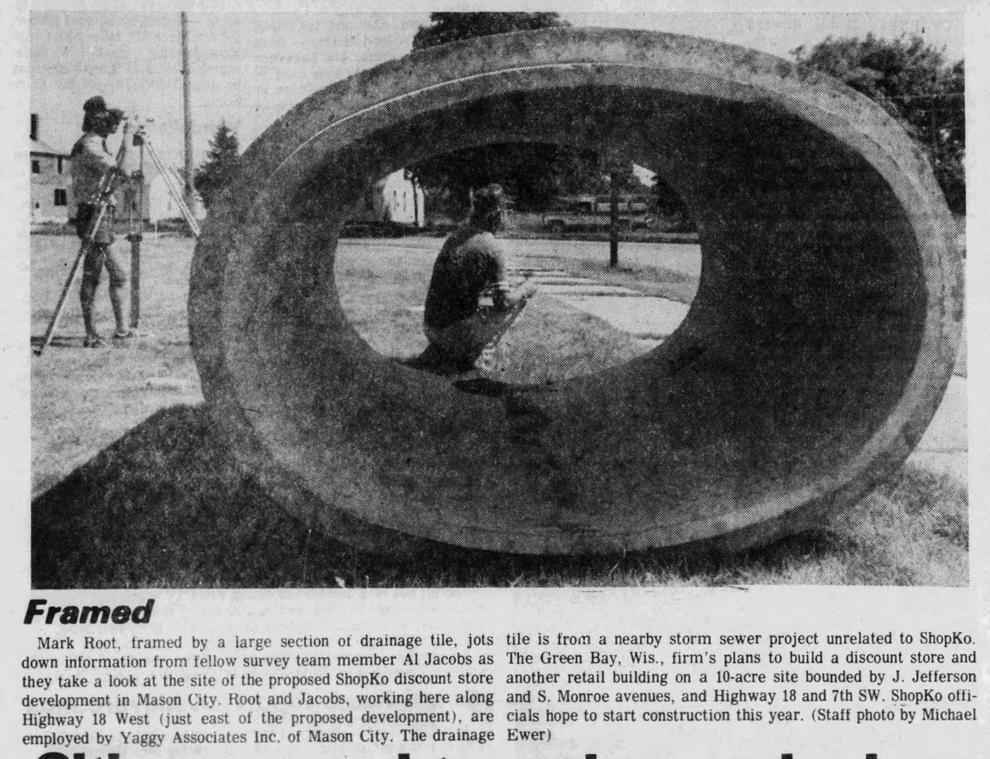 Globe_Gazette_Tue__Apr_17__1984_.jpg

Globe_Gazette_Tue__Aug_7__1984_.jpg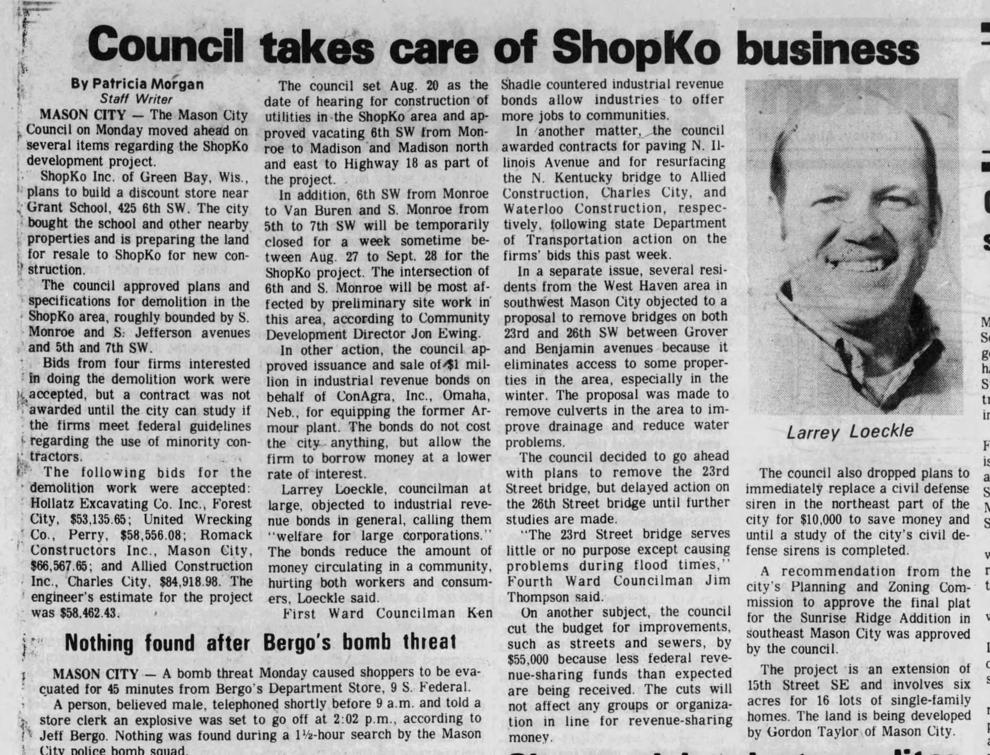 Globe_Gazette_Tue__Aug_21__1984_.jpg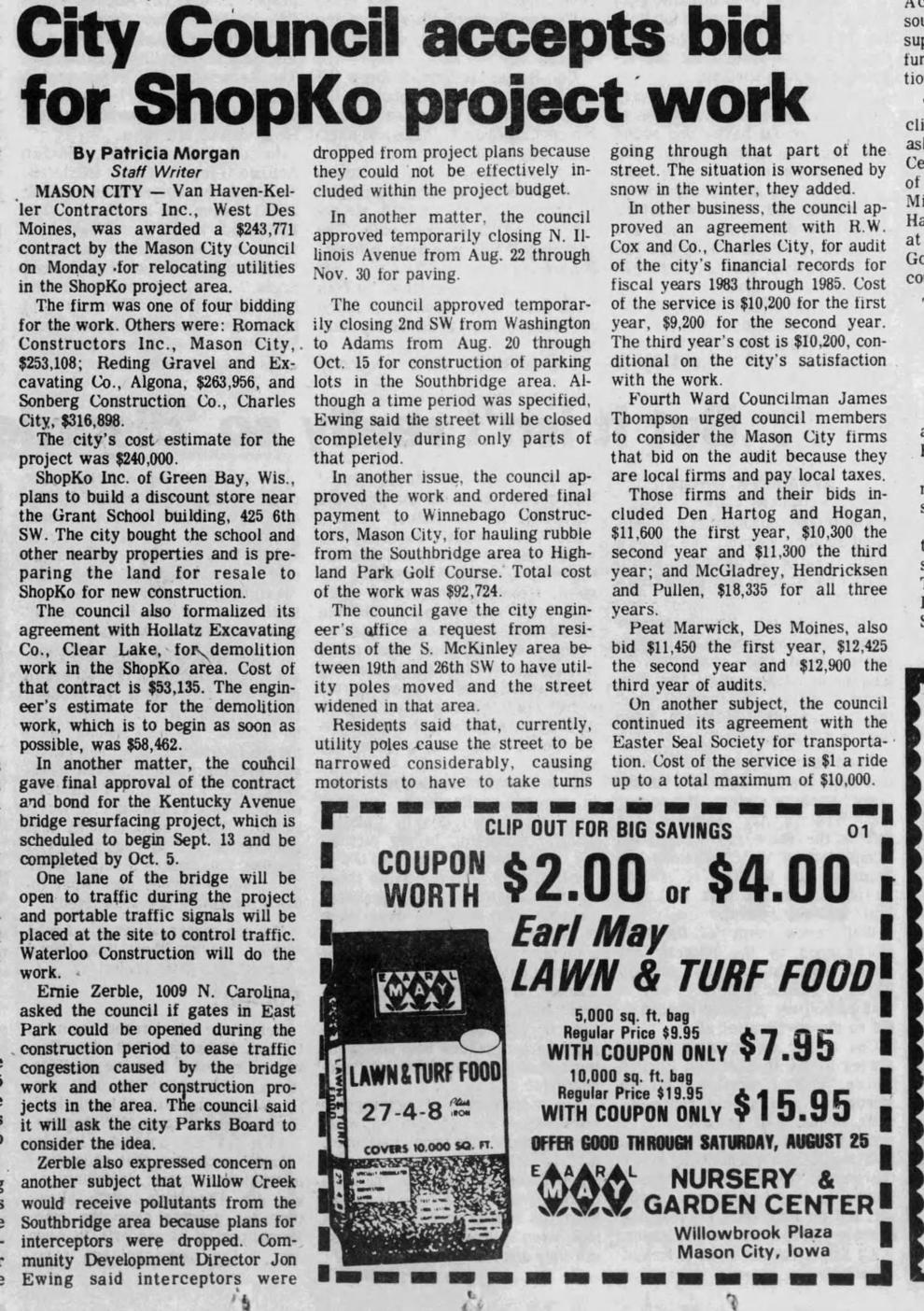 Globe_Gazette_Tue__Feb_28__1984_.jpg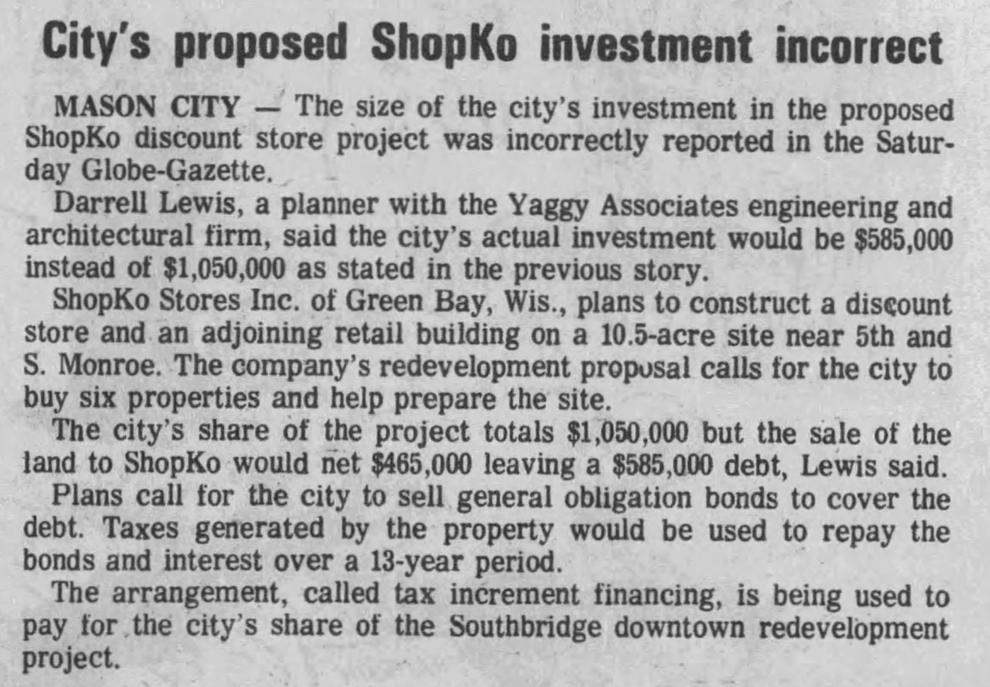 Globe_Gazette_Tue__Jul_9__1985_ (1).jpg

Globe_Gazette_Tue__Jul_9__1985_.jpg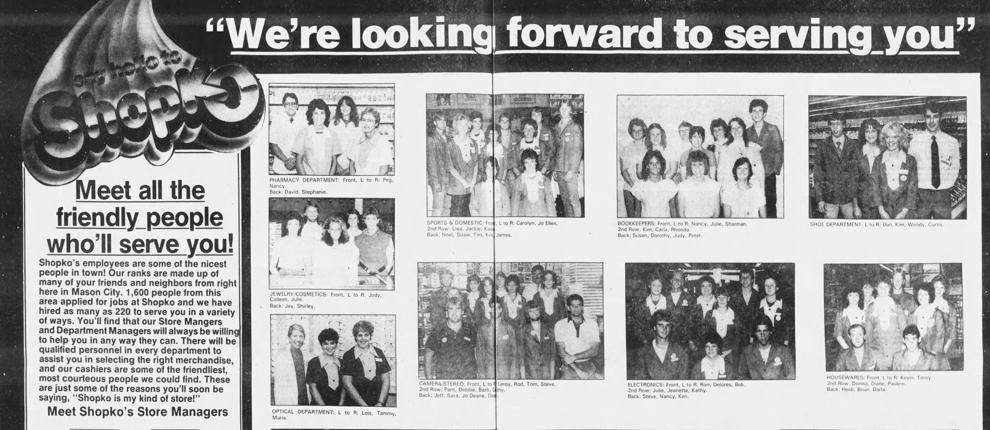 Globe_Gazette_Tue__May_22__1984_ (1).jpg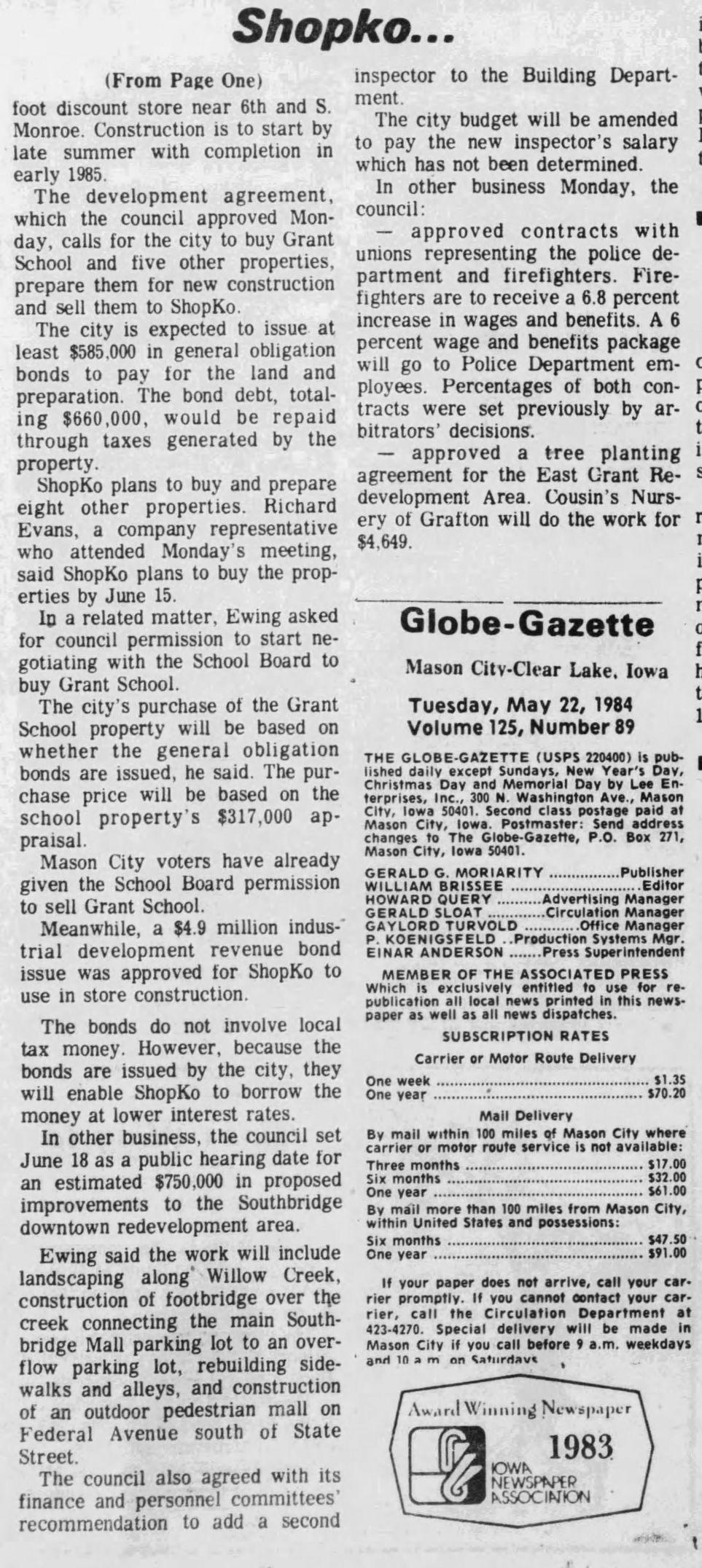 Globe_Gazette_Tue__May_22__1984_.jpg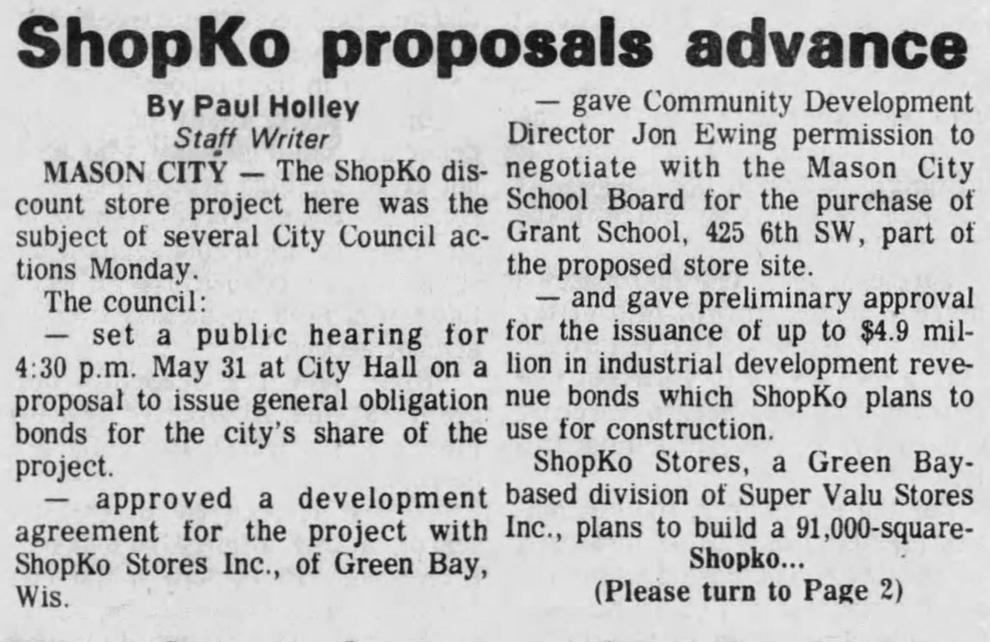 Globe_Gazette_Tue__Sep_18__1984_ (1).jpg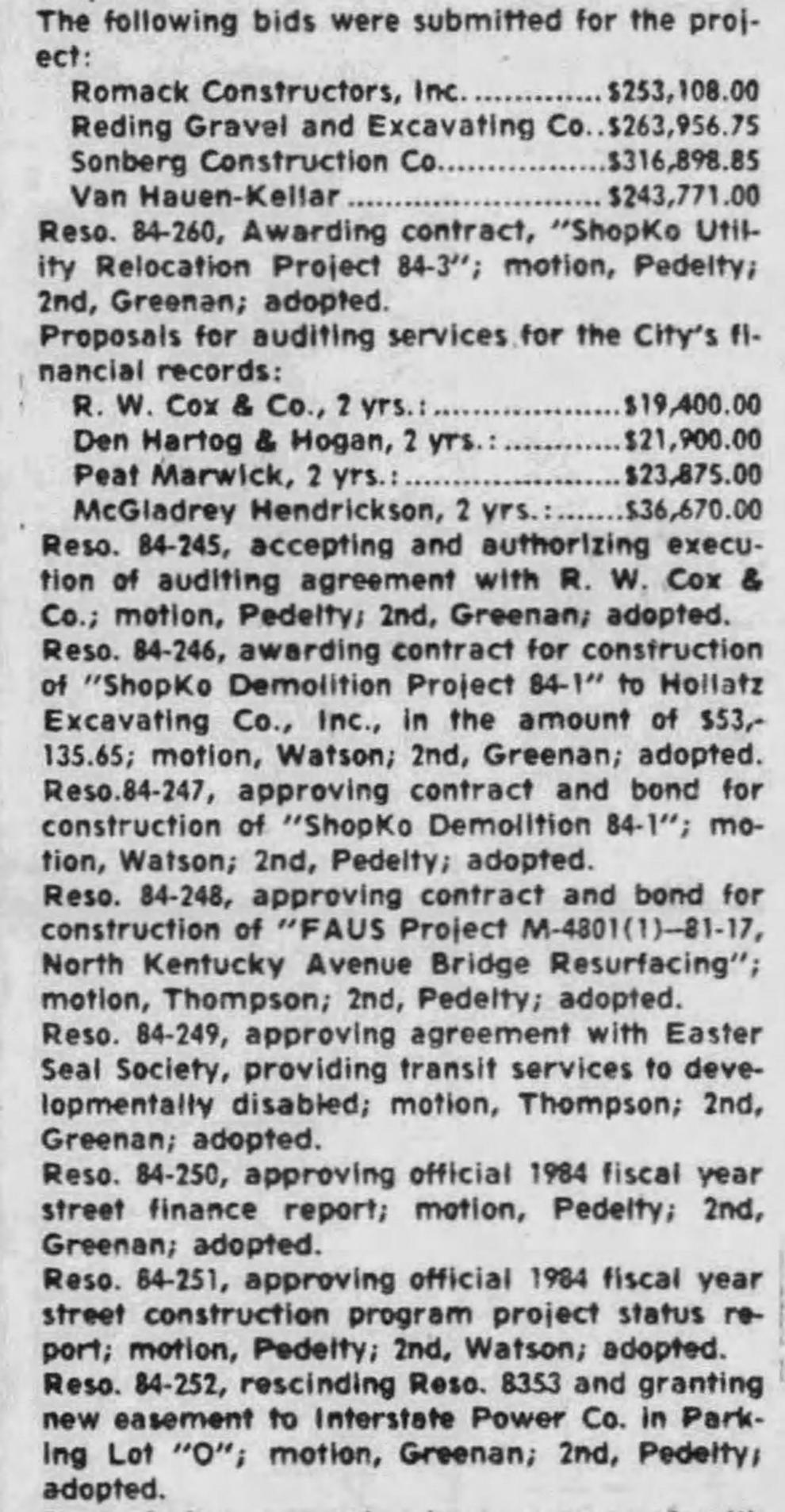 Globe_Gazette_Tue__Sep_18__1984_.jpg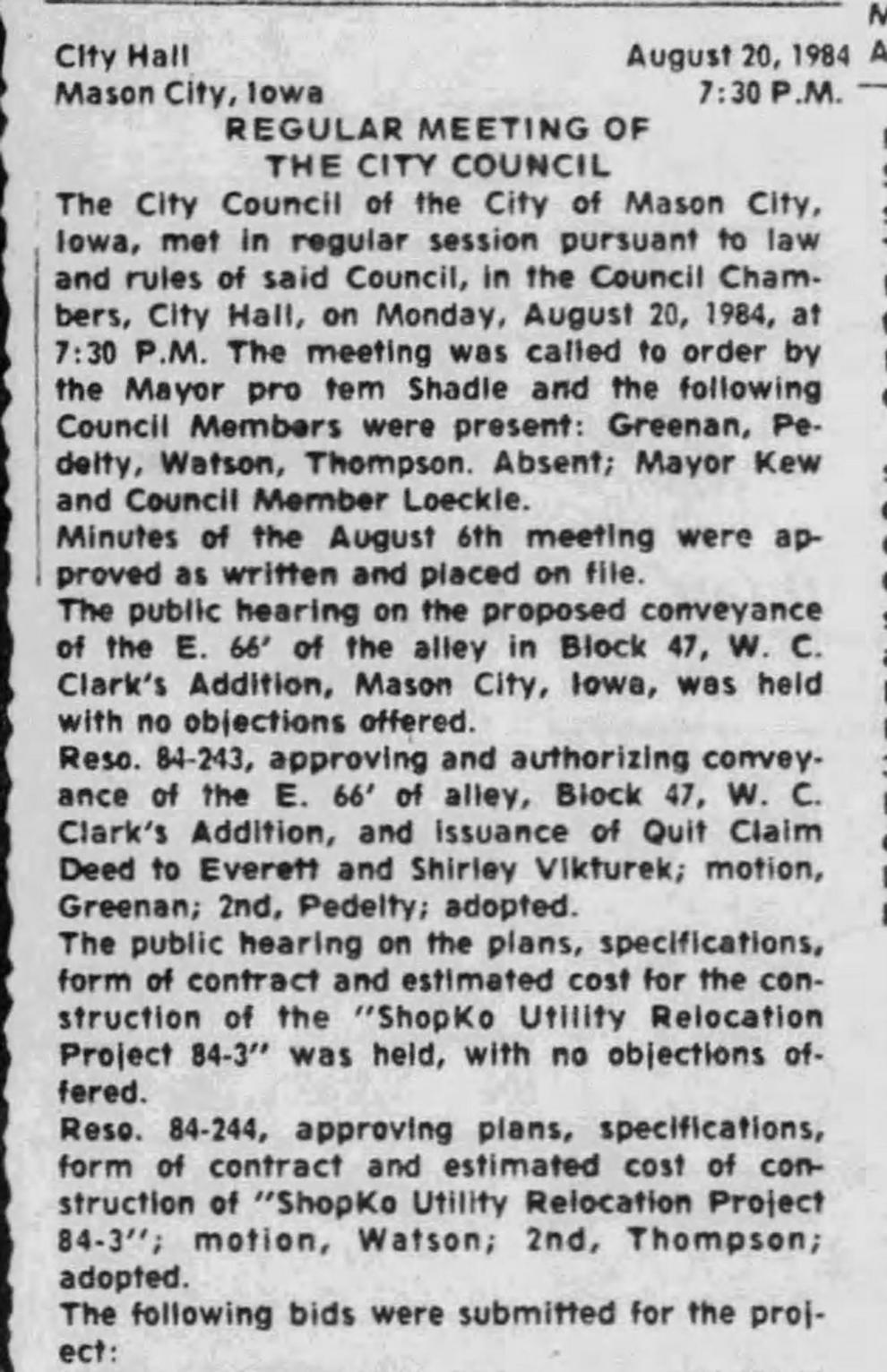 Globe_Gazette_Wed__Aug_21__1985_.jpg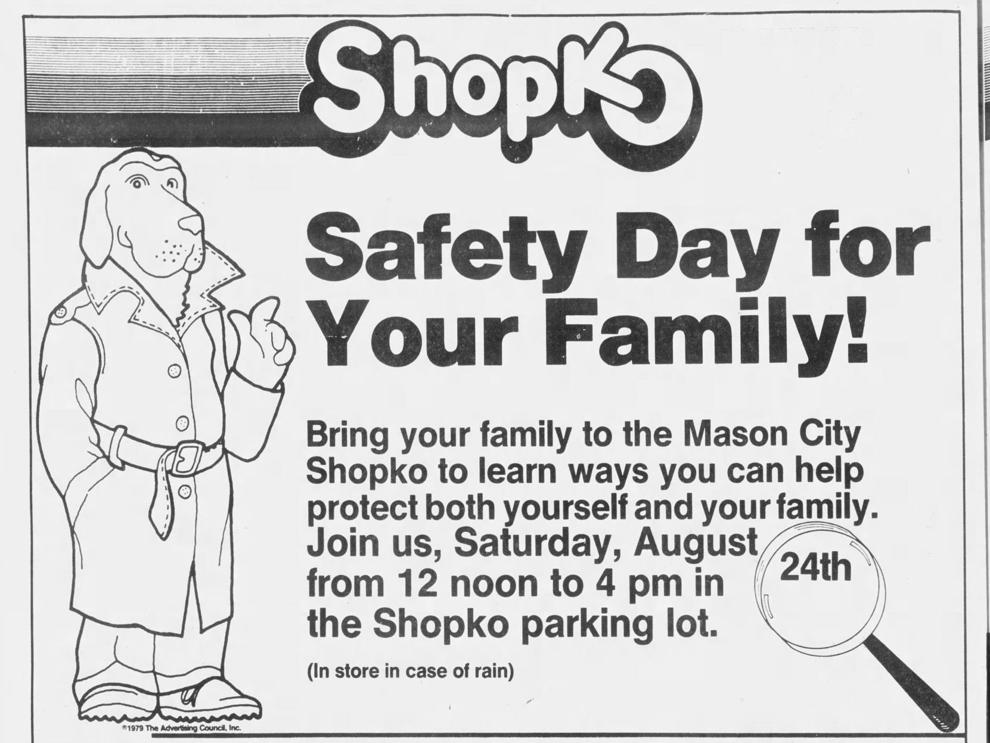 Globe_Gazette_Wed__Jan_11__1984_ (1).jpg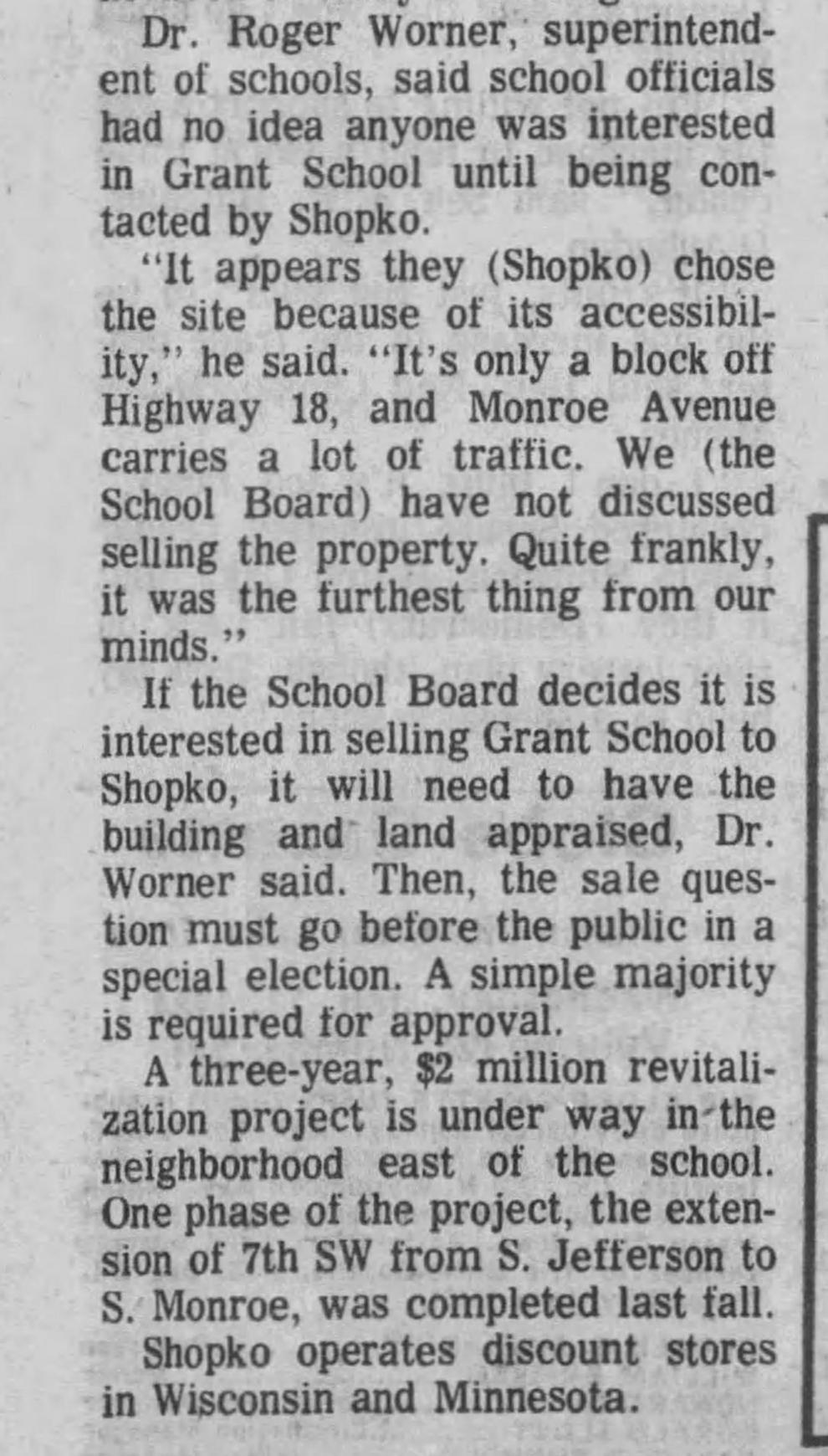 Globe_Gazette_Wed__Jan_11__1984_.jpg

Globe_Gazette_Wed__Jan_18__1984_.jpg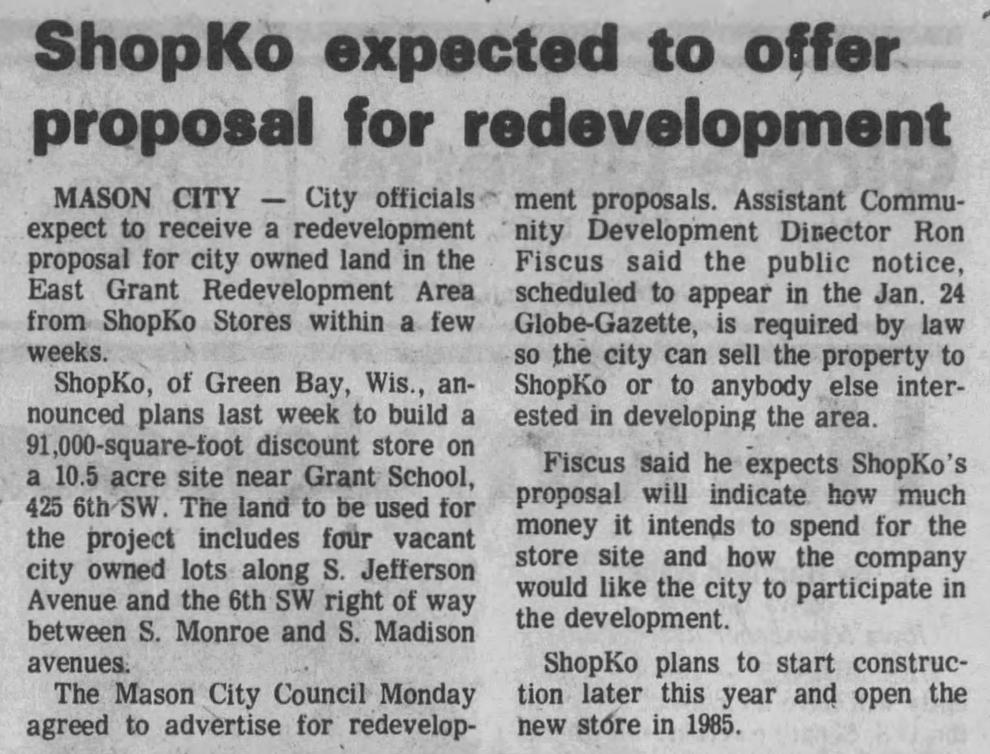 Globe_Gazette_Wed__Mar_7__1984_ (1).jpg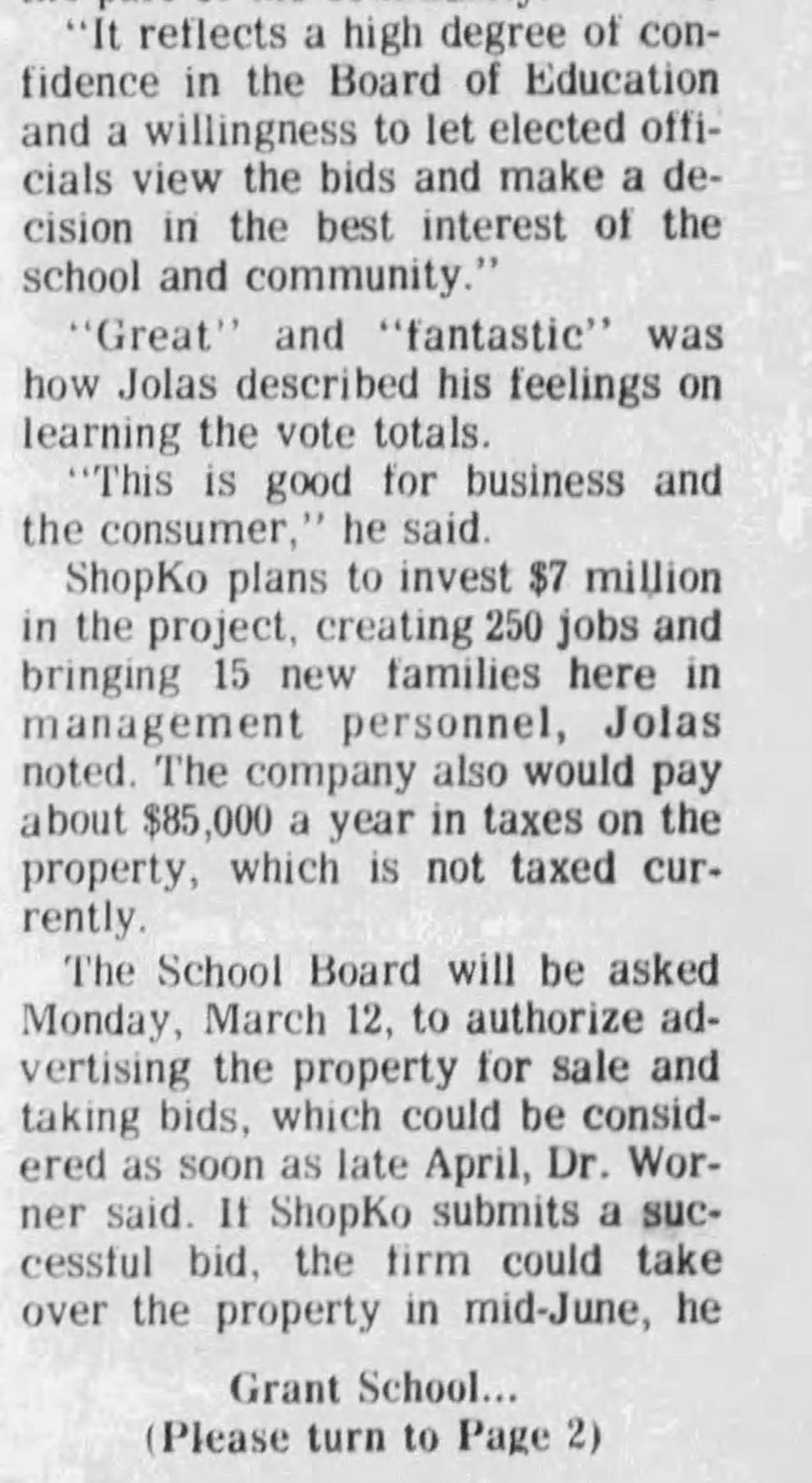 Globe_Gazette_Wed__Mar_7__1984_ (2).jpg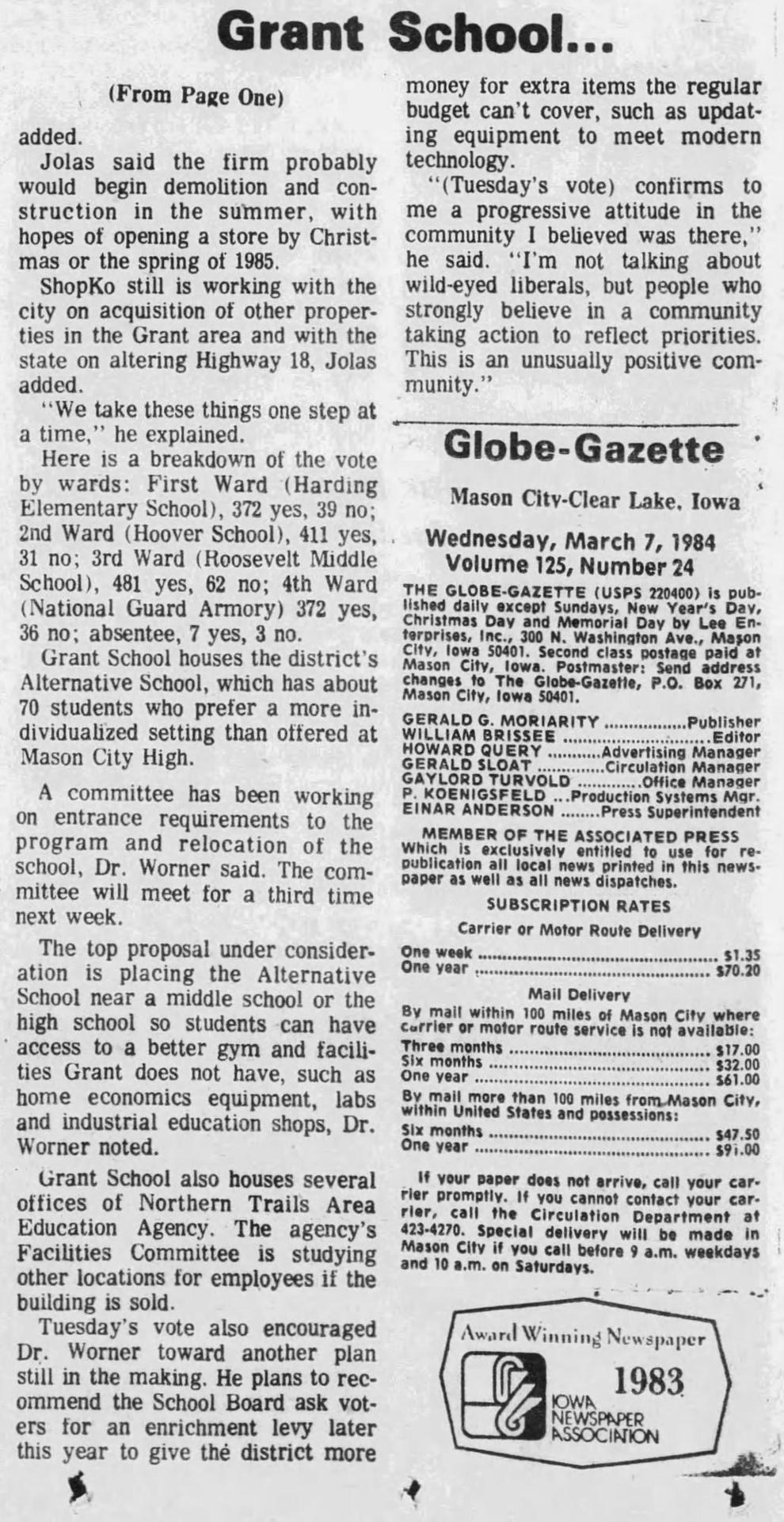 Globe_Gazette_Wed__Mar_7__1984_.jpg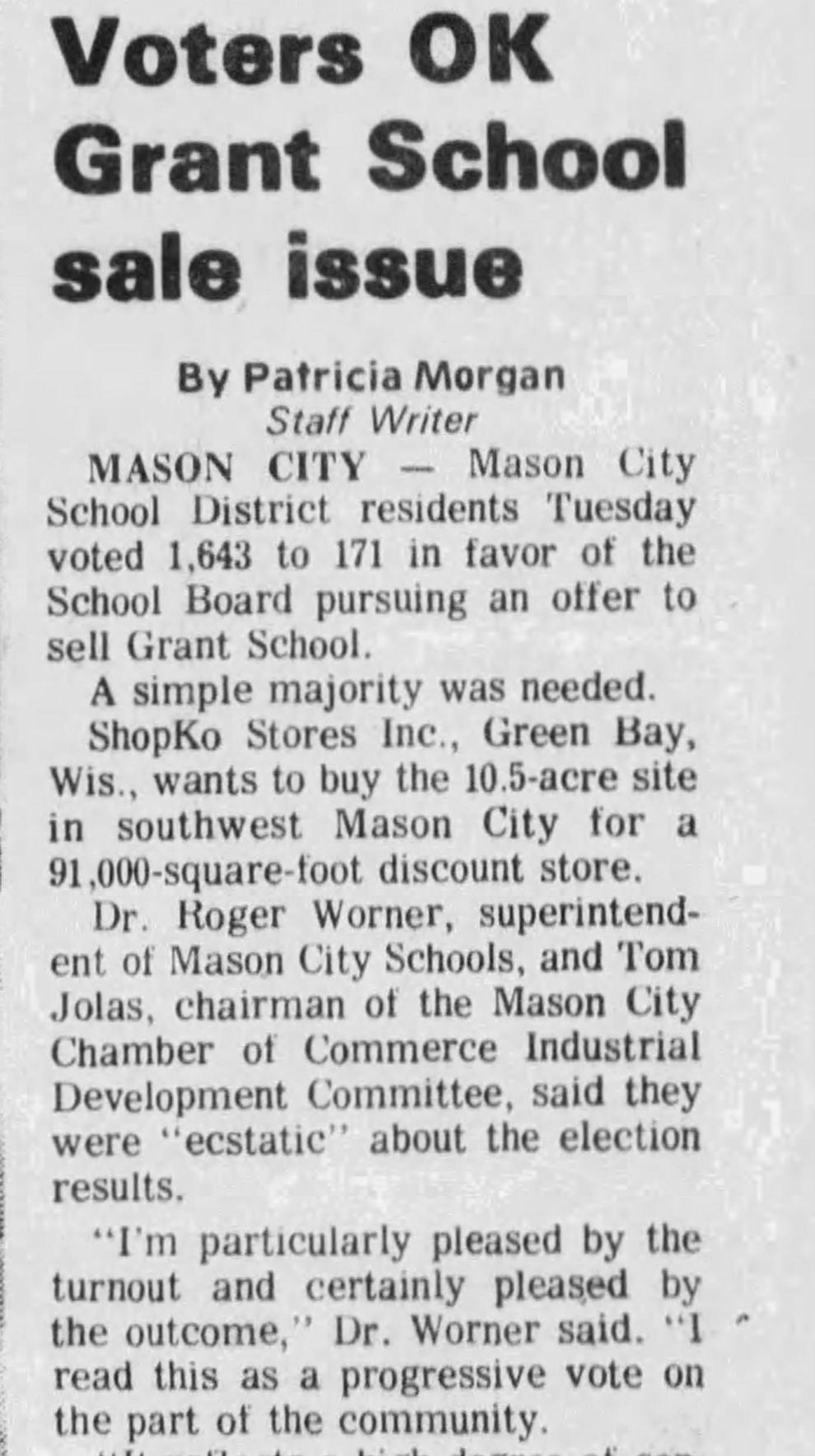 Globe_Gazette_Wed__May_30__1984_.jpg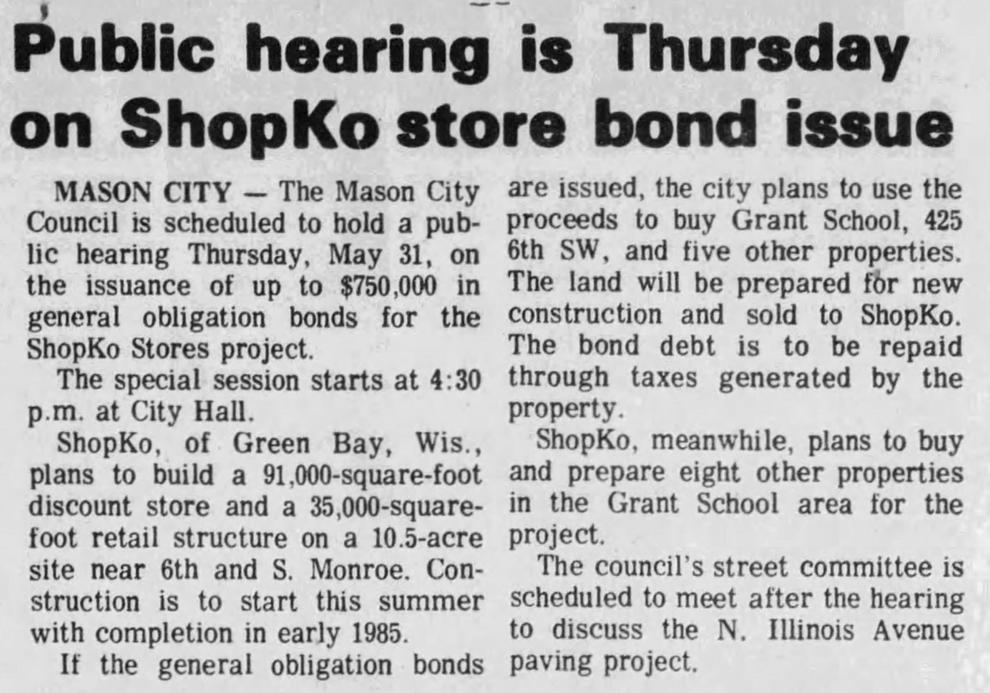 Photos: The empty buildings of Mason City
Photos: The empty buildings of Mason City
Vacant15.JPG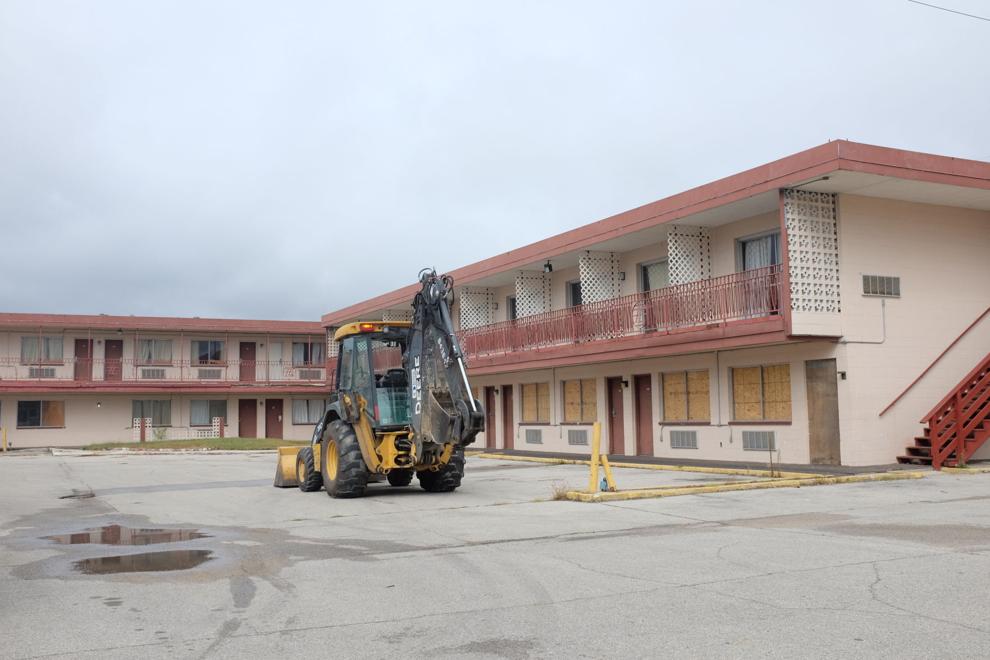 Vacant34.JPG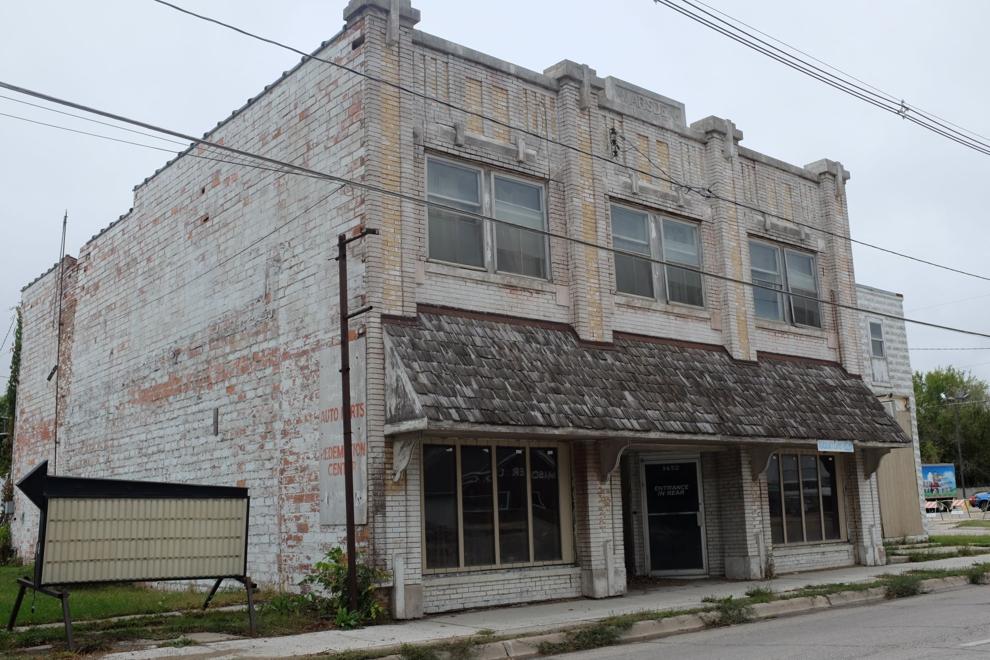 Vacant30.JPG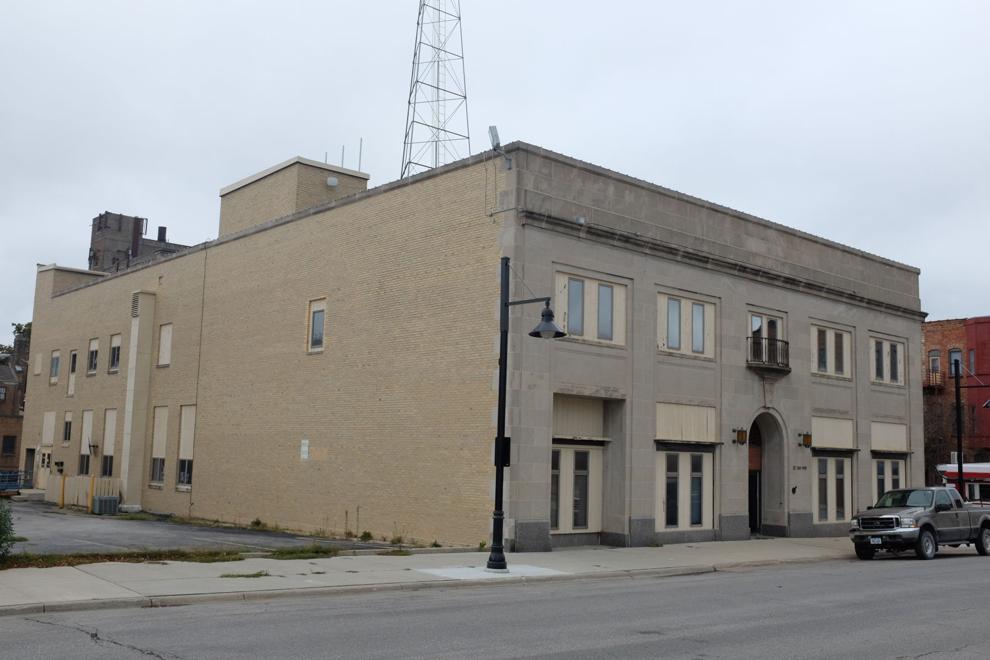 Vacant31.JPG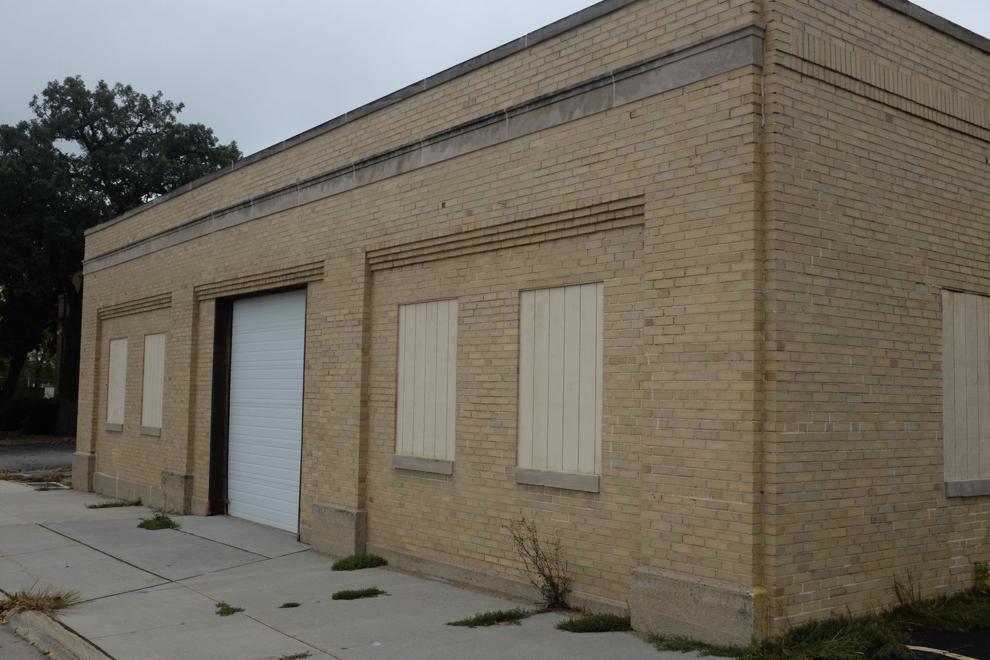 Vacant40.JPG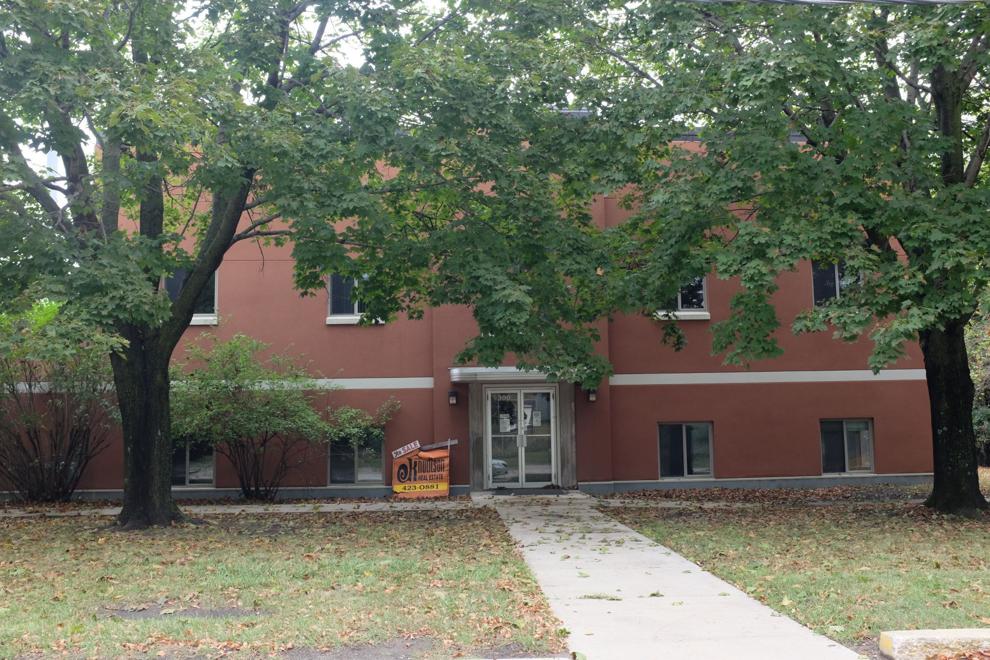 Vacant28.JPG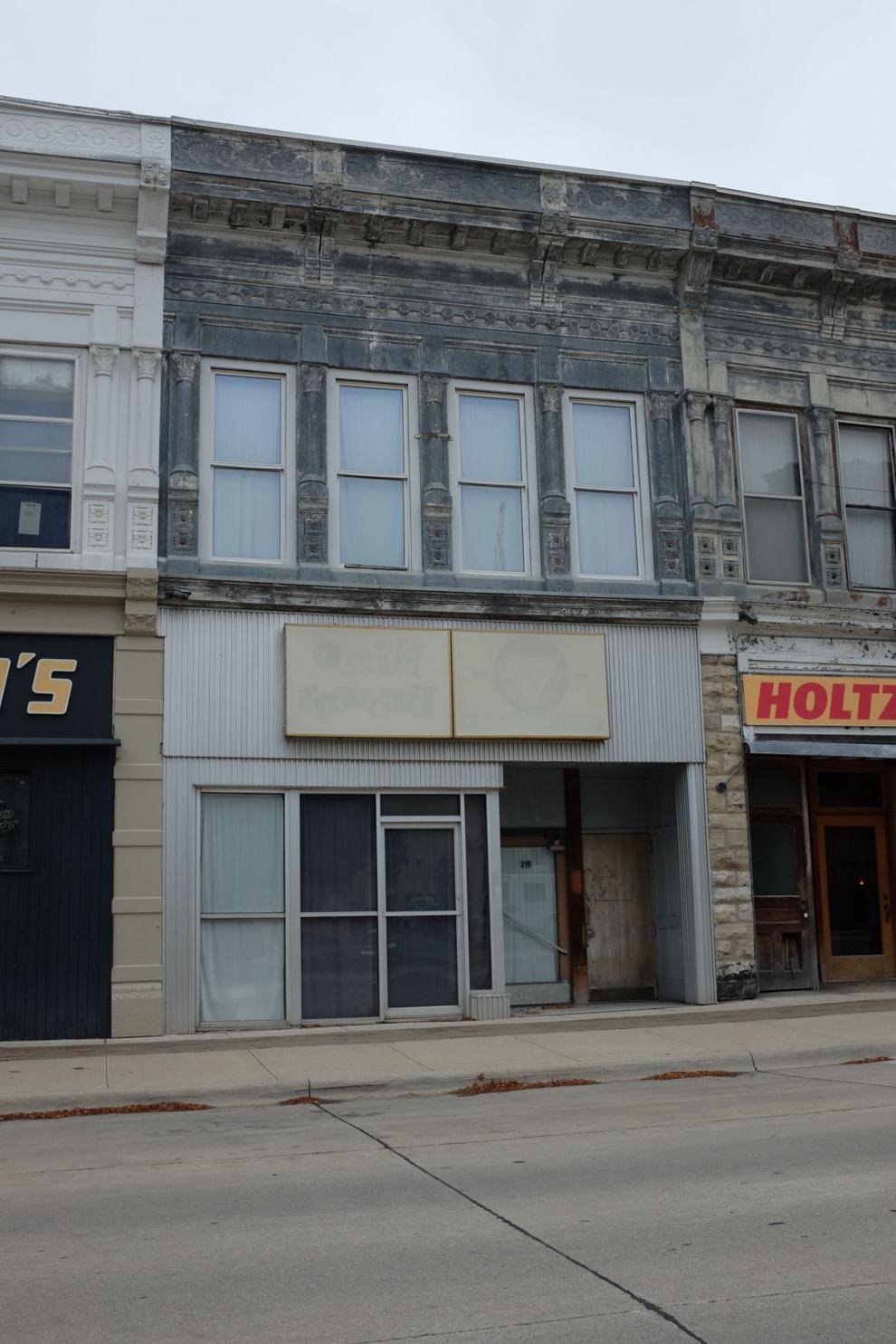 Vacant33.JPG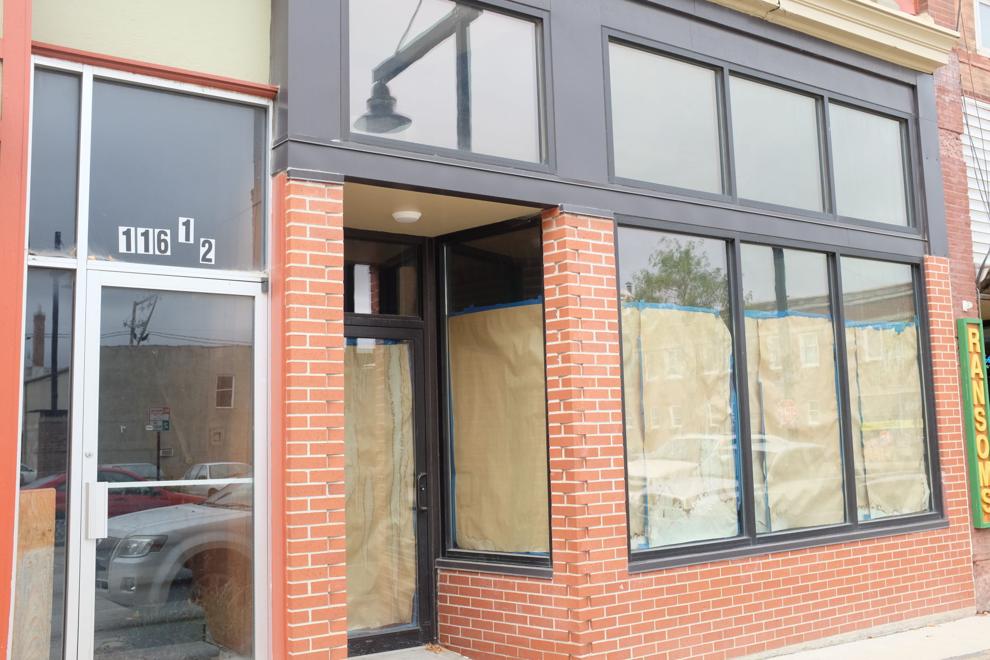 Vacant35.JPG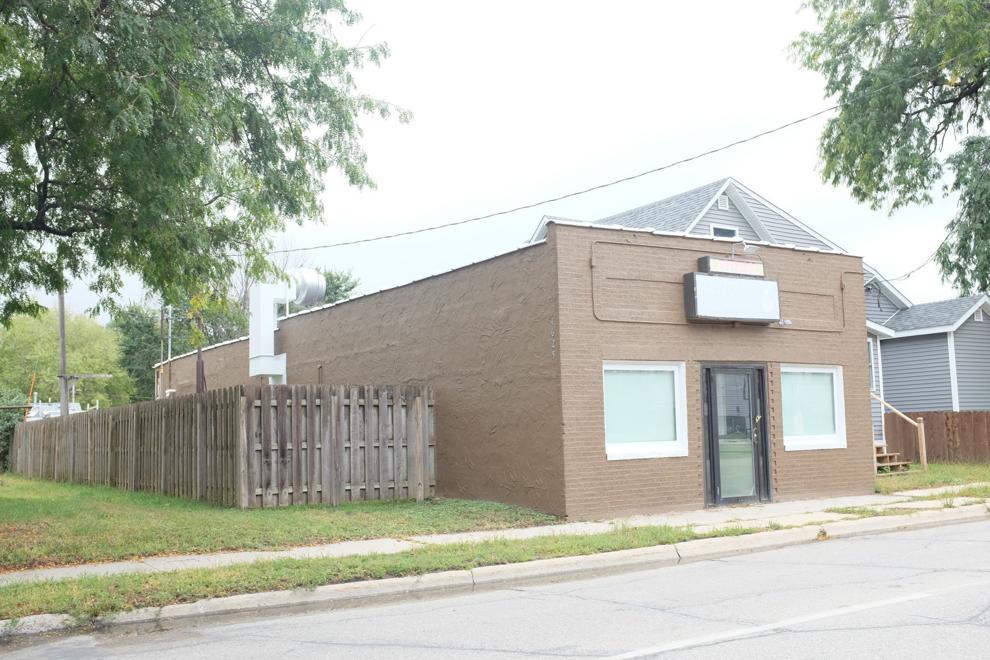 Vacant36.JPG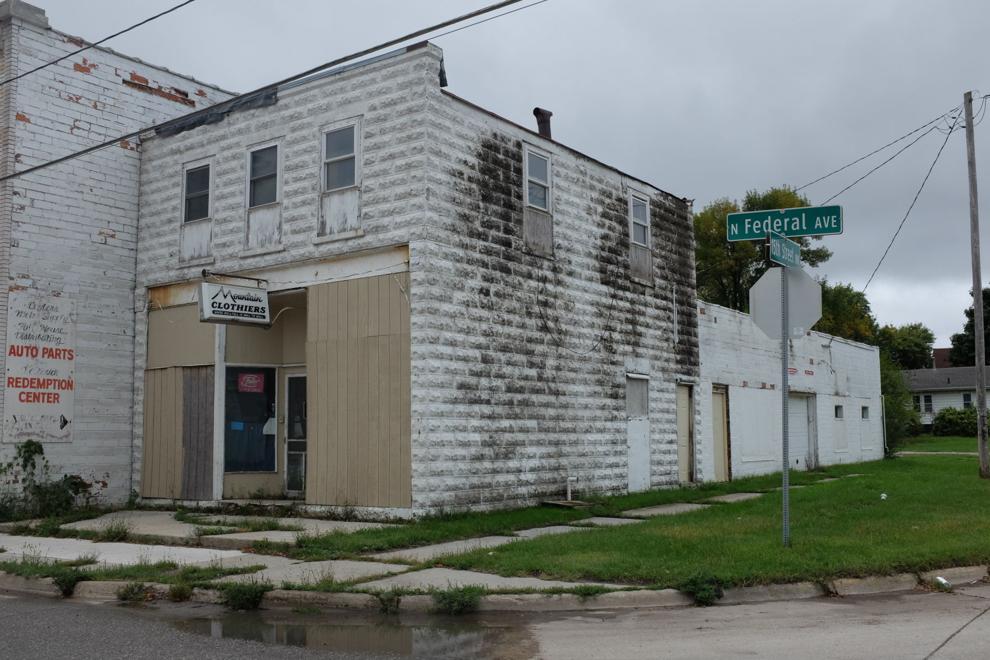 Vacant37.JPG
Vacant38.JPG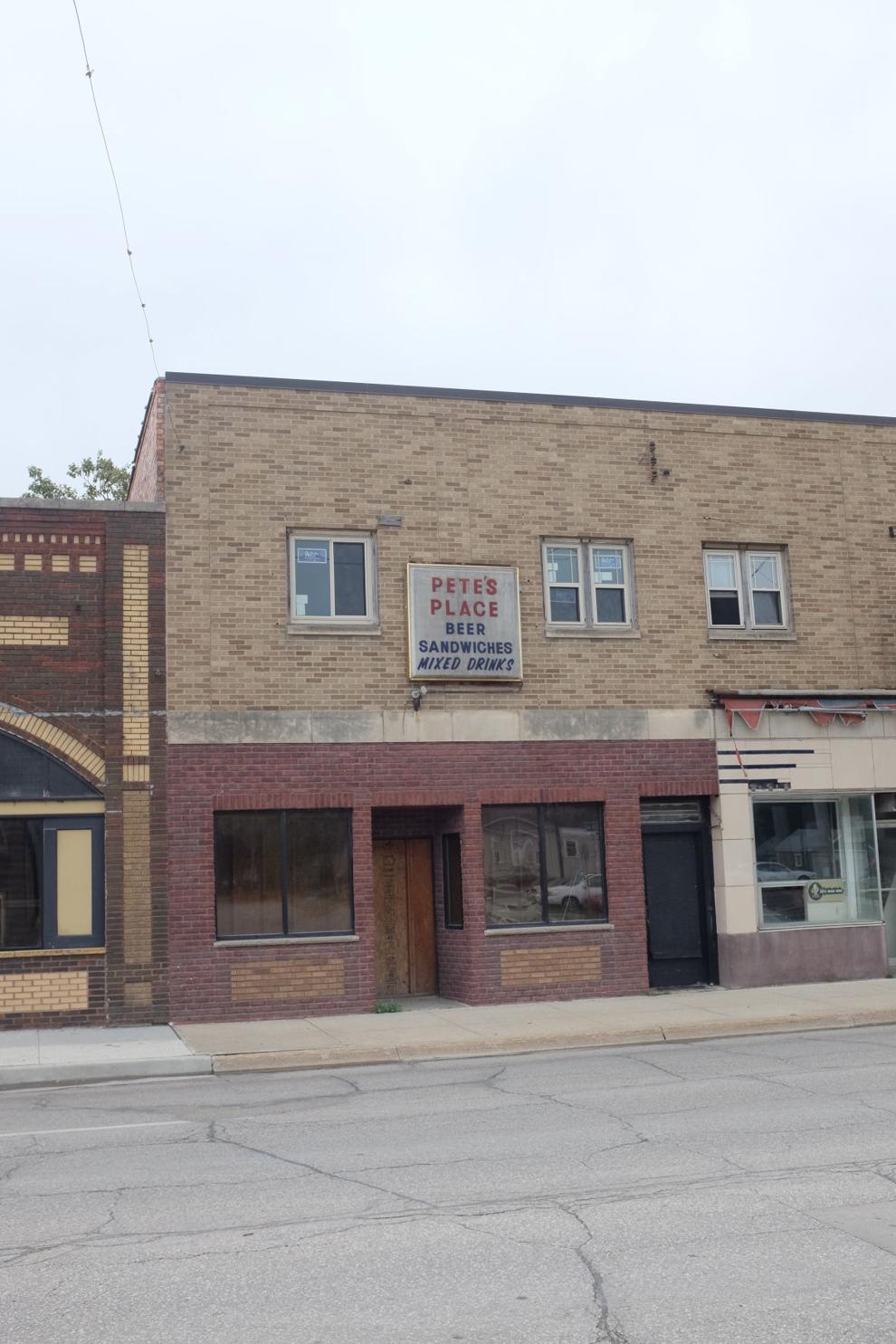 Vacant29.JPG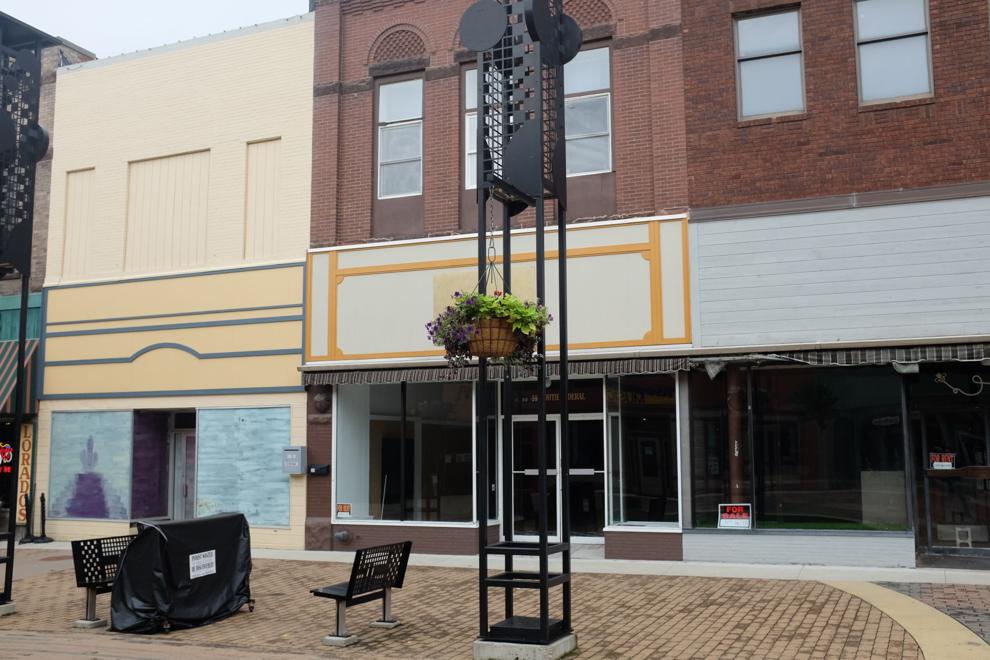 Vacant20.JPG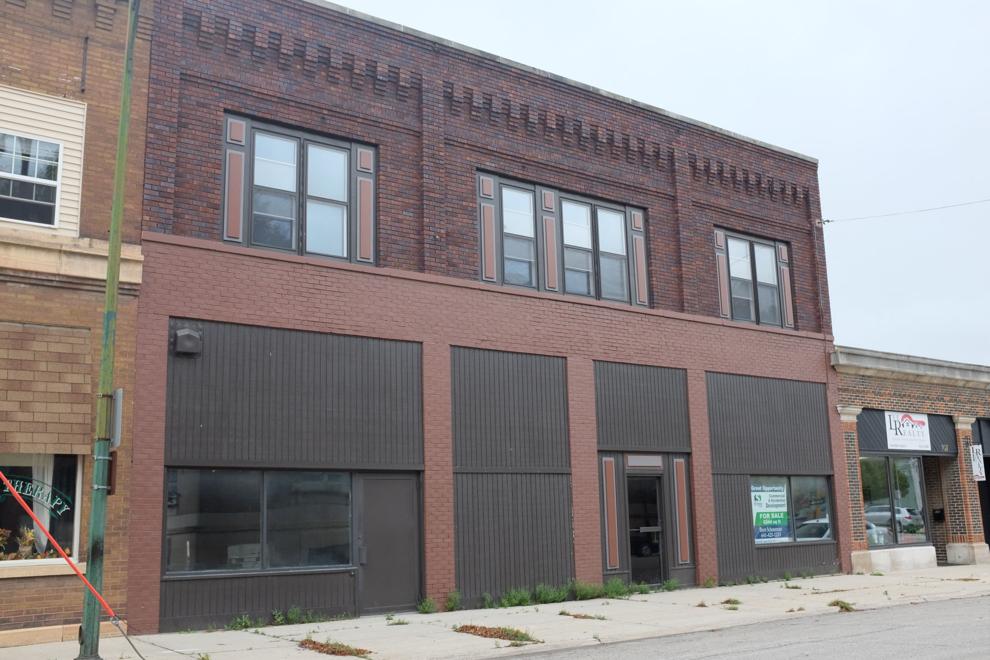 Vacant21.JPG
Vacant22.JPG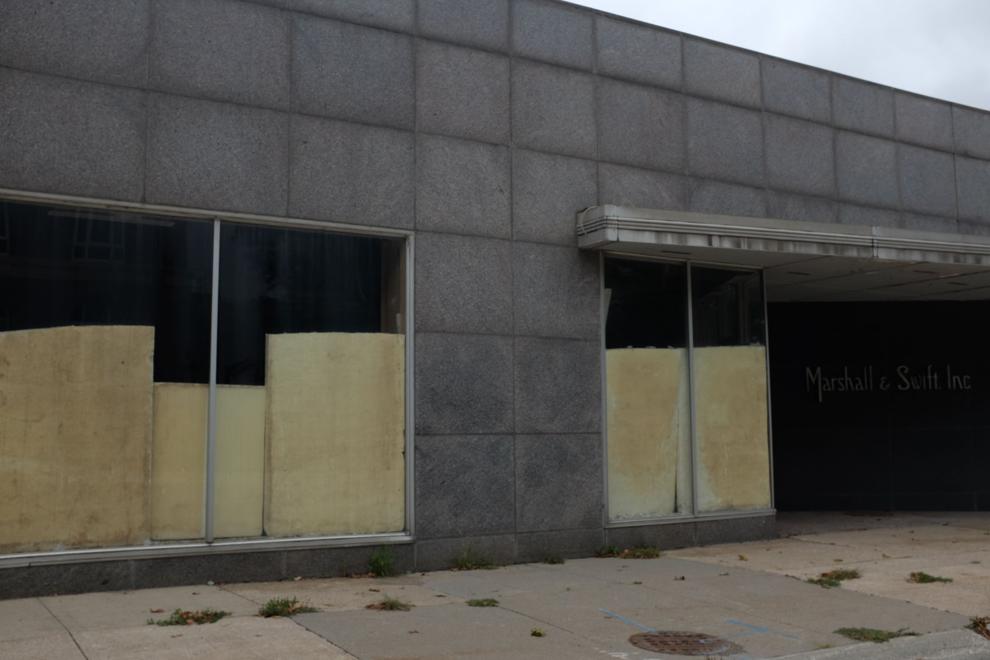 Vacant39.JPG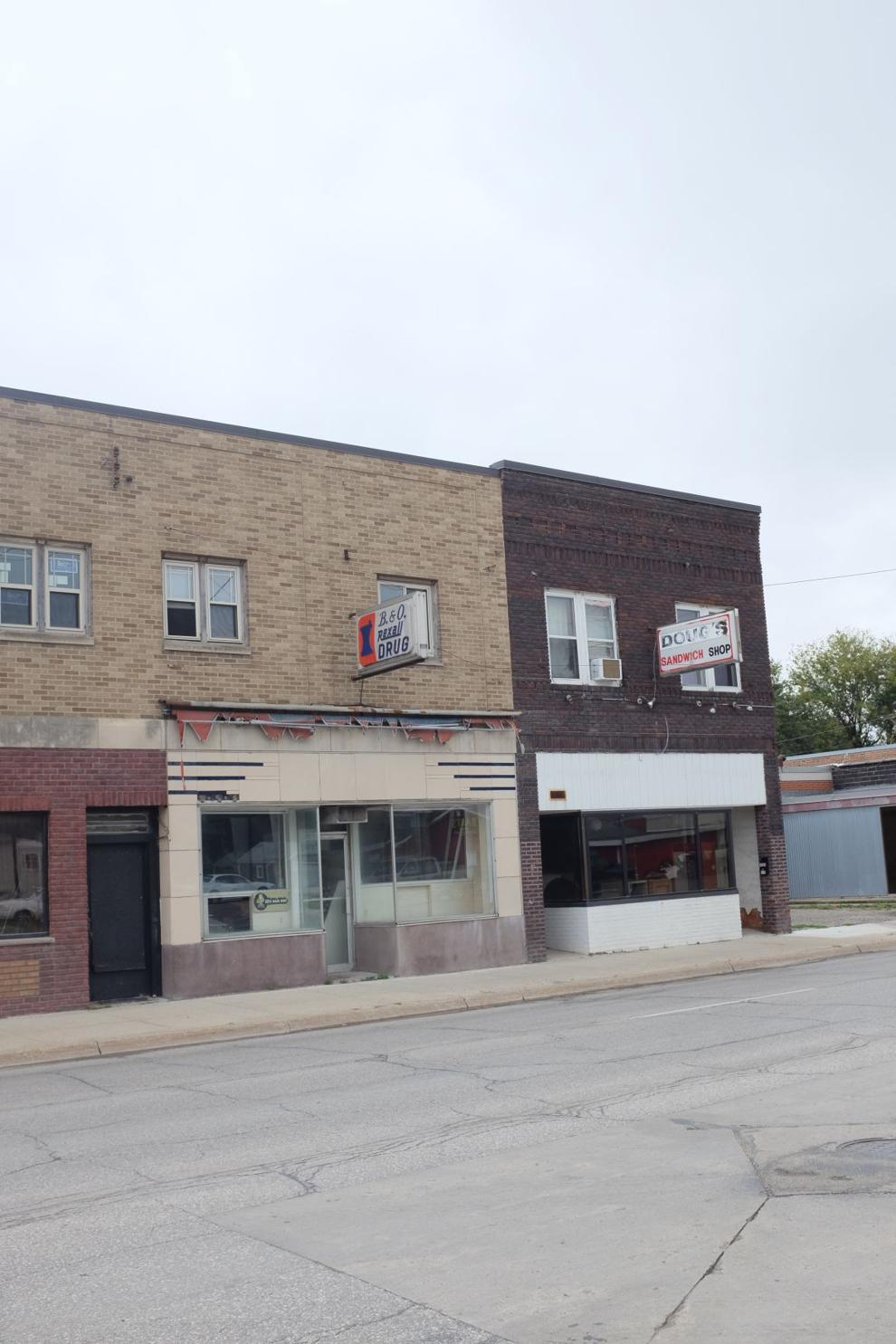 Vacant23.JPG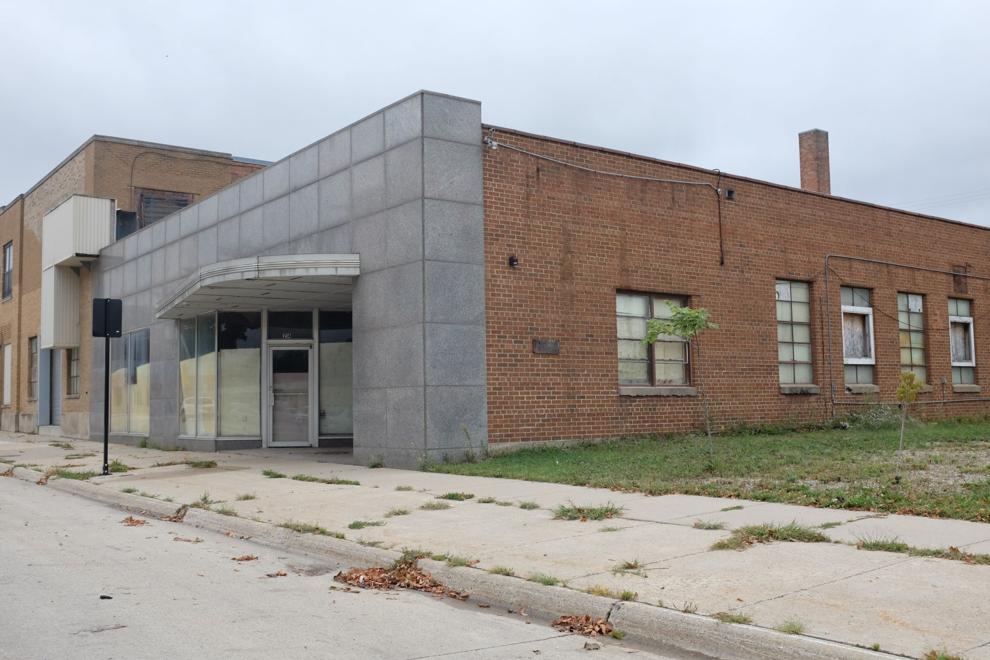 Vacant24.JPG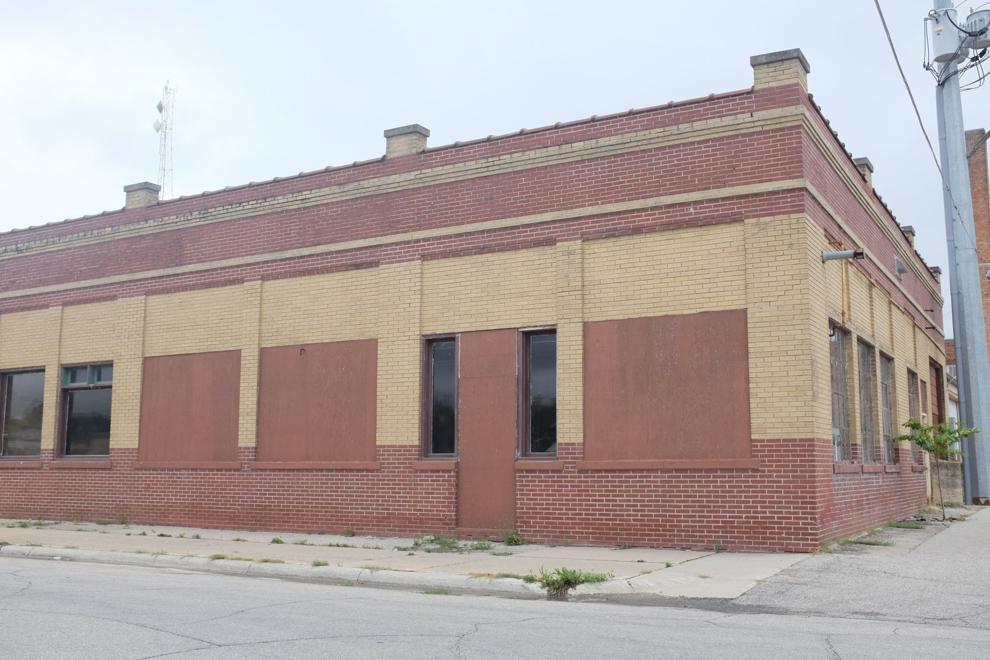 Vacant25.JPG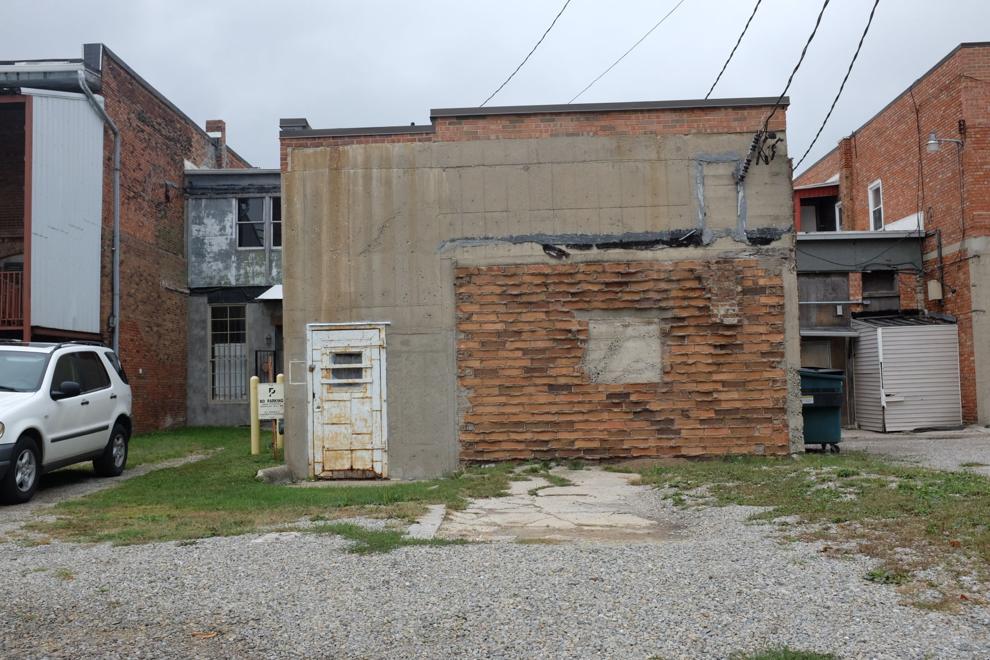 Vacant26.JPG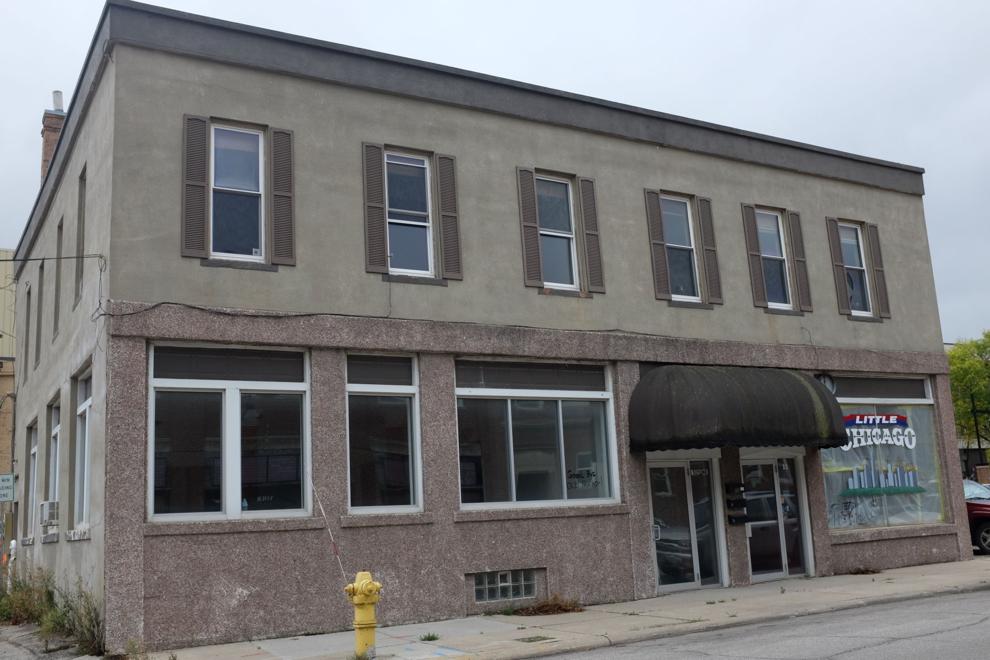 Vacant13.JPG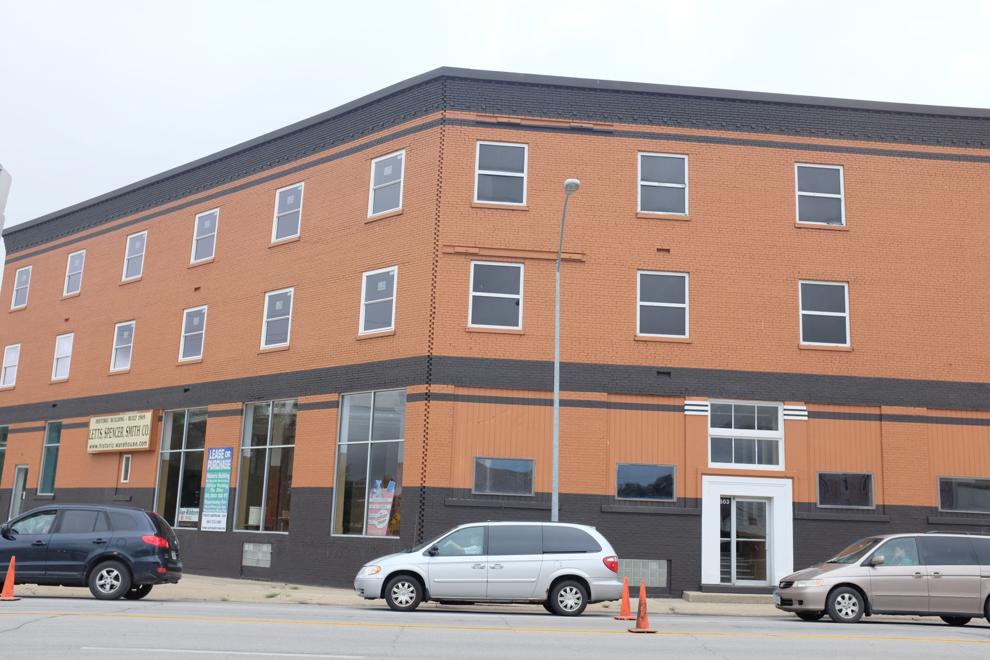 Vacant14.JPG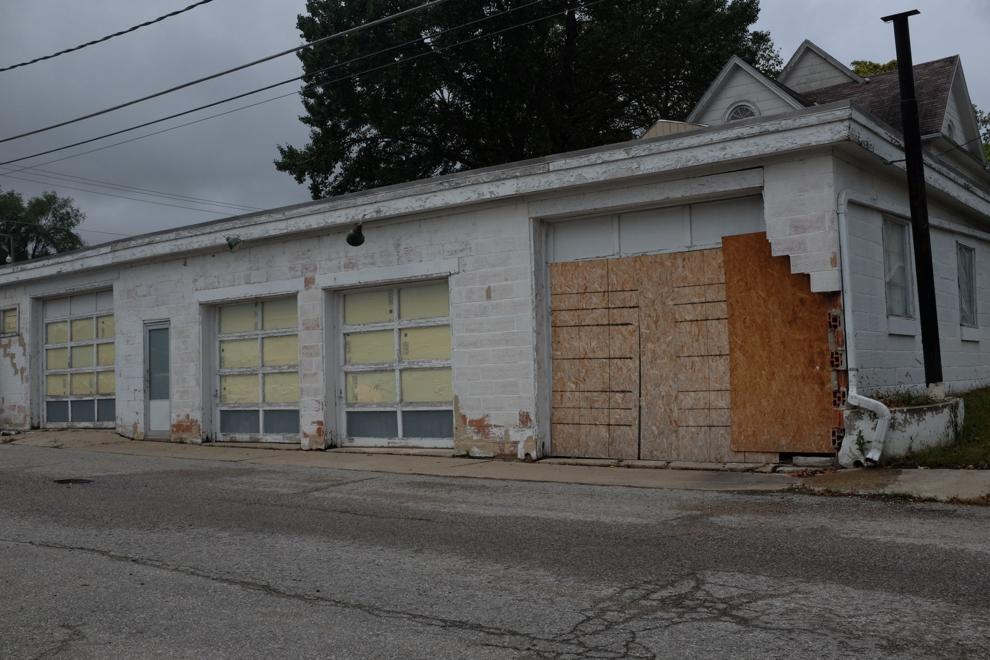 Vacant16.JPG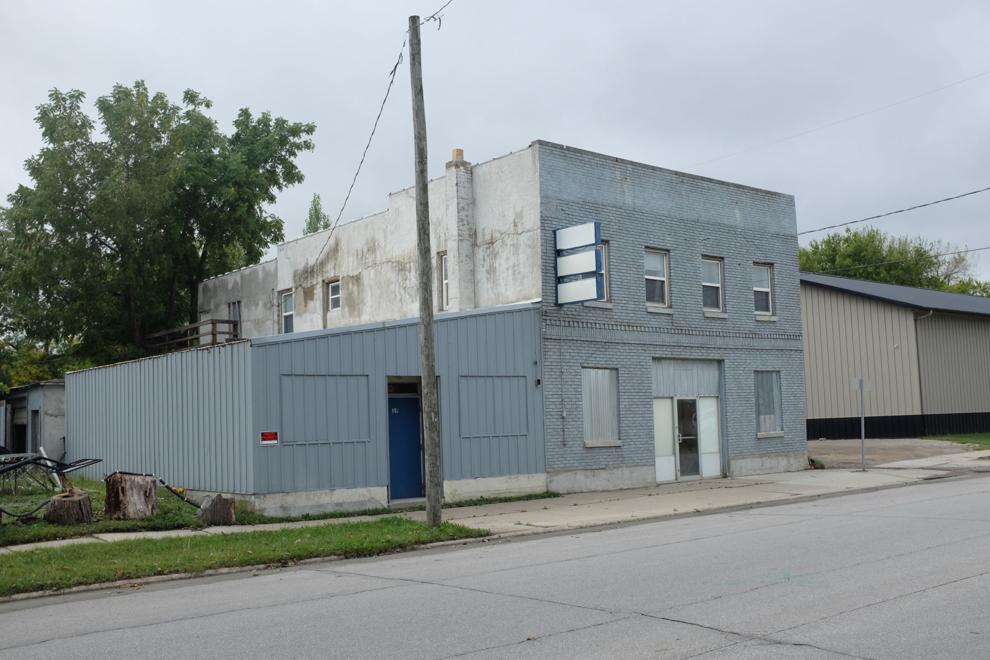 Vacant17.JPG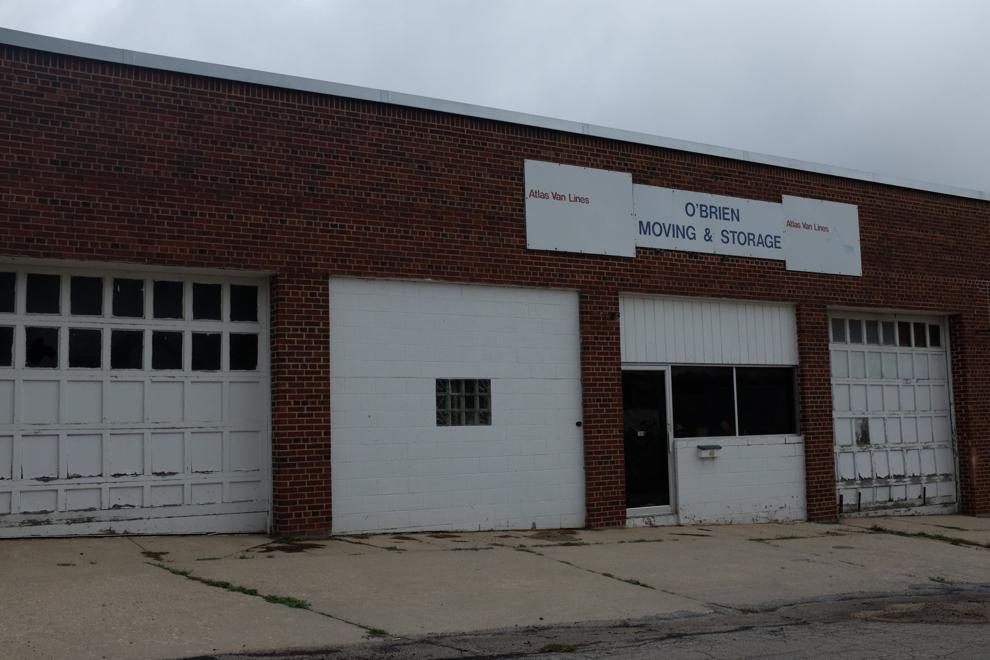 Vacant18.JPG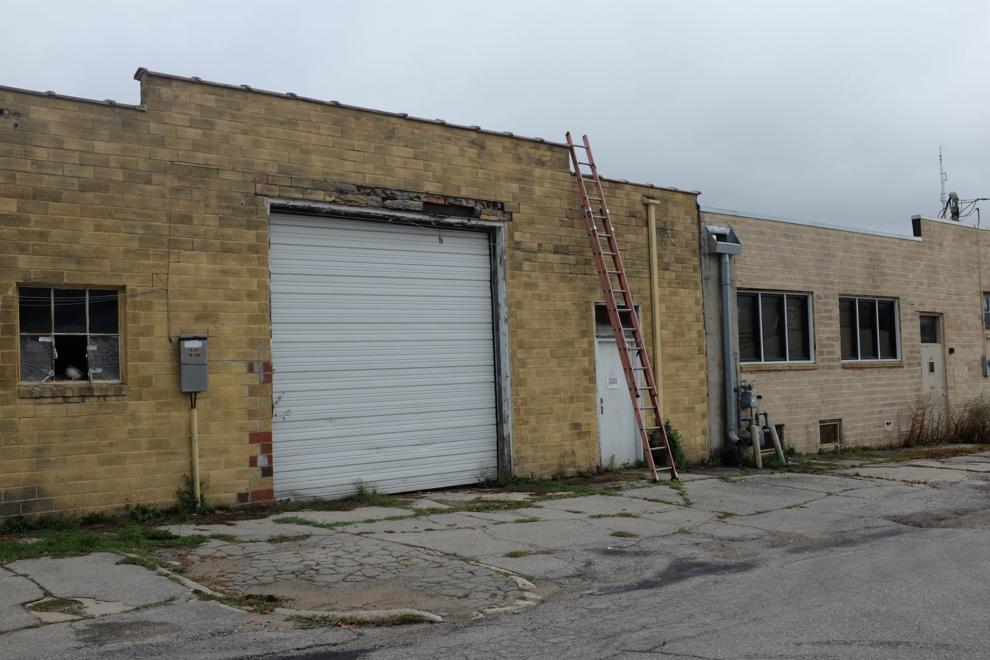 Vacant01.JPG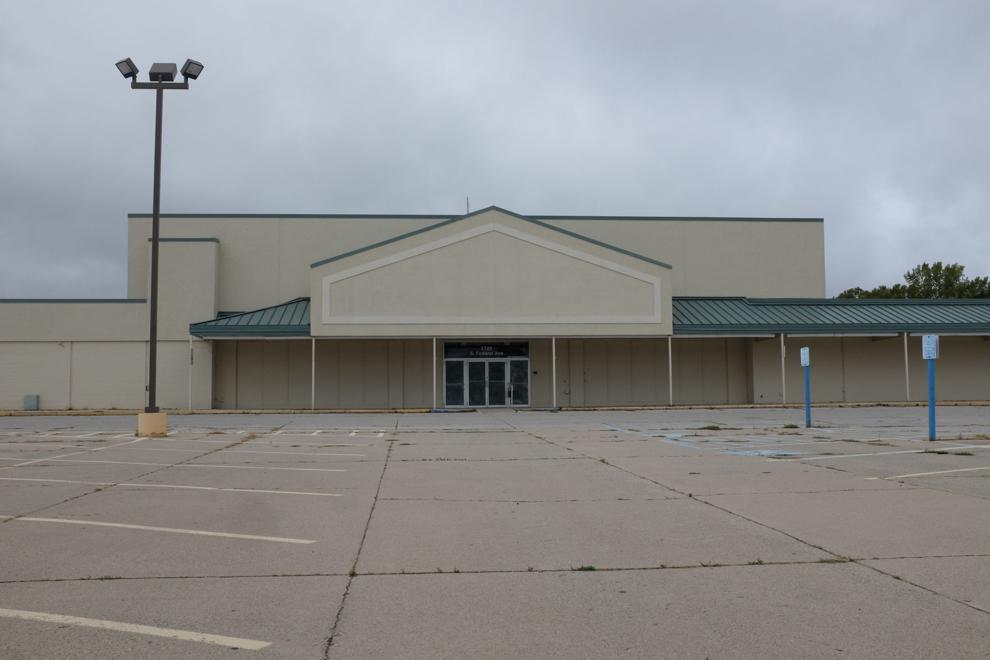 Vacant02.JPG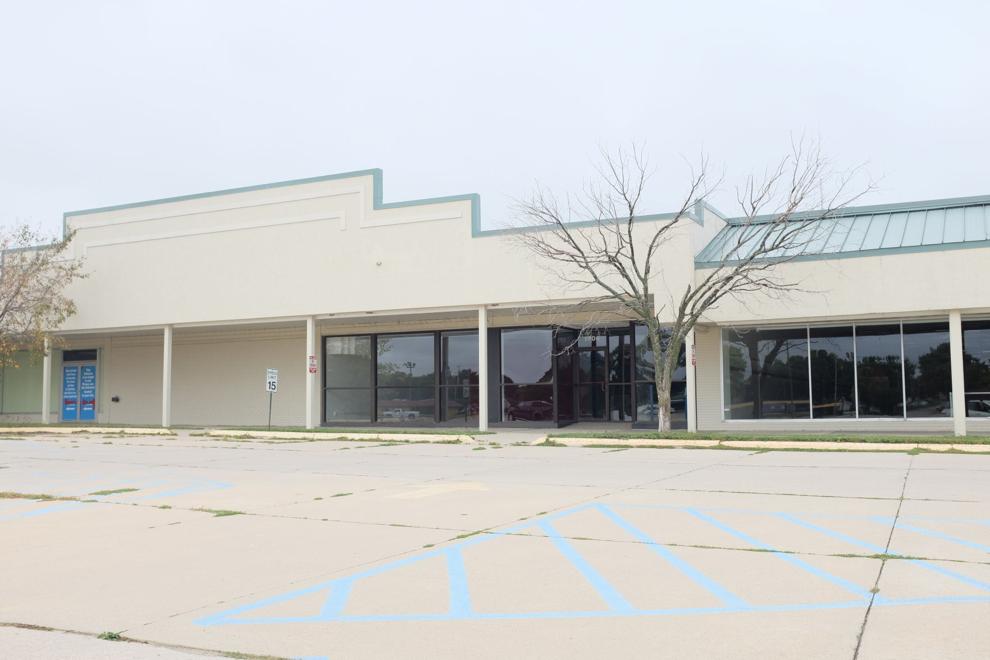 Vacant03.JPG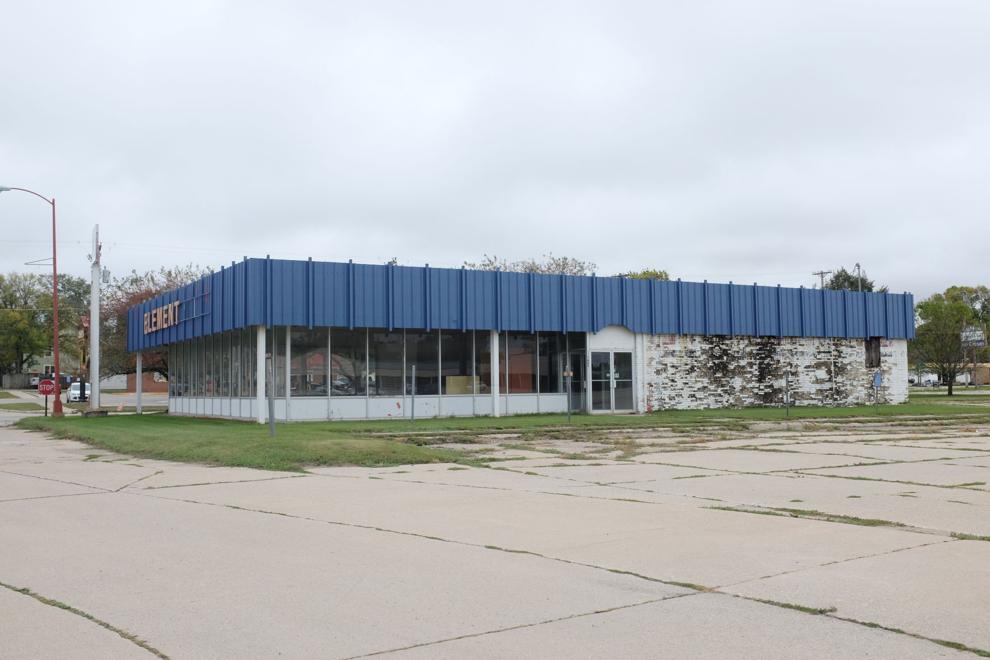 Vacant05.JPG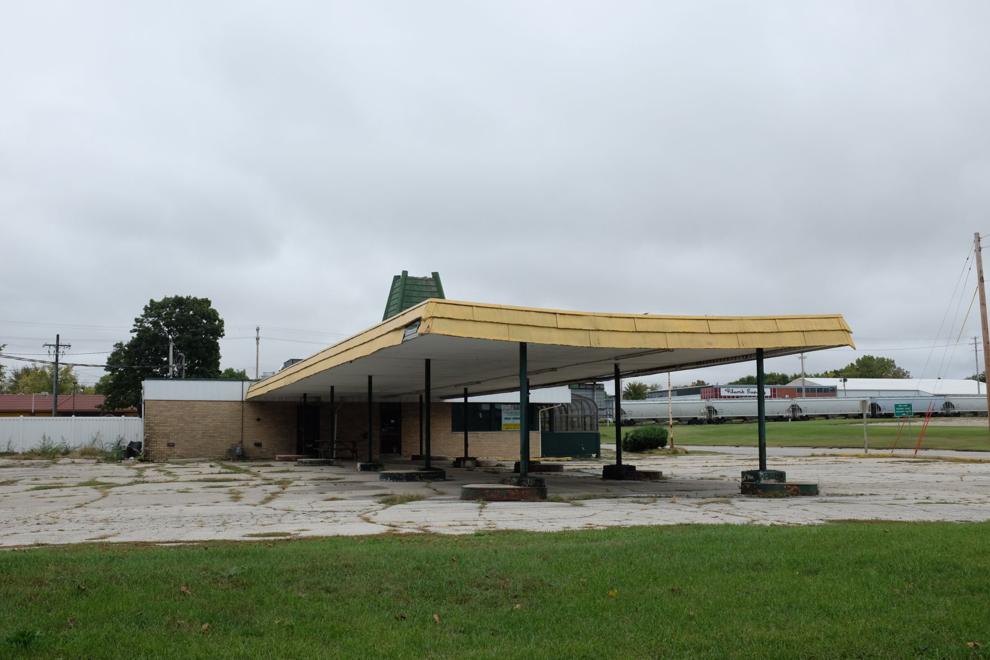 Vacant06.JPG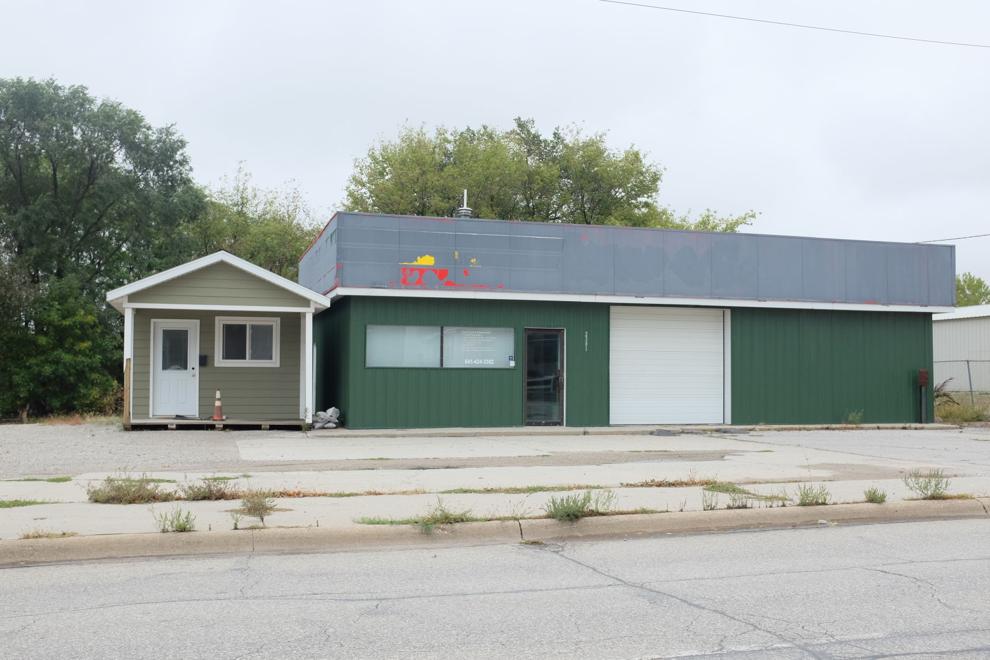 Vacant07.JPG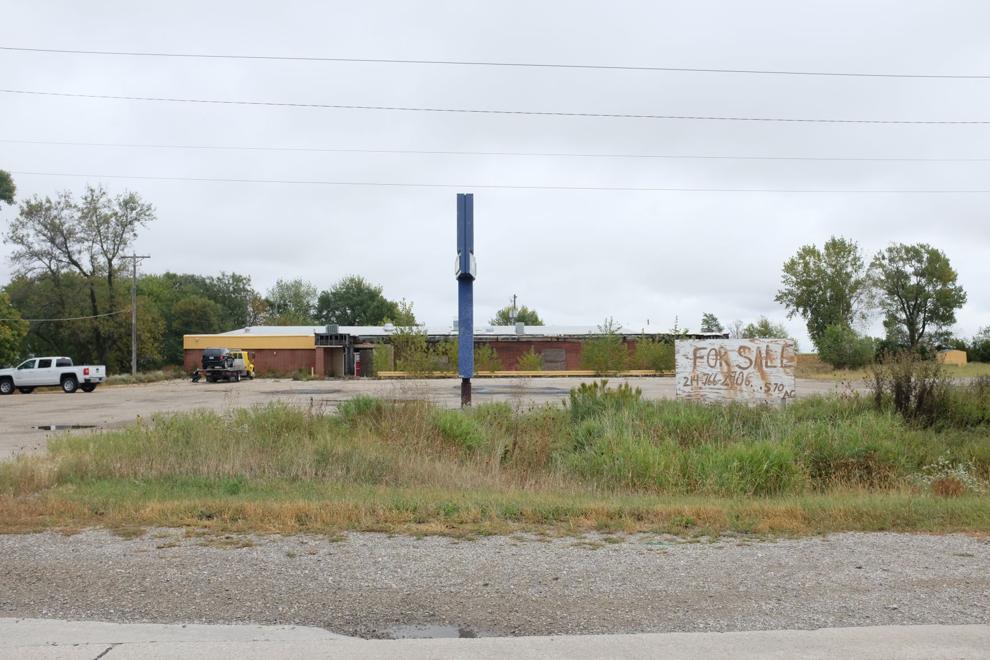 Vacant08.JPG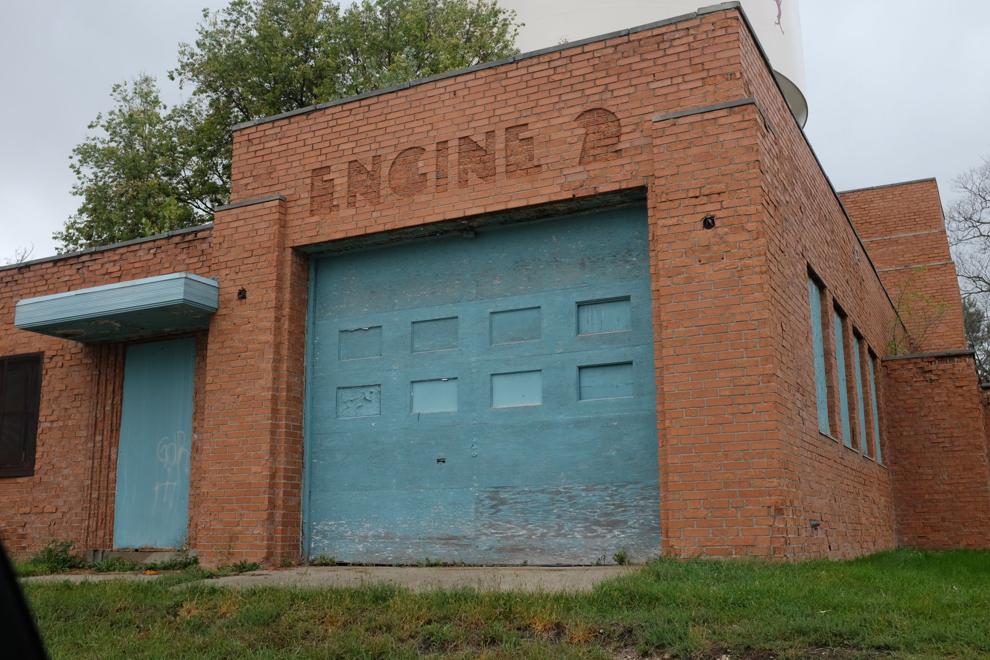 Vacant10.JPG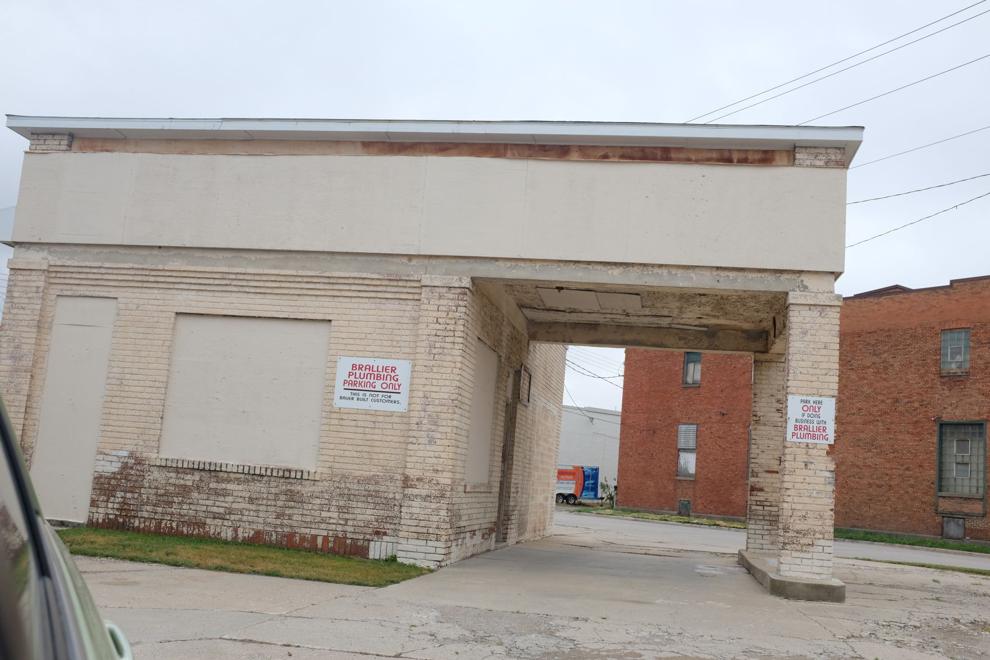 Vacant11.JPG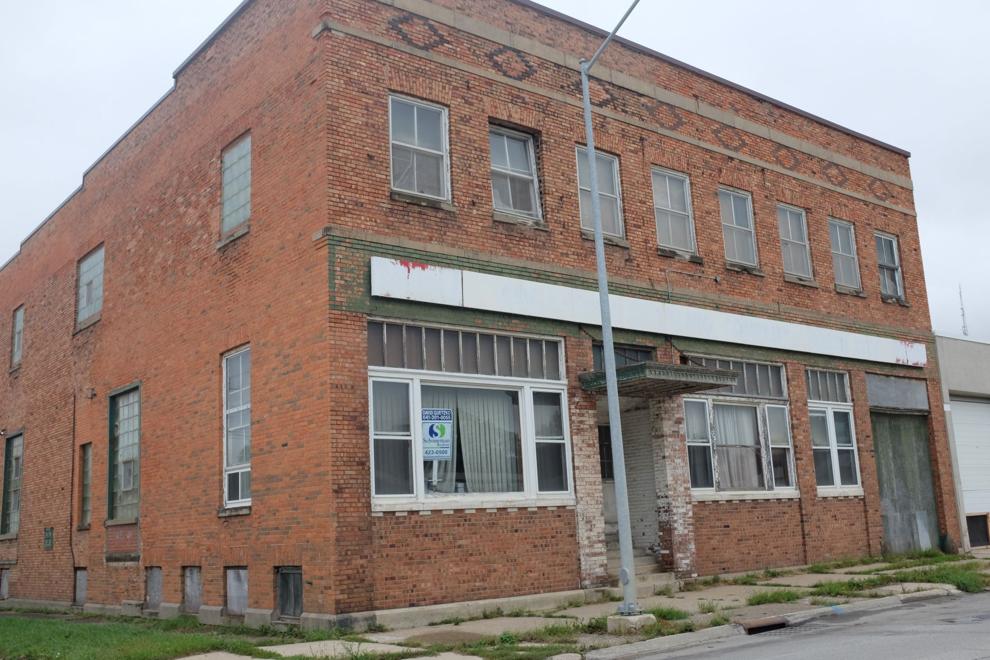 Vacant12.JPG