CLEAR LAKE | Retiring after more than 30 years as a Clear Lake special education teacher was a difficult decision for Geri Berding.
She loved her job, she loved her coworkers and she loved her students.
"It was the hard decision, but it was the right decision to make," she said.
Berding was diagnosed with Parkinson's disease, a neurodegenerative disorder that affects movement, four years ago this month, which is National Parkinson's Awareness Month.
Her diagnosis came after her hands began trembling so badly that everyday tasks, like putting on makeup, became challenging, and she sought care from her primary care physician, who referred her to a neurologist.
At the neurologist, she was administered tests that she recognized from years prior when her father, Robert Terry, was diagnosed with Parkinson's disease. He's had the disease for more than a decade.
"It was quite a shock," Berding said. "I wasn't prepared for that all."
It was after she was diagnosed that she and her husband, Hal, began looking for the information about the disease and they found the Michael J. Fox Foundation, which is dedicated to finding a cure for Parkinson's disease through funding research and developing improved therapies for those living with it today.
Because of her diagnosis, Berding retired after the 2015-16 school year because she felt she could no longer keep up with the physical and emotional demand of her job.
"I'm so thankful I made the decision when I did ... I know I couldn't keep up, and it wouldn't be fair to the kids," she said.
Instead, she has dedicated her time to raising awareness and money for Parkinson's disease research.
In 2016, Berding — with help from family, friends and members of Rolling Acres Christian Reform Church in Mason City — organized a Parkinson's Awareness Event in Clear Lake. The event drew more than 200 people and raised about $25,000 for the Michael J. Fox Foundation, which was $20,000 more than her goal.
"I was completely blown away," she said.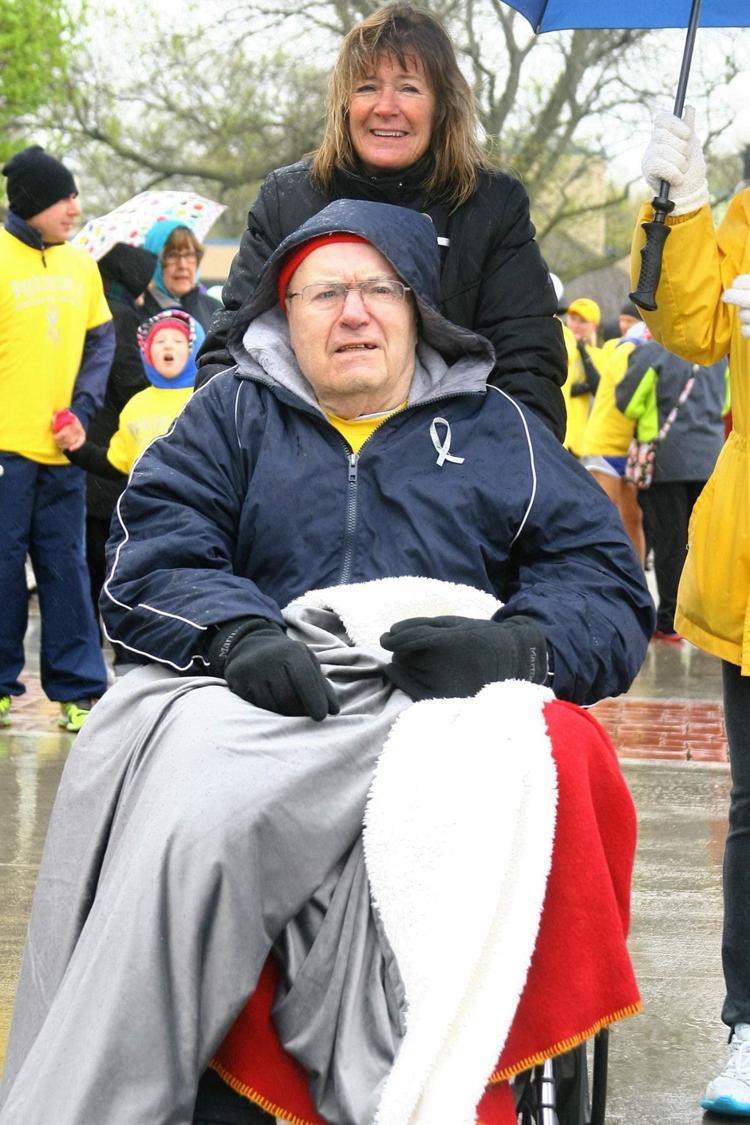 Because of the success of the event, Berding and her husband were invited to a Michael J. Fox Foundation gala last spring, and were unable to participate in the second annual event, which was organized by Keith Fritz, of Northwood.
Fritz, who is the junior-senior high school principal at Northwood-Kensett, was diagnosed with Parkinson's disease in 2013. 
The third annual Shake, Rattle and Stroll, will return to Clear Lake Saturday with a 5K fun run/walk, silent auction, meal, children's activities and information as well as a special appearance from John Kasper, an Olympic bobsledder.
Kasper will speak at 9 a.m. in Clear Lake City Park. The non-competitive 5K, which is $25, will follow. Proceeds benefit the Iowa Chapter of the American Parkinson Disease Association, which provides patient support and education about Parkinson's disease.
The silent auction and the meal will take place at The Hub, 500 Main Ave., afterward. The silent auction will be open from 10:30 a.m. to 12:30 p.m., and the meal will be served from 11 a.m. to 1 p.m.
Some of the silent auction items are box seats with meal at an Aug. 4 Twins vs. Royals game, Iowa and Iowa State baskets with game tickets; a Harley basket; a David Rottinghaus print and more.
A raffle for $5,000 toward a trip or Disney vacation will also be held.
Berding is hoping this year's event raises more than $25,000 to continue supporting those with Parkinson's.
"We have an amazing supportive area," she said. "It just continues to amaze me."