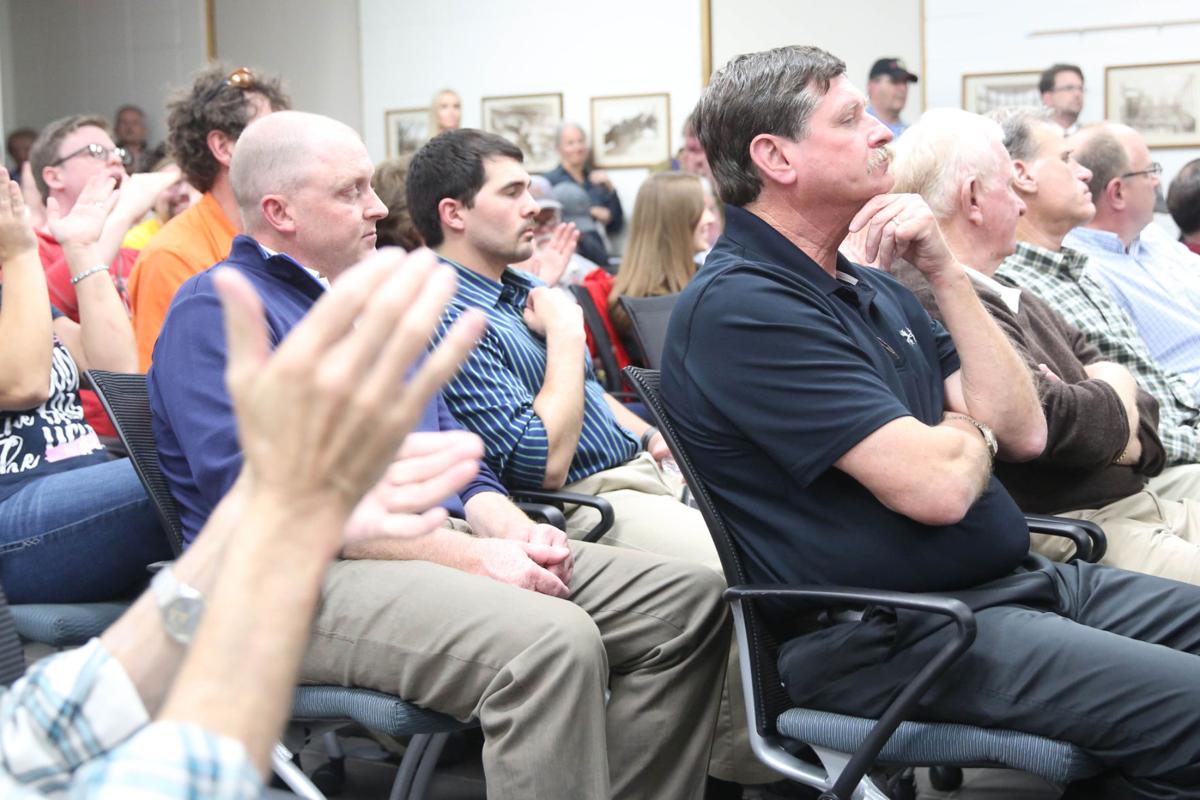 MASON CITY — Local leaders say they will regroup and focus on attracting other potential investments after the defeat of Prestage Farms' proposed $250-million hog processing plant in Mason City.
After a seven-hour meeting, the Mason City Council deadlocked, 3-3, early Wednesday morning on approval of a development deal that would have brought the North Carolina company's 650,000-square-foot slaughterhouse to the city.
The measure failed because it needed a majority vote to pass.
City Manager Brent Trout said city staff will continue to pursue other projects to create jobs and interest in Mason City.
"There's two or three other projects that we have submitted information on or will submit information on, and we'll keep working and keep trying to find that next addition, that next company that will be interested in Mason City," he said.
Prestage will pursue other possible locations in Iowa for the plant. Mason City is no longer under consideration.
Multiple communities contacted Prestage on Wednesday to express interest in the plant after learning Mason City had turned the project down, said Prestage spokeswoman Summer Lanier
She would not reveal the names of entities that had contacted the company or the communities they serve, citing company policy.
"We are considering other locations in Iowa," she said. "We are willing to revisit places that we have already considered."
MASON CITY — In a stunning turn of events, the City Council early Wednesday rejected Prestag…
Officials in Webster City and Fort Dodge said last month they were contacted by Prestage Farms before the pork company settled on Mason City.
The failure to land the pork plant was a surprising end to a project that was unveiled with great fanfare in March at the Historic Park Inn and Hotel.
Gov. Terry Branstad spoke at the ceremony, lauding the occasion as a great day for Mason City and North Iowa. He was not available for comment on Wednesday's vote.
"Gov. Branstad was disappointed to learn that development deal to bring thousands of jobs to Iowa by a family-owned business did not pass," Ben Hammes, spokesman for Branstad and Lt. Gov. Kim Reynolds, said in a statement e-mailed to the Globe Gazette. "This state of the art facility would have been built to protect the environment and the quality of life in North Iowa."
Mason City Councilman Bill Schickel said Branstad called him prior to Tuesday's council meeting, urging him to vote in favor of the project.
Schickel, concerned about community division, ultimately joined councilmen Alex Kuhn and John Lee in voting against the deal. Council members Travis Hickey, Janet Solberg and Brett Schoneman voting in favor of the agreement.
Local leaders will need to set their sights on other possible developments and those that are already in the works, such as the $38-million River City Renaissance development plan for downtown Mason City. Schickel said.
"This is a bump in the road, there's no doubt about that, but we will refocus and regroup and move forward," he said.
North Iowa Corridor Economic Development Corporation President and CEO Chad Schreck said the community needs a consensus on what type of development it wants to attract in the future.
The North Iowa Corridor EDC presented the Prestage opportunity to Mason City officials after learning about it from the Iowa Economic Development Authority, the state's economic development arm.
"I think what every community ultimately has to do is evaluate who are we, what do we do, what do we want to be (and) how do we get there," said Schreck.