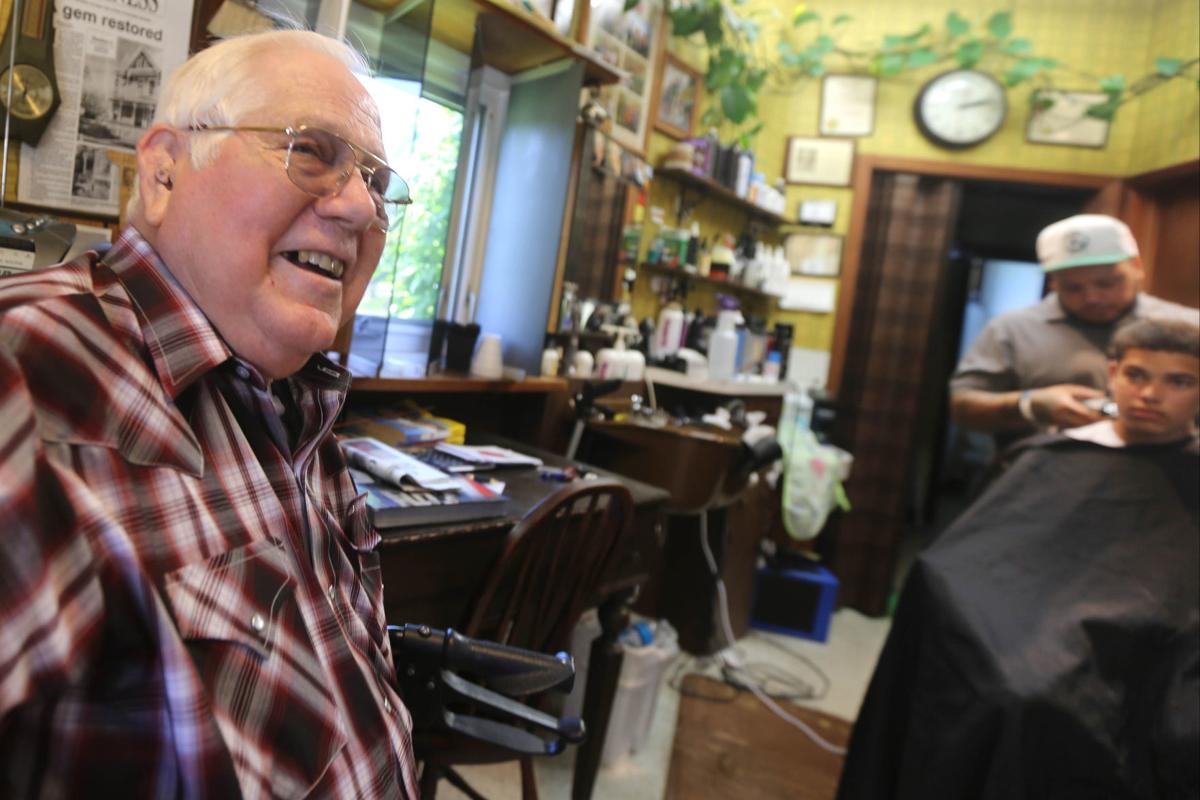 MASON CITY — At age 85, Don Lee decided it was time to pass the shears.
Cassii "KZ" Calaway — who says the KZ represents the way his first name is pronounced — will formally take over Lee's barber shop on East State Street on July 1.
Calaway said he grew up "a little bit of everywhere but mostly in Mason City and Clear Lake." He lives in Clear Lake now and said he is excited about having his own barber shop.
Calaway said he became acquainted with Lee through a mutual friend, Troy Levenhagen, owner of the SuzieQ diner downtown. Lee's son, Dennis, helped put together the transition, but the finishing touch came with, what else, a haircut.
Recently, KZ gave a haircut to Lee's grandson, Skylar, and Lee liked what he saw.
"You're pretty good," he told KZ. "This might work out."
Lee said he has given thousands of haircuts over the years — too many to count — but he said his record is 40 in one day, at Good Shepherd Health Center.He also cut hair at the Hanford Hotel (now The Manor) which he refers to as his "apprenticeship" before getting his own shop in 1962.
But his hair-cutting days actually started before that, in the backyard of his family's home in Dexter, Minnesota, when he was 14 years old.
He said his mother was having a ladies aid meeting in their home and wanted the kids out of the house. He got a stool and a clippers and started cutting hair, first his cousin's and then his brother's. Not long after that he was cutting his dad's hair and then his neighbors'.
In college he cut his classmates' hair, then was a barber for soldiers in the Army. All of this eventually led to the Don E. Lee Barber Service, 930 E. State St., where he did his last haircut on June 13.
"I guess you could say I've been doing this all my life," he said.
When Lee first started cutting hair he used a hand clipper that was not much bigger than a razor. "This is what I had," he said, holding up the clipper he has kept for more than 50 years. "It worked pretty good."
Lee is well-known in Mason City not only for his barbering but also for being a master gardener. Not far from his barber shop is East Park where he spent many hours planting, cultivating and beautifying.
As for turning over the barber shears to KZ, he said he will miss all of the customers he's had.
"But it's time," he said.