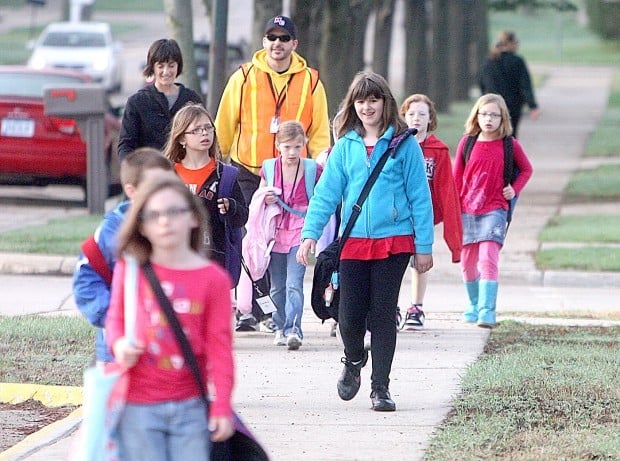 MASON CITY — Second grader Emma Baker stood among friends at the entrance of Jefferson Elementary School Friday morning, after taking a brisk walk before school.
"I like it because I get to see my friends earlier," she said. "And your parents don't have to worry about you."
And that pretty much sums up a lot of what the new Walking School Bus is all about.
Mason City's Walking School Bus has drawn 61 students and 16 adult volunteers to the effort.
The project, which began Monday, allows children in kindergarten to fourth grade to know caring adults as walking school bus volunteers, as well as safety and healthy activity. Routes were established within one mile of the schools.
It comes through a partnership of schools, the Cerro Gordo County Department of Public Health and the Mason City Youth Task Force.
Kelli Huinker, Wellness Service Manager for the Cerro Gordo County Department of Public Health, is the coordinator for the Harding and
Roosevelt groups, while Carol Brown, project coordinator for the task force, is the coordinator for Hoover and Jefferson schools.
Hoover and Jefferson elementary schools have routes every morning; Harding Elementary has routes Monday and Thursday; and Roosevelt Elementary School has walkers on Tuesday, Wednesday and Thursday.
The morning routes take roughly a half an hour to walk.
You have free articles remaining.
"It has been going well; I really like the fact that children are walking with adults," said Mike Penca, director of elementary programs for Mason City Community Schools.
Grant funding through the Wellmark Foundation, obtained by the youth task force, and a Safe Routes to School grant, provided by the Iowa Department of Transportation, made the program possible.
Funding helped pay for training and background checks of all volunteers. The spring program goes through the end of school. The fall program runs from August to October.
A parent, Marty Garrett, was one of the volunteers at Jefferson Elementary on Friday. He oversees nine children.
"Everything is going really well — and I am really feeling it in my legs," he said, chuckling. One of the walkers is his daughter Emma, 9.
Huinker said she was pleased with the turnout.
"We were told that an average turnout at the beginning was 10 students per school — and we are almost twice that," she said.
"Everyone seems pretty pleased," she said. "We were worried a little bit about rain (which means the walks are canceled), but it pretty much held off."
Clear Creek Elementary School in Clear Lake is also running the program, although turnout has been comparatively small. There are three volunteers there, Huinker said.
More volunteers are needed as substitutes for the current leaders. They should contact Huinker at 641-421-9312 or Brown at 641-421-2708, if interested in volunteering, or having their child join a route.