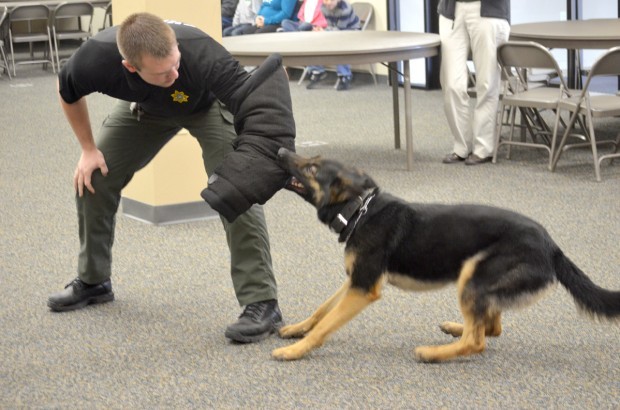 FOREST CITY — The Winnebago County Sheriff's Department showed off its new member of the force recently, a triple threat that's fighting the drug problem in the county, can locate missing people and has an approachable demeanor.
She likes to play fetch, too.
The Sheriff's Department established its first K-9 (canine) unit earlier in March with the introduction of Yeira (yee-ruh) to the force.
Yeira, who partners exclusively with deputy Brett Wilson, is a 16-month-old, 65-pound purebred German Shepherd from Holland.
The Dutch lineage makes the dog smaller and able to work harder for a longer amount of time. The department hopes to have Yeira working for 12 or 13 years, as opposed to nine years, which is the average limit for the larger breed of German Shepherd, Sheriff Doug Jenson said.
Wilson speaks a mixture of English and Dutch to the dog, depending on the command.
"Her first night out she had a drug arrest," Jenson said. "She's had more than 10 arrests so far."
Jenson said the dog helped close a difficult case, when meth paraphrenalia and stolen items were discovered by Yeira in an impounded car.
"There was no reason for anyone to go in that vehicle," Jenson said. "That case probably would not have been solved (without the dog)."
The department held its first demonstration of Yeira's training on March 13 for about 15 members of the community and media.
"We want people to know what their donations did," Jenson said after the demonstration.
You have free articles remaining.
Wilson said he treats Yeira both as a co-worker and as a pet.
"She lives with me and when I work, she works," Wilson said. "But she needs her play time."
Wilson pushed for the department to establish the K9 unit and raised the $15,000 to purchase the dog by himself, Jenson said.
Wilson spent two months in training with Yeira and continues to train her every day when they are on duty. He will re-certify as a K9 deputy each year, Wilson said.
"I've always owned dogs but this is a different type, that's for sure," Wilson said.
Yeira's presence has already benefited the department.
"One look at the dog and people tend to be more obedient," Deputy Jase Guetter said. "She's invaluable."
The Winnebago Board of Supervisors added a line item to the Sheriff's Department 2013 fiscal year budget for the potential purchase of another police dog. Both Hancock and Worth counties have two dogs, Jenson said.
"It gives us piece of mind that extra tools are out there," said Stephanie Wooge, who attended the demonstration with her husband and children.
Wooge, who lives in rural Forest City, said Yeira could be useful to find children lost in the countless cornfields that border many local farms.
"I want her to be able to go into an elementary school and have her surrounded," Jenson said. "She's not a threat unless the person is."
Caitlin Hamilton is a reporter for the Forest City Summit, a Lee Enterprises newspaper.