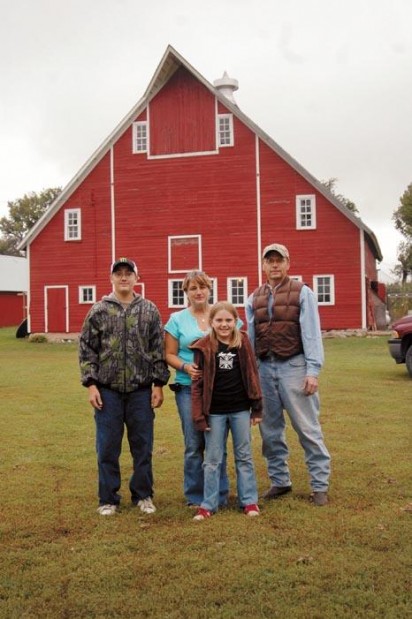 LELAND — Kim Haugen has heard the stories about his grandfather and his barn so he understands why some of Peter Haugen's neighbors thought he had lost a marble or two in 1924.
It was in that year that Haugen literally cut his barn in half.
"He didn't tell anyone what he was doing," said Kim Haugen, who now lives on his grandfather's farm and has restored that barn that was once cut into two. And that barn, which was restored in 2004, will be part of the Iowa Barn Foundation's annual statewide tour of barns this weekend.
But first, back to Peter Haugen.
In 1924, he sawed his barn, located about three miles north of Leland, in half. With a handsaw, no less. He then used poles and horses to pull it apart. Finally, he added a center section and more or less put the barn back together. Originally built in the late 1800s as a 54-by-26-by-27-foot barn, Peter Haugen's work gave him a much bigger barn — one that measured 54x46x38 feet.
The barn was home to four horse stalls, but its main use was for milking cows and feeding calves. Thirty years after Peter Haugen took his saw to the barn, the farm was sold to his son, Truman, who continued to milk cows and raise cattle.
Fast forward a half-century.
Kim Haugen faced a decision earlier in this decade — tear down the barn or restore it.
"And you can buy a pretty nice Morton building for what it costs to restore a barn," he said, "but the more and more I thought about it, the more and more I realized that the barn had a lot of stories and I just couldn't do it, I just couldn't tear it down."
So four years ago, work began on straightening the barn. In November 2004, the roof was redone and the cupola was placed back on top.
Today, the barn is being used by the Haugens — Kim, wife Vineta, son Anthony and daughter Angela — to raise pheasants.
But once a year, it plays host to the Iowa Barn Foundation statewide tour, and it's a weekend Haugen looks forward to every September.
"At first I thought it was kind of different — people are going to drive all over the place to look at a barn? But they really do, and it's just great to hear some of the stories. They'll ask us about our barn, and the next thing you know we're talking about the barns they remember. And I'm telling you, they come from all over the place, too."
Bob Fenske is editor of the Forest City Summit, a Lee Enterprises newspaper.
Historic restored barns, throughout Iowa, will be opened to the public during a free, two-day, self-guided, all-state barn tour Saturday and Sunday, Sept. 20 and 21 from 9:30 a.m. to 5:30 p.m.
Most barns on tour have been restored with matching grants from the Iowa Barn Foundation. Other property owners received awards of distinction from the foundation for restorations they undertook themselves.
The Iowa Barn Foundation, an all-volunteer, non-profit organization, raises money from individuals, foundations, and corporations to give matching grants to property owners to restore their barns. The property owner must sign a perpetual easement when receiving a grant. The foundation sponsors a spring "area" tour and publishes the semi-annual Iowa Barn Foundation Magazine.
The purpose of the tour is to encourage barn preservation in the state, to teach young people about Iowa's rich agricultural heritage, and to renew pride in this unique heritage. Owners will discuss the barns and their histories at many stops. Visitors are expected from around the country.
The tour is free although donations to support the foundation's work are appreciated.
Dreyer barn, 102 310th Street, Fenton (Kossuth County). The farm has been in the family since 1900; barn was built in 1903 and used as dairy barn until 1944. There is a 1000-gallon wooden water storage tank in hayloft. Manure unloading system is intact.
Gade barn, 301 230th Street, Whittemore (Kossuth County). Arnold and Martha Gade bought this farm in 1921 for $3000. They raised their family on the farm and moved off in l969 selling it to their oldest child, Wayne. It is now owned by their oldest son, Craig and his wife, Deb. There is a special room where cream was separated.
Wegener barn, 109 320th Street, Fenton (Kossuth County). Neighbors helped to build this magnificent double gambrel barn for a farmer's widow in 1915. Ed Dennert was in charge of the crew. The barn is still used in a farming operation.
Tenold barn, 4356 Wheelerwood Road, Northwood (Worth County). Barn is across from what was the town of Tenold on the Iowa map until 1960.
Rockafellow barn, 4484 Echo Avenue, St. Ansgar (Mitchell County). Beautiful bank barn, with a limestone foundation, was built in 1877 for horses and cattle. The timber was framed with wooden pegs.
Blake barn, 11670 300th Street, Mason City (Cerro Gordo County). This barn, typical of those of the Depression era, was lovingly restored.
Yezek barn, 22881 Vine Avenue, Plymouth (Cerro Gordo County). This 32- x 52-foot barn with metal cupola was built in 1930 and is one of the only barns standing in the area. The barn was in vulnerable condition when the Yezeks started the restoration project.
Mandasgar-Johnson barn, 1860 Texas Avenue, Hardy (Humboldt County). Owners beautifully restored old buildings on family farm. (Award of Distinction)
McBurney barn, 2550 Gotch Park Road, Humboldt (Humboldt County). Stephen Taft, who founded Springvale which became Humboldt, owned the land on which this barn stands. In 1874 he sold the land to Lorbeers who built the house and barn, both still in use. The barn was built in 1890.
Bennett barn, 1664 Eagle Avenue, Latimer (Franklin County). This handsome clay tile barn, with round laminated rafter roof, was built in 1950 by Henning Construction Company, Latimer, for a dairy herd. The cow stanchions had drinking cups; there is a chain lift manure carrier.
Klousia barn, 1766 165th St., Hampton (Franklin County). The barn of peg construction is on a hill on a gorgeous farmstead. The owner copied a Wisconsin dairy barn when he built it in 1888. The barn was proudly placed on the most prominent position on the farm.
Dodd barn, 1854 40th Street, Ackley (Franklin County). Barn was built by Ernest Aldinger, one of three Aldinger brothers who built farms within a mile of each other.
Blazek barn, 1755 Ridgeway Boulevard (Chickasaw County). Distinguished large barn had a drive-through center where teams of horses pulled and unloaded full loads of hay. Barn dances were held in mow in early 1900s.
Welter barn, 13725 X, Avenue, Cedar Falls (Black Hawk County). Original blueprints developed by Agricultural Engineering Department, Iowa State. It was built in 1947. Working farm was purchased in 1867 by Ole Johnson and has been in the same family since.
Jones barn, 2138 Verdin Avenue, Ocheyedan (Osceola County).
Jensen barn, 2410 560th Avenue, Ringsted (Emmett County).
Roghair barn, 4242 430th St, Alton (Sioux County).
Ascherl barn, 4680 McKinley, Granville (O'Brien/Sioux Counties).
Battaglioli barn, 4819 480th Street, Granville (O'Brien County).
Conover barn, 5315 190th Street, Holstein (Ida County).
Dwyer barn, 774 480th Street, Linn Grove (Buena Vista County).
Mickelson barn, 5126 Highway 71, Storm Lake (Buena Vista County).
Johnson barn, 5075 525th Avenue, Rolfe (Palo Alto County).
Youngberg barn, 4886 220th Avenue, Albert City (Buena Vista County).
Ferguson barn, 40415 130th Avenue, Laurens (Pocahontas County).
Ellingson barn, 19987 Timber Avenue, Cresco, (Howard County).
Hutchinson barn, 2299 Scenic River Road, Decorah (Winneshiek County).
Dougherty barn, 901 Pole Line Road, Postville (Allamakee County).
Kruger barn, 310 Northline Drive, Waukon (Allamakee County).
Boeding milk house, 2390 Madison Road, Decorah (Winneshiek County).
Palmer barn, 1206 150th Street, Castalia (Winneshiek County).
Dighton barn, 3344 120th Avenue, Coggon (Delaware County).
Geschke barn, 1744 McCloud, New Hampton (Chickasaw County).
Belfrage barn, 2410 Port Neal Road, Sergeant Bluff (Woodbury County).
Ellis barn, 2370 Fletcher Avenue, Lytton (Calhoun County).
Sextro Crib, 12708 280th St., Manning.
Renze barn, 22695 Highway 71, Carroll (Carroll County).
Barry barn, 3043 Easton Trail, Woodbine (Harrison County).
Finken barn, 3005 335th Street, Logan (Harrison County).
Wooster barn, 2435 2100th Street, Manning (Shelby County).
Heflin barn, 837 Orange Road, Harlan (Shelby County).
Hindraker barn, 2698 Jaguar Trail, Guthrie Center (Guthrie County).
Caltrider barn, 3016 Juniper, Casey (Guthrie County).
Thurmond-Adams barn, South edge of Williams (Hamilton County).
Sparks barn, 15737 E. Avenue, Alden (Hardin County).
Uetz barn, 2011 180th Street at U Avenue (Boone County).
Handsaker barn, 65627 200th, Fernald (Story County).
Twedt barn, 63645 160th Street, Nevada (Story County).
Buck barn, 1271 285th Street, State Center (Marshall County).
Mehlisch barn, 17590 730th Avenue, Zearing (Story County).
Dobbin round barn, 2551 Brown Avenue, State Center (Marshall County).
Smith barn, 2947 170th Street, Marshalltown (Marshall County).
Purviance barn, 21501 H Avenue, Minburn. (Dallas County).
Becker barn, 13081 NW 158th Av., Madrid (Polk County).
Hanson barn, 11590 N. 87th Av. W., Mingo (Jasper County).
Gary Richardson barn, 624 E. 150th St. N., Grinnell (Poweshiek County).
Ihde barn, 6647 E. 136th Street N., Grinnell (Poweshiek County).
Clasen barn, 25219 200th Street, Bellevue (Jackson County).
Delaney barn, 23477 Bellevue-Cascade Road, LeMotte (Jackson County).
The DeFries Barn on the Doris and Jack Dyas Farm, 17929 232nd Avenue, Maquoketa (Jackson County).
Gehlen barn, Main Street, St. Donatus (Jackson County).
Michaels barn, 39016 308th Street, Bellevue (Jackson County).
Stromeyer barn, 37647 Iron Bridge Road, Spragueville (Jackson County).
Ulch barn, 4672 Sutliff Road, Solon (Johnson County).
Schneckloth crib, 23553 200th Avenue, Eldridge (Scott County).
Zelle barn, 1503 Holland Street, Le Claire (Scott County).
Barry barn, 3043 Easton Trail, Woodbine (Harrison County).
Ditmars barn, 19638 225th Street, Council Bluffs (Pottawattamie County).
Anstey barn, 71717 710th Street, Massena (Cass County).
Kochersperger barn, 64094 US 59 (Mills County).
Ramsey barn, east of Mount Ayr on Highway 2 at Lesanville Road (Ringgold County).
McCaughey barn, 2531 Highway2 (1/2 mile west of Ramsey barn on south side of road) (Ringgold County).
Beeler barn, 2569 140th Street, Van Meter (Madison County).
McBroom-Hargis barn, 1218 Highway 169, Winterset (Madison County).
Gillespie barn, 1257 Highway 92, Winterset (Madison County).
Oswald barn, 1071 Harken Hills Drive, Osceola (Clarke County).
Redman barn, 2034 205th Avenue, Osceola (Clarke County).
Kosman barn, 10611 240th Avenue, Weldon (Decatur County).
Cutkomp barn, 22682 120th Street, Columbus Junction (Louisa County).
Bartelt barn, 16296 Highway 61, Mediapolis (Des Moines County).
Parsons barn, 22055 Highway 1, Keosauqua (Lee County).