DES MOINES - Gov. Kim Reynolds signed 17 bills into law Tuesday, including controversial legislation to impose financial sanctions against local governments that fail to cooperate with federal officials in enforcing immigration laws in Iowa.
Senate File 481 will require law enforcement agencies to comply with federal immigration detainer requests for people in their custody under policies to be in effect by next Jan. 1.
In addition, the legislation prohibits local governments from discouraging their enforcement officers or others from activities related to enforcing immigration laws.
The legislation imposes financial sanctions against local governments that backers say are providing sanctuary to potentially illegal immigrants rather than cooperate with U.S. Immigration and Customs Enforcement (ICE) officials in enforcing federal laws in Iowa Backers say the legislation was enacted to address situations that arise when federal immigration officials believe someone in custody is in the country illegally and subject to deportation.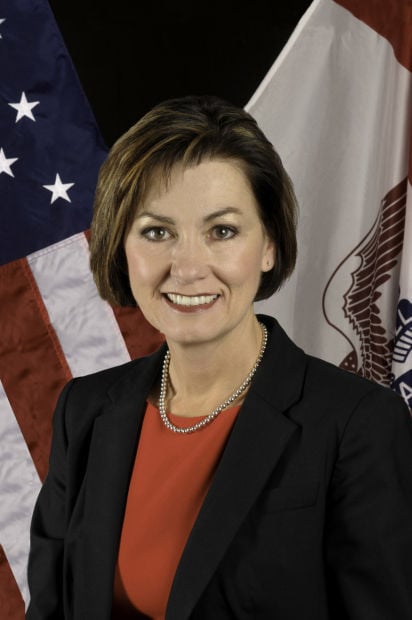 The measure also would discourage so-called sanctuary cities or sanctuary counties in Iowa.
After the governor signed the bill, Rita Bettis, ACLU of Iowa legal director, issued a statement saying her organization views the law as unconstitutional.
"Let's be clear. It violates a person's constitutional rights for lowa law enforcement to hold them without a warrant or probable cause of a crime," Bettis said in a statement. "But that is what ICE detainer requests ask Iowa law enforcement to do. That's because ICE "detainer requests" are exactly that: an ask of local law enforcement to hold a person without a warrant or probable cause. As a result of this, we are deeply concerned about the passage of S.F.481 and will strive to defend the constitutional rights of Iowans against unlawful detentions."
Critics opposed the bill as an unfunded mandate for local entities by requiring them to hold people without a court order and makes them potentially financial liable while not providing any money to cities and counties for their costs. Opponents also charged the bill was intended to score political points while scaring, intimidating and dividing Iowans.
"This law does not reflect Iowa values, and we will continue to defend each other because we believe that we all belong. Everyone sill has rights, and we will continue to fight for everyone's rights." said American Friends Service Committee (AFSC) Iowa Director, Erica Johnson. "Our country has seen unjust laws in the past. And just like we did then, we will stand up against SF481 and call for dignity and justice for all people in Iowa, regardless of immigration status."
The legislation requires local governments in Iowa to comply with federal detainer requests, prohibits them from adopting policies that discourage immigration enforcement activities and bars discriminatory practices. It creates a sanction whereby offending local entities could be denied state funds for up to 90 days for violating the law's provisions. That would apply to road-use tax funds, state property tax replacements, tuition replacement, flood mitigation projects, community college funding, Iowa Economic Development Authority grants and other state funds.