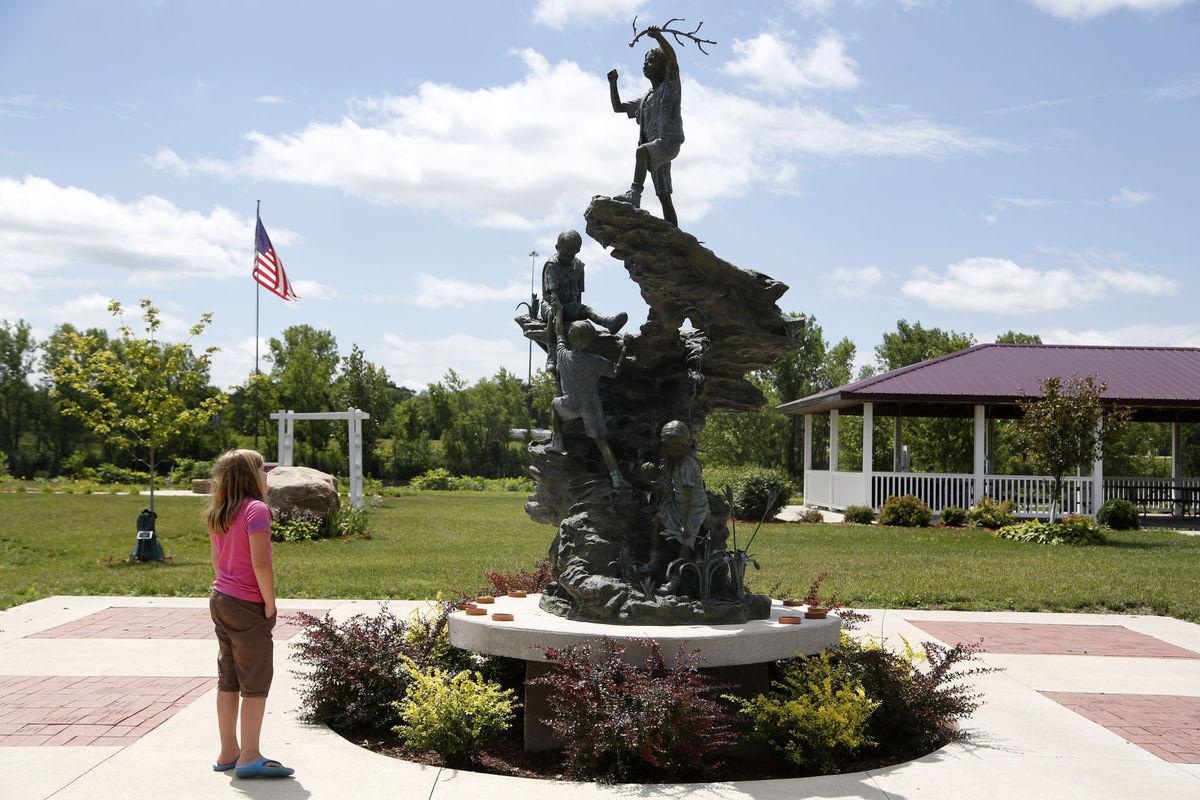 EVANSDALE | While Thursday marked the fifth anniversary of the disappearances of Lyric Cook-Morrissey and Elizabeth Collins, the pain and fear within the community has gradually faded — but will never be forgotten.
The girls' memory, along with those of others whose lives ended too soon, will always remain in Angels Park, where brightly-colored flowers and other vegetation, gazebos, benches and a new painting allow those in the community to honor them.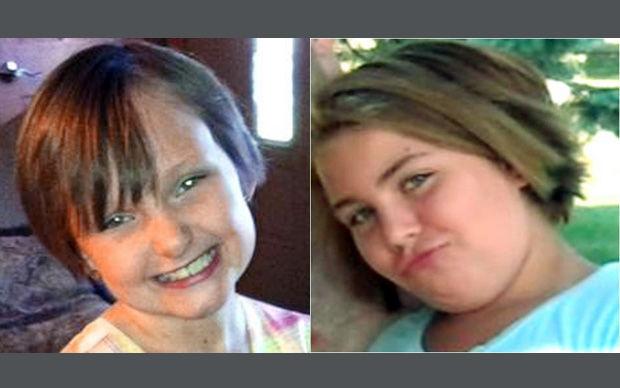 The painting was created by Florida artist Jeff Sonkes, who visited the area after his father died last December. He completed the artwork in his basement before assembling it in the park earlier this summer.
On one side of the mural are the girls' faces, on the other side a pair of angel wings. They face out to Highway 20 for all to see driving by.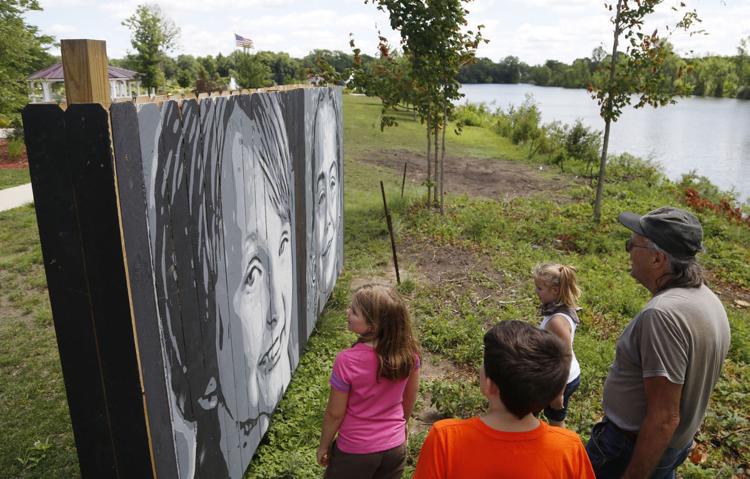 It has since been admired by the locals as they relive that sad stretch of days five years ago. On July 13, 2012, Cook-Morrissey, 10, and Collins, 8, two cousins who were riding their bikes at Meyers Lake, were kidnapped and killed.
Hundreds searched around the park for days as they tried to find the two girls. It wasn't until five months later that the girls' remains were found in a rural Bremer County park.
No one has ever been apprehended for their slayings.
Aftermath
Mary Grosse has been running her home day care out of Evansdale for more than 20 years, and had taken some of her kids to the park on the afternoon of July 13, 2012.
It wasn't until later that night that she learned of the girls' disappearance, and immediately joined the search parties.
"I felt like I should've seen something, but I also had to keep an eye on the kids," Grosse said. "I never dreamed I would have to do that and I still don't believe it happened."
For a long stretch after that day, Grosse refused to take her kids outside or go outside herself. In the back of her mind were thoughts of distrust toward those she knew as she and the rest of the community were overtaken by sadness and disbelief.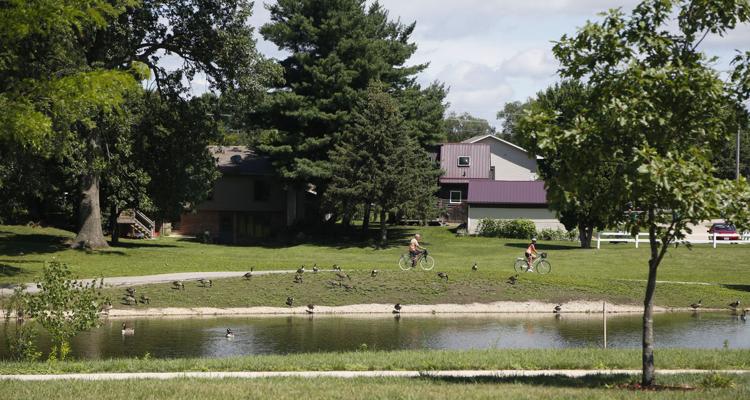 Today, Grosse said she now feels safe in the community despite the lack of arrests. On Thursday, she took the kids to eat lunch at the park. As they explored the playground and chased each other with squirting water bottles, she kept a close eye.
"They like to go over and see the tank, but we go as a group. I don't want them getting behind it where I can't see them," she said. "We all just stick together."
The tragic incident taught many parents the value in closely monitoring their children. Grosse said for nearly a year after, the streets that were usually filled with screaming and laughing children were empty and quiet.
"It scared me as a parent that things like that could happen, but I'm proud that the community came together and put their differences aside to be concerned about one thing," said Christi Sires.
After spending her childhood in the area, Sires moved away for a short time before returning last year. Regardless of their location, she and her family also participated in the searches.
Now, she knows where her 15-year-old twin sons are at all times and even installed trackers on their phones.
While she didn't know the family or girls personally, Sires is still desperate for information on their situation and often thinks of them as she takes strolls through the park and gazes at the painting while kayaking in Meyers Lake.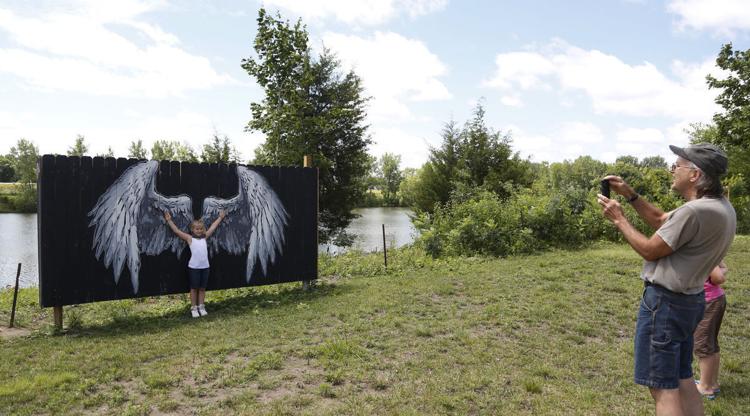 "They're a constant thought in my memory. When I take walks I always look up at the trees and think, 'if only the trees could talk,'" she said. 
While the trees may not be able to reveal what occurred that day, the ultimate message is continuously passed from person to person.
Ricky Siebrands, a Waterloo native who now resides in Cedar Falls, acts as the life teacher for his grandchildren and teaches them about anything from the flowers growing in the ditches to how roads and cars work.
He also emphasizes Cook-Morrissey and Collins' story and the importance of staying close.
"When I was a kid, my brothers and I would leave in the morning and wouldn't come back until that night, just spend all day outside. Well, things have changed," he said sadly.
EVANSDALE — Authorities have declined to comment on any investigation into possible links be…
For that reason, he brought his three grandchildren to Angels Park, where they learned the stories of every girl honored there.
As they curiously gazed at the statue and admired the flowers, the children were always peeking over their shoulders to keep their grandpa in sight.
"I thought it was important that they came and saw it and experienced it in real life rather than seeing it on TV," Siebrands said. "I wanted them to know the history."
Be the first to know
Get local news delivered to your inbox!