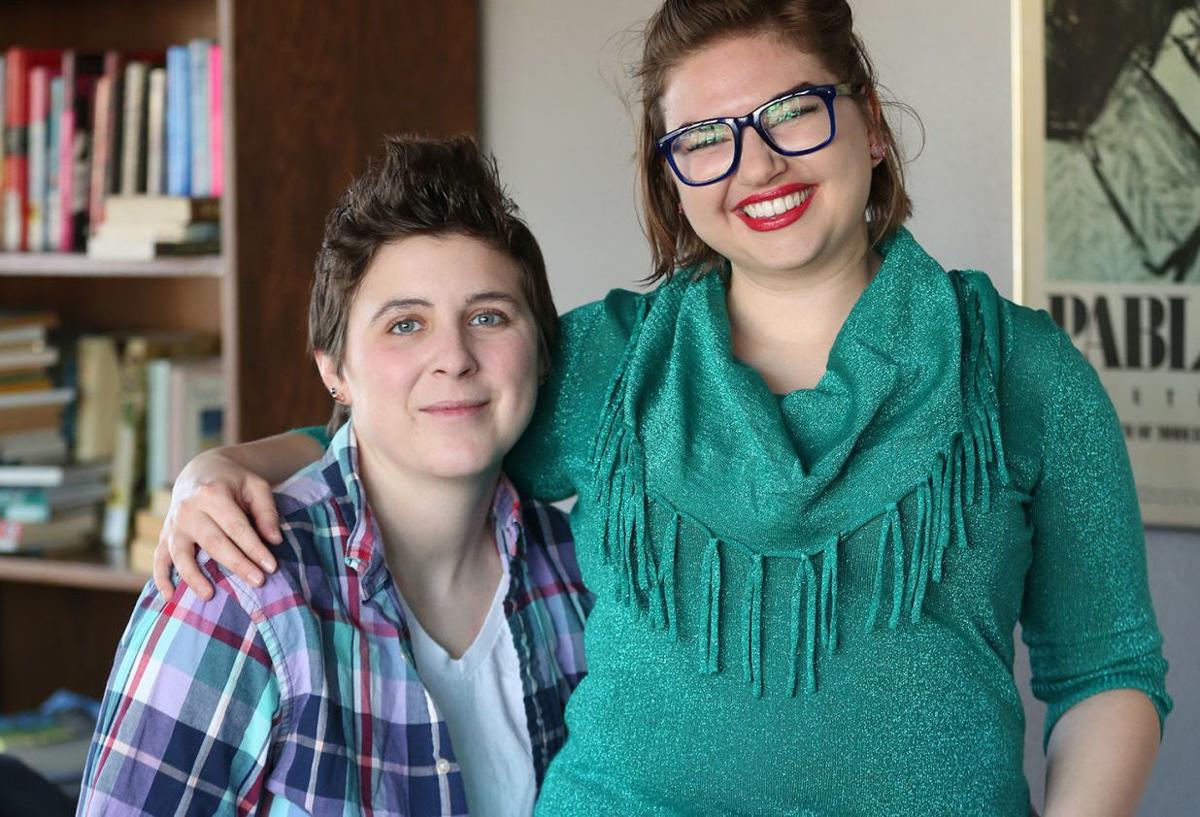 WATERLOO — Anyone who is a fan of HGTV's "House Hunters" knows the most important word on the show: "Wow!" It's a word that can convey surprise, dismay, disappointment and, of course, being impressed.
One lucky Waterloo area couple will say it for real on an upcoming episode of "House Hunters."
The hit HGTV show takes viewers behind the scenes as potential home buyers view houses and decide whether or not to buy. "House Hunters" ranks consistently in the top 10 of the network's shows.
Last fall, the show traveled to Iowa and accompanied Emma Peterson and her partner Shannon Rubino on the search for their first home. Their episode is scheduled to air at 9 p.m. Tuesday.
"We did say 'wow!'" Peterson says, laughing. "We watched the show a lot. It's the one show we could agree on and watch together."
The show inspired Peterson, a chaplain at Covenant Medical Center in Waterloo, and Rubino, who works for Dolly's Taxi and Transport, to look into buying their own home. On the spur of the moment, Peterson submitted an application to be featured on "House Hunters."
Almost immediately, she was contacted by the show's producers. "We're a young gay couple in a smaller town in Iowa, and it's a smaller market where housing prices are lower, so it must have seemed like a unique opportunity," Peterson said.
MASON CITY | Nearly a decade ago, Jodi and Kevin Hardy of Mason City fell in love with the Bahamas.
Shannon admits she was "super surprised" that the show would want to come to Iowa, particularly since the HGTV show typically features larger metropolitan cities.
Filming began in October and took two weeks. After the initial "getting to know you" interview, which included filming at a local farm where the first-time home buyers picked apples and at stops along Fourth Street in downtown Waterloo. After a week's break, the producer and crew returned to Iowa and began filming the week-long house search.
The couple, working with Linda Curran, a Realtor at Oakridge Realtors in Waterloo, was required to narrow their choices to three houses. Until the episode airs, they can't reveal too much except to say a storyline was developed, and there are scripted moments.
"When you spend two weeks and 10-hour days together, you get to know people and make friends. The producer, Matt, and the crew were really funny. Matt has worked on other reality shows like 'Real Housewives' and 'Extreme Home Makeover,' so he had some funny stories to share," Peterson said.
Rubino, a self-described introvert, joked that "it was two weeks of torture for me," but mostly she enjoyed the once-in-a-lifetime experience. "Emma is the talker, and I was the one wondering what I was going to say and how it would sound," she said.
They're both excited about seeing the show on Tuesday. "Buying a house is a big deal in our relationship," Peterson said. "It's so awesome to think that in 30 years, we can look back at this episode and remember this time in our lives. Who gets that kind of opportunity in a lifetime?"
The couple and their dogs, Molly and Roxy, are living in the home they purchased. Built in 1925, the house has "good bones," but needs cosmetic changes and updates. They've already pulled up some carpeting and painted a few rooms.
Now if only the couple could appeal to Joanna and Chip Gaines to bring their "Fixer Upper" show to Iowa. Or maybe "The Property Brothers" are available?