CEDAR RAPIDS – It's hard for Gov. Kim Reynolds to name one "most significant" accomplishment of the 2019 Iowa legislative session because "so many of the things we worked on are so intertwined."
Many of her priorities going into the session – Future Ready Iowa, children's mental health, a second-chance employment law and K-12 school funding -- were proposals to "help Iowans who are looking for a way up."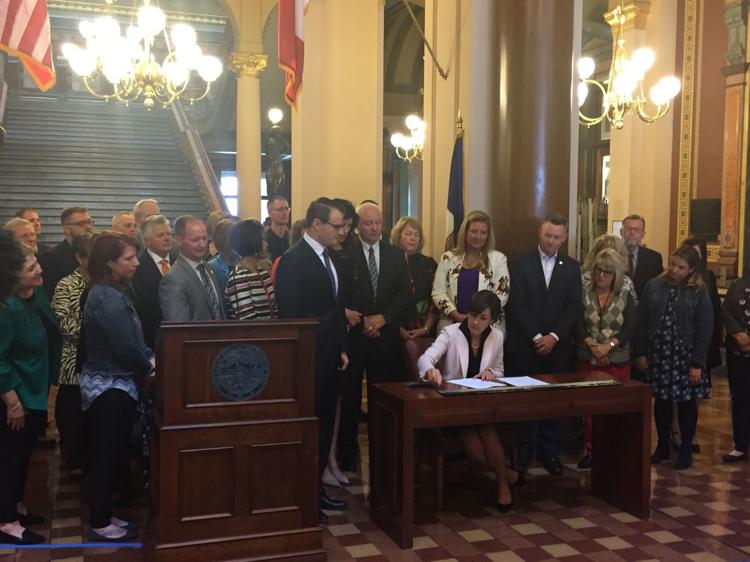 "The legislation we passed this year, I think, moves in that direction," she said in Cedar Rapids on Monday. "The biggest winners were students and families and small businesses and farmers."
Now the focus has to shift to implementing those policies, Reynolds said.
For the moment, Reynolds is spending much of her time reviewing – and signing -- legislation lawmakers sent her. She was in Cedar Rapids to sign House File 637, that establishes a timeline for reporting misconduct by certified school employees to the Board of Educational Examiners. It requires schools to report actual misconduct or allegations of soliciting or consummating a sexual relationship with a student, falsifying grades or test scores, use of public property for personal use and being at school or school events under the influence of alcohol or drugs.
One bill she hasn't decided whether to sign would regulate and tax sports betting. Reynolds, who has spoken about her own struggles with alcohol, has expressed concerns about other addictions as well.
"It's happening right now with no oversight," she said. If sports betting becomes legal, the casinos who operate the sports betting would have "mechanisms" to identify people who are potentially addicted.
"So that's a component I'm looking at," she said. "I continue to hear from people on both sides of the issue."
You have free articles remaining.
The governor hasn't given up on one of her priorities that didn't win legislative approval this year -- her call for a constitutional amendment to restore felon voting rights. It passed the House 95-2, but stalled in the Senate Judiciary Committee over who would be eligible to get their voting rights back and what they would have to do to become eligible.
"This is something I feel very strongly about," Reynolds said. "I remind legislators all of the time that they're not really voting on this. They're allowing Iowans to weigh in."
She's asking legislators to put the issue on the ballot for Iowa voters to ratify or reject.
"I believe Iowans believe in redemption and they will move in that direction," Reynolds said.
She's encouraging lawmakers to use the House File 650 as a starting point. It shields employer who hire people with previous criminal convictions from lawsuits. However, there are exceptions including murder, sexually violent offenses and if a dangerous weapon was used or exhibited.
Those exemptions would be a good place to start in writing a felon voting rights eligibility policy, according to Reynolds.
And she rejected some lawmakers' suggestions that felons must complete restitution before being eligible to have their voting rights restored. That is not required now.
"I don't want to go down that route," Reynolds said. Felons seeking to have their voting rights restored should be making progress on a restitution plan, but "restitution paid in full is something I'm interested in because I don't want to make it more difficult that what we have in place."
What a Globe Gazette News+ membership can do for you:
A deeper examination of local issues than you'll find anywhere else.
Two products in one – not everything that's in the print edition of the Globe Gazette is on our website, and not everything on our website is in the print edition.
Access to newspapers.com archives dating back two years.
The ability to carry your local news with you and receive alerts instantly as news unfolds.
Advertising that frequently gets you deals you won't find anywhere else.