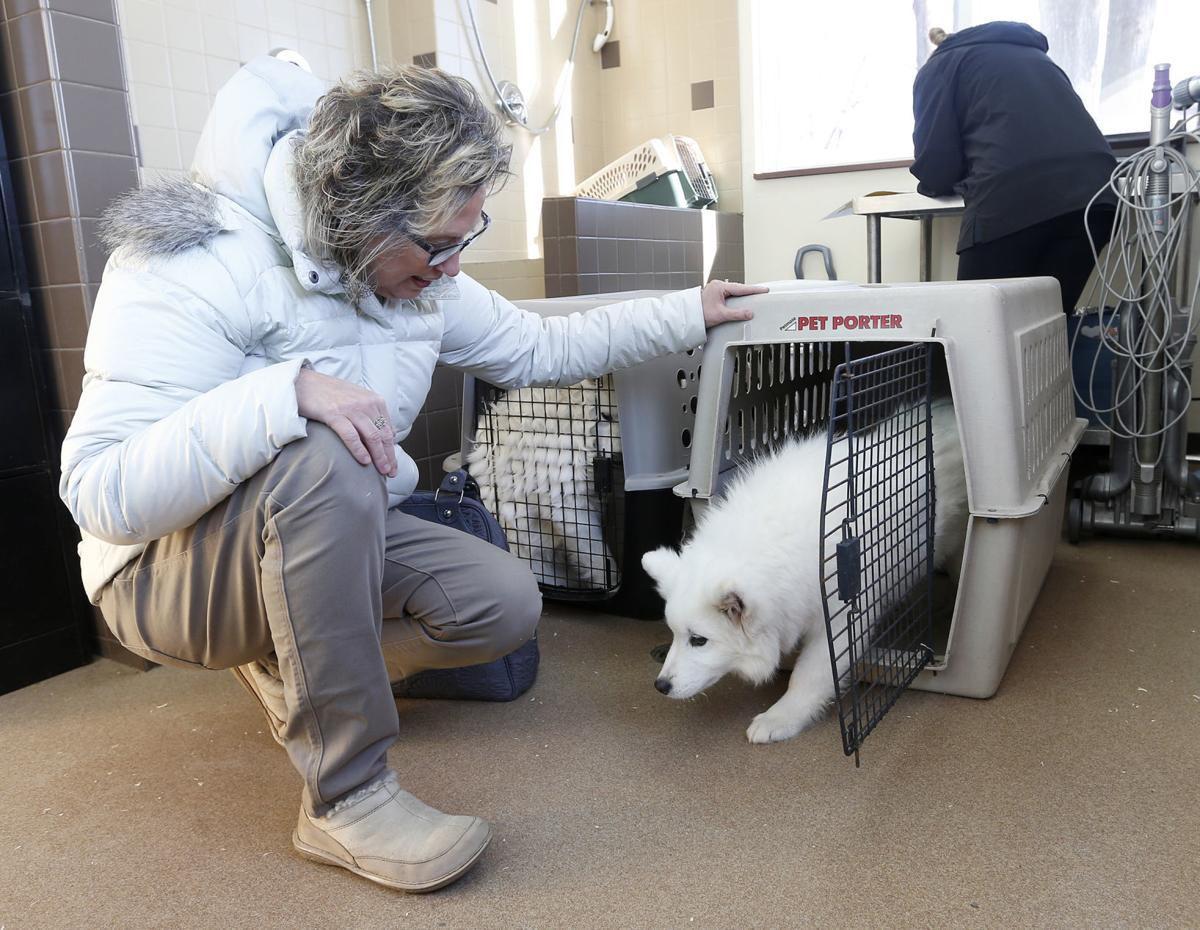 WATERLOO -- "I'm going to miss you. Forget all that horrible stuff that happened to you. You are going to be a good dog."
Those were the parting words from Abby Cresap, adoption supervisor at Cedar Bend Humane Society, to puppy Gus as he left for his new home Tuesday morning.
Gus is one of nine Samoyeds that arrived at the shelter last week. Those nine were among 154 Samoyeds seized from a puppy mill in Manly earlier this month.
Five-month-old Gus was the first of the Cedar Bend Samoyeds to be adopted. He'll now live with his new family, Sheila and Lynn Williams of Cedar Rapids.
CBHS staff said sending Gus off to his new home is bittersweet.
"In cases like this we get very attached," said CBHS Co-Director Kristi Gardner. "We put a lot into them."
The dogs will continue to need a lot of attention, Gardner said.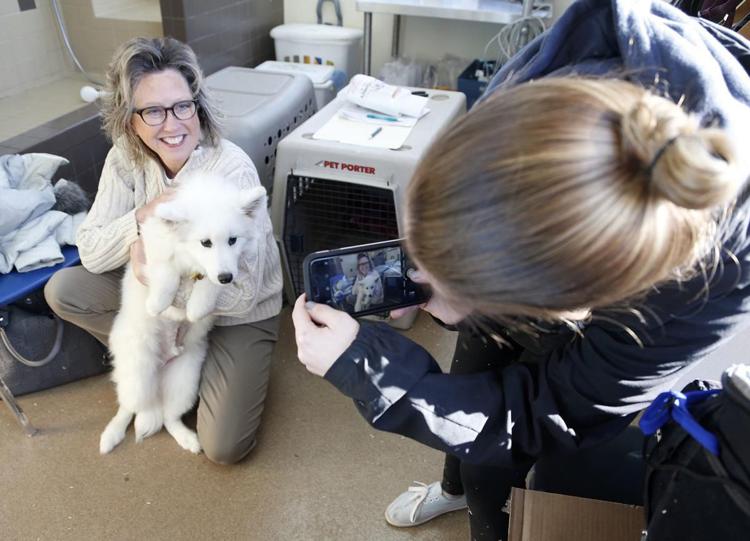 When the Worth County Sheriff's Office executed a search warrant Nov. 12, the American Society for the Prevention of Cruelty to Animals seized 154 Samoyeds and four cats from a property near Manly, citing animal neglect, according to court documents.
The property is owned by Barbara Kavars, 65, who operates White Fire Kennels. Kavars has not been charged with a crime, but the ASPCA says animal neglect charges are pending.
The dogs were living in "appalling and overcrowded conditions and exhibiting signs of neglect with no access to clean water," said the ASPCA. The outdoor kennels had little to no food and no clean water, with only a few non-heated buckets containing frozen water, according to court documents. The kennels, which smelled strongly of ammonia and were full of feces, had limited roof cover, were unheated and were overcrowded.
Many of the dogs seized were underweight, had dental problems, untrimmed nails and fecal matter on their bodies and between the pads of their feet. Some dogs were fighting, others were cowering and some had trouble standing and walking.
You have free articles remaining.
The Samoyeds that arrived at Cedar Bend -- Gus, Rose, Dutchess, Tippy, Luna, Maddy, Snow, Blizzard and Indy, are grossly underweight and timid. Under quarantine, they've been vaccinated, spayed and neutered, de-wormed and groomed to remove matted fur. A couple of them, including Gus, needed hernia repair surgery. Indy, 3 months, was quickly placed in foster care to begin early socialization.
"Socialization, that's the biggest challenge," Gardner said.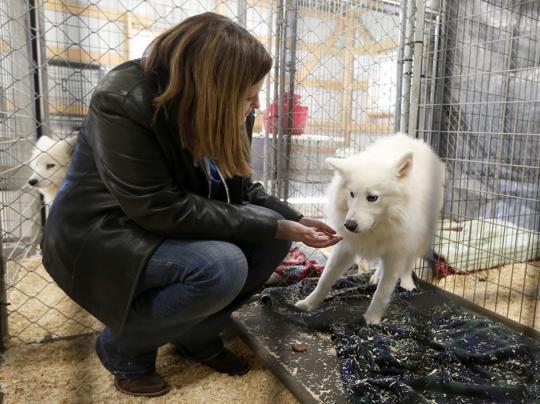 When the dogs arrived at CBHS, they cowered in the corners of their kennels. They're still timid, but are learning to trust humans. Staff sit alongside them in their kennels several times a day, offering treats and gentle pets.
"It's going to be a process," Gardner said. "They've never been in a house before. They don't know what carpet feels like, what a TV sounds like, the movement of a ceiling fan. They're terrified of leashes. It's going to take a while."
It took Gus a few minutes to warm up to Sheila Williams, who'd made the hour-long drive to get him.
"You gotta be brave," Cresap told Gus as he anxiously inched out the kennel door toward his new mom.
"They are great dogs. They are very outgoing and are such happy dogs generally," Williams said, noting Gus will have some four-legged help adjusting to his new life from Williams' other family member -- Olivia, a 10-year-old Samoyed.
CBHS has received more than 100 applications from all over the country -- New York, Maine, Colorado, Indiana, Minnesota -- from people interested in adopting the Samoyeds. Gus was the first to go home Tuesday. That afternoon, Tippy met her prospective family and would head to her new home that evening. Indy is expected to be adopted by the end of the week.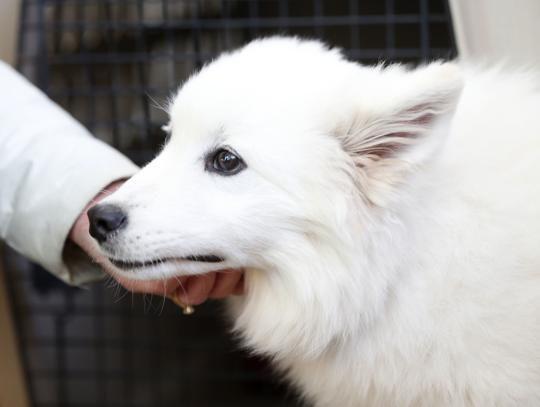 The remaining dogs continue to be evaluated and socialized and will be matched with families that are the best fit.
"We're excited to get them homes, but we want to match up the right people with the right pet," Gardner said.
Photos: ASPCA rescues Samoyeds from Worth County puppy mill
FIR_PuppyMill_WorthCo_IA_Nov1218_1002.JPG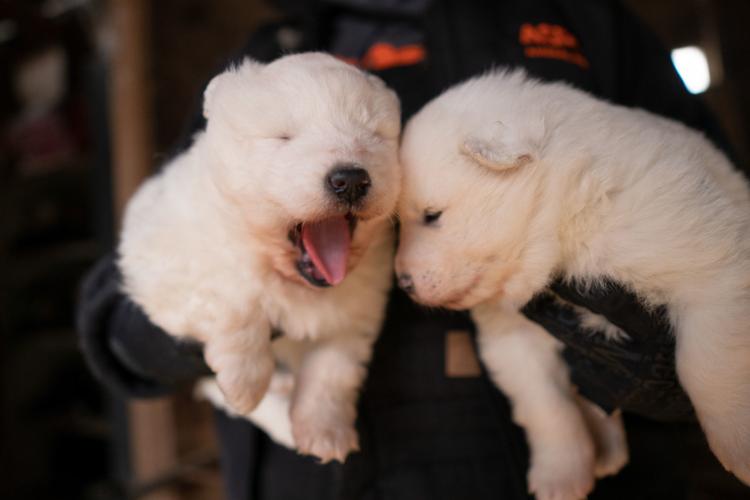 FIR_PuppyMill_WorthCo_IA_Nov1218_0053.JPG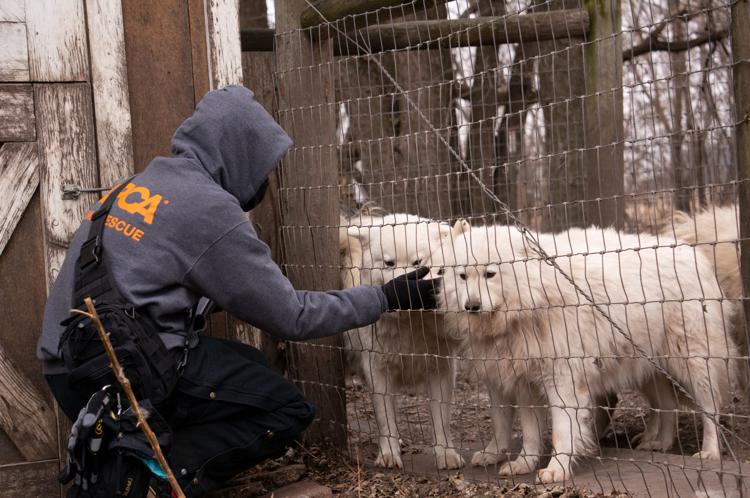 FIR_PuppyMill_WorthCo_IA_Nov1218_0057.JPG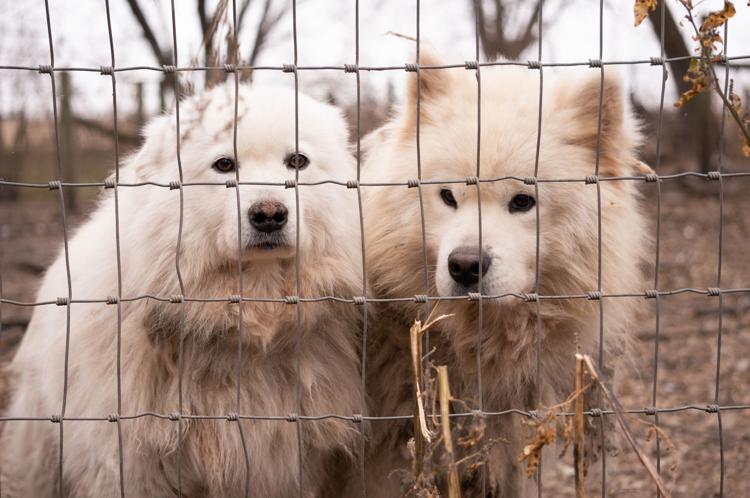 FIR_PuppyMill_WorthCo_IA_Nov1218_0059.JPG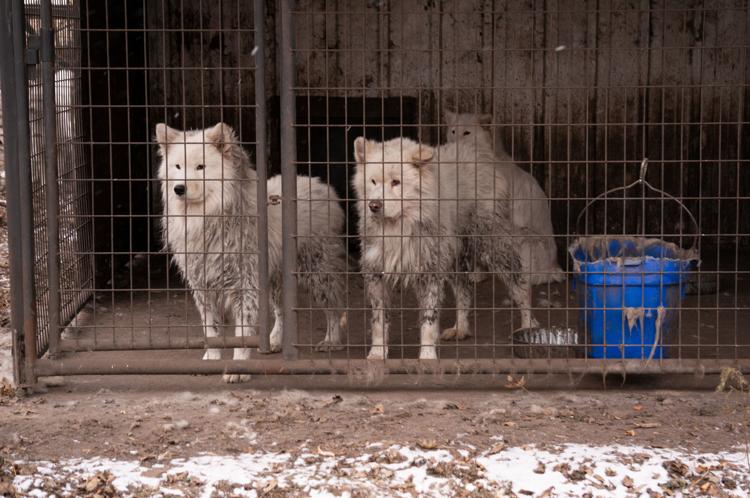 FIR_PuppyMill_WorthCo_IA_Nov1218_0066.JPG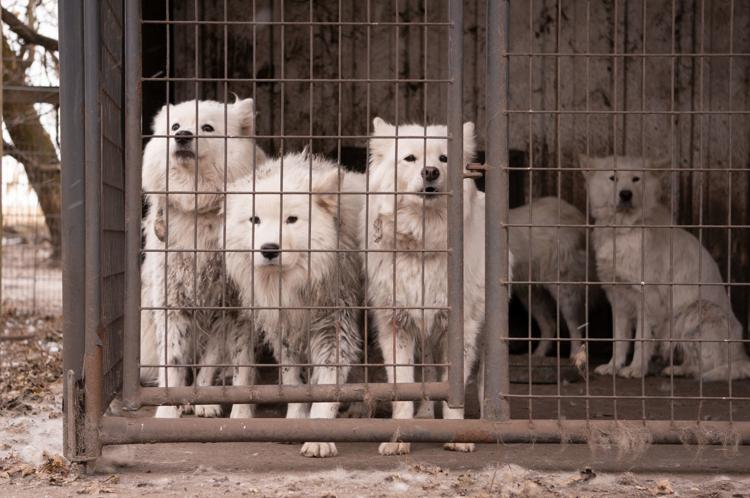 FIR_PuppyMill_WorthCo_IA_Nov1218_0078.JPG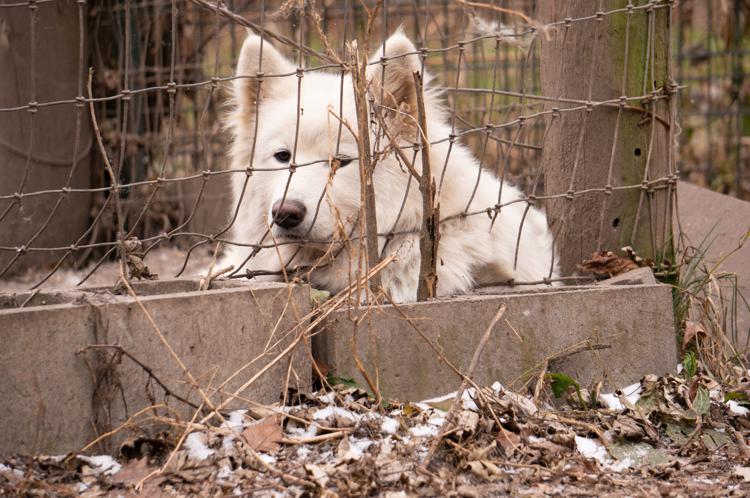 FIR_PuppyMill_WorthCo_IA_Nov1218_0104.JPG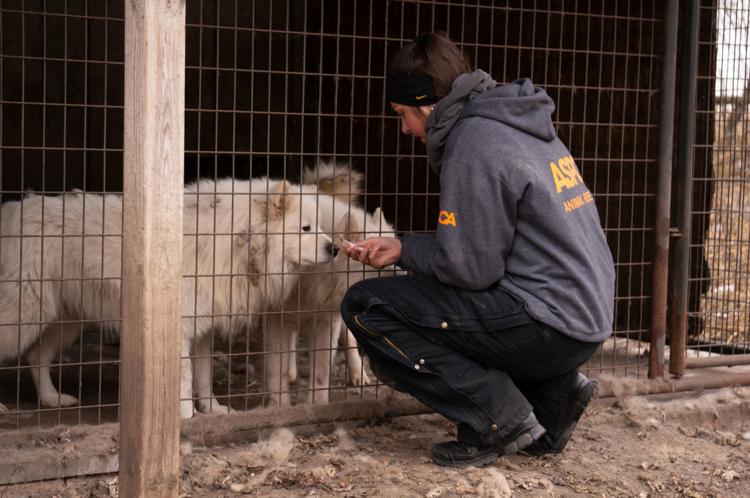 FIR_PuppyMill_WorthCo_IA_Nov1218_0110.JPG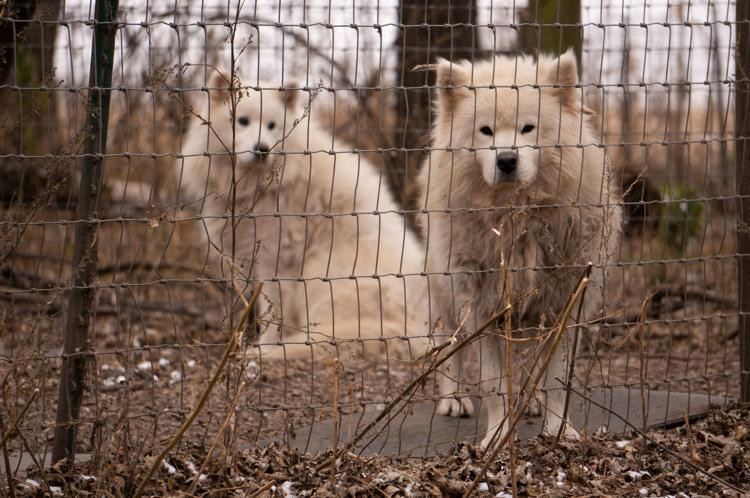 FIR_PuppyMill_WorthCo_IA_Nov1218_0134.JPG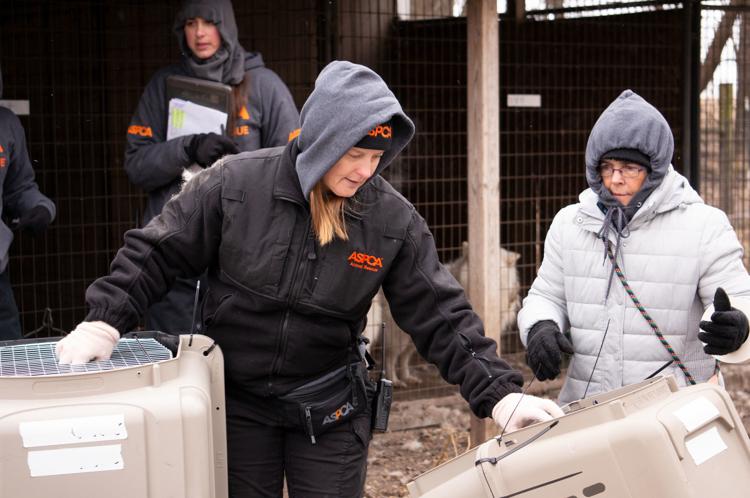 FIR_PuppyMill_WorthCo_IA_Nov1218_0182.JPG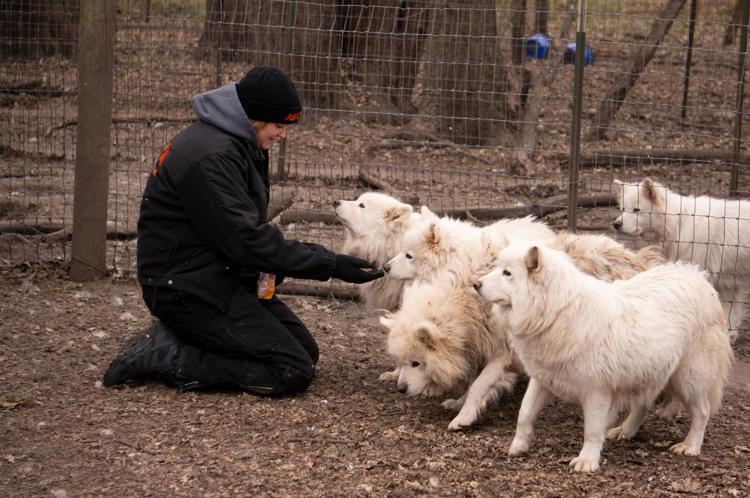 FIR_PuppyMill_WorthCo_IA_Nov1218_0195.JPG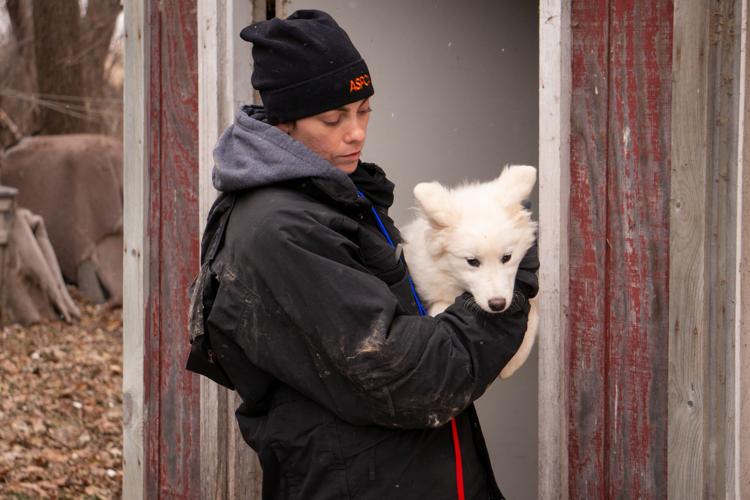 FIR_PuppyMill_WorthCo_IA_Nov1218_0224.JPG
FIR_PuppyMill_WorthCo_IA_Nov1218_0386.JPG
FIR_PuppyMill_WorthCo_IA_Nov1218_0638.JPG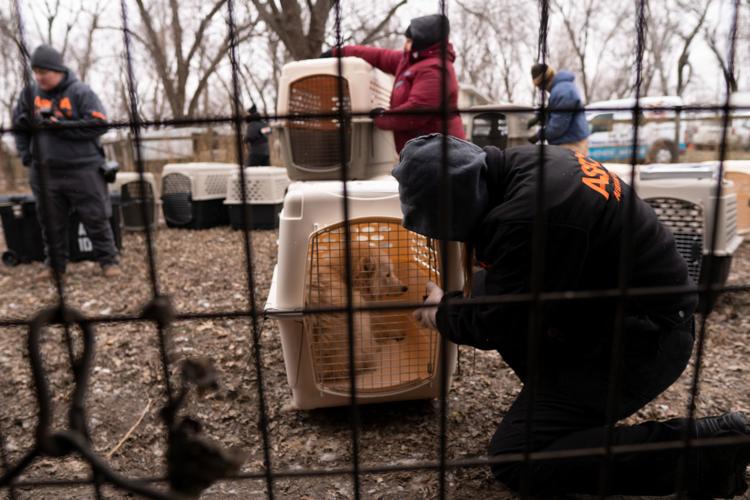 FIR_PuppyMill_WorthCo_IA_Nov1218_1001.JPG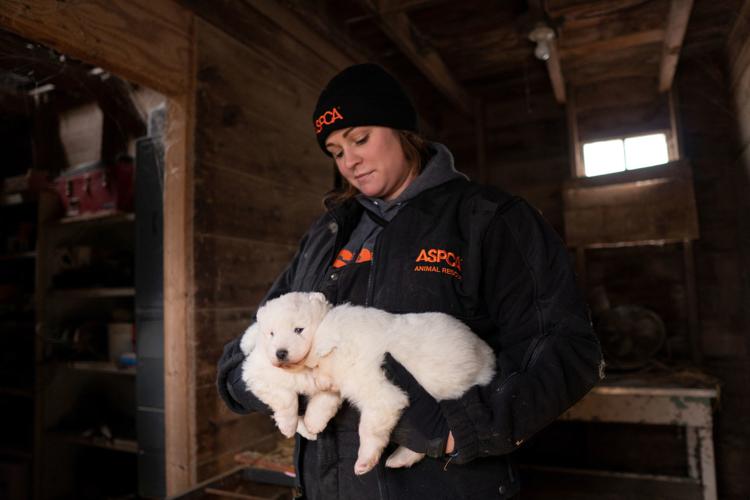 FIR_PuppyMill_WorthCo_IA_Nov1218_1003.JPG