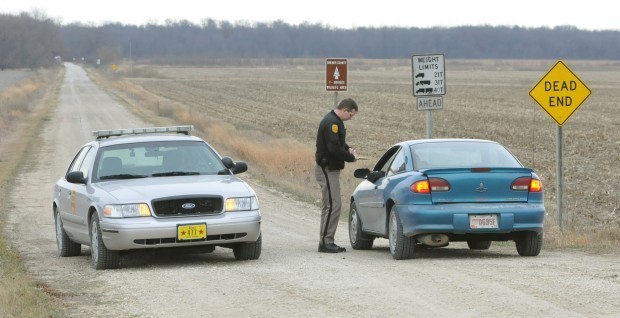 DES MOINES – Gov. Terry Branstad said Thursday his "heart goes out" to the families of two missing Evansdale girls and pledged to re-evaluate state laws and procedures designed to protect children's safety in hopes of improving law officers' ability to respond quickly and enlisting the public's help more efficiently and effectively when someone is abducted.
"It's a tragic situation," said the governor, whose office held off on issuing a public statement pending official identification by the state medical examiner of two bodies discovered by deer hunters on Wednesday. The Waterloo-Cedar Falls Courier reports that the mother and aunt of two young girls missing from Evansdale since July 13 has confirmed in a Facebook post the two bodies found in a wooded area Wednesday are those of Elizabeth Collins, 9, Lyric Cook-Morrissey, 11.
"We have been so blessed by...all the prayers and support tonight with the gut wrenching news that my beautiful daughter and niece's bodies were found by hunters today," Heather Collins said of her daughter, Elizabeth, and niece, Lyric, in a late Wednesday Facebook post.
While authorities have delayed public confirmation until a 4 p.m. press conference today following official identification by the state medical examiner, they did note the girls' parents were informed of the development Wednesday.
It is not the desired outcome, Heather Collins continued in her Facebook post, but the girls "are up in heaven with our Savior," and the "nightmare of where they are and what is happening to them has been answered."
You have free articles remaining.
Authorities with the Black Hawk County Sheriff's Office said hunters found the remains of two bodies at about 12:45 p.m. Wednesday, which was 145 days after the cousins went missing.
"My heart goes out to the families and to the whole community because I know people really rallied around it, a lot of people put in a lot of time and a lot of effort trying to locate them. It's unfortunate," Branstad told reporters following a state budget hearing Thursday morning. He said he last spoke to family members of the missing girls at the Iowa State Fair last summer.
The governor said state Division of Criminal Investigation agents will take evidence from the autopsies "to determine what clues there might be as to who may have committed this heinous crime. We have confidence that they have the ability and we want to make sure that they have the tools they need to do a thorough investigation and continue to try to apprehend the perpetrators," he added.
Branstad commended the efforts of local and state authorities, the community, the families and the army of volunteers that worked to find the missing girls.
He said legislative efforts to respond to missing child reports date back to the disappearance of West Des Moines newspaper carrier Johnny Gosch in the 1980s and there have been numerous updates since then. However, he said it would be appropriate again to look at "what we've done, what could be done differently and what could be done better" to strengthen protections and response efforts when children are kidnapped or abducted.
"We need to recognize a lot of times a missing child is not kidnapped, but there are times like this when the child is a victim of kidnapping and we need to move very quickly and we need to make sure the public is aware and we can get information from whatever source can be helpful. We'll review our laws and see if there's more that we can do to be as effective as possible."