WATERLOO -- Presidential hopeful and former Vice-President Joe Biden made his first campaign visit to Waterloo, speaking to a crowd of more than 300 at Waterloo's UAW Local 838 Hall Wednesday night.
Biden focused on restoring the middle class through strong labor unions, calling himself "a union guy."
"I'm running for president for three reasons. One, to restore the soul of our nation. Two, to rebuild the backbone of the nation, the middle class, the hard-working people. Poor folks are getting poorer and the middle class is beginning to shrink," Biden said. "Thirdly, to unite the Nation."
The Rev. Frantz Whitfield, pastor of Mount Carmel Baptist Church and president of the Iowa chapter of the National Action Network, introduced and endorsed Biden at the candidate's Waterloo stop.
"His run with ... President Barack Obama inspired me to get involved with politics for the first time," Whitfield said. "We can restore decency, compassion and dignity to the White House, and Joe Biden will do just that."
Whitfield has hosted several presidential candidates during their visits to Iowa, including Beto O'Rourke and New York City Mayor Bill De Blasio.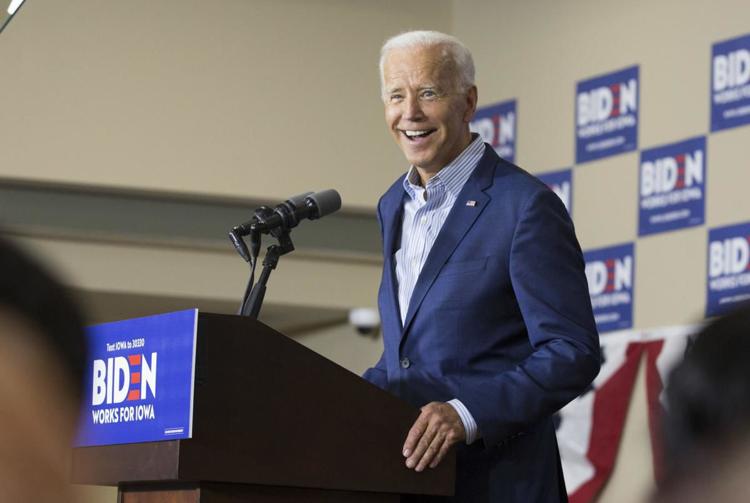 "I have [a] dream that one day people will not have to work two and three jobs just to make ends meet," Whitfield said. "I have [a] dream that one day I'll be able to go to Washington and drive by 1600 Pennsylvania Ave. and see (President) Donald Trump packing his bags."
Biden echoed Whitfield's words.
"I have a dream that Waterloo is going to be Trump's Waterloo," Biden said, referring to the battle that defeated Napoleon Bonaparte.
You have free articles remaining.
Biden pledged to support whoever wins the Democratic nomination.
"I hope I'll be your nominee," he said. "Whether I am or not, I commit to you I will do everything in my power, whoever the nominee is, to see Donald Trump is not re-elected."
Local legislators and city officials were in the crowd to see Biden, including Rep. Timi Brown-Powers, Rep. Dave Williams, Rep. Bob Kressig, Sen. Bill Dotzler and Waterloo Mayor Quentin Hart.
"It was very motivating," Brown-Powers said. "It's good to hear some focus and where Biden wants to take us, but I'm looking forward to hearing all the candidates."
She hasn't made a decision about who she'll support in the coming caucus.
"This is the time to really listen and see their individual viewpoints," Brown-Powers said.
Tom Anderson, a Vietnam veteran from Waterloo who helped build the UAW Local 838 Hall, was there to show support for fellow veterans.
"We have a lot to do here in Waterloo, and a lot to do here in Iowa," Anderson said. ... "I'm supporting all Democrats right now. I'm just going to sort it out to see who I want to be my front runner."
Mark Niedert, of Cedar Falls, said he has already made up his mind to support Biden's presidential bid.
"I think he's the only one who can beat the president," Niedert said. "He's been there before, he knows what's going on, he's got a good grasp on what America needs."