Driving in a car that's a tribute to Pat's late husband Marlyn, who died of breast cancer in 2017, the duo has made it to at least 13 states and about 40 cities to raise awareness for their cause, hear personal testimonies and connect survivors to one another. On Sunday afternoon, they made it to Mason City's Central Park.
"We've gotten to meet the guys actually dealing with this. And at the time my husband was sick, we didn't have this," Washburn said while seated at a bench. "We're able to talk with these guys. Some of them have never met another man with breast cancer."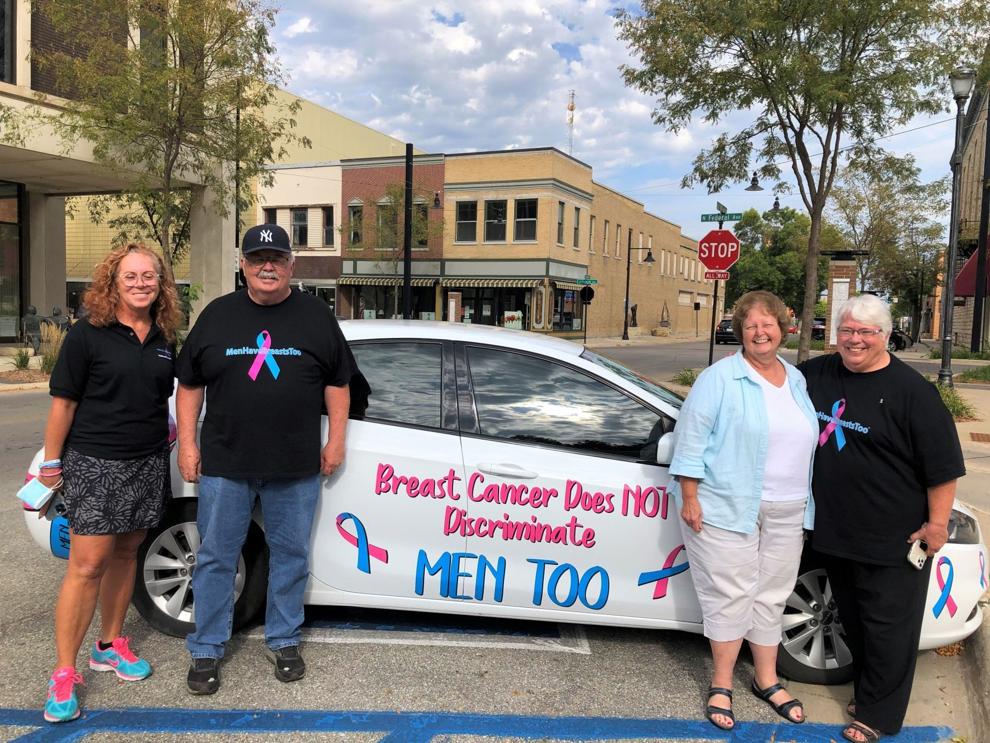 While in town, the two met with former Globe Gazette photographer Jeff Heinz who was diagnosed with breast cancer several years ago and had to go through a mastectomy, chemotherapy and radiation therapy. In the time since, he's shared his story as a way to help men become more aware.
"There's nothing around for men," Heinz said. "I had heard about men having breast cancer but I never thought about it."
According to statistics from the American Cancer Society, about 2,650 new cases of invasive breast cancer will be diagnosed in 2021 and about 530 men will die from breast cancer. Risk factors include: aging, a family history of breast cancer, a defect in the BRCA2 gene (which involves tumor suppression), alcoholism, obesity and radiation exposure.
To check for breast cancer there's an array of options such as: physical exams, diagnostic mammograms, ultrasounds, discharge tests and biopsies. Also, self-examination.
"You should be doing a self examine every month," Washburn said. Ambrose then added: "It's easier to find the lump on a man so you just wonder why a man wouldn't take two seconds to do that."
Part of Ambrose's own journey toward founding the Male Breast Cancer Coalition in 2014 was making a Facebook connection with Bret Miller who was diagnosed with breast cancer at the age of 24. 
"We are now a global charity that has connected with well over 650 men around the world," Ambrose said.
Even between stops to visit survivors and their caregivers, Ambrose said she and Washburn will spend time reading stories and comments posted to the Male Breast Cancer Coalition Facebook page and even field questions from people who stop to ask about the car.
Washburn said that a few days back, someone tailgated her to get photos of the ride. After she said she got an email from that very same close driver saying "I love what you're doing."
With that, though, both Washburn and Ambrose are clear that the work isn't about them in particular.
"We're storytellers and by having each one of the men tell their story (that) actually empowers another man to go and check another lump he may have ignored or go forward and tell their story," Ambrose said.
Jared McNett covers local government for the Globe Gazette. You can reach him at Jared.McNett@globegazette.com or by phone at 641-421-0527. Follow Jared on Twitter at @TwoHeadedBoy98.