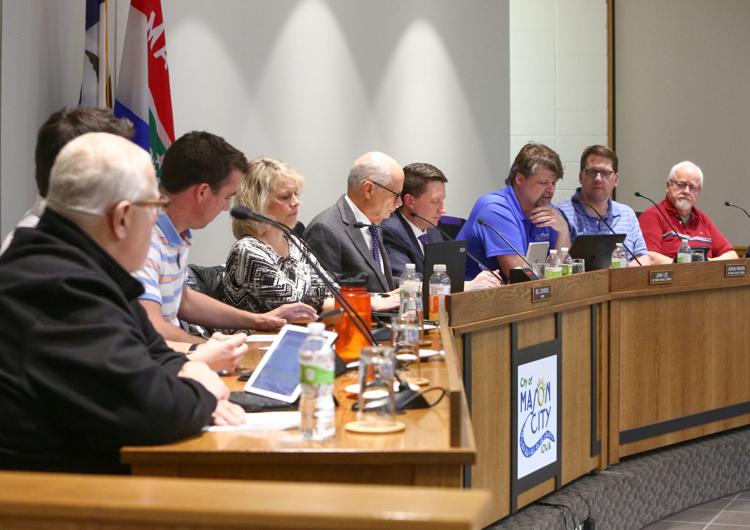 The Mason City Council ran through its agenda on Tuesday night relatively fast, all 20 items took a little less than 30 minutes to discuss and vote on, but one issue slowed things down a bit. In fact, the issue effectively opened and closed the night out. 
At a November 2019 meeting, David Rachie, a representative for Gatehouse, the developer putting a hotel in downtown Mason City, announced to council members that the Hyatt Place had been finalized as the hotelier and that financing would tentatively be locked in for February 2020. 
That date has come and gone and the financing still isn't locked in and more than one person during the meeting had questions about it.
During the public hearing near the beginning, resident Max Weaver took issue with the city not having more frequent updates on the development process.
"You're not transparent enough to say where we're at and I'm pretty nervous about it," Weaver said. 
When the matter came back up amidst discussion on setting a date (March 17) for a public hearing on the proposed 2020-2021 Mason City budget, which the hotel appears on, Third Ward Councilman Joshua Masson asked City Administrator Aaron Burnett about dates on financing.
"What is the deadline that we are speaking on for when financing has to be ready?" Masson asked. "The IEDA (Iowa Economic Development Authority) deadline is the end of March," Burnett responded. When Masson pressed on what would happen if there still wasn't resolution at that time, Burnett said that the City expects to have everything in place by then. 
"They're willing to work with us but we have to show progress. I can't talk much more about it," Burnett said. 
For his final inquiry, Masson asked what the confidence level was that things could be completed before the end of March. Burnett said that they were high and that there's a lot of desire to do the project but there are a lot of moving pieces. 
Before summer ends, the City has additional deadlines that it needs to hit for the hotel project.
Part of the signed agreement with Gatehouse states that construction on the hotel property and The Music Man Square will begin on or before July 1, 2020. Burnett has said that work on the 111-room Hyatt Place is projected for a late-spring/early-summer groundbreaking.
"That will be an 18-month build process from that point on," Burnett said. "It'll take a lot of time but that is a big project. I would say by fall, work on the skywalk will happen."
All items on the agenda for Tuesday night's meeting were unanimously approved. 
What a Globe Gazette News+ membership can do for you:
A deeper examination of local issues than you'll find anywhere else.
Two products in one – not everything that's in the print edition of the Globe Gazette is on our website, and not everything on our website is in the print edition.
Access to newspapers.com archives dating back two years.
The ability to carry your local news with you and receive alerts instantly as news unfolds.
Advertising that frequently gets you deals you won't find anywhere else.
Reach Reporter Jared McNett at 641-421-0527. Follow him on Twitter and Instagram at @TwoHeadedBoy98. 
Be the first to know
Get local news delivered to your inbox!